4NJBets
The 4NJbets website and app is the only legal horse racing betting site & horse betting mobile app in New Jersey. 4NJBets has been around for a while but underwent an upgrade in 2013 after TVG took over the platform's operations. The site is now powered by TVG, who is one of the biggest names in American horse racing betting, and provides New Jersey players an opportunity to bet on horse racing online. TVG is owned by the well-known online gambling company Betfair, so you will often see references to Betfair when wagering on 4NJbets.
The current 4NJBets website is one of the best horse betting platforms available in the United States following its significant upgrade. Bettors can access current races, efficient online payment methods, and numerous types of bets once they have signed up. 4NJbets is licensed and regulated to operate in the United States; however, it is only open to New Jersey residents aged 18 or over. If you reside outside of New Jersey, you can sign up at the TVG website for a similar betting experience.
4NJbets NJ offers a wide variety of US racetracks from all over the country, providing bettors with access to thousands of races a week. Players can also check out daily racing form and horse racing results, which is useful information to have when you are about to place bets.
Our 4NJbets review covers all of the crucial information you need to know, including the 4NJbets mobile app, welcome bonus, exciting promotions, and more.
Overview
4NJbets.com is different from traditional sports betting platforms as players are not betting against the house. 4NJbets provides parimutuel wagering, meaning all bets are added to a shared pool, and the payouts come from that pool.
The payout odds are decided by the amount of money placed on each horse rather than by the operator. For example, the favorite for an individual horse race will have a lower payout threshold as more people will bet on that horse, so in turn, the prize pool has to be split among more people.
Conversely, horses who are massive underdogs will payout more because fewer people back those horses. When there is a shock, which there often is in horse races, the prize pool is split among fewer people, so they get a larger slice of the pie. All bets placed online at 4NJBets.com go in the same pot with wagers taken in-person, so users will always get track odds when you bet with 4NJbets.
4NJBets Welcome Bonus
New players who register for an account at 4NJbets.com are eligible for a 100% welcome bonus worth up to $100. This means that they will double your first deposit, giving you up to $100 extra. So, once you have completed the registration process and deposit $100, an extra $100 will be added to your account, so you have $200 to bet with.
Once you have signed up, you must fund your account within 15 days, and 4NJbets will give you 100% extra to your first deposit only. The bonus funds cannot be withdrawn; however, any bets you win with the bonus money is yours to do with as you please. There are no wagering requirements associated with the 4NJbets welcome bonus, so any cash you win by betting with the bonus money can be withdrawn instantly.
4NJbets Promo Code
There is no 4NJbets bonus code required to access the welcome bonus offer. New players are required to sign up for an account and deposit. The bonus funds will then be added to your account.
How To Register at 4NJbets
Signing up for an account at 4NJbets is straightforward. Players will need to provide some personal information, which is the same for any horse race betting site such as AmWager. Once you are on the 4NJbets site, click the 'sign up' button in the page's top-right corner. You will then need to complete the registration form and provide the following details:
Name
Date of birth
Mailing address
E-mail address
Mobile number
Once you have filled out the registration form, click 'complete registration' to finish the process. Once your account has been verified, you can sign in, make your first deposit, take advantage of the welcome bonus, and place bets.
Please remember that you have to be located within New Jersey state lines to bet on horse racing on the 4NJbets site.
4NJBets Mobile App
Players can access 4NJbets through their web browser or on a desktop or mobile, or through the 4NJbets mobile app. To access the site through your web browser, you can just visit 4NJbets.com on your mobile device. The website is fully optimized for mobile devices and has all of the same features and horse race betting options as the main 4NJbets full site or desktop site.
The 4NJbets app download process is simple. However, unfortunately, there is no 4NJbets Android app available. The 4NJbets app is only available for iOS users. To download the 4NJbets iPhone app, visit the Apple App Store, and download directly from there. TVG powers 4NJbets, so the mobile app is similar to the TVG app. 4NJbets TVG mobile has unique functions such as live Streaming, quick bets, mobile login, and race alerts. Additionally, the mobile app can also notify you when a race you have bet on is about to start.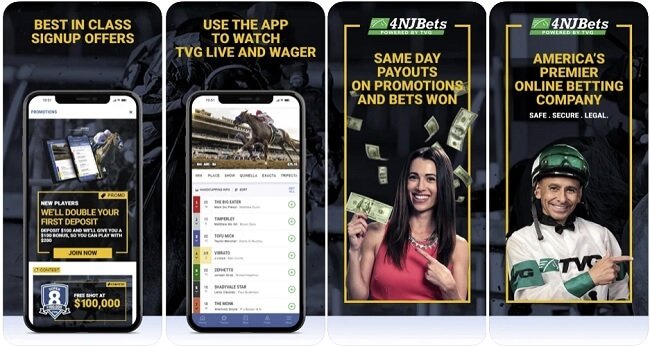 The 4bets NJ mobile app is a fantastic option for those who like to bet on the go. However, we would like to see it available for Android, so it can join the many horse racing apps for Android that are out there. You cant wager on virtual racing on the app, but there are several sites and apps that do offer virtual horse racing in the US.
Downloading the 4NJ Bets app is pretty easy.
4NJBets iPhone app
You can download the app from iTunes. Head over to 4NJbets.com and create your account, then select app from the menu and follow the link to iTunes. Press GET And install the app
4NJBets Android app
There is no 4NJBets APK or Android app available to download. This doesn't mean you can't use the mobile site, you can. Instead of downloading an Android app, you can select add to home screen from your mobile browser and create a quick link to the site.
Betting at 4NJ Bets
Placing bets at 4NJBets is straightforward. The interface of the website is well-designed, as you would expect since TVG powers it. 4NJbets does an excellent job of managing to fit a lot of horse racing information on the screen without it seeming too cluttered. When you log in, you will notice a list of tracks based on the order of the next race to the left of the screen. Additionally, there is a full horse racing schedule and a complete list of horse tracks.
The center of the screen is where you will discover the betting interface. When you select your track and race, you will be presented with a list of horses, track information, betting odds, and horse details. There are numerous tabs along the top of this section where you can view different sets of information such as class and speed and jockey and trainer statistics.
When you have scrolled through the various horse races and found the race you want to bet on, choose the horse you want to back. A betting slip will then appear at the bottom of the screen displaying the odds. Next, type in a wager and confirm your bet. For the types of bets that require you to choose more than one horse, such as a Trifecta, you can alter the type of bet by clicking on the various bet types which are above the race list. Finally, select the number of horses you need and place the wager as you usually would.
Players can access the following types of wagers at 4NJbets:
Show
Place
Trifecta
Win
Superfecta
Daily Double
Most of the above you will typically find at any horse betting site. The 4Njbets daily double option are special bets that are only applicable to predetermined races.
Live Streaming at 4NJbets
4NJbets has the same streaming content as its parent company, TVG. Customers can access over 50,000 live races a year with HD quality through the live stream feature. Once you have completed your registration at 4NJbets, you will get hours of live Streaming every month on any horse races you select. If you use up your allocation of 10 hours, you can get an extra hour of live Streaming every time you bet $25. There is also the option of purchasing another 10 hours of live Streaming for $3.
The live stream is also available on the 4NJbets app, similar to the TVG app for PA, which is fantastic as it allows you to watch horse races on the go.
4NJbets Banking
There are numerous secure and convenient payment methods available at 4NJbets. Most deposits are made instantly; however, withdrawals can take up to 3-10 days to process and appear in your 4NJbets account. The following payment methods are available at 4NJbets:
Debit/Credit Card
BetCash
Green Dot MoneyPak
PayNearMe
Wire Transfer
TVG Prepaid Card
Cash at deposit centers
Some tracks will accept 4NJbets deposits, but please make sure you call beforehand for a current list of tracks and hours.
4NJbets Customer Support
4NJbets takes customer service seriously, and they have staff on hand to help throughout the day. The most convenient way to contact customer support is via telephone. The NJbets toll-free hotline is 1-888-752-9884. Additionally, you can contact the customer support team via e-mail. The 4NJbets e-mail address is customerrelations@tvg.com. You can expect an e-mail response within 1-2 business days, so if you want an answer more quickly, we would suggest using another method.
Alternatively, instead of contacting customer service, you could access the FAQ section of the website. There are informative videos that go over common issues players encounter, such as understanding the welcome offer or placing bets. You can also contact them on twitter @TVG.
4NJbets Summary
4NJbets is a fantastic horse racing betting site for New Jersey-based bettors. As 4NJbets is attached to TVG, it has access to all of the excellent features TVG has to offer. This includes the ability to bet on over 150 race tracks globally. Sharing a platform with one of the most well-known horse racing TV networks massively benefits 4NJbets.
4NJbets also has a superb welcome offer for new customers and an excellent mobile app so players can bet on the go. Additionally, existing customers can access ongoing promotions such as free horse racing bets and jackpot prize pools. If you require assistance, 4NJbets has an outstanding customer service team that is on hand to help you with whatever the query is. Our 4NJbets review found this platform to be one of the best horse betting sites around.

Get A $250 Sign Up Bonus
Get Bonus
21+. T&C Apply
21+. T&C Apply