76ers Hire Rivers As Head Coach
Categories:
Tips
|
Published by:
Alex W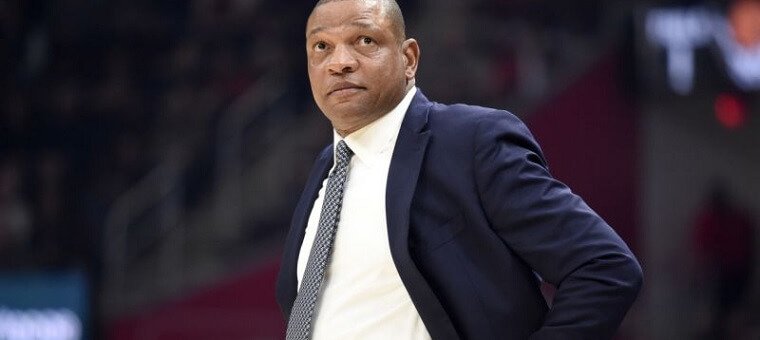 The Philadelphia 76ers have hired Doc Rivers as the team's new head coach, sources indicated on Thursday.
Rivers has agreed to a new five-year deal, and the Sixers are hoping that a new coaching staff can lead the franchise back to the top of the Eastern Conference.
Rivers will now be returning to the Atlantic Division in the Eastern Conference, where he led the Boston Celtics to an NBA championship in 2008. Philadelphia was able to hire Rivers just three days after the coach parted ways with the LA Clippers.
The 76ers still have Ben Simmons and Joel Embiid on the roster, but general manager Elton Brand will be tasked with making some adjustments this offseason. Philadelphia lost in the first round of the Eastern Conference Playoffs in 2020.


21+. T&C Apply
21+. T&C Apply
Philadelphia had previously been targeting Mike D'Antoni to lead the franchise, but Brand quickly shifted his focus to Rivers when he became available. Brand reached out to Rivers and his camp on Monday night, and the deal was signed on Thursday.
Brett Brown was fired after seven seasons with the team after failing to lead the 76ers deep into the playoffs.
Rivers led the Clippers to a 356-208 record during his seven seasons with the team but fell short of expectations this season. The Clippers were title contenders but blew a 3-1 lead to the Denver Nuggets in the Western Conference semifinals.
One of the biggest reasons for being forced out of Los Angeles was the Clippers' lack of playoff success. The Clippers went just 3-8 in potential series-clinching games, which is the worst record for one single coach with any team.
Rivers is the 11th winningest coach in NBA history, having racked up 943 wins during his career. Outside of Boston and Los Angeles, Rivers has also coached the Orlando Magic during this career.
Sources have indicated that Alvin Gentry is a strong candidate to join the new coaching staff in Philadelphia. Gentry was fired by the New Orleans Pelicans in August after leading that franchise for five seasons.
Rivers will now be reunited with forward Tobias Harris, and the Sixers are hoping that it turns things around for the player. Harris averaged more than 20 points per game while playing for Rivers in Los Angeles but has struggled since joining Philadelphia.
Lue the Favorite in LA?
Last week, Ty Lue interviewed for the head coaching opening in Philadelphia, but he has started to emerge as a favorite to replace Doc Rivers in Los Angeles. Lue was an assistant coach under Rivers this season and has great respect from players.
The Clippers are expected to start interviewing other candidates this week, but they might have to work quickly to keep Lue on staff. The Pelicans are expected to reach out to Lue about their head coaching opening, and there is mutual interest.
Pelicans executive vice president of basketball operations David Griffin hired Lue to lead the Cleveland Cavaliers, and that duo helped carry the Cavaliers to an NBA championship in 2016. Houston is also expected to reach out to Lue next week.
How will the Clippers get on this season? If you are having abet, check out one of our recommended sportsbook apps.
Come and follow us over on Twitter @Gamble_usa for more legal sports betting news across the US.
Relevant news