Philadelphia 76ers Team up With BetMGM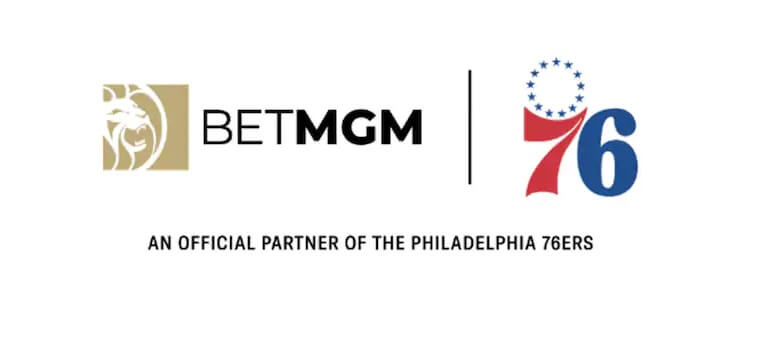 Philadelphia 76ers have announced BetMGM as their official sports betting partner.
The NBA's Philadelphia 76ers have revealed that they have struck a partnership with well-known sports betting company, BetMGM. The deal with the Philadelphia 76ers comes following BetMGM launching their mobile sports betting platform in Philadelphia. The collaboration contains several perks for both parties, including increased 76ers fan-based engagement campaigns and the BetMGM logo's strategic positioning on the basket pole at all Philadelphia 76ers games. Additionally, BetMGM advertisements will run on the 76ers app with casino games branded after the 76ers on the BetMGM Casino platform and more.
Details of the Deal
Katie O'Reilly, the 76ers Chief Revenue Officer, has stated that everyone is excited about the partnership with BetMGM. She said she hopes that as part of the deal, there will be a considerable increase in fan engagements and more enjoyable experiences for 76ers fans. The basketball club now has the ability to interact with fans on BetMGM's digital platforms through games, and that contains 76ers branding. Furthermore, the agreement allows them to connect tactically with sports betting fans.

21+. T&C Apply
21+. T&C Apply
For BetMGM, they get the chance to feature in the 76ers social and digital platforms, which includes its mobile app. The gaming company also gets great exposure through signage of their brand at the arena in every 76ers game, including the BetMGM branded basket pole pads, which would be exposed heavily on televised games.
Matt Prevost, BetMGM's Chief Revenue Officer, said that the company was 'honored' to be the official sports betting partner to the Philadelphia 76ers. He said that their foray into the Philadelphia sports betting market with the launch of their mobile sports betting app had been a huge success. Prevost expanded on that by stating this partnership is a 'thrilling avenue' for the betting company to provide the 76ers fans more exciting ways for them to interact with the favorite basketball team.
Looking to the Future
PA Online sports betting has been growing in the state since its legalization in the state in 2018. BetMGM has looked to take advantage of this by growing its brand in the Keystone State. News of this agreement with the 76ers means they now have a mutually beneficial relationship that would increase the activities on the platform.
Both BetMGM and the 76ers hope that this agreement will be a win for both parties. Regarding BetMGM, their strategic aim to secure a more significant part of Pennsylvania's online sports betting market is a priority. As the online sports betting industry continues to grow in Pennsylvania, the state is expected to surge to the top of the gaming market across the country in the near future.
Follow us over on Twitter @Gamble_usa for the latest legal casino and sports betting news across the US.
Relevant news