888-Jets Deal Lucrative For Both Parties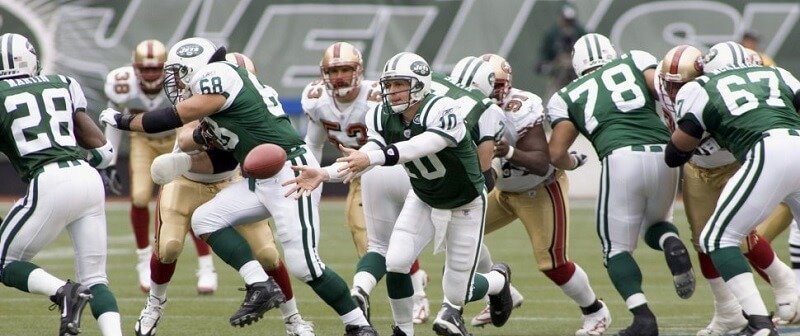 The NFL's New York Jets franchise and 888casino NJ have entered into a sponsorship agreement, effectively making the casino operator an official sponsor of the club.
The deal will see 888's promotional materials (logos and other brand symbols) displayed significantly through MetLife Stadium, the Jets' home for games. The company will also feature the team on their website.
This is not the first time that the franchise has partnered with a gambling operator, has teamed up with MGM Resorts as their "official partner" last year.
"We couldn't be happier with this deal. Partnering up with the New York Jets is a dream come true for us. We are so excited to be the first NJ online casino to sponsor an NFL team," said Yaniv Sherman, Head of Group Commercial Development at 888.
"At 888casino NJ, we are always looking to score huge wins – this one certainly ranks right up there among the best of them. We look forward to supporting the New York Jets in every way by promoting them to the best of our abilities."
Other casino sponsorship deals in the NFL
The Dallas Cowboys set a precedent as the first franchise to strike a partnership deal with a casino, when announcing in September 2018 a sponsorship deal with WinStar Casino in Oklahoma.
Since then, the Atlanta Falcons, Baltimore Ravens, Chicago Bears, Indianapolis Colts, New Orleans Saints, Oklahoma Raiders and Philadelphia Eagles have followed suit – all partnering with Caesars Entertainment.
888 products in New Jersey
The online casino from 888 for NJ has been available in The Garden State from the market's beginning in late 2013 and, following on from the repeal of PASPA in May 2018, 888 was the sixth sportsbook in the Garden State when it launched last September. Want to play at 888? Then read our download guide for 888caisno
The casino product received a welcome upgrade in July of this year with the launch of Orbit, 888's brand-new web-centric casino platform. Essentially the whole user experience was redesigned, resulting in faster logins and smoother transitions between games.
The enhancement to the 888casino platform also saw the addition of 35 new slot games (239 in total), featuring exclusive content developed by 888's in-house studio Section 8, and live casino games including live blackjack, baccarat, roulette, and ultimate Texas hold'em.
The timing of the Orbit roll out ahead of the new NFL season was seen as crucial for the operator, with 888 Sport NJ customers more likely to try out a revamped and cutting-edge casino product.
888 Sports NJ set to make up ground on rivals
888 has traditionally been a casino-centric brand, with 60% of its global revenue in 2018 coming from the casino, but revenue from sports betting has been growing exponentially this decade and this now accounts for around 15% of group revenue.
So far, though, the 888 Sports NJ brand is lagging behind rival sportsbooks. 888 Sport and its license partner, Caesars Sportsbook, posted online revenue of $340,832 for the month of August, which contrasts sharply with the $9,269,586 notched up by FanDuel Sportsbook and PointsBet on the Meadowlands' licence. Read: 888 sports app NJ review
FanDuel and Draftkings have dominated New Jersey's online sports betting market so far,and it's an increasingly crowded arena, with the recent arrival of Unibet and theScore bringing up the total of sportsbooks to 17.
With so many books working hard to get a market share, the deal with the Jets could not have come at a better time for 888. And it could prove a lucrative one for both parties, with sports betting continuing to flourish and the state nearing the $4 billion mark in total bets since statewide legalization in 2018.
Relevant news