AFC Wild Card: Titans at Patriots Betting Preview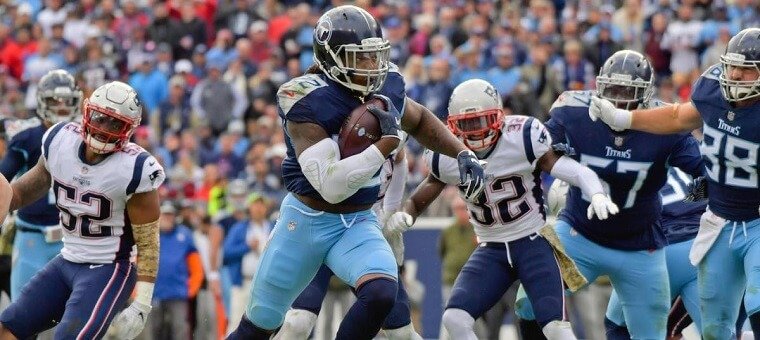 The NFL regular season is finally over, and that means it is time for the playoffs to kick into gear. This season, the NFL has put the Wild Card games from each conference on separate days.
Date: Saturday, January 4th, 2019
Time: 8:15pm
Location: Gillette Stadium, Foxborough, Massachusetts
Watch: CBS

Lines are provided by DraftKings Sportsbook – Sign up now and claim a $200 risk free first bet.
The AFC games will take place on Saturday, while the NFC games will take place on Sunday. In the nightcap on Saturday, the Tennessee Titans will be on the road in Foxborough, Mass., to take on the New England Patriots.
The Patriots started 11-1 and somehow did not manage to get a first-round bye, while the Titans were on the brink of a lost season before Ryan Tannehill saved the day.
Both of these teams are potent and dangerous, so let's break down the matchup and help you determine where you should be putting your money for this game.
The Titans Are The Hottest Team In The NFL
All looked lost for Tennessee early on when it was starting Marcus Mariota under center. Mariota was shaky at best and really was finding ways to lose games.
For the Titans, their biggest bright spot all year was Derrick Henry. Henry officially snagged the regular-season rushing title and looks like the best running back in the NFL.
AJ Brown has developed into a deadly playmaker on the outside, and there is a great connection between Brown and Tannehill.
Right now, the Titans have won every game that they were supposed to and look like they can beat anybody. If they somehow manage to go into Foxborough and upset the Patriots, all bets will be off.
I don't know if they could make a run beating Tom Brady, Lamar Jackson and Patrick Mahomes, but they certainly are a force to be reckoned with.
Tannehill has this offense clicking, and he will look to take down the behemoth that is the Patriots.
A Troubling Time For All New England Fans
When you look at this Patriots team this season, about the only thing you can say about them is, "Hey, at least they are the Patriots."
That is not a good sign for a team that wants to make a run at another Super Bowl.
The Patriots defense went from historically good to more like well above average. With that in mind, I think this defense is really good, but one thing it does struggle with is the run game.
Unfortunately for the Patriots, they will be tasked to stop the best rusher in the NFL. This feels like a game where we will know very early on whether or not the Patriots have it.
Brady has had one of his worst seasons in recent years, and his completion percentage is jarring. Sony Michel has been unlocked a little bit here in the past couple of weeks, but there are too many question marks for this team.
Tennessee is a hard draw in the first round, but a prime-time, home-field Brady is good against anybody, and that certainly is a redeeming factor of this game.
Betting Preview
For this game, it is no surprise that the Patriots are drawing the favorite at -4.5. Even though the Titans are frisky, I don't think they will have a chance to walk away with this one.
New England at home in January is exactly what the Patriots are looking for, and I think they will take advantage of that for this first round of the playoffs.
I don't know if the Pats will make it far, but it is hard to count them out. Take the Patriots in this game, and make sure to lock in your bets before Saturday night.
Give us a follow over on Twitter @Gamble_usa for more big game previews and news. Make sure to check back for more Free NFL & NCAA Football picks.
Relevant news