Arizona Wildcats at USC Trojans Betting Preview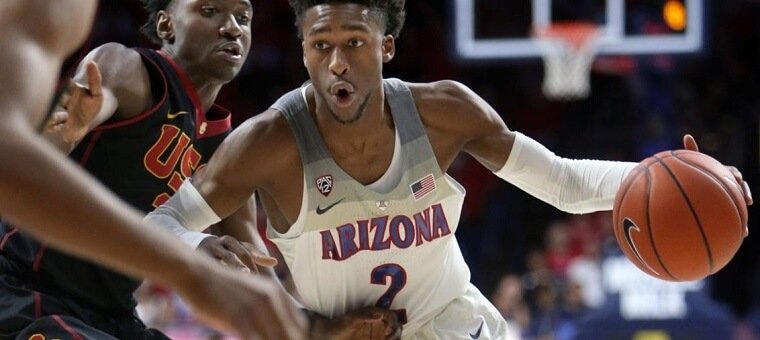 On Thursday, we will have a Pac-12 showdown coming our way with the Arizona Wildcats going west on the road to take on the USC Trojans.
While neither of these teams is leading the Pac-12, they are both not too far off of the top of the standings.
The Pac-12 itself this year has been a close race, and like other conferences in the country, many teams have been jockeying for position.
Modern basketball has been moving in the direction of more and more three-pointers, but both USC and Arizona boast big men who dominate the low post and find success in the paint.
This will make for a compelling matchup, so let's break down the matchup between these two programs and make our predictions.
The Wildcats secretly the best team in the Pac-12
It has been a battle all season long to determine who is the best team in the Pac-12 conference. Arizona has been creeping around the edges, but I think they are ready to make a late-season push.
Led by freshman standout forward Zeke Nnaji, these Arizona Wildcats are not a team to be messed with.
In their first game against USC this season, Nnaji finished the game with 18 points and 11 rebounds. At 6-11 and 240 pounds, Nnaji is a force to be reckoned with in the low post.
His play stands out above the rest of their team, but guard play from Nico Mannion and Josh Green has continued to prove successful for this team.
This team boasts a very complete roster from top to bottom, and most importantly, they know who their best five players are.
With a standout dominant freshman big man to lead the scoring push for them, I think the Wildcats will be able to make a run in the Pac-12 tournament a be a force in March Madness.
USC just can't get there
If Arizona has been creeping around the edges, then USC has been just one step behind them.
I feel as if the Trojans have a very similar playstyle to Arizona, but Arizona just does what they do better.
The Trojans are led by standout forward Oneyka Okongwu, and like Nnaji, he is a strong presence on the interior.
Okongwu can single-handedly secure victories for this USC team, but he also gets some help from guard Jonah Matthews and forward Nick Rakocevic.
The offense is there, and that trio can really pack a punch in certain matchups. They just have not been able to score as many points as Arizona, and I think if it gets to a shootout that they are going to have a tough time keeping up.
The key for a USC victory will be to slow the game down. This is kind of counter to their typical playstyle, but I think it could really throw Arizona off their groove.
In any case, USC could use this game to earn some respect and take the leap that their fans have been desperately waiting for.
Betting Preview
For this Pac-12 game, Arizona finds themselves as the favorites in this one at -5.5. Even being on the road, Vegas believes in their roster much more than USC.
I tend to agree with Vegas' choice, and I think Arizona does everything that USC does just a little bit better.
Nnaji will be able to have a monster game for himself and put his team on his back to secure the victory.
Take Arizona in this matchup as the favorite and make sure to lock in your bets before Thursday night's tip-off!
Hit us up up on Twitter @Gamble_usa for more game previews and news.
Relevant news