Sports betting in Arkansas gets the go-ahead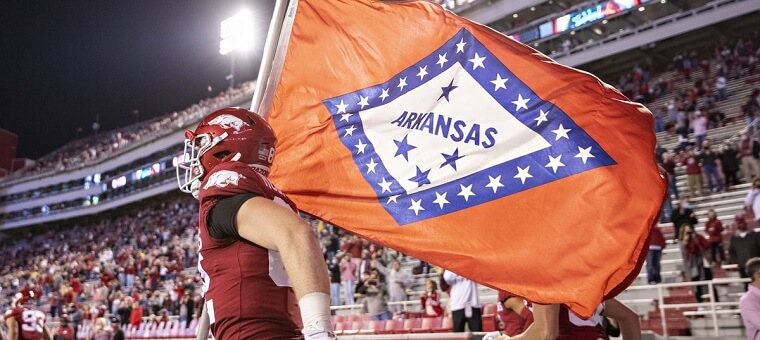 Gamble USA strives to improve your online gambling experience. We aim to help you play safely, make informed decisions when gambling, and increase your betting knowledge through our guides.
We adhere to strict editorial integrity; our content may contain links to products from our licensed & legal US partners.
Arkansas Takes Major Leap Towards Legalizing Online Sports Betting
This week, the Arkansas Racing Commission unanimously approved a rule change giving local casinos 51% of profits when they agree to partnerships with prominent online gambling brands such as DraftKings and FanDuel. The decision was reached on Thursday, and the rule change allows mobile sports betting in Arkansas to launch, subject to approval by the Arkansas Legislative Council in January.
That panel, which holds monthly meetings, typically approves rule changes which it receives from the state's boards and commissions. Mobile sports betting could launch in February if the panel approves the amendments at its next scheduled meeting in January.

The 51% rule change vote is likely to have national ramifications. Carlton Saffa, the chief market officer at Saracen Casino Resort, said that he had been told by casino operators across the country who would have preferred their states had implemented a 51% rule.
Online Operators Dispute 51% Rule
The vote occurred following weeks of debates and disputes on social media sites regarding the 51% profit-sharing rule. According to an industry insider, online operators usually share 5-15% with local casinos.
In the lead-up to Thursday's vote, a group of online bookmakers created an advocacy group, Bet on Arkansas, with a dedicated website and Facebook page. The group of gambling companies includes BetMGM Sportsbook, DraftKings, FanDuel, Fanatics Sportsbook, and BallyBet.
This group argues profit-sharing arrangements should be negotiated between private entities, such as themselves and casinos, instead of the government. The coalition also claims that the higher profit-sharing figure could put off online betting companies from entering Arkansas, depriving residents in the Natural State of notable brands they know and trust.
At the meeting on Thursday, John Burris, a former Arkansas legislator, said that national online bookmakers "can't do business in Arkansas" with the profit-sharing rule in place. He added that casinos in other locations, such as Louisiana, have agreed that they want to partner with major national brands.
Although national operators must partner with casinos in Arkansas if they want to operate in the state, local casinos can develop their own mobile sports wagering apps.
Arkansas Casinos Want Profits To Remain In-State
Arkansas casino operators sent a letter to the Racing Commission ahead of the meeting on Thursday, stating that the majority of the net revenue generated in partnerships with national bookmakers should remain in the state.
The casinos say that they employ a combined 3,000 workers, have spent over $1 billion in capital construction, and contribute millions in state and local taxes.
The three commercial casinos in Arkansas are Southland Casino Racing, Saracen, and Oaklawn Casino Resort. A fourth hotel-casino has been approved but has not yet been built.
Relevant news