Army Black Knights vs. Navy Midshipmen Betting Preview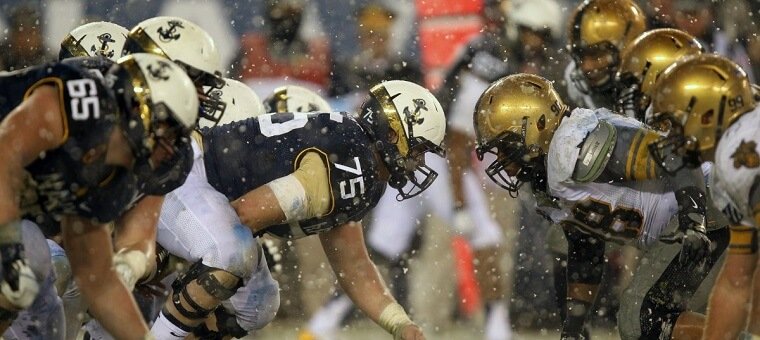 Every year brings about a historic tradition in college football. This is a tradition that dates back over a century ago, all the way back to 1890.
Date: Saturday, December 14th, 2019
Time: 3:00pm
Location: Lincoln Financial Field, Philadelphia, Pennsylvania
Watch: CBS

Odds provided by DraftKings Sportsbook – Sign up for a $200 free bet
The Army-Navy football game has been one of America's oldest rivalries, and every year it gets better and better.
Navy ripped off a stretch of 14 straight victories in the 21st century, but Army has pulled away with the last three victories.
Played in Philadelphia this year, the game will be in its 120th installment this upcoming weekend. Navy has been much better than Army all season long, but that does not mean an upset can't be inbound.
Let's break down the matchup between these two programs and give you all the information you need to make a pick in the most historic rivalry in America.
Same Style, Different Results
The Army Black Knights, like the Navy Midshipmen, have an offense based entirely on the run game. Army wins its games predicated on its defense and ball control.
Army went through an unfortunate midseason lull where it ended up dropping five straight games. All of those games were lost by two touchdowns or less, and the Black Knights were fighting until the very end.
One of their most impressive losses came very early on in the season when they took a trip up to the Big House to take on the Michigan Wolverines.
Army took Michigan down to the wire, where they wound up falling short in double overtime, 24-21.
That game was many moons ago, and the Knights are 5-7 on the season heading into this game. Coming off of a loss last week, it does not look like they have a lot of momentum going into this matchup.
Kelvin Hopkins Jr. will have a chance to right the ship against Navy. Hopkins can cement himself in Army's history by beating Navy.
Quite The Impressive Resume
Navy has proven that its offense can roll through some of the best teams in the nation. While it has two losses on the season, those came at the hands of nationally-ranked Memphis and Notre Dame.
The Midshipmen are led by the perfect quarterback for their system, Malcolm Perry, who has been electric all season long. Perry has 1,500 yards rushing on the season and 19 rushing touchdowns to go with six touchdown passes.
Perry has led his offense to be one of the best in the country, averaging around 39 points per game with around 360 yards per game.
Navy is coming off of beating SMU and Houston, both of whom have been quality teams all season long.
This gave Navy a national ranking. At No. 23 in the country, Navy will look to cap off its incredible season with a win over its rival.
Betting Overview
With such a discrepancy in the teams' records this season, it is no wonder why Navy winds up as the favorite in this game at -10.5.
Navy and Army run very similar styles of offense, but Navy does everything Army does better and has been more successful all season long.
While Army has been able to win this matchup the last three years, I think Navy will be able to get back on track in this game and take back the crown.
I don't know if this means they will be able to win 14 straight again but lock in Navy at -10.5. Make sure you tune into the big game!
Be sure to check back for more Free NFL & NCAA Football picks and follow us on Twitter @Gamble_usa
Relevant news