Baltimore Ravens Sign Deal with BetMGM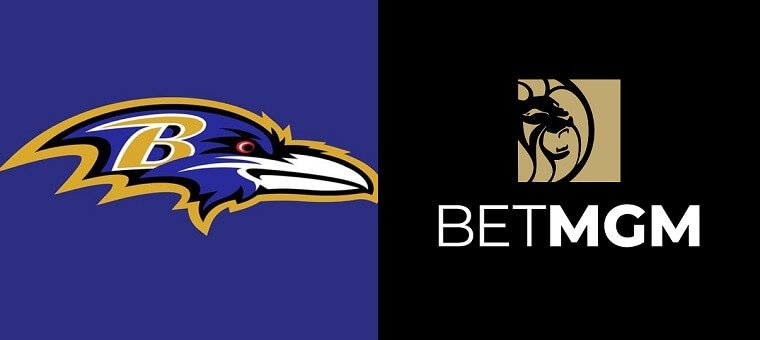 The Baltimore Ravens have announced a new marketing deal with BetMGM.
NFL franchise the Baltimore Ravens have revealed they have signed an official agreement with sports betting operator BetMGM. This follows hot on the heels of Maryland sports betting officially being signed into law by Governor Larry Hogan. Many industry experts now believe numerous similar partnerships will be announced over the next few weeks.
The deal means BetMGM will receive considerable exposure and M&T Bank Stadium and the Ravens' digital platforms. Additionally, there will be special promotions for Ravens fans on the BetMGM sportsbook and app, which is a nice perk for using the teams' official betting partner. One of the most unique aspects of the deal is that there will be a suite created at M&T Bank Stadium, which BetMGM will operate. It is likely to be something similar to the existing betting lounge that BetMGM runs at Mile High Stadium in Denver, home of the Broncos.

21+. T&C Apply
21+. T&C Apply
BetMGM adds Another NFL Team
When the NFL announced their official three betting partners a few months ago, it was surprising to see BetMGM not named as one of them. The three official partnerships were agreed with DraftKings, FanDuel, and Caesars. One of the main reasons for BetMGM being excluded is that the company already had an existing relationship with a lot of NFL teams. As we have mentioned above, BetMGM has a lounge and existing partnership with the Denver Broncos. Additionally, BetMGM is also the official partner of the Pittsburgh Steelers, New York Jets, Detroit Lions, and the Tennessee Titans. That is most of the NFL franchises located in states with online sports betting.
The Baltimore Ravens are the newest name to that list of partnerships. This is a massive bonus for BetMGM as NFL teams carry a lot of credibility. By associating themselves with several NFL teams, BetMGM is adding validity to its brand. The company will also hope they can attract a lot of Ravens fans with this news.
Ravens Happy with Deal
The Baltimore Sun reported on the news, and according to quotes from the paper, the Ravens were looking for a partner that would offer unique promotions. Kevin Rochlitz, the chief sales officer of the Ravens, said that when they began looking for partners in the field of sports betting, one of their top priorities was finding ways for "Ravens fans to further engage with the team."
Emphasizing that point, Rochlitz stated that BetMGM would be providing a "specialized entertainment experience." This is not the first time BetMGM will providing services such as this. For example, in their deal with the Pittsburgh Steelers, a lottery was created to win VIP Season tickets, in addition to other promotions.
BetMGM Strengthens Foothold in US Market
Another benefit of this partnership is that MGM Resorts, the majority stakeholder in BetMGM, already owns a casino in Maryland. The MGM National Harbor can be found in Forest Heights and will likely offer a BetMGM retail sportsbook.
Maryland could become a huge sports betting state with bettor-friendly laws. BetMGM has recognized this and is securing its place in the market before it expands.
Want to stay up to date on the latest legal sports betting news across the US? Then come and follow us over on Twitter @Gamble_usa.
Relevant news