If you are looking to bet online, using a debit card to fund your account is one of the most popular ways to make a deposit. It's fast, safe, and secure. Most operators now accept debit card deposits, but in this guide, we will explore what are the best sports betting sites that accept debit cards.
Unfortunately, not every online sportsbook does this, but most betting sites offer debit card deposits as an option. This guide will show you the best betting sites that accept debit cards, how we rate them, betting limits and processing times, and the benefits of using them as a deposit method.
💳Betting Sites That Accept Debit Cards
All of the debit card betting sites have been vetted by our editors for overall performance, betting market depth, and promotions. Each sportsbook is licensed by local gaming commissions and is 100% safe and legal to use!
Top 10 US Sportsbooks Accepting Debit Card Payments
Most online sportsbooks accept debit cards as a payment method, so this list includes our top 10 favorite sportsbooks in order. These sportsbooks feature great welcome bonuses and are phenomenal for veterans of online sports gambling and new users.
To claim the exclusive welcome bonuses from any of the sportsbooks above, click our link, sign up for an account, and use a promo code if necessary when making a deposit!
❓How We Rate Debit Card Betting Sites
This section will focus on the criteria we rate the online betting sites above as well as why each one of these characteristics is essential. Most betting sites that accept debit cards are generally above average; however, only the best made this list.
Do They Accept Debit Cards as Payment?
The most critical element of the list is whether or not the sportsbook accepts debit cards as a payment method; it's pretty straightforward.
Deposit Limits
Betting limits can vary wildly based on who your bookmaker is, so finding an online sportsbook that can fit your needs regarding deposit minimums and maximums can sometimes be tricky. Most sportsbooks allow a minimum of $5 or $10 to be deposited, but the maximum deposit can range between $500-$20,000.
Safety and Support
Each sportsbook listed above is legal and licensed by the local state gaming commissions that they operate.
If you're considering using a sportsbook that does not have a license from your state's gaming commission, DON'T! The sportsbook is an illegal offshore website or isn't available in your state (even if it allows you to sign up).
Users should look for reviews on the sportsbooks they are interested in joining. Always check the customer service team contacts, because problems on the internet happen and no website is perfect. Any issues involving your money should be taken care of immediately.
Welcome Bonuses
Welcome bonuses are significant because they may give users bonus cash as a sportsbook deposit bonus, or even better, just free bets.
For example, one of the best debit card bookmakers is PointsBet, and they feature not one but two $1,000 bonus bets! Other sportsbooks feature a deposit bonus of a certain percentage on your first deposit, meaning you'll receive the percentage in bonus cash that you can then use on free bets! The good news is because there is now so much competition in the online sports betting world, there are more bonus bets available than ever before.
Depth of Betting Markets
Always remember to check for the sports you love on the online betting site before you sign-up to be sure they have them available; delve deeper into the odds to check for lines and spreads and ensure your bonus wagering is included in these markets.
Signing up for a sports betting account with plenty of betting markets is convenient because you won't have to download and create an account for a new sports betting website when they don't feature a sport you watch.
Mobile App
The mobile app for each sports betting site is vital for the convenience and experience of the user for many reasons.
The app's user interface is essentially characterized by the layout and organization of the betting app, which can get severely jumbled and confusing with the different sports and bets available. Below, in my opinion, is the best user interface out of any betting sites that accept debit cards (DraftKings).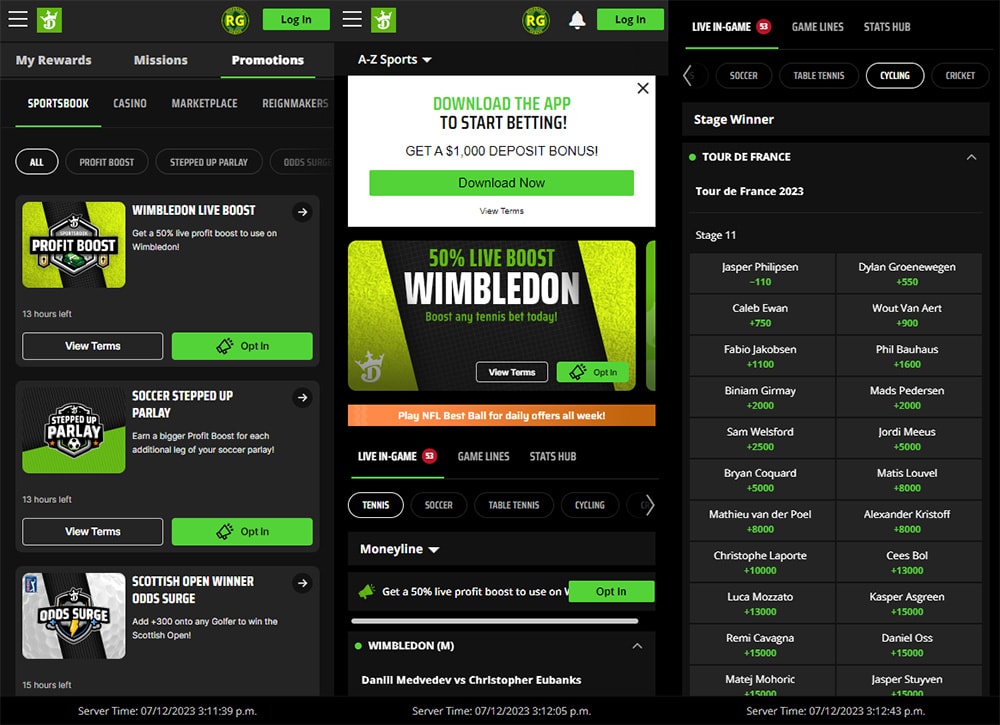 Mobile apps for many online bookmakers even feature exclusive odds boosts and bonuses that users cannot get from their website, so be sure to get the most out of every bookmaker!
Types of Debit Cards Accepted for Betting in the USA
Not all sports betting sites that accept debit cards as a payment method will have the same options for the types of cards that users may use. Generally, the best betting sites that accept debit cards will allow payments to be processed with the following cards:
MasterCard debit cards
Discover cards
Online gambling sites that accept debit card deposits will accept Visa and MasterCards but might not allow Discover or American Express sportsbook transactions. If you have either of these cards, check if the sportsbook accepts them as a payment method.
Areas of Consideration When Using Debit Cards for Betting
When deciding on a payment method to fund your online betting account, it is essential to think of all of the factors, including their benefits and drawbacks. Debit cards feature many more pros than cons because they are easy, quick, secure, and free of fees from the sportsbook (depending upon your bank).
Be sure to check with your bank before making debit card deposits because they may charge fees to your account for making the transfer. This would happen because when opening an account, you may have signed an agreement allowing the bank to charge fees for online cash transfers.
The main drawback to using a debit card as a payment method is that they generally have lower limits for deposits and withdrawals than other payment methods like online bank transfers or even alternative methods such as Trustly or Neteller. The limits aren't low by any means, although if you're trying to make a very sizable bet, you may need to use other means of payment.
Benefits of Using Debit Card Betting Sites
The main benefit of using debit cards to make deposits on sports betting sites is the convenience; however, other factors such as safety and fewer fees also contribute. As mentioned above, debit cards are a very safe payment method without many fees.
Debit cards are very safe because cardholders may cancel them at absolutely anytime, and they don't feature any personal information that may be able to be used to steal someone's identity.
As I mentioned above, there are also a few drawbacks to using debit cards as a payment method, although I believe the pros outweigh the cons. If there are any fees, they are minimal, and the deposit limits are pretty significant on the top betting sites, even though other payment methods do have larger ones.
Debit Card Betting Sites Deposit Process
If you use debit cards as a payment method, you must enter some card information to make the deposit. First, find your sportsbook's deposit screen that features all the deposit methods available, and click on the "credit or debit" cards option below.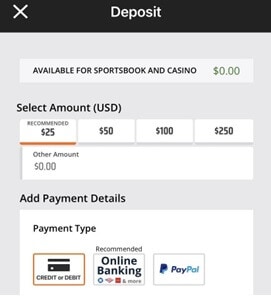 Next, decide how much you'd like to deposit from your debit card and enter the following information:
Card number
Expiration date
Security code (CVV)
Some sportsbooks will require additional information, such as the name on the card or the billing address on file. After reviewing the information entered for accuracy, you must choose whether to save the card to your account for later use and convenience.
How to Withdraw Money From Debit Card Betting Sites
Making debit card withdrawals is just as easy as using any other form of payment! It's also possible to withdraw to the same account/debit card through different methods like PayPal or Play+ Prepaid Cards.
To withdraw using a debit card, simply go to the cashier page, click on withdraw, select the debit card option, and the amount you'd like to take out. After the withdrawal is submitted, it will take between two and 48 hours to finish processing and be applied to the debit card.
You will need to be using a debit card you've previously made a deposit to your account. Sportsbooks have this rule to deter from identity fraud and users getting their money taken from hacked accounts.
If you don't want to use that method for any reason, you can always sign up for either a PayPal or Play+ Prepaid card. These third-party services allow you to make deposits or withdrawals using your debit card as well, but they add an extra layer of security and safety for the extra cautious user.
Minimum/Maximum Debit Card Limits for Betting
Debit card deposits will have a different minimum deposit amount based on the online sportsbook; however, they generally range from $5 to $10. While it is uncommon, some sportsbooks require a minimum deposit amount of $20-$25, so be sure to check before attempting to make one. Generally, it varies from operator to operator, but there are now several minimum deposit sportsbooks, so there really is something to quit all levels of bettor.
Maximum limits also vary based on the sportsbook being used; however, these are a lot more volatile in number. Limits can range from $500 to $20,000, so check the limit from your sportsbook.
See below for an example of a deposit minimum and maximum that is located at the bottom of the deposit screen.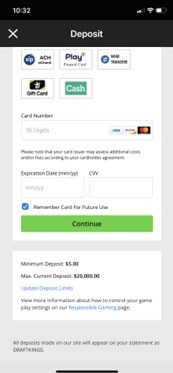 Processing Times and Fees
Users who make deposits to their sportsbook account using a debit card will almost always see it instantly available. If not, be sure that your bank account allows online gambling transactions, and if they do, contact customer support for assistance.
The processing time for withdrawals are pretty standard in comparison to other payment methods and will be finished and in your account anywhere between 2 and 48 hours!
Most sportsbooks don't have fees for debit card deposits, but some banks will consider it an online transfer and may implement a fee of their own. The fee will be based on the agreement you've signed with your bank, which means possible payment method exclusions apply.
Debit Card Bonuses At Betting Sites
Most betting sites that accept debit cards don't have any bonuses for using them outside their original welcome bonus. These welcome bonuses might consist of risk-free bets, deposit matches, or free bets worth up to a certain amount (see the image below for example).

On the other hand, some offshore sites may advertise bonuses for deposits made with a debit card; however, they should not be trusted and are not entirely legal.
Debit Cards vs. Other Online Payment Options
Legal online sportsbooks in the US accept a wide range of payment methods in addition to debit cards. It is always beneficial to have a range of options in case your debit card is declined.
The most common alternative payment options include:
PayPal: PayPal is the number one e-wallet provider in the world. You can add funds to your PayPal wallet from a variety of different sources, and then move the funds on to your betting account. Additionally minimum PayPal deposits are typically quite low and you will get your funds instantly when you withdraw.
Play+: Lots of different operators now issue their own branded prepaid card. You can fund the Play+ prepaid card via your bank account or a Visa. As with PayPal, you can then transfer this cash from your Play+ account over to your sportsbook account. There are no fees attached and no declined payment requests and it is one of the quickest withdrawal options available. You also have the option of withdrawing funds from your Play+ card at any participating ATMs.
PayNearMe: If you would rather deal in cash then PayNearMe is a great option. Just head to your nearest Family Dollar, CVS or 7-Eleven store, make a cash deposit, and then the funds will be transferred to your online betting account.
ACH/eCheck: The most common ACH (Automated Clearing House) provider is VIP Preferred. This option allows you to move money directly from your checking account.
Overview & History of Debit Cards
Debit cards were created by the Bank of Delaware in 1966 and were the first way to get money from your bank account without going into the bank! They became one of the most convenient payment methods over the decades due to the influx of ATMs in the 1980s.

While stores were accepting credit card transactions from the 60s to the 90s, debit cards didn't gain popularity in the retail space until transaction fees for businesses declined and got smaller due to the rise in use by their customer base. In 2009, debit cardholders made 37.6 billion transactions, which has become even larger due to more transactions occurring for online shopping.
As the debit card becomes even more popular than it already is, so does the availability of debit card deposits on online gambling sites.
Play at Debit Card Online Sportsbooks Today!
Most online sports betting services offer debit cards as a payment option, so anyone looking for a new sportsbook can easily find one that fits them best because of the variety. Be sure to read the "How We Rate Debit Card Betting Sites" section above for more information on choosing the right sportsbook for you!
Remember to do your research before signing up for an account and depositing in a sportsbook because not all are top-tier, and each has different strengths and weaknesses. The app, the promotions, the market depth, and the safety are all characteristics that should be considered before deciding on a sportsbook to join.
FAQs
What do I do if my bank blocks the deposit transaction?
Contact your bank's customer service team and ask them if there is a way to process the transaction. Sometimes this could be because the transaction is being processed in a different state, so you may be able to approve it, although some banks do not make transactions with online sportsbooks.
Is it possible to make a withdrawal using a debit card?
Yes! Making a withdrawal using a debit card is as simple as using any other payment method! Click on the cashier menu in the top right corner, select "withdraw", enter the amount you'd like to transfer to your debit card, and enter your card information!

Be sure that you've already made a deposit to your account using that debit card, many gaming commissions require that to deter hackers getting money from a stolen account.
Are debit or credit card deposits safer?
Some people think credit cards are safer because they give you better options for disputing charges to your account. I've never heard of an online sportsbook being hacked and any personal information being stolen; however, I have heard of users losing control and betting more than they can afford.

Debit cards prevent this because users can only bet with their money.
Will I get the welcome bonus if I use a debit card to make my initial sportsbook deposit?
Yes! Any payment method used to make a deposit will grant the new user access to the welcome bonus on most sportsbooks!
What fees are associated with using debit cards on online sportsbooks?
There are typically no fees attached to using debit cards for making a deposit on an online sportsbook. However, always check your bank if gambling transactions are allowed or if they incur any fees.