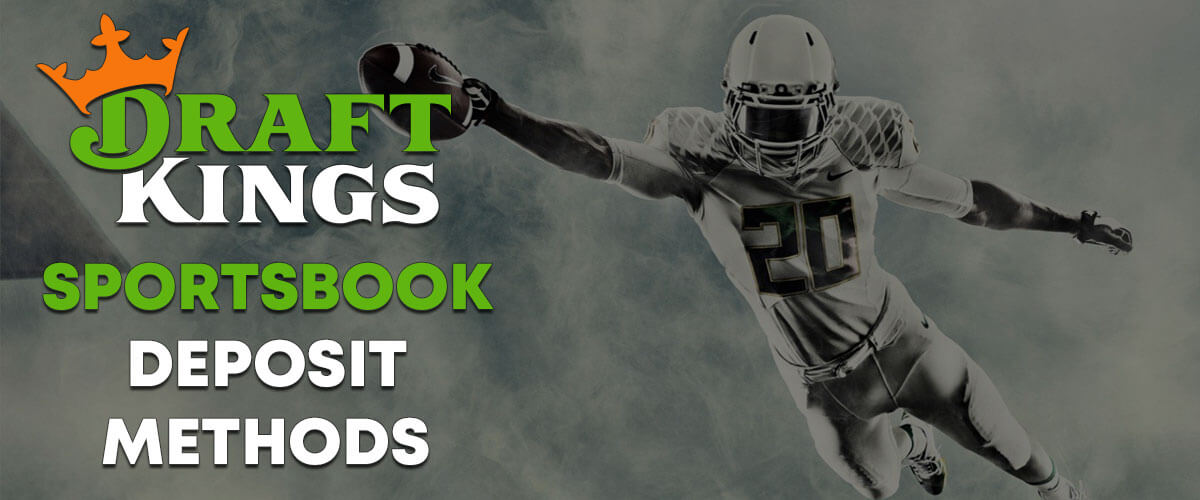 DraftKings is one of the most popular and easy-to-use sportsbooks in the US. If you are new to sports betting in general, you are probably wondering how to make a deposit on DraftKings. In this article, we will list the full DraftKings deposit methods and options for you to use.
Online sports betting continues to grow in the United States, and one company that has benefitted from this is DraftKings. The gaming brand launched in 2012 as a real-money daily and weekly fantasy sports site. Although initially known for DraftKings DFS (DraftKings Daily Fantasy) contests, the company decided to expand into sports betting after the US Supreme Court lifted the federal PASPA ban. The DraftKings sportsbook and Draftkings sportsbook app launched in the New Jersey betting market in August 2018. This made it the first legal online bookmaker in the United States outside of Nevada. The DraftKings online sportsbook took in around $1 million worth of wagers in its first month in operation.
Since then, DraftKings sportsbook and DraftKings Casino have launched in multiple states. DraftKings is now thriving in New York, Virginia, Illinois, and lots more states. Additionally, DraftKings is well-known for its generous bonuses and promotions. The brand regularly has free bet offers for its online casino and sports wagering platform, which you could use to play slots or betting on the Super Bowl. Additionally, you can use your bonus funds or ongoing promos such as an odds boost to wager on NFL week games or use the extensive live betting section on the betting app.
Although you don't need to be live in a state where DraftKings Sportsbook is legal and operational to register, you must be within a legal state's lines and be at least 21 years old for a bet to be accepted. Registering for a DraftKings account takes minutes. Once you have signed up, you can make your first DraftKings sportsbook deposit in seconds using one of the DraftKings deposit methods. The DraftKings mobile app and desktop site use the latest SSL encryption to ensure that all transactions are safe and you can use all of the services available.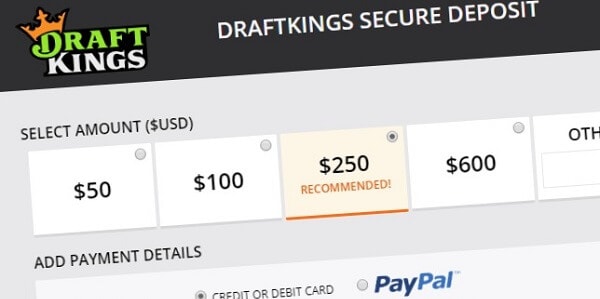 With online sports wagering still being new to most people in the US, many were, and still are, unsure of how things work online. A lot of players are unsure how to make a DraftKings deposit for the first time. Suppose you are used to a standard bank account and have never used online banking. In that case, you may be unsure how things work online regarding a possible DraftKings minimum deposit or what to do if DraftKings deposit is not working. Additionally, you may be wondering if the payment method you use to deposit could affect how you claim offers such as a deposit bonus or free bets.
This guide provides all of the critical information surrounding depositing on the Draftkings sportsbook, and in particular, how to make your first DraftKings deposit. We will cover what to do when you are on the deposit page, the various payment options available, and what a minimum deposit sportsbook means. But first, let's look at how you get started and create an account.
Up To $1,000 Deposit Bonus
21+. T&C Apply
21+. T&C Apply
The best sportsbook
Amazing odds & offers
Awesome betting app
Up To $1,000 Deposit Bonus
21+. T&C Apply
21+. T&C Apply
Create a DraftKings Sportsbook Account
The first thing you must do before you deposit funds and place sports bets to make money on DraftKings is to sign up for a new account. You can do this by clicking on the "Join/Login To DraftKings" button in the top-right corner of the main page on sportsbook.draftkings.com. From here, you will be taken to a new page where you can log in to your existing account or create a new one by hitting the "Sign Up" button. Once you have hit that link, you must enter some personal information such as your name, email address, and birth date. Once you have provided all of the necessary information, your account will need to be verified.
Once the verification is complete, your betting account is up and running, and you can use this to access the sportsbook and daily fantasy sports. Please note that you will be required to verify your age and identity before you can benefit from all of the site's features; this DraftKings safety feature is incorporated for extra security. You can upload the required documents by clicking on your username in the top-right corner of the homepage then choosing account information from the drop-down menu. Use our link to open a DraftKings sportsbook account today to claim your welcome bonus.
Once your account has been created, you can also download the DraftKings app to play remotely. Playing on mobile gives any sports bettor added flexibility. For example, if you are in New York, there is no need to visit the DraftKings sportsbook NY or any physical New York sportsbook. You can gamble on the go via your mobile device whether you want to bet on the NBA playoffs or play DraftKings fantasy.
There is no need for a DraftKings promo code to claim the welcome bonus. Whether you are using a DraftKings Arizona account or are playing DraftKings Tennessee, as soon as your account is verified you can access the bonus.
How to make a DraftKings deposit online
Once everything has been confirmed and your account is ready to go, there is just one thing left to do before you start your legalized sports betting journey. Before placing any wagers, you must make a deposit, and the good news is you have several options to choose from. Click on the green "Deposit" button in the top-right corner, select your preferred payment method and deposit amount, then follow the next steps. If you choose one of the instant deposit methods, then your DraftKings will be instantly credited as soon as you confirm the transaction.
Debit Cards: Deposits can be made immediately by using your Visa or MasterCard debit card, and is among one of the most popular deposit methods across any online betting site.
Credit Cards: Instant deposits can be processed using a MasterCard or Visa; however, there is a catch. Although gambling is legal in states such as New Jersey, multiple banks that issue credit cards will not process credit card transactions that have anything to do with online gambling. Approximately 75% of credit card transactions were rejected in the opening month of operations, but that has dropped down to 50%. If you want to use a DraftKings credit card to deposit, bear in mind your bank may reject a gambling transaction.
PayPal: If you have a PayPal account, you can use this to fund your sports betting account. PayPal sports betting sites are growing in popularity as the payment processor is one of the most trusted and popular e-wallet payment methods available. Customers can make a DraftKings PayPal deposit, and their accounts will be credited instantly. Tap on the PayPal icon on the deposit screen, then enter your regular PayPal details to connect your account to DraftKings.
Play+ Prepaid: Play+ Prepaid is similar to an e-wallet and is a fantastic way to get around debit and credit card issues as you can fund your Play+ Prepaid using your Visa, Discover, or MasterCard as well as your checking account. Another benefit to using a DraftKings prepaid card is that it can be used to process withdrawals. Please make sure that you have registered an account with Play+ before making a deposit using this method.
Gift card: To use an electronic gift card to make a deposit, simply select the Debit or Credit option, then just enter your gift card details. To use an electronic gift card, you will first need to register the card with your name and address.
Bank Transfers: Bank transfers remain a popular way to make deposits, and they are accepted at DraftKings. They are different from the other payment options listed here as they are not instant, and it will take a couple of days before your account is credited. Simply select bank transfer, then select your bank and enter your bank account details.
DraftKings Gift Card: The DraftKings Sportsbook Gift Card is a fairly new deposit method for the operator. Essentially it is a pre-loaded card that can be used on the book. To make a deposit using the funds, just click on the gift card option under payment type, then enter the card number.
All of the above DraftKings payment methods are available in all states with online gambling where the brand operates. This includes DraftKings Louisiana, DraftKings Indiana, DraftKings Sportsbook New York, and DraftKings Michigan. Don't forget, new customers, signing up to the book are eligible for a $1,000 sports deposit bonus. There is no need to use DraftKings Sportsbook Promo Code to claim the offer. It's open to all new players at sportsbook.draftkings.com. Once you have signed up, you can use this bonus on your chosen sports bet. The bonus offer can also be used on the DraftKings betting app.
The image below shows you the screen you will get to when you need to make a deposit. It really is easy to do.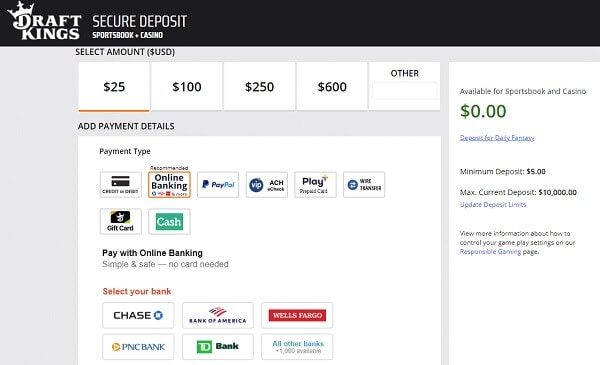 DraftKings Deposit Methods
You can see above just how easy it is to make a DK deposit. The operator has one of the quickest and easy ways to make a deposit and they are one of our recommended minimum deposit sportsbooks for those bettors who don't want to wager a lot on the game. Below we have listed all the deposit methods along with the minimum amount for each option:
| 💳Deposit Method | ⏱️Processing Time | 💲Minimum Deposit | 💰Maximum Deposit |
| --- | --- | --- | --- |
| Online banking | Instant | $5 | $2,000 |
| Electronic gift card | Instant | $5 | $2,000 |
| DraftKings gift card | Instant | $5 | $2,000 |
| Play+ | Instant | $5 | $2,000 |
| Credit Card | Instant | $5 | $2,000 |
| Debit Card | Instant | $5 | $2,000 |
| Bank Transfer (ACH) | Instant | $5 | $2,000 |
| PayPal | Instant | $5 | $2,000 |
| Wire Transfer | 1-5 days | $100 | $2,000 |
| Cash at a retail location | Instant | $5 | $2,000 |
Please note you can not use Amex to deposit at DraftKings Sportsbook or DFS. You can link your AmEx card to PayPal and this way you can use American Express to make sportsbook deposits.
DraftKings Deposit Limits
DraftKings operates in over a dozen states, and the list will continue to grow as more states welcome online sports betting. There are different rules in each state that DraftKings must adhere to, which means things such as payment options and banking limits may vary depending on which state you are betting in. However, one thing that doesn't change no matter where you live is that DraftKings does not charge any added fees for deposits and withdrawals. Whenever you sign up for a new account, make sure you check the available payment methods before you add funds.
See how to change you deposit limit on DraftKings.
Troubleshooting DraftKings deposit issues
So you have successfully managed to make a deposit to DraftKings sportsbook (or DFS site), and the funds are not showing in your account? This is uncommon but not unheard of. It can sometimes be that there is a delay in the funds showing in your account so give it a few minutes.
Have you had a DraftKings account in the past and perhaps closed your DraftKings account? If so, you may not be eligible to open and deposit at a new account. You may have asked to close your account, or it may be that your account was closed for breaching DK betting rules. If you feel this is an error, reach out to DK support at support@draftkings.com.
If you keep trying to make a deposit and it keeps getting rejected, there could be an issue with your bank or deposit method. Make sure your card or bank details are correct, and try again. If the problem persists, contact your bank.
Now that you have successfully made a deposit, you can head over to the lobby and place a bet on any of the sports betting markets available at DraftKings. It is really straightforward to make your first bet with the book, but if you are new to betting in general, it may seem alien. Don't worry, we have just the info for you with our how-to place a bet on DraftKings guide. If your bets come in and you want to withdraw, we have an awesome guide to show you how to make a DraftKings withdrawal.
List of States where DraftKings Online Sportsbook is available
Alongside the FanDuel sportsbook, DraftKings is one of the biggest betting brands in the United States. With features such as flash bet and same game parlays, in addition to DraftKings casino games on the platform, it attracts bettors from all over the country.
With this momentum behind them, DraftKings has expanded across the US. The DraftKings app is available in the following states:
DraftKings Ontario is also available just over the border, while DraftKings Ohio launched on January 1, 2023. Sports bettors in the Buckeye State can now access all of the betting options on the sportsbook, including the bonuses and promotions.
Customer Service
If you encounter any problems adding funds to your account or claiming your winnings, you can get in touch with the DraftKings customer support team at any time. The quickest way you can get anything resolved is by submitting a support request. There is also a live chat feature available, you can request a callback or alternatively email sportsbook@draftkings.com. We have found the customer support team to be both knowledgeable and helpful whenever we have required any assistance.
Additionally, the sportsbook has a help center page with a comprehensive FAQ section.
Summary
Although the amount of DraftKings deposit methods isn't staggering, they are competitive with what other US online betting sites offer. The good news is there is a fast, efficient option for everyone. Additionally, most major banking institutions recognize DraftKings as a legitimate company to deal with. Even if you just have a regular bank account with a debit and credit card, you can add funds and withdraw from your DraftKings account. This is also the case for anybody who has a Play+ card or a PayPal account. If you would rather deal in cash, you can take it t to a cashier at one of the many DraftKings retail sportsbooks.
DraftKings Sportsbook Deposit Methods FAQs
Does DraftKings accept American Express?
Yes, you can deposit on DraftKings using American Express, Visa, or MasterCard. Most credit or debit cards can be used.
How do you deposit money into Draftkings?
Once you have signed up for an account on the DraftKings sportsbook, head to the deposit page and select your preferred payment method. Then, choose the amount you want to deposit and follow the instructions.
How long does a deposit take for Draftkings?
This depends on the payment method you choose. Most options are instant; however, selecting online banking could take a few days before the funds hit your account.
How much can you deposit on Draftkings?
You can deposit up to $500 a day on DraftKings using any of the options listed above. DraftKings also has an extensive responsible gambling section where you can set deposit limits.
How to add a card to DraftKings?
Adding a card to your DraftKings sportsbook deposit methods is straightforward. Whether you are playing on the DraftKings New York, DraftKings VA, DraftKings Kansas or the DraftKings sportsbook PA, the process is the same. To add a new card, head to the deposit screen, select online baking and follow the instructions. Any changes applied will be valid for the DraftKings online casino betting option as well as the sportsbook.
Can I transfer money from DraftKings to the sportsbook?
No, you can not transfer money from DraftKings DFS to DraftKings sportsbook. If you are a regular DFS player at DraftKings, you may be wondering if you can transfer funds between your fantasy account and your sportsbook account. Sports bettors can't transfer cash between the two separate accounts. You are only allowed to use contest winnings from daily fantasy sports to place a bet on the sportsbook. You can however fund your account normally by any of the methods listed above.
What is the minimum deposit at DraftKings?
The minimum deposit amount at DraftKings is $5, while the minimum bet amount is just $1 on the majority of sports offered on the platform. If a new user makes a deposit of $5, they qualify up to $1,000 in bonus funds which come in the form of DK Dollars.
Does DraftKings charge a fee to deposit money?
One thing all DraftKings sportsbook sites have in common is that they do not charge any fees for deposits or withdrawals. Whether you are using DraftKings sportsbook Michigan, DraftKings NY, DraftKings New Jersey, DraftKings sportsbook Ohio or the Kansas sportsbook, adding funds is entirely free.