Gamble USA strives to improve your online gambling experience. We aim to help you play safely, make informed decisions when gambling, and increase your betting knowledge through our guides.
We adhere to strict editorial integrity; our content may contain links to products from our licensed & legal US partners.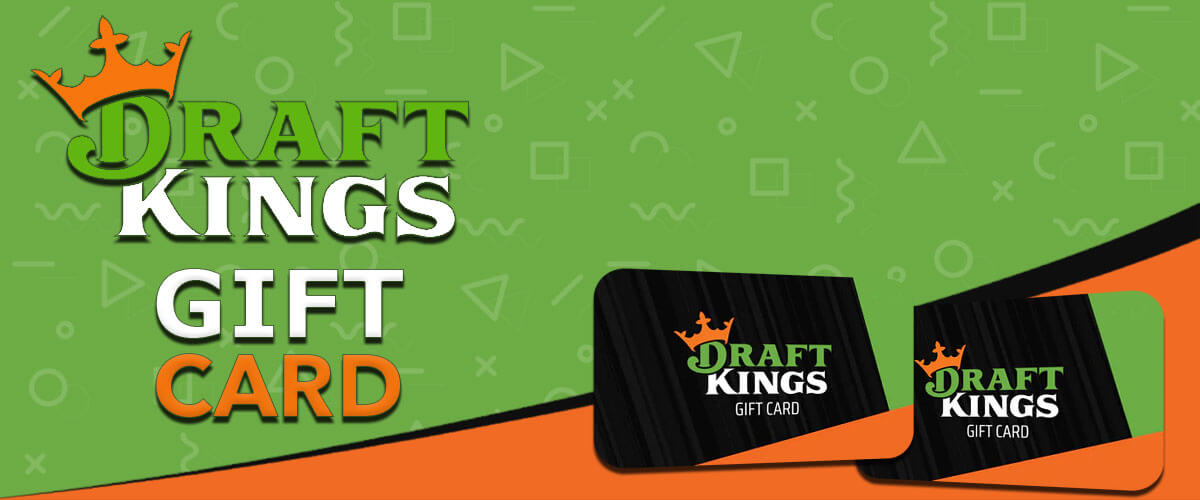 What do you get the sports-mad fan who has everything? Well, that's easy………..the DraftKings Sportsbook Gift Card.
The DFS provider turned sports betting operator has just launched a brand new gift card to be used on their sportsbook platform sportsbook.draftkings.com. It's one of the many features the operator offers, as well as offering up a DraftKings sportsbook promo code.
If you are a regular participant in Daily Fantasy Sports competitions, it is likely you have used or are using the DraftKings website or the mobile wagering app. If you are someone who prefers to purchase a physical card for digital platforms such as video games, you can now do the same for online casinos and sports betting sites where it is legal. The DraftKings gift card online provides the same service for internet gambling.
DraftKings Sportsbook is one of the biggest sportsbooks in the United States, along with FanDuel. By introducing gift cards, DraftKings will now have the opportunity to grow its brand. Numerous retailers are now offering DraftKings gift cards to customers. Is it the perfect gift to give when you haven't got a clue what to buy someone?
Up To $1,000 Deposit Bonus
21+. T&C Apply
21+. T&C Apply
The best sportsbook
Amazing odds & offers
Up To $1,000 Deposit Bonus
21+. T&C Apply
21+. T&C Apply
For example, the IN online sports betting industry features DraftKings, so players in Indiana can purchase a DraftKings sportsbook gift card. For anyone who is a regular sports bettor, a DraftKings gift card from Walmart could make the perfect holiday present. These retail gift cards are the first to launch in the online gambling market. There is no other prepaid card for betting out there that features a company's branding. Now that the DraftKings sportsbooks is available in more states than ever, it's a great time to get your hands on one.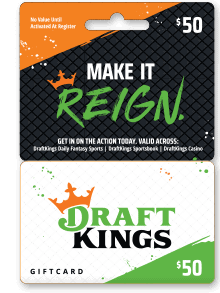 Where To Buy DraftKings Gift Cards

You have likely come across different gift cards for various brands in retail stores. The retailers sign partnerships with finance companies such as InComm Payments to attract customers in that way. Players can also purchase an InComm card and add funds to their gaming account and top it up that way. DraftKings gift cards will be available to buy at locations such as:
7-Eleven
Dollar General
Sheetz
Speedway
Although DraftKings sportsbook is the first gambling operator to strike a deal of this nature, many brands already accept prepaid cards as a means to deposit. Using a prepaid card at DraftKings is already possible through payments with the Game On card.
The gift cards currently come in two denominations; $25 and $50. They can only be used once and are only available on a retail basis. Once the gift card has been activated, a DraftKings customer can use it to enter into daily fantasy contests, play casino games, or bet on sports on their sports betting app. The cards are ideal for new bettors, especially those new to sports betting. Any rookie may want to read our guide on how to bet on DraftKings to see exactly how to place their first wager.
The gift cards will be available to purchase nationwide, but bear in mind the digital products DraftKings offer online will be subject to local regulations. For example, anyone in New York who can access the NJ sports betting industry can use the cards on online sportsbooks and also the DraftKings casino.
Alternatively, if you are struggling to find a location to get the DraftKings gift card, you could search for 'DraftKings sportsbook gift card near me' to see if there is a suitable option. As we mentioned above, the DraftKings gift card would make the perfect holiday present among other fantasy sports gifts. DraftKings has a presence on many NFL betting apps, and new customers can also access welcome offers such as free bets.
The use of these gift cards also must follow stringent regulations regarding responsible gambling. This is similar to using a credit or debit card to fund DraftKings accounts. In terms of players collecting their winnings, DraftKings withdrawal times vary depending on which payment method you choose.
You may also want to read: FanDuel Sportsbook vs. DraftKings Sportsbook, and you can learn more about the new Game On Card – the latest sportsbook gift card to hit the market.
How Gift Cards Comply With Responsible Gambling
Every jurisdiction with a regulated online gambling industry has programs tailored for individuals with gambling issues, such as self-exclusion lists. The retailers that stock and sell gift cards don't have these programs in use to stop selling them to anyone who appears on a list; however, DraftKings deals with that themselves.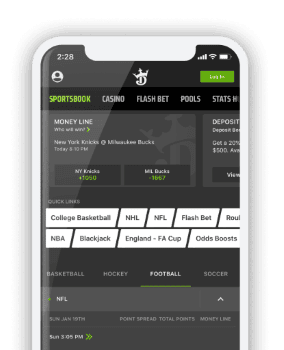 Upon the news of the DraftKings gift card, a spokesperson for the company said they take responsible gaming measures "seriously." The spokesperson also added that releasing a gift card "does not bypass any of the controls in place" surrounding their responsible gaming measures. DraftKings has been keen to stress that this gift card is just another payment method, and the usual controls in place will apply.
For bettors who tend to use cash over digital banking methods, the news of an available gift card is positive. With the rules and regulations around responsible gambling, a gift card is another option to convert that money into funds for entertainment. So go Make It Reign.
Why Should You Choose Gift Cards Over other Credit/Debit Cards?
One major benefit of playing with gift cards is that you don't need to enter your card details or other vital information when playing online. This will ensure that even if your phone/account falls into the wrong hands, they won't have access to more than the value of the gift card.
Also, they are great for helping you manage your bankroll and ensuring you don't develop a gambling problem. Gift cards come with fixed amounts, and once you exceed the stipulated amount, you will have to stop playing until you purchase another. The time it takes you to purchase another card might be all you need to take a step back from excessive gambling.
DraftKings Sportsbook Gift Card FAQs
What states can you wager in using the DraftKings sportsbook gift card?
Sports betting is not legal in all US states, and you can only bet using a gift card in the following states: AZ, CO, CT, IL, IN, IA, LA, MI, NH, NJ, NY, PA, TN, VA, WV, & WY. If you are unsure, check your local laws first before you use any DraftKings products, including gift cards.
Who sells DraftKings gift cards?
DraftKings has partnered with InComm Payments to provide $25 and $50 gift cards for customers. They will be for sale at numerous convenience stores such as:



7-Eleven


Dollar General


Sheetz


Speedway


Additionally, they will be available to buy in pharmacies and general merchandise retailers. Make sure you check which stores have them before making a trip to buy one.
What can I use the DraftKings gift card for?
The primary function of a DraftKings gift card is for customers to add money to their DraftKings sportsbook (or DFS) accounts. It is a convenient way to add funds before you start betting on sports or if you want to play some slots at the DraftKings online casino.
Is it safe to use DraftKings gift cards?
Yes,  DraftKings gift cards are safe if you purchase them from one of the designated approved retail outlets.
Must I deposit my gift cards simultaneously?
No, this is not necessary. You can spread out deposits and redeem single or multiple gift cards in amounts you want, based on your preference. DraftKings gift card also allows you to track your balance here. Simply enter your gift card number, CVV, and expiration date.
Can you buy a DraftKings gift card with a credit card?
Yes, you can use a credit card or debit card to buy a gift card from DraftKings.
How long does it take for gift cards to be processed?
DraftKings gift cards are processed almost immediately. It is usually delivered to you within minutes, regardless of if you purchase them in person or the online store. If you go with the online or e gift card option, it is delivered to you via email and you can load it into your DraftKings account and start betting with it immediately.
Can I buy DraftKings gift card online?
The Draftkings Giftcards cannot currently be purchased online. However there is a handy store locator on the Draftkings website that enables you to easily locate which retail locations near you are able to offer the physical gift cards.

Make sure you always purchase from these stores, not resellers offering an online solution.
Who sells DraftKings gift cards?
There are numerous retail locations selling DraftKings Gift Cards; depending on which state you are in, these include;



7-Eleven


Albertsons


Circle K


CVS


Dollar General


Pilot Flying


Sheetz


Speedway


Walmart