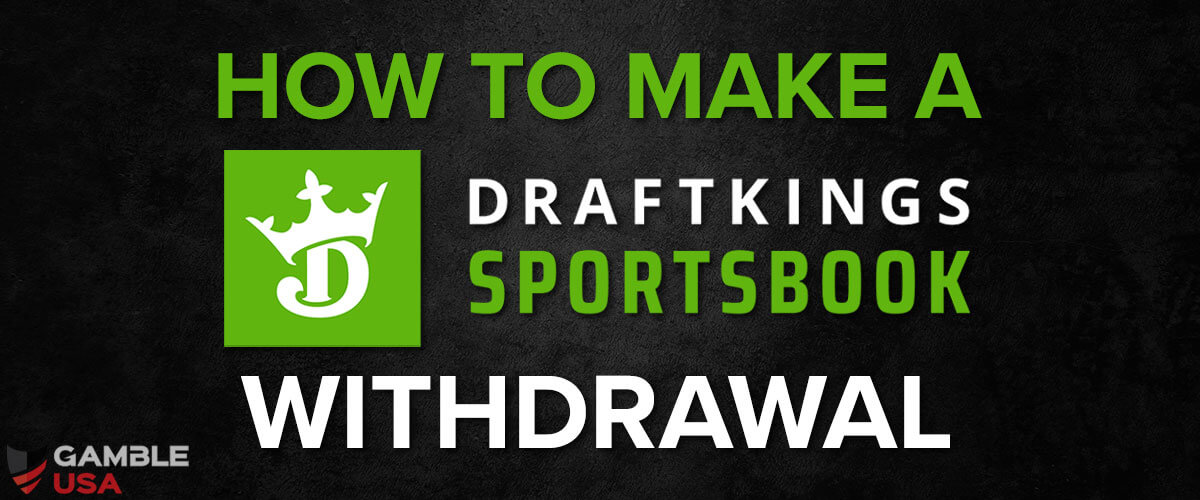 The DraftKings Sportsbook is one of the easiest betting sites and apps to withdraw your winnings from. DraftKings was one of the first operators to launch in New Jersey following the removal of PASPA and has since grown into one of the biggest online sports betting sites in the country. If you have never done it before, you may be wondering how do you make a withdrawal from this online sportsbook?
DraftKings is well-known globally for its daily fantasy sports (DFS) competitions alongside another big operator, FanDuel Sportsbook. The operator plans to launch in states with a new gambling industry, such as Maryland and others, to expand its presence. DraftKings sportsbook is available in over 20 states now, with more on the way soon. All of this means this online sportsbook is a prominent betting option, so as well as knowing the odds available and the bonus funds you can access, understanding how to access your cash is vital.
Up To $1,000 Deposit Bonus
21+. T&C Apply
21+. T&C Apply
The best sportsbook
Amazing odds & offers
Awesome betting app
---
DraftKings Withdrawals
Customers regularly sign up with the DraftKings sportsbook so they can bet on their favorite sports and take part in the famous daily fantasy sports contests. There is also a DraftKings casino where you can play several online casino games to boost that bankroll. Whether you are playing on the DraftKings New York sportsbook or the DraftKings Casino, you will want speedy and efficient payouts.
However, what happens when you win and it's time to access some of your excess money so you wish to make a DraftKings withdrawal? You may be wondering "how does DraftKings payout?"
You will be pleased to discover that making a DraftKings sportsbook withdrawal is a straightforward process. Indeed, a DraftKings withdrawal at the sportsbook is as simple as making a deposit or choosing a sport to bet on. Creating a DraftKings account, funding that account, and then making a withdrawal request is an efficient process that is crucial for any sports betting site in the United States. You will need to make sure you verify your account before being able to make a withdrawal, and this may require you to send in documents.
---
Sign Up for DraftKings Today
If you aren't yet a customer of the sportsbook, you can join at sportsbook.draftkings.com and get a $1,000 bonus bet bonus! You can also claim some other bonus bets from US sportsbooks too!
So, you have entered your DraftKings promo code, used your deposit bonus, made a DraftKings deposit, and now you want to withdraw your winnings. This article covers the DraftKings payout structure, how you can access your winnings, and the runs you through the DraftKings withdrawal times. Please note that there isn't a DraftKings sportsbook promo code needed for this bonus, and you can also claim it on the DraftKings sportsbook app.
With that said, let's look at how to withdraw from DraftKings.
---
How To Make Your First DraftKings Withdrawal
The nice part of betting is that moment when you have won, and you come to access the spoils of victory. Making a withdrawal at DraftKings DFS sportsbook or the DraftKings app is straightforward; you can be set up and make a request with just a few clicks from the 'my account' page. Below is a rundown of how this process works.
Log in to your DraftKings account at

sportsbook.draftkings.com

Select My Account from the dropdown menu
Select which account to withdraw from (Sports & Casino or DFS)
Enter the amount you want to withdraw, then press continue
Select how you want to receive your winnings
Press the Request Withdrawal button
Up To $1,000 Deposit Bonus
21+. T&C Apply
21+. T&C Apply
The best sportsbook
Amazing odds & offers
Awesome betting app
It's very easy to withdraw funds using the above method, and this is the same on the mobile app or full site. Please note that the minimum withdrawal amount on the DraftKings sportsbook is $20. The first part of your withdrawal will be paid to the original source used for the deposit, with any surplus funds paid to a method of your choice, such as PayPal or Neteller.


When your request has been made, DraftKings will send you an official withdrawal confirmation. If you have entered the wrong amount or done something wrong, you can cancel the process. In this instance, make sure you cancel as soon as possible so the withdrawal does not go through.
DraftKings offers help on its website via a frequently asked questions section. Alternatively, you can email their customer service team via support@draftkings.com. There, you will find help on any issue ranging from how to choose a deposit method, the DraftKings sports markets offered, a DraftKings casino promo code, and more.
If you continually face withdrawal problems from the sportsbook at DraftKings, you may also want to read our guide to DraftKings sportsbook alternatives.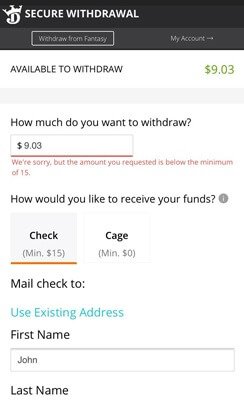 ---
Steps to Make Before You Request a DraftKings Withdrawal
Before you choose your banking method and look at the live betting and other features of the Draft King cash app, there are some steps you need to take. The first thing to do is ensure your account has been verified. In order to do this, you will need some form of ID such as your passport or Driver's ID. Anything that has been issued from the Government that has a current photo of you will suffice.
The next step is to make sure have fulfilled any bonus wagering requirements DraftKings have set so the funds are eligible to withdraw. Lots of online sportsbooks, whether it is BetMGM sportsbook or Caesars sportsbook, there will typically be a playthrough requirement associated with the welcome bonus. Once you are sure you have completed these steps, you can request your withdrawal on DraftKings.
---
Withdrawal Payment Methods Available at DraftKings Sportsbook
When you would like to begin the process of making a withdrawal from your account, DraftKings will automatically select the payment method that was used when you made your first deposit up to the amount of previous withdrawals. Any funds that are left are then paid via PayPal or Check. DraftKings requests that customers notify them if there have been any changes made to your original credit or debit card, which was initially used to fund your account.
Full list of available deposit options:
Bank account
Credit card & Debit cards
Prepaid card (Play+) (Play Card)
E-Check
Cash at the Casino cage withdrawals
Trustly Verified Payments
You could also purchase a gift card for a friend if they are a regular DK user. You can also check out our guide on using prepaid cards at DraftKings sportsbook. There is no stated DraftKings withdrawal limit; however, make sure you know documentation is needed for large withdrawals. You will need to create a PayPal account to use this as a withdrawal method and then link it to the same bank account you typically use.
DraftKings is a very trustworthy and reputable daily fantasy sports website and sportsbook based in the United States. Consequently, players can be safe in the knowledge that they will receive their winnings quickly when it is time to make a withdrawal. Additionally, you can track withdrawals through DK or your online banking.
---
Withdrawal times
DraftKings states on its website that it can process withdrawals Monday to Friday between 9 AM to 5 PM ET. Once the withdrawal request has been processed, it can take anywhere from two to seven business days for the player to receive their money, depending on which payment option was selected. Checks can take longer to send out, typically taking approximately one week to be delivered in the post. Numerous DraftKings players have said they often get their money in a matter of days and sometimes within hours.
We have found it is best to request a withdrawal on a Monday morning. As you can imagine, there are a lot of players winning and trying to withdraw over the weekend. If we opted to withdraw on a Monday, funds were normally with us in a couple of banking days. The good news is that DraftKings is one of the fastest payout sportsbooks in the US.
| 💳Withdrawal Method | ⏱️Typical Processing Time | 💵Withdrawal Limits |
| --- | --- | --- |
| PayPal | 3-5 Days | $1 up to $60,000 |
| Check | 3-5 Days | $15 up to $49,999 |
| Play+ | 2-4 Days | None, up to $25,000 |
| Online Banking | 3-5 Days | $1 up to $100,000 |
| Wire Withdrawal | 24-48 Hours | $20,000 no maximum limit |
| Cage | 1 Hour | None, up to $100,000 |
| Apple Pay | 3-5 Days | $1 up to $25,000 |
| Venmo | Up to 2 Days | $1 up to $20,000 |
| Trustly | 3-5 Days | $1 up to $100,000 |
---
DraftKings Withdrawal Hold
Once you have put in a request to withdraw your winnings, sometimes this can be placed on hold. Why does DraftKings put a withdrawal on hold? Well, this could be for a number of reasons. It may be that you have recently changed your address, bank details, email, or something similar that has triggered a security flag. You may have requested a larger sum than what you normally do, or you don't have a verified bank account.
Always make sure you sign up using the correct details, especially the last 4 digits from your SSN. If there are any details that aren't correct, this can flag your account, and any withdrawals will be placed on hold until the details are confirmed and your account has been successfully verified. This is the case with all operators, not just DK.
Whatever the reason, a hold is normally only temporary unless you have anything that would give DraftKings a reason to suspend your account. You may need to complete and send in a W9 to the operator for tax purposes, and until this has been received, this can also be one of the reasons your withdrawal is on hold.
Up To $1,000 Deposit Bonus
21+. T&C Apply
21+. T&C Apply
The best sportsbook
Amazing odds & offers
Awesome betting app
---
Paying Taxes On Your Winnings
If you have won big on a daily fantasy sports contest or big bet, and the total money generated is above what has been deposited, these funds are subject to federal taxes in the United States. When you reach $600 in net profit during a calendar year, DraftKings Sportsbook and the DFS site are required to issue a 1099, which will be reported to the IRS. Any net profit that falls below the figure of $600 will not be reported.
However, players are still legally required to report this extra income on their taxes. You can use our gambling tax calculator to work out how much tax you will need to pay.
---
FAQs
How long does DraftKings withdrawal take?
The DraftKings sportsbook states that once their accounts department has processed your withdrawal, it can take between 2-8 business days for the funds to appear in your PayPal or bank account. Checks can take longer, sometimes up to three weeks. You could do a FanDuel Vs. DraftKings comparison on banking methods if you are unsure of which sportsbook to use.
Why does DraftKings refund my money for withdrawal?
Where possible, DraftKings will first refund any deposits made within the last 90 days. Contact the operator directly if there is a DraftKings sportsbook withdrawal hold.
How Long does DraftKings PayPal withdrawal take?
If you use e-wallets such as PayPal or Neteller, you should receive your money within 2-8 days. Players have reported receiving their funds in a shorter period, sometimes within hours. If there are any DraftKings withdrawal issues in 2022, you can contact the sportsbook directly to query a DraftKings withdrawal time.
What is the fastest DraftKings withdrawal method?
The fastest online withdrawal method at DraftKings is by wire transfer, Venmo or Play+. Other DraftKings withdrawal methods are quick, but not as fast as these. Once you have got enough winnings from betting on Sunday Night Football or the PGA Tour, using this method will give you access to those funds very quickly.
Are there limits on DraftKings withdrawals?
Yes, though the range is quite large. When you withdraw with PayPal, online banking, Apple Pay, Venmo or Trustly, you can withdraw as little as $1. On the other end of the scale, using Apple Pay and Play+ you can withdraw up to $25,000. Bank can Cash Cage payouts can be made up to $100,000 and if you use PayPal you can withdraw up to $60,000.
Does DraftKings pay on weekends?
Sadly it does not. If you make a withdrawal over the weekend, you will have to wait until Monday 9 AM ET, when the office opens and your withdrawal will undergo evaluation. Hopefully, by midweek the funds should hit your account.
Why was my withdrawal canceled at DraftKings?
There are numerous reasons why your withdrawal was canceled. The first thing you must do is double check your payout details, especially if you are using a different payment service from what you used to make your deposit. The information you entered may be wrong, such as a misspelled name or address. If everything is correct, then you should reach out to customer support, as the money you have may be tied in with a bonus, and therefore not eligible for withdrawal. Make sure that the money you have in your account has been "played through", that is, you have cleared any wagering requirements before making your withdrawal request.