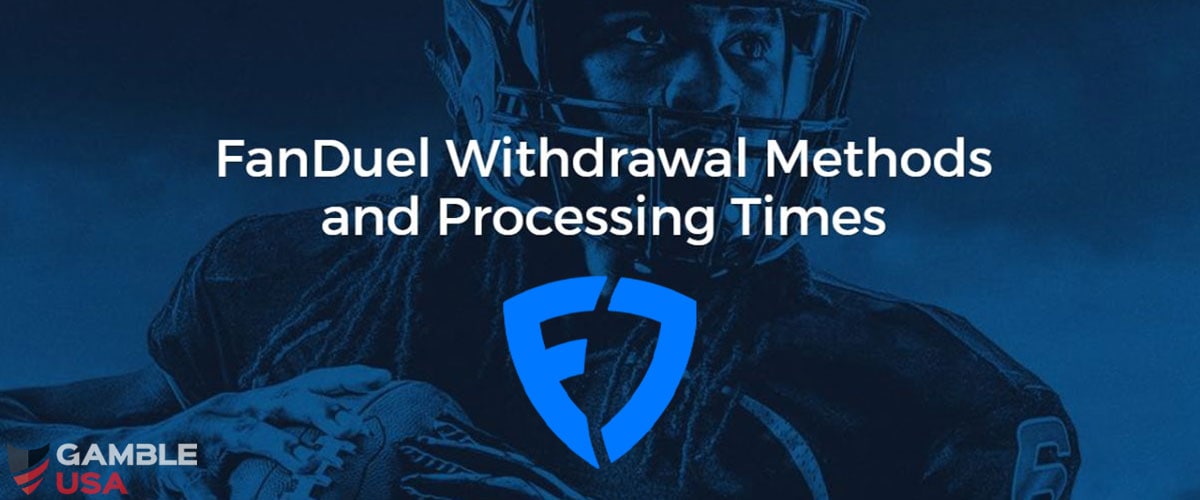 If you have had a successful weekend betting on FanDuel and want to withdraw your winnings, you want to know what is the fastest way to do this. This guide is dedicated to listing all the withdrawal options at the sportsbook, including the FanDuel instant withdrawal method and the fastest way to withdraw from the book.
FanDuel has become well-known worldwide for its daily fantasy sports (DFS) competitions. Users regularly sign up with the FanDuel sportsbook to bet on their favorite sports teams and sports and participate in the much-loved daily fantasy sports contests. The sportsbook app is certainly not lacking when it comes to betting choices with multiple options to wager on events like the Super Bowl. Add in daily promos like an odds boost on any betting market, and you have an excellent wagering app. However, what happens when that hunch you had was correct, and you win, and it's time to get hold of some of your excess money? What is the process involved in regarding FanDuel sports payouts?
You will be happy to know that making a FanDuel withdrawal is a straightforward process, they are also one of the fastest paying sportsbooks available. Indeed, FanDuel withdrawal at the sportsbook is as simple as making a deposit and placing a bet at FanDuel. Creating an account, adding funds to that account, and then making a withdrawal request is a speedy process that is crucial for any sports betting site in the United States. Please note you will need to make sure you verify your account before being able to withdraw, and this may require you to send over some documents.
Bet $5, Get $150 In Bonus Bets
21+. T&C Apply
21+. T&C Apply
Convenient banking
Massive choice of sports
If you haven't signed up for a FanDuel sportsbook account, you can do so at sportsbook.fanduel.com and get a $1,000 no sweat bet. There is no promo code needed for this offer, and it is valid on both the desktop and FanDuel mobile sportsbook. There is currently no deposit bonus available, but a risk-free bet is a great way to kick things off once you sign up. Additionally, FanDuel offers various bonus bets for existing users throughout the year to keep people engaged.
So, you have created your account, used your risk-free opening bet, and now want to cash out your winnings. This article covers the withdrawal procedure at FanDuel, including the FanDuel withdrawal limit, FanDuel withdrawal fees, FanDuel withdrawal options, and how long does FanDuel withdrawal take.
How to make your first FanDuel Withdrawal
One of the best, if not the best, aspects of the online sports betting experience is that moment you realize you have won, and you come to claim the spoils of that victory. As a sports bettor, that feeling of knowing your sport knowledge has paid off is fantastic. Making a withdrawal at FanDuel is simple; you can be up and running and make a request with just a few taps of a button from the 'my account page. Below is a quick rundown of how all this works:
Log in to your FanDuel account at

sportsbook.fanduel.com

Select My Account from the dropdown menu
Select which account to withdraw from (Sports &

FanDuel Casino

or DFS)
Enter the amount you want to withdraw, then press continue
Select how you want to receive your winnings
Press the Request Withdrawal button
Bet $5, Get $150 In Bonus Bets
21+. T&C Apply
21+. T&C Apply
Convenient banking
Massive choice of sports
It is that easy to get your winnings. Whether you are using the FanDuel New York online sportsbook or using the FanDuel sportsbook app in Pennsylvania, the process is the same. Please note that the minimum withdrawal amount on the FanDuel sportsbook is $25. You don't need to be in a FanDuel legal state to withdraw funds from your account.
When your request has been submitted, FanDuel will send you an official withdrawal confirmation. If you notice you have done something wrong, you can cancel the process. In this instance, make sure you cancel straight away so the withdrawal does not go through.
If you are experiencing any FanDuel issues when withdrawing, there is help on the website in the form of a frequently asked questions section. Alternatively, you can email their customer service team via support@fanduel.com. Common issues include a status of FanDuel withdrawal pending but not processed, or there could be a problem directly with your bank.
If your problems persist, and you have exhausted the customer service options such as live chat but still not got anywhere, you may want to read our guide on FanDuel sportsbook alternatives. Still, before you delete your FanDuel account, wait for a day or two, so the customer service team has enough time to address your concerns.
FanDuel Sportsbook Withdrawal Methods
FanDuel ensures the process of making a withdrawal is very simple. When you want to start the withdrawal process, the book will automatically select the payment method that was used when you made your first deposit up to the same amount of previous withdrawals. As with most online sportsbooks, FanDuel requests that customers notify them if any changes have been made to your original debit or credit card, which was initially used to fund your account.
The full list of available deposit options includes:
Online Bank Transfer
PayPal/

Venmo

ACH/eCheck)
Visa/Mastercard
Wire Transfer
You can also check out our guide on using prepaid cards at FanDuel sportsbook. The maximum amount you can withdraw per transaction is $10,000.
The FanDuel online sportsbook is among the most trustworthy and reputable daily fantasy sports websites and sportsbooks worldwide. The FanDuel Group, which includes the online casino, is licensed and regulated so your funds are safe. Consequently, you can be sure that you will receive their winnings quickly when it is time to make a withdrawal.
FanDuel Sportsbook Withdrawal Times
You may also be wondering how long does FanDuel withdrawal take? The good news is getting hold of your money, whether you are in West Virginia or New Jersey, is straightforward. Withdrawal requests are dealt with in a timely and efficient manner. Regarding FanDuel withdrawal time, this varies depending on which method you choose. It can take anywhere from two to seven business days to process certain transactions. Checks take longer to send out, typically taking approximately one week to be delivered in the post. Multiple FanDuel users have said they often get their money in a matter of days and sometimes within hours.
In our experience, we advise making a request for a withdrawal on a Monday morning. As you would expect, there are loads of bettors winning and trying to withdraw over the weekend. If we choose to withdraw on a Monday, funds were usually with us in a couple of banking days.
Additionally, making a FanDuel withdrawal, PayPal is recommended, as you will get your funds almost instantly through and tried and tested e-wallet system. If you have an existing PayPal account, you can withdraw funds directly from your betting account to PayPal. You can then transfer your winnings to your personal linked bank account. Each payment method can also be used to deposit money on the FanDuel sportsbook mobile app.
To clear up any confusion, this guide to withdrawing is not the same as the FanDuel Cash out feature, where you can end your bet early, the two are completely separate things.
| 💳Withdrawal Method | ⏱️Processing Time | 💵Minimum Withdrawal |
| --- | --- | --- |
| Online Bank Transfer | 3 - 5 business days | $25 |
| FanDuel Prepaid Card | Up to 48 hours | $25 |
| PayPal | 48 hours | $25 |
| ACH/eCheck | Up to 14 business days | $25 |
| Visa/Mastercard | Up to 48 hours | $25 |
| Wire Transfer | 3 - 5 business days | $25 |
FanDuel Withdrawal Hold
Once you have submitted your FanDuel withdrawals request, sometimes this can be placed on hold. There could be numerous reasons why this is the case. It could be that you have recently changed your address, email, bank details, or something similar that has triggered a security flag. You may have requested significantly more money than you normally would, or it may be that your account hasn't been fully verified.
Always make sure you register for an account with the correct details, especially the last four digits from your SSN. If anything has been entered incorrectly, this can flag your account, and any withdrawals will be placed on hold until everything is confirmed and your account has been successfully verified. This is the same procedure for all operators, not just FanDuel.
Whatever the reason may be, a hold is usually only temporary unless you have anything that would give FanDuel a reason to suspend your account. You might need to complete and send in a W9 to the operator for tax purposes, and until this has been received, this could be another reason why your withdrawal is on hold.
Fastest FanDuel Withdrawal
Whether you are playing on the FanDuel New York sportsbook, the FanDuel sportsbook Illinois or the new FanDuel Ontario sportsbook, everybody is looking for the quickest way to get hold of their winnings. The FanDuel app offers some of the fastest withdrawal methods from any betting app around, including from significant rival DraftKings sportsbook.
The quickest ways to get your winnings are through PayPal and Play+. These cash out payments will take up to 48 hours to reach you once they have received approval, while other options can take up to five business days. Additionally, if you select Play+ you could even get your winnings within 24 hours.
Paying Taxes On Your Winnings
If you have hit the jackpot and won a colossal parlay bet, and the total money generated is above what has been deposited, these funds are subject to federal taxes in the US. When you hit $600 in net profit during a calendar year, FanDuel sportsbook and FS site is required to issue a 1099 which will be reported to the IRS. Any net profit that falls below the $600 limit will not be reported.
However, players are still legally required to report this extra income on their taxes. Our gambling tax calculator is free to use and can determine how much tax you will need to pay.
FAQs
Do I need to be in a legal state to withdraw from FanDuel?
No, you don't need to be in a licensed state to withdraw from FanDuel. You only need to be in a legal state to place the initial bet. You can withdraw using a debit card, Venmo, PayPal and other methods wherever you are as long as you have a verified FanDuel sportsbook account.
How Long Does FanDuel Online Banking Withdrawals Take?
FanDuel online banking withdrawals take 3-5 business days to process.
How long does it take for FanDuel to pay out?
FanDuel payouts generally take from 3-5 business days but are usually processed and paid out much quicker than that. If you encounter any issues, contact customer support.
Does FanDuel have instant withdrawal?
FanDuel does have instant withdrawal available. Once the withdrawal is approved, (usually a few hours) funds will be made available in PayPal.
How long does it take to withdraw from FanDuel sportsbook?
This depends on the payment option you choose. Most are done instantly; however, some can take up to seven business days to process. If you have a checking account and want to use a check, this will take longer. The withdrawal times on FanDuel are fast compared to most online sports betting sites.
How much money can you withdraw from FanDuel?
The highest amount you can withdraw from FanDuel per transaction is $10,000. Regarding FanDuel payment methods, we recommend requesting a wire withdrawal for transactions of this magnitude.
Does FanDuel payout on weekends?
Yes, FanDuel does payout on weekends. However, if you request payment by check, these will only be processed from Monday-Friday.
Can I cancel a withdrawal request?
You can cancel a withdrawal request, however, this must be done within the processing time window. Each different payment method as it's own processing time so as long as you make the request during this window, you will be able to cancel a request.