Online casino sites have become extremely prevalent in New Jersey in recent years. When you win, you want your funds fast. We look at the fastest withdrawal online casinos in NJ.
As an NJ player, you won't be stuck for choice when it comes to selecting a reputable NJ online casino. With many casinos offering numerous games, bonuses, and promotions, you can gamble safely and have fun from your own home.
As well as having fun, most players will be visiting online casinos to win. This is an essential factor in deciding which NJ casino you choose. All New Jersey online casino games must be regulated and approved by the Division of Gaming Enforcement, so players have a fair chance to win. As well as having a vast array of games, an online casino must offer a diverse range of payment methods.
Fastest Paying NJ Online Casinos
If you are new to online gambling, you may not be familiar with specific deposit and withdrawal methods. As technology has advanced, online financial transactions have become faster and more efficient. Players can now deposit using digital e-wallets as well as in person at a casino cage. This guide will provide residents of the Garden State with information on the fastest paying NJ online casinos. Read more to find out about the various payment methods and how to fund your casino account.
If you need a fast payout from an NJ online casino, these are the quickest paying operators:
Fastest Deposit Options
Many of the top NJ online casinos will be offering players a generous casino welcome bonus to attempt to get them to sign up to their site. Some will also provide a bonus code or promo code that you can enter when signing up. New online casinos commonly offer players free spins, no deposit bonuses, or free money just for registering for an account. You will typically have to make your first deposit to claim any of these bonuses. The good news is there are numerous deposit options available that make this straightforward. If you are unsure about making deposits and withdrawals online, you can always go to the casino cage with cash as well!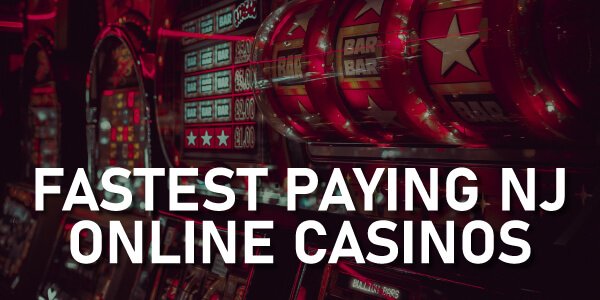 PayPal
E-wallet payment options have become an increasingly popular option at online casinos.PayPal is perhaps the most recognizable e-wallet across the globe, and players in New Jersey can use this platform to deposit at online casinos. Before making their first deposit, players need to ensure there are funds in their PayPal account. There are numerous ways you can add funds to a PayPal account, including:
Credit/Debit Card
Bank Transfer
User-to-user transfers
PayPal is exceptionally safe, and one of the fastest ways you can add funds to your NJ online casino account. However, there are some things to consider before choosing PayPal as your preferred payment method. First, players must use a personal bank account (rather than a business account) when transferring cash from PayPal to an NJ casino.
Next, you must ensure the email address you use for your PayPal account is the same one you use for the NJ online casino site. This shouldn't be a problem as most players will use the same account, but if you opened your PayPal account a while ago, you might want to make sure.
Finally, Players are unable to withdraw funds to PayPal unless they initially made a deposit with it. Fast paying NJ online casinos that offer PayPal include:
Fast paying online casinos in New Jersey will almost certainly offer PayPal as a payment option. They provide quick cash payouts and are one of the best options for NJ online casinos. You can also access all of the payment options on one of the many NJ live online casinos that are available too.
Using a paysafecard at an NJ casino is also a similar option to depositing with PayPal.
Credit/Debit Cards
One of the most popular payment methods to use at an online casino is a credit card or debit card. Players feel comfortable using their payment cards as they are used to them. Visa and Mastercard are the most common, although some operators may offer other options. Players need to make sure credit cards have enough credit on them to cover the amount they wish to deposit. A debit card is also a straightforward way to make an online deposit.
There may be an issue with your bank rejecting a gambling transaction, but as they become more accustomed to NJ online gambling laws, this should become less of a problem. The issuing bank will record credit card deposits to NJ online gambling websites as cash in advance, so associated fees may apply. We recommend checking with your bank. You don't need to always deposit a fortune, there are many minimum deposit NJ casinos now available.
e-Check (ACH)
Fast payout online casinos will typically offer instant e-Checks as a deposit option for players that have checking accounts, which can be accessed online. Casinos provide the VIP Preferred payment gateway for this process. Using this method, an NJ online casino establishes a connection to a player's checking account to transfer funds to their casino account. The only thing players need to do is provide their bank's name, routing number, account number, and the city where their bank is based.
There are numerous reasons why this is one of the fastest payout methods, including instant turnaround times. However, occasionally the money may not be removed from a customer's checking account balance from between one and four business days, depending on that bank's policy.
Another positive of choosing this method is the sheer speed of it. As soon as a player enters their bank account information and makes a deposit, updating their NJ online casino account can be done in a couple of clicks. Sites such as the Golden Nugget Online Casino, Virgin Online Casino, and Tropicana Online Casino offer this payment option.
Cash at the Casino
Those players who are wary of online financial transactions can fund their accounts by visiting the cashier's cage at a physical casino. Players have the option to hand over their cash at Atlantic City casinos that partner with the state's iGaming platforms.
Cash payments can be made via a credit/debit card or a personal check. Players will need to ensure they have the relevant ID to hand in and their online NJ casino account information. All of the available casino locations that enable you to deposit and withdraw in person are located in Atlantic City. You can also collect your sportsbook winnings from the cage too, not just casino winnings.
Prepaid Cards
Prepaid cards are becoming more frequent and are a fantastic way to deposit to New Jersey online gambling sites. The best paying online casino brands have created their own branded prepaid cards, which can also be used at the affiliated site. One of the added benefits of using a prepaid card is that you can also use them at an ATM-like you would if you were withdrawing funds from your bank.
Moreover, players don't need to wait for a physical card to arrive before they can start using them at NJ online casinos. All that is required is to complete the registration process, and then transactions are processed instantly. Players can also withdraw funds to a prepaid card without using it to deposit beforehand. These are some of the reasons that make prepaid cards one of the fastest payment options available; however, there are some points players should be aware of before using them.
First, there are some restrictive deposit limits. The daily limit is typically around $2,000, with monthly limits set at $10,000. Furthermore, each different NJ online casino will have a prepaid card unique to them. If you want to sign up for a few different casinos, you will find you have a lot of cards!
If you are new to the world of online casinos, you may find it useful to read our guides on Blackjack, video poker mobile, Video Roulette, and Roulette slot machines to help get an understanding of the different types of games available.
Online Bank Transfer
Most players will be familiar with the idea of an online transfer. Being able to use this option will depend on the availability of an online bill pay service being available at the customer's bank. Some banks that offer this service include:
Bank of America
Chase
Capital One 360
HSBC Bank USA
PNC
This option is ideal if players prefer not to reveal any of their financial information to the online casino. They will just need to complete the necessary steps with their bank, such as providing their banking ID. This is one of the fastest payment methods available, but not all NJ casinos utilize it. However, Borgata casino and SurgaHouse online casino are some of the large operators who have an online bill-paying service available.
E-wallets
The best gambling apps and websites will offer numerous digital wallet services as payment options. These platforms are a safe and secure way in which players can store their bank account information. As we mentioned in our PayPal section, there are numerous ways you can fund your e-wallet account. Apart from PayPal, the most commonly used e-wallet platform at an online casino is Skrill.
Skrill is designed as a payment processing platform aimed at the iGaming industry. Most big-named operators have Skrill available, and it is easy to use. Your financial details are kept secure, and customers can make payments from their credit-debit cards or their chosen bank accounts.
PayNearMe
Customers who are uneasy about using e-wallets or payment cards can use PayNearMe to add funds to their online casino account. PayNearMe is an electronic service but actually uses cash. This means players can deposit at any participating retail store, such as a CVS or 7-Eleven. PayNearMe uses information stored in its app, such as payment history, and generates a receipt for the customer's records. Players are required to take their PayNearMe barcode with them to enable them to deposit in-person.
Once the deposit has been completed, players receive a unique code that they can enter into their online casino account and get their funds. PayNearMe is one of the fastest payment methods available to get your money online. One of the great things about PayNearMe is that the participating stores can be easily found throughout NJ. It may take a little more time to travel to Atlantic City; however, it shouldn't be too far for players to go to their local 7-eleven store.
Withdrawal Options
Players will discover that typically there are not as many withdrawal options found at NJ online casino sites. However, as NJ online gambling sites are all regulated and licensed, the worry of actually receiving your funds is removed.
Fastest Payout Methods
Real payout casinos will offer withdrawal methods such as e-wallets or prepaid cards. If you would like to get your funds quickly, we would recommend choosing an e-wallet platform such as PayPal. One thing to bear in mind using a digital wallet is the casino will likely require you to have deposited via that option before they allow you to withdraw.
Some casinos will claim the payment methods they offer make them an 'instant casino.' However, the fastest way to get your winnings is to get the cash in-person at the casino's land-based partner. For example, you could head to the Golden Nugget and pick up cash after requesting it through the casino site. Fast paying casinos will offer this option to players as an alternative to an online transaction.
You cannot withdraw to a credit card if you used that to make a deposit. A better alternative would be to use an instant e-check, which will be processed in two business days.
FAQs
What is the best online casino in NJ?

This is, of course, subjective. A lot depends on what you are looking for. Some may be better than others if you want a massive array of casino games and fantastic bonuses & promotions. Some casinos offer superb payment options, which may suit you more. We would encourage you to do some research before choosing. Some of our favorite casinos include Golden Nugget Online Casino, Tropicana Online Casino, and BetMGM Casino.

Which online casino has the best payouts?

A modern casino offers several payout methods that cater to every need. The best, again, depends on what you prefer. We would say a casino that gives you loads of choice would be a great option so you can then decide which suite you and you aren't restricted.

Can you gamble online in NJ?

Yes. Online gambling is fully legal and regulated in the Garden State. The Division of Gaming Enforcement oversees the industry to ensure games are fair, and if you have a gambling problem, casinos are responsible. All casino sites will offer a customer support service as well if you need assistance.