Gamble USA strives to improve your online gambling experience. We aim to help you play safely, make informed decisions when gambling, and increase your betting knowledge through our guides.
We adhere to strict editorial integrity; our content may contain links to products from our licensed & legal US partners.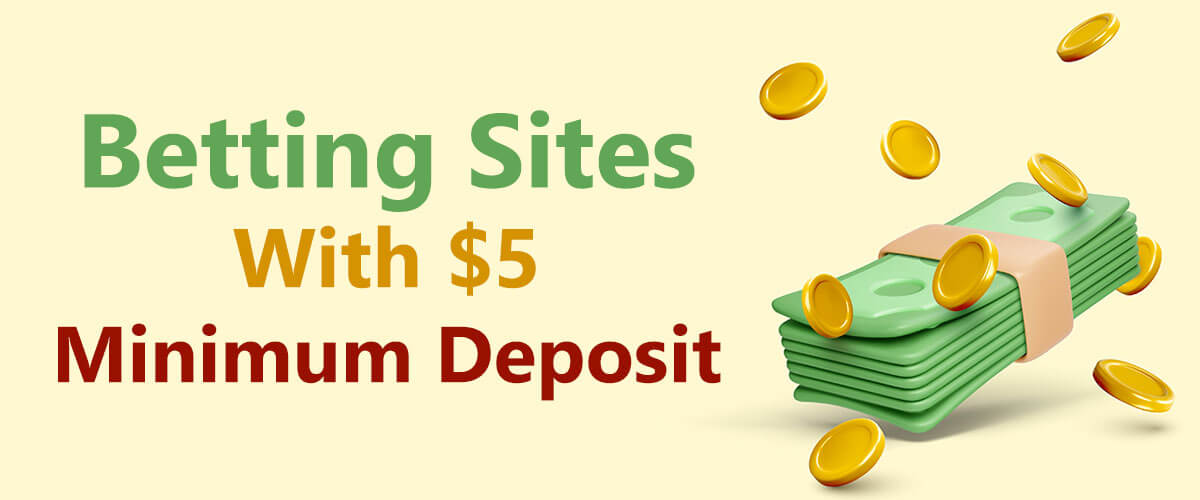 Reputable online casino and sportsbook operators recognize that many people who would like to sign up with and bet on their gambling sites can only do so for very small stakes. While players with plenty of discretionary cash who bet often and substantially are their bread and butter, bettors of all sizes are welcome. If you want to play penny slots or bet $1 on a football game, you can.
This article will focus on the best online sportsbooks for very small budget players. However, if you want to play online casino games for minimum stakes, there are also some great low minimum deposit casinos.
We bet you didn't know there are online sportsbooks (though not many) where you can get started with a $5 minimum deposit. You can even get bonus money when you make your first deposit, and this easy-to-get free money, sometimes as much as $200, can boost your betting bankroll big time.
If you're a small bettor and/or you're brand new to sports betting, no online sportsbook will give you a better bang for your buck than betting sites with a $5 minimum deposit.
Sports Betting Sites with $5 Minimum Deposits
Most online sportsbooks require a $10 minimum deposit. If you can afford it, a $10 deposit is preferable. You can still make your first bet $5 if you wish, and in case the bet loses, you have another $5 to try on another bet. You might also qualify for a bigger deposit bonus than if you only deposit $5. Or, if the sportsbook offers site credits for free bets or bonus bets, those bonus offers would be for more money as well.
Obviously, the more money you can comfortably afford to deposit and bet, the more you can win or lose. You will also qualify for bigger and better bonuses. But it makes no sense to tie up and risk money on sports betting that you need for other expenses. So, if depositing just $5 to start is all you can manage or prefer, that is how you should proceed. Later, as your bankroll grows and you gain more confidence in your ability to pick winners, you can consider increasing the amounts of your deposits and bets.
There are at least three legal state-regulated online sportsbooks that will not only accept an initial deposit of $5 but offer you bonus money as well. Keep reading for a brief description of each of these $5 minimum betting sites and what they have to offer.
DraftKings Sportsbook
Up To $1,000 Deposit Bonus
21+. T&C Apply
21+. T&C Apply
The best sportsbook
Amazing odds & offers
Awesome betting app
Up To $1,000 Deposit Bonus
21+. T&C Apply
21+. T&C Apply
Out of the three US sportsbooks with $5 minimum deposits, DraftKings is probably the only one that is already familiar to you. It has not only existed for much longer than the other two sportsbooks but nowadays, is frequently advertised on TV. DraftKings Sportsbook is also available in 20 states, as compared to 14 states for PointsBet and only one state – New Jersey – for Prophet Exchange.
So, for sports bettors in many states, DraftKings might be the only legal $5 minimum deposit sportsbook available. But if that is the case for you, no problem. It's hard to go wrong with DraftKings, considering that it is one of the top two betting sites in the US in both sports handle and revenue. Also, no online sportsbook offers a wider range of sports betting markets and bet types. In other words, DraftKings has something for everyone.
If you are so inclined, you can bet on multiple-leg parlays and props bets to your heart's content with the opportunity to turn tiny wagers into a huge payday. Free bets, free-to-enter DK contests, and daily odds boosts are other options you can take advantage of at DraftKings.
Furthermore, if you live in or near New Jersey, Pennsylvania, Michigan, or West Virginia, once you open a DraftKings Sportsbook account, you can use the same account at DraftKings Casino, which also accepts $5 minimum casino deposits.
DraftKings Deposit Match Bonus
DraftKings Sportsbook has been known to change its welcome bonus occasionally. So, which of their bonus offers are available to you when you make your first $5 deposit depends on when you sign up.
DraftKings is one of the few online sportsbooks that offer first-time depositors a deposit bonus, but the DraftKings offer is only a 20% deposit match bonus, not a 100% deposit match bonus. It also comes with hefty wagering requirements of 25x the bonus before you can withdraw either the bonus itself or any resulting winnings.
This deposit bonus is the default DraftKings welcome bonus, which is always available. However, we cannot recommend it, especially for small bettors with limited bankrolls. If you only deposit the $5 minimum, your bonus will be only one dollar. Then you have to wager the bonus 25x, which will probably require you to deposit and risk losing additional money. It is not worth the trouble when the profit potential is so minimal.
DraftKings Free Bets
When signing up to be a new player at DraftKings Sportsbook, be sure to check if the sportsbook has a better offer than the above-mentioned deposit bonus for first-time users. If so, remember that this bigger and better bonus might be available for a limited time only, so grab it before it disappears.
For example, at the time of this writing, all new DraftKings Sportsbook customers who deposit and make a first bet of at least $5 will instantly receive $200 in the form of site credits for eight free bets of $25 each.
The free bets must be used within seven days of receipt. If a free bet wins, you will receive your winnings from the bet but not the cost of the bet.
PointsBet Sportsbook
10 x $100 Second Chance Bets
21+. T&C Apply
21+. T&C Apply
Awesome live betting
Multiple bet types
Huge range of sports & markets
10 x $100 Second Chance Bets
21+. T&C Apply
21+. T&C Apply
The name PointsBet comes from a unique form of wagering called Points Betting that is offered at this sportsbook exclusively. Points Betting is an alternative to the more traditional fixed odds moneyline betting and point spread betting options to simply bet, respectively, on which team you think will win outright or beat the point spread. Instead, the amount you win or lose is determined by the number of points by which your team covers or fails to cover the spread. Bettors win 1x their wager for every added point their team covers, but conversely, they lose 1x their wager for every added point their team fails to cover.
These rules make Points Betting much too risky for $5 depositors. But fortunately, PointsBet Sportsbook also offers all the bet types that other sportsbooks offer.  It also has an outstanding Pointsbet welcome bonus consisting of not one, not two, but $2,000 in bonus bets!
PointsBet Sportsbook Second Chance Bets for New Players
This offer is for new users only. Create a new account at PointsBet Sportsbook; then, as soon as you make an initial deposit of at least $5, PointsBet Sportsbook will cover your first bet of the day at fixed odds up to $250. The minimum bet each day is only 50 cents. If any of your free bets win, you will be paid your winnings from the bet but not the cost of the bet.
Prophet Exchange Sportsbook
Bonus Bet up to $250
First legal p2p sports betting exchange
Backed by Caesars
Prophet Exchange works differently from other US sportsbooks. Instead of placing bets using the fixed odds that the sportsbook offers everyone, your bets are against other players. You can also propose a different line you prefer to the ones you see, hoping that another player will take you up on it. Thus, you never have to accept odds you don't like. Prophet Exchange is currently the only sports betting exchange, or p2p betting app, of its kind in this country.
One disadvantage to relying on Prophet Exchange for all of your sports bets is the very limited range of betting markets and betting options available to you. The only sports you can bet on are the NFL, NBA, MLB, NHL, and NCAA football, and the only types of bets you can make are money line bets, point spreads, and totals. However, the upside is that you are offered much more favorable odds than you would find at other sportsbooks.
Like PointsBet Sportsbook, Prophet Exchange is probably better suited for experienced bettors with large bankrolls than for very small bettors with little or no online sports betting experience but for different reasons. Beginners lack the sports betting knowledge to take advantage of the best possible odds, so they won't get the full benefit of using this sportsbook. In addition, many small bettors like to dabble in fun bets like parlays and props, which Prophet Exchange does not offer.
Currently, Prophet Exchange is only available to sports bettors in New Jersey. However, it hopes to expand to other states in the near future.
Prophet Exchange Bonuses and Promotions
The type of welcome bonus, if any, that is available to new players varies. Sometimes the site offers a risk-free first bet to players who make an initial deposit and wager of at least $5. If the bet loses, site credits are awarded for bonus bets in the same amount
Honorable Mention: bet365 Sportsbook
Bet $1, Get $200 In Bonus Bets
21+. T&C Apply
21+. T&C Apply
Easy and fast banking options
Huge welcome bonus bet
Bet $1, Get $200 In Bonus Bets
21+. T&C Apply
21+. T&C Apply
This sportsbook has a minimum deposit of $10 rather than $5. But given its generous low-risk or no-risk welcome offer, you might want to consider it.
bet365 Sportsbook: Bet $1 and Get $200 in Free Bets!
This fantastic offer is open to all new customers who deposit $10 or more. Then, all you have to bet initially is $1. It doesn't matter if your first bet wins or loses. Either way, you will receive $200 in site credits to use on free bets. The site credits are valid on any sport, and you have up to 30 days to use this free money on the betting app however you wish – on one bet or multiple bets. If you win, you will be paid the winnings from your free bet but not the cost of the bet.
bet365 Sportsbook is currently available in four states: New Jersey, Colorado, Ohio, and Virginia. New Jersey players also have access to bet365 Casino.
Reasons to Choose These Betting Sites with $5 Minimums
If you are new to sports betting, you might be skeptical about joining one of the aforementioned low minimum deposit sportsbooks. Is the $5 minimum deposit + bonus offer too good to be true? Are these betting sites legitimate and safe?
Rest assured that all of the sportsbooks we mentioned are completely legitimate and safe but 100% legal in all the states where they operate. Each one is licensed and regulated by the state agency responsible for overseeing all online gambling in that state. As a condition for continuing to operate, each sportsbook must fully comply with the state laws and policies about online sports betting.
In addition, because betting online or using a sports betting mobile app entails opening an account and depositing and betting real money, protecting the privacy and security of every player's personal information and financial transactions is vital. All legal state-regulated online sportsbooks, including those with a $5 minimum deposit, take these responsibilities very seriously, and most offer a wide range of betting markets, bet types, and online banking methods, too.
Players who live in a state where online sports betting is still illegal or the existing sportsbooks all have higher minimum deposits might be tempted to sign up with an offshore sportsbook. However, this is not a good idea. If you win but don't get paid, there is probably nothing you can do about it.
Benefits of Betting with a $5 or Lower Minimum Deposit
Betting with a $5 minimum deposit offers all of the following benefits:
Low-risk gambling for people with limited budgets
An ideal way for

betting beginners

making their first foray into sports gambling to get their feet wet and still protect their bankroll
Casual sports fans who only want to make occasional bets for a few dollars don't have to tie up more money than necessary.
5 Dollar Minimum Deposit Betting Bonuses
Before you decide to sign up with a particular site, check the sportsbook directly to see what type of betting bonus it is offering with your low minimum deposit. These offers are subject to change, so there is no guarantee that a previous offer is still available.  Read the terms and conditions carefully, and look for high-percentage deposit bonuses (i.e., 100% of your deposit) with low wagering requirements. Some bonuses require you to enter special sportsbook promo codes.
Score your Next Parlay with a $5 Minimum Deposit!
You may be surprised to see how much you can win starting out with just a $5 minimum deposit and a good betting strategy. For example, you can make multiple sports bets parlays for a dollar each.
Make your picks carefully, and you could see your low deposit and small investment multiply.
FAQ's
Why play on $5 minimum deposit betting sites?
If you are new to sports betting, only want to bet occasionally, or only have limited funds available for wagering, playing on $5 minimum deposit betting sites will give you the most bang for your buck and the best chance of making your bankroll last.
How to find the best $5 minimum deposit betting sites?
The best $5 minimum deposit sites offer low-risk bonuses with good value along with a wide variety of betting markets, bet types, and banking methods. Not every banking method will be accepted, but the best low minimum deposit sportsbooks accept the most popular methods.
What is the minimum deposit on BetMGM?
The minimum deposit on BetMGM is $10.
Do banks allow $5 minimum deposits for betting?
Yes, most banks will accommodate the betting limits of any given sportsbook or site that provides this banking option.
Does DraftKings take a $5 deposit?
What is the FanDuel minimum betting deposit?
The FanDuel minimum betting deposit is $10.
Is there a sportsbook with a $5 minimum deposit?
Yes, although not many. The best $5 minimum deposit betting sites include DraftKings, PointsBet, and Prophet Exchange. Still, you can find more betting sites that accept $10 as a minimum.