Gamble USA strives to improve your online gambling experience. We aim to help you play safely, make informed decisions when gambling, and increase your betting knowledge through our guides.
We adhere to strict editorial integrity; our content may contain links to products from our licensed & legal US partners.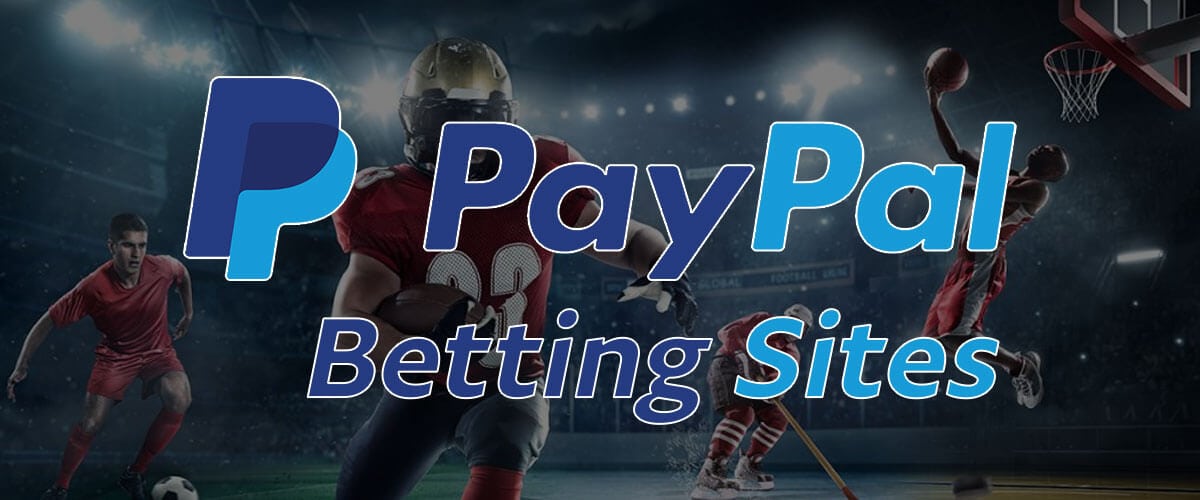 It should come as no surprise that PayPal is one of the most popular eWallets on the planet. Widely accepted at most online retailers, PayPal betting sites are also super popular. In this article, we will list all the best sportsbooks accepting PayPal and show you how easy it is to make deposits and withdrawals.
As more online sports betting sites launch across the US, online gambling sites must ensure they provide a straightforward method for customers to deposit and withdraw their money. If you are one of those bettors who is searching for an easy-to-use banking option for online gambling, then PayPal betting sites are the way to go. Online sports betting sites that accept PayPal have already done the heavy lifting and set up a convenient, speedy way for you to fund your sports betting account and withdraw your winnings.
Top Sports Betting Sites That Accept PayPal
PayPal deposits are one of the easiest ways to fund your sports betting account due to the overall simplicity, safety, and speed of this payment method. Additionally, there are numerous ways to open a PayPal account; the whole process is fast and effective, which is why we recommend betting with PayPal as the whole process of depositing and withdrawing is simpler than with traditional payment methods.
When you find online betting sites that accept PayPal, you can fund your online account using this e-wallet system before you claim your bonus bets and other bonuses and promotions.
Below you will find a list of sportsbooks that take Paypal and PayPal gambling sites that offer a solid, top-quality, reliable experience. The best PayPal betting site will offer a generous welcome bonus and ongoing promotions, including free bets to keep players engaged. To get started right away, all you have to do is check out some of these US PayPal sports betting sites, find the best one for you, and start betting!
But first, let's take a look at what PayPal means.
What is PayPal? 
PayPal is a popular e-wallet that allows for online money transfers between two parties. Besides sending and receiving money to and from individuals, PayPal can be used for online purchases as well. In recent years, PayPal has made a breakthrough into the world of online sports betting too, leading to a wide selection of online sportsbook venues that accept Paypal deposits.
Funds are sent to your PayPal personal account by connecting it with your credit or debit card, a checking account, or both. Furthermore, you can also withdraw funds to your bank via these aforementioned banking methods.
This payment method is also popular among bettors because of its ease of use, high level of security, and speed it offers for deposits and withdrawals. Over the years, it has grown to become one of the largest e-commerce organizations in the world and is now supported on most betting platforms.
Best PayPal Betting Sites – March 2023
All the sports betting sites & sportsbooks in this guide are online operators accepting PayPal as a payment option. The best PayPal betting sites will ensure deposits and withdrawals are quick and simple, in addition to providing several excellent betting options and features. The good news is US sportsbooks and betting sites that accept PayPal are now far more frequent. The best sports betting site is a subjective choice, but we believe the operators on this list offer excellent wagering options in addition to accepting PayPal betting deposits.
#1. DraftKings Sportsbook – Best PayPal Betting Site Overall
Up To $1,000 Deposit Bonus
21+. T&C Apply
21+. T&C Apply
The best sportsbook
Amazing odds & offers
Awesome betting app
Up To $1,000 Deposit Bonus
21+. T&C Apply
21+. T&C Apply
DraftKings Sportsbook has emerged to become one of the market-leading sports betting sites in many states, and it isn't difficult to see why. After building up a loyal fan base through its daily fantasy sports contests, DraftKings is now highly regarded by bettors thanks to prioritizing technology and user experience which allows for easy betting with PayPal. The operator doesn't stop at sports betting. They also have an awesome DraftKings casino built into the app and website.
DraftKings deposit methods include PayPal deposits and withdrawals, credit or debit cards, PayNearMe, cash at the casino cage, or an online transfer where the funds are sent directly to your bank account.
Why use DraftKings? – Like PayPal, DraftKings is easy to use, fast, and has an awesome reputation for providing a quality and secure service. It's not hard to see why it takes the top spot in our list of the best PayPal betting sites.
Site & app download: sportsbook.draftkings.com
#2. BetMGM Sportsbook – PayPal Betting Site with Most Betting Markets
Promo Code: GAMBLEUSA
Up To $1,500 In Bonus Bets
21+. T&C Apply
21+. T&C Apply
Promo Code: GAMBLEUSA
Super fast payouts
Live streaming
Promo Code: GAMBLEUSA
Up To $1,500 In Bonus Bets
21+. T&C Apply
21+. T&C Apply
The BetMGM Sportsbook has broken off from the competition to become one of the top online sportsbooks in the US. The brand name has played a big role in this, but it has undertaken an aggressive marketing approach to place itself among the best sports betting sites. The sportsbook features multiple sports to bet on, such as NFL, NBA, MLB, and UFC betting. PayPal users will also have access to all of the most common types of bets you expect to see on a top-quality betting site.
The online sportsbook also allows PayPal transactions, making this one option you should definitely try. It was hard to put them at #2 in our list of PayPal sportsbooks as they could easily be #1.
Why use BetMGM? MGM is one of the biggest and best names in the online sports betting market, as well as one of the best PayPal betting sites around. If you want a reliable sportsbook to use with PayPal, BetMGM is a great option. Plus, BetMGM is legal and available in over 16 states.
Site & app download: betmgm.com

#3. BetRivers Sportsbook – Best PayPal Betting Site for Beginners
Promo Code: SPORTS
Up To $500 2nd Chance Bet
21+. T&C Apply
21+. T&C Apply
Promo Code: SPORTS
Regular promos & rewards
Generous sign up bonus
Promo Code: SPORTS
Up To $500 2nd Chance Bet
21+. T&C Apply
21+. T&C Apply
Initially thought of as a smaller regional offering, BetRivers continues to expand through the United States. It falls under the Rush Street umbrella, which also includes SugarHouse Casino. BetRivers offers users a variety of excellent wagering options in addition to one of the most generous rewards programs available.
The BetRivers sportsbook does accept PayPal deposits, meaning customers can deposit and withdraw funds instantly without any hassle. They are one of the easiest PayPal bookie operators to use.
Why use BetRivers? They are one of the least difficult PayPal betting sites to use. If you already have a PayPal account, it is easy to link your wallet to the sportsbook to make deposits and withdrawals in no time.
Site & app download: betrivers.com
Betting Apps that Accept PayPal
The best online sportsbooks have a dedicated mobile betting app that allows betting with PayPal on the go. Some of these apps also accept PayPal as a deposit and withdrawal method, and we have listed the best ones below.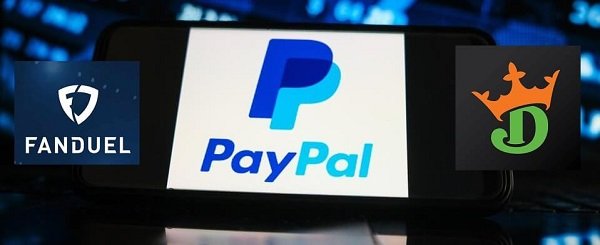 #1. FanDuel Sportsbook App
Like DraftKings, FanDuel is well-known for its daily fantasy sports contests. They are the most popular sportsbook in the US (including being one of the top PayPal betting sites) and have the most downloaded betting app and online gambling platform The FanDuel sportsbook app is available for both Android and iOS devices (Apple) and provides an excellent way to gamble remotely. The app is highly responsive, and the layout ensures navigation is straightforward.
Additionally, FanDuel has an awesome bet builder feature on the app. When you pick a wager, the betslip will pop up. You can keep adding bets to the same betslip to make straight wagers or combine for parlays or teasers. There is no doubt that FanDuel is one of the best betting apps that accept PayPal. New players to FD can also claim a welcome free bet of up to $1,000 when they make a qualifying bet.
Why use FanDuel? They are the biggest sportsbook in the US and have a range of fast deposit and withdrawal methods available, including PayPal. FanDuel is also available in more states than any other legal book.
Site & app download: fanduel.com/sportsbook
#2. Betway Sportsbook App
Betway has enjoyed lots of success overseas, and now the operator is looking to replicate that success in the United States. Fans of the NFL, PGA, and UFC will be pleased to discover these sports, and plenty of others are covered extensively on the app. Betway really shines when it comes to in-play wagering. Players who enjoy betting on events in real-time will discover a vast range of options to choose from on the Betway sportsbook app
Betway is now one of the most popular PayPal betting apps on the planet. The operator also has a range of other payment options available, including credit and debit cards, Play+, VIP Preferred, bank transfer, PayNearMe, and cash at the casino cage.
Why use Betway? Betway is one of the biggest operators in the world. Although new to the US sports betting market, they have one of the best sportsbooks around. Betway legal states include AZ, CO, IA, IN, NJ, PA, & VA, with the operator due to launch in even more jurisdictions next year.
Site & app download: betway.com
What are processing fees when using PayPal at Sportsbooks?
Sports betting sites that offer PayPal will not charge any processing fees when you deposit using the e-wallet system. However, if you want to deposit via a credit or debit card before betting on any sport, you will have to pay PayPal fees. This fee is currently set at 2.9% of the total amount deposited. If you just use an existing PayPal balance to add funds or deposit via bank transfer, there will be no processing fees involved.
Benefits of using PayPal Betting Sites
Online gambling with PayPal is a smooth and quick process, but before we get into how online betting PayPal works, we wanted to cover the advantages of using a PayPal betting site. Below, you will discover a list of the three biggest benefits of choosing to bet with a PayPal betting site. This list doesn't cover all of the perks of using PayPal as a payment method, but they are the most significant that we wanted to highlight.
It doesn't matter what type of PayPal slots sites or sportsbooks you use; betting with PayPal is the same across the board where it is offered. Ultimately you should choose online sportsbooks or apps that suit you best. As online sports betting grows in the US, you can expect to see more operators incorporate this option into their list of payment methods.
The chances are you already have a personal account with the online payment provider, but if you don't, you can open one in just a few minutes at paypal.com. The online wallet also has apps available in Google PlayiTunes making it very easy to manage your money on the move.
Your Banking Information is Secure
PayPal is a massive international company that is trusted by some of the biggest businesses globally. The company has a market cap of over $50 billion, so you know they are not some small-time processor that you may be worried about. This is important as it shows you can trust your banking information with them. You can also log into your online account via the PayPal website or PayPal app and see all of your PayPal payments and transactions.
Although we only list legal sports betting sites here, and we completely trust them, you may have never heard of them and may be slightly hesitant about giving them your banking information. If you are not ready to send over any personal financial information, this is where PayPal comes in. A PayPal transaction is safe, secure, and covered by the PayPal guarantee so if you have any problems, your back is covered.

PayPal has around 179 million users, and they use it, so they don't have to share their banking information with any other sites. Instead, they use PayPal as a middleman to complete all of their transactions. With the way PayPal works, it doesn't matter how many online casinos or licensed sports betting sites, or companies you use to make deposits or purchases; you don't have to share banking information with any of them.
Less Hassle and Bank Problems
If you have experienced attempting to deposit at an online betting site before, you know there can occasionally be issues. There are two major problems that you may encounter. First, the option you are using is complicated or not presented well and can be more stressful than it is worth. Second, if you are using a standard method such as credit or debit cards deposit, you may find that your bank rejects the charge because they think it's fraudulent.
This is usually easy to resolve. It does mean you will have to call your bank and work with them to ensure the transaction goes through. However, with PayPal, there are normally no issues because it is such a well-known business.
Easy to Withdraw
As well as being an excellent way to deposit into an online betting site, PayPal is a fantastic way for you to withdraw your winnings. Usually, if you have chosen PayPal to deposit onto a site, the operator will automatically select PayPal withdrawals as your preferred option. The reason sites require at least one real money deposit is to make sure that it goes to the correct account when they withdraw the money.
For example, you could make a $10 deposit on PayPal and then withdraw as much money as you like while your account is active. Additionally, there are little or no fees associated with this withdrawal method (depending on the gambling site you use).
Disadvantages of Betting With PayPal
While betting with PayPal holds many advantages over using other payment methods such as credit cards and wire transfers, there are a few important downsides to mention.
PayPal Betting Fees
While PayPal does not charge any transaction fees for deposits and withdrawals for your betting account, it does charge you for funding your PayPal account with a credit or debit card. The transaction fee in these cases is 2.9%, which is nothing to scoff at.
Availability
PayPal is widely available among online betting sites, especially when compared to Skrill or betting sites accepting Venmo. Still, there are a couple of websites that have not yet incorporated PayPal payments, meaning there will be cases where you'll have to stick to the usual banking methods.
How to Choose a PayPal Betting Site?
Choosing PayPal sportsbooks is really not any different than looking for the top sports betting sites any day of the week. If we take the criteria of the sportsbook in question accepting PayPal as a given, then these are the metrics you need to keep an eye on when choosing where to play:
Odds
Betting market selection
Promotions such as bonus bets/free bets, deposit match bonuses, site credits, etc.
User interface
Supported bet types
Other accepted payment methods
How Does Betting With PayPal Work?
Some of you may never have used PayPal before, so it may seem a little overwhelming to use this payment method. However, the good news is it is simple to use, which is one of the reasons why over 79 million people choose to use it. You will find details on exactly how it works below.
PayPal Deposits
Typically, when you buy something online, you will need to provide your payment information to the site you are buying the item from. This could be your banking details, your debit card number, or your credit card number. The site will take their money and place the funds in your account or send you the product you are buying.
If you love online shopping and you end up making a purchase with five different sites, five different companies now have your information in their systems. This isn't a problem unless one of the sites gets hacked and their information leaks out. Making a PayPal deposit is very simple to do, and there is a good chance that you have already done this in the past.
During this process, the only entity that will see your banking information is PayPal. Essentially, you are making a purchase /deposit with PayPal first, and they make a secondary purchase/deposit on your behalf using their own financial information. Consequently, the site you are purchasing from will only see PayPal's information.  Therefore, if the site does become subject to a cyberattack, the only company that needs to be concerned about its information being compromised is PayPal. Hence a PayPal deposit is considerably more secure that a betting account transaction involving your bank directly.
PayPal Withdrawals
Making a PayPal withdrawal to your bank account is also very easy to do. Similar to making PayPal instant deposits, there is a very good chance that you have already done this in the past.
When making a withdrawal from your PayPal account, you're equally as protected. Just as there were two transactions with a deposit between you and PayPal and then PayPal paying the betting site, there are two transactions with a withdrawal. PayPal will provide their banking details when you request a withdrawal, and the betting site will transfer funds to PayPal's main account. Next, PayPal will make a second transaction, transferring your funds from their main account into your personal PayPal account.
Can You Withdraw Winnings with PayPal?
One of the more common questions surrounding the process of using PayPal in betting is whether you can also withdraw money from your online betting account back to PayPal. The answer is yes – you can withdraw winnings from your sportsbook account back to your PayPal account. Not only is this possible, but it's also recommended as most PayPal betting sites prefer users to stick to one method for both deposits and withdrawals.
Do Specific PayPal Sports Betting Bonuses Exist?
While the best betting sites are known to sometimes incentivize the use of certain payment methods with bonuses, they are usually reserved for branded transaction venues such as gift cards. As such, PayPal betting online transactions currently bring no specific bonuses with them. On the other hand, using PayPal won't hamper you from receiving any sportsbook bonuses either, as was sometimes the case with Skrill and other e-wallets.
How to Register and Deposit Money on Betting Sites That accept PayPal
Signing up on a sportsbook that accepts PayPal is extremely fast and can be completed in less than 5 minutes. To make the process easier, we have compiled the detailed guide below to assist you:
Create a PayPal Account: The first thing you need to do before playing on a PayPal sportsbook is register for an account. You can do this by checking out the website on your PC or opening the mobile application.
Input your Details: Next, input your details like email and password in the space provided. The email you input will be your account ID, so don't forget it. Also, you will need to input other essential details like your house address and phone number.
Link your card details to the account: You'll need to link your PayPal account to your bank account using your card. This way, transferring funds from both accounts will be easier.
Verify your PayPal Account: You will receive a confirmation email via the address you added. There will be a link attached which you'll use to verify your account. Once you have done this, you can transfer funds from your bank account to your Paypal account.
Deposit money in the Sportsbook: With your PayPal account successfully created, you can log into your sports betting account. Then, head to the cashier/banking option and choose PayPal as your deposit option. You'll be redirected to the PayPal site to input your information and deposit your desired amount.
Start Playing: PayPal deposits are instant with sportsbooks, and the amount should reflect in your account instantly. You may also get a confirmation email to show the transaction was successful. All that is left is to start playing!
What Is the Processing Time for PayPal Withdrawals?
The best betting site will ensure it has fast withdrawal processing times. Any sports bettor wants to get their money quickly, whether it is from an online sportsbook or PayPal casinos. PayPal withdrawals will usually take a few days to get processed by most sportsbooks. For this reason, it is one of the best option for any new customer looking for a fast payout sportsbook.
The reason why they aren't instant is because of the additional checks and verifications that need to be carried out on the transactions. The processing times vary depending on the site you are using. If speedy payouts are important to you, make sure to read the sportsbook's fine print before you register.
States That Allow PayPal Betting
Thankfully, state laws don't really influence whether an online betting site accepts PayPal. Hence, the list of states where Paypal betting sites are accepted coincides with the list of states where online sports betting is legal. Therefore any legal online sportsbook can choose whether to accept PayPal.
Arizona
Colorado
Delaware
Illinois
Indiana
Iowa
Louisiana
Michigan
Montana
Nevada
New Hampshire
New Jersey
New York
Pennsylvania
Oregon
Rhode Island
Tennessee
Virginia
West Virginia
Wyoming
Play on the Best PayPal Online Betting Sites
PayPal is one of the most reliable banking methods you'll find on sports betting sites today. We have listed the best options you can find alongside the leading PayPal betting apps. With a PayPal sportsbook, you are certain of security, user-friendliness, anonymity, and speed. Choose one of the sites recommended above to enjoy all the amazing benefits PayPal offers.
Betway PayPal
Betway is one of the most popular betting sites accepting PayPal. New customers to this PayPal sportsbook will have access to free bets in the form of bet credits in addition to numerous betting markets and bet types. But what makes this PayPal gambling site really stand out from the crowd is how easy it is to deposit and withdraw on the platform.
Whenever you gamble online, it is essential the process of depositing and withdrawing funds is straightforward. Betway ensures its customers can add funds to their accounts via a wide range of suitable payment systems, including PayPal. Consequently, there is no waiting around to receive your money if you win a bet. Betway has options that will send you your winnings instantly once the withdrawal request has been approved.
PayPal Betting Sites FAQs
Are there any PayPal esports betting sites?
Betting on esports is still not legal in the US. Yet. Currently, there are no PayPal esports betting sites available.