Gamble USA strives to improve your online gambling experience. We aim to help you play safely, make informed decisions when gambling, and increase your betting knowledge through our guides.
We adhere to strict editorial integrity; our content may contain links to products from our licensed & legal US partners.
There is now a growing number of NJ online casinos where you can use the popular paysafecard to make secure deposits and withdrawals.
Since legalizing online gambling in 2013, New Jersey has established a thriving online casino and online poker industry. Atlantic City casinos began offering online options for players, and now New Jersey online casinos attract players of all different skill levels, from experienced players to novices. However, no matter their skill level, one thing all players have in common is the need to fund their online casino accounts quickly and efficiently. One of the best payment methods available to make a deposit online is to use paysafecard.
Best NJ online casinos accepting paysafecard
An increasing number of casinos in New Jersey will accept paysafecard as a deposit option, ensuring the process for players to fund their account is straightforward. Once you have signed up to a casino, you can then access your Paysafecard casino bonus. The best Paysafecard casinos in NJ can be seen below:
A paysafecard can be used on your desktop, laptop, or mobile if you are playing on NJ casino apps. Additionally, it gives players the option of gambling anonymously as there is no need to provide the casino with your personal information or banking details. A paysafecard is easy to obtain, and they work with unique authorization codes.
Using the paysafecard payment method ensures you can enjoy playing the best online casino games for real money. The best paysafecard casino sites in New Jersey will feature numerous slots, table games, and card games provided by well-known software developers such as NetEnt and Evolution Gaming.

Once you have funded your account, you can check out an online slots guide to see which casino has the best video slots, progressive jackpot slots, and reel games. Additionally, you can search for a blackjack casino at New Jersey and discover numerous variants of the classic card game. There will also be NJ live casinos available where players can play live dealer games, which replicate the feeling of being on the casino floor while playing from your own home.
Before you can start your online gaming experience at any legal NJ online casino, you may need to download the software, however, the most popular option is an instant play NJ casino. Once on the site, you can then join and create an account. Furthermore, if you want to gamble on the go, you must download the casino app to your mobile device. Most casinos in New Jersey will have an app available for iOS and Android devices. Once you have downloaded the app, you can claim your iPhone casino no deposit bonus, or casino reload bonus to get some free money to play with.
This article will cover how to get a Paysafecard, tips on using this payment method, and also list NJ online casinos that accept Paysafe.
What is the Paysafecard Payment Method?
Paysafecard is a prepaid online payment system that uses vouchers to complete online payments. These vouchers are not linked to your bank account, credit/debit card, or any e-wallets. Paysafecard has been a popular payment method in Europe for a while and is now growing rapidly at online casino USA sites.
Paysafecard is one of the most common payment methods used in Europe. Players enjoy using it as it has a high acceptance rate and is simple to use. Paysafecard was introduced in 2000 with the idea of transferring cash safely across the internet. The company began its journey in Australia and then expanded into Europe.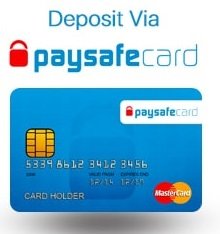 Paysafecard is now one of the most used payment methods in the online casino industry and has finally reached the United States. Online casino Paysafe sites in NJ provide players with a convenient deposit option so they can fund their accounts and play casino games for real money.
How Does it Work?
Paysafecard works similarly to a store gift card. You can purchase a voucher for the amount you wish to deposit to your online casino account. The vouchers are available in several denominations, such as $10, $50, and $100, so you can select which amount you would like to deposit. The Paysafecard has a unique 16-digit code that you will enter into your online account when you are on the banking page.
Depositing at Online Casinos Using Paysafecard
First, you will need to purchase your Paysafecard, and you can pay for it via cash, credit card, or debit card. Keep in mind that if you lose it, anyone who finds it could spend it, so keep it safe. When you have your card, make sure that your online casino has this payment method available before signing up.
When you are ready to deposit, you will need to navigate your way through the online casino's cashier section and click the deposit option. You will be presented with numerous payment options to choose from and will need to select the Paysafecard option.
The next step will be choosing the amount of money you wish to deposit, then click confirm. Bear in mind that there are some minimum deposit NJ casinos, so you may need to deposit a certain amount to be eligible to play. The NJ online casino will ask you to enter the unique 16-digit code (or PIN) on the card. Double-check that you have entered the correct information and then click confirm. The funds will appear in your account instantly, and you can begin playing games for real money.
Withdrawing at Online Casinos Using Paysafecard
You cannot use Paysafecard to cash out at NJ online casinos; it is a deposit-only payment method. There are, however, numerous other options to withdraw money from your casino account. If cashing out is vital to your casino gambling experience, you could search for the fastest paying online casinos. This will provide you with a list of online casinos in New Jersey where you can cash out quickly.
If you are using a Paysafecard as a payment option because you do not have a credit card or bank account, you can request a Play+ prepaid card directly from your casino. Using a prepaid card, you can withdraw funds directly to the card and then withdraw them at a later date from a physical store or ATM.
Other standard withdrawal options at NJ online casinos include e-wallets, credit/debit cards, ACH/e-check, and online bank transfers. Another option is for players to deposit at a Play+ NJ casino, paysafecard NJ casino, or use one of the many online casinos accepting PayPal.
Benefits of Using Paysafecard at Online Casinos
Paysafecard has established itself as one of the most used payment methods across Europe, and many factors make it an excellent choice to fund your online casino account.
Speed
Speed is of paramount importance nowadays, and using Paysafecard ensures your funds are added instantly. Players can play their favorite slots and table games and claim their deposit bonus minutes after confirming the transaction. Additionally, there is no requirement for you to spend all the money on your card in one hit, which means you can leave some back if you don't want to keep making trips to the card dealer. However, you can also purchase a Paysafecard online, so there is no need to leave the house.
Safety
Paysafecard is among one of the safest payment method options available. There is no requirement for players to divulge personal or financial information with a third party or use your bank account or payment cards. If players are new to NJ online casinos and prefer not to send any personal information, Paysafecard is a fantastic option.
Simplicity
One of the major plus points of Paysafecard is that it is straightforward to use. Everything you need to deposit at an NJ online casino is all on your card. You don't need to remember passwords, open a separate bank account, or ask your bank for a new card.
Privacy
For those concerned about privacy, if they sign up for an NJ online casino, Paysafecard is the perfect solution. There will be no bank statements sent to your house or any documentation which lists your online gambling activity. Additionally, you can track your payments on your Paysafecard online account, which is secure.
Using Paysafecard Vouchers to Play Online
There are three choices when using the Paysafecard payment method at online casinos in New Jersey. These options include using a Paysafecard voucher, creating a My Paysafecard online account, or choosing the Paysafecard Mastercard.
Paysafecard has hundreds of thousands of agents available worldwide. To find the one closest to you, visit the Paysafecard website and enter your location. Keep in mind that there are daily deposit limits for My Paysafecard and Paysafecard Mastercard, so ensure these work for you before continuing.
Moreover, you will not be required to hand over any financial information or provide ID to purchase Paysafecard vouchers. You can buy the card over the counter at an authorized dealer.
Paysafecard FAQs
Is Paysafecard safe?
Paysafecard is among the most secure payment options available. Players do not need to hand over any personal or financial information to third-party sites, nor do they have to use their bank accounts. Anyone new to online casinos in New Jersey can find everything they need on the Paysafecard. Additionally, the New Jersey Division of Gaming Enforcement (NJ DGE) oversees all online casinos in the state, ensuring safety and fair play. If you are still a little unsure about Paysafecard, check out some Paysafe reviews and read about their success in Europe and how they are growing in popularity in the New Jersey online casino industry.
Can you buy Paysafe card online?
Yes, players can purchase Paysafecard PINs from the comfort of their own home 24/7. There is a requirement to sign up at the online PIN shop, but once this is done, you can sign in at any time to get your Paysafecard. Once you have completed the purchase of your Paysafecard, you can search for online casinos in New Jersey that accept this payment method and start playing for real money.