Gamble USA strives to improve your online gambling experience. We aim to help you play safely, make informed decisions when gambling, and increase your betting knowledge through our guides.
We adhere to strict editorial integrity; our content may contain links to products from our licensed & legal US partners.
Using a Paysafecard online is now one of the safest and fastest ways to deposit with an online sportsbook. There are now several online NJ sportsbooks that accept Paysafecard as a banking option.
New Jersey has become a hotbed for online sports betting in recent years. The Garden State is home to numerous well-known brands that provide residents and visitors with several top-quality sports betting options.
Players can choose from a variety of NJ sports betting apps to gamble on the go. As there are a vast amount of choices, it can become quite a task to find out precisely what is available and which online sportsbook to join.
---
NJ Sportsbooks Accepting Paysafecard
More and more online sportsbook sites in New Jersey will now accept Paysafecard as a deposit option. Players who would like to access a straightforward payment method when funding their accounts have plenty of choices in the Garden State. The sports betting operators that accept Paysafecard in New Jersey include:
One of the fastest and most efficient online payment methods to deposit funds to your account is Paysafecard. This payment method is one of Europe's most popular online options and is now being used regularly across the United States. This article covers how to make a payment at NJ sportsbooks using Paysafecard, tips on how to use it, and also lists NJ sportsbooks that accept Paysafecard.
One of the factors that will play a crucial role in your decision is which online platforms offer the best choices when it comes to funding your account. As the New Jersey Division of Gaming Enforcement (NJ DGE) oversees all online gambling in the state, licensed sportsbooks are safe and secure, and all will offer plenty of options. However, these will differ, and some payment methods may be more suitable for you than others.
---
What is the Paysafecard Payment Method?
Gambling online has become extremely popular worldwide; however, some people are still hesitant to create an account because of security fears. People hear some scare stories about online fraud and become worried it could happen to them, and they could lose their cash. Bettors don't need to worry about that when using Paysafecard.
Paysafe, the company behind Paysafecard, has created a prepaid payment method that improves security for all online transactions. The system uses vouchers to complete online payments, and the vouchers are not linked to your credit card/debit card, bank account, or e-wallets. Paysafecard has a 16-digit code that players can purchase for $10-$100 and then be used at any NJ online Paysafecard sportsbook. Bettors also have the option of purchasing a Paysafecard Mastercard.
This has led to Paysafecard becoming a popular choice for players on sports betting websites. It is similar to using your credit card or debit card for online payments. The most significant difference is using Paysafecard offers your more protection due to anonymity, which should allay some security fears among players.
Paysafecard online has a mobile app that is free to download for iOS and Android devices. The contains some innovative features, including a function that shows you the closest retail location where you can purchase more codes. The app gives bettors the ability to keep all of their codes in one place and view their current balance at any time. Additionally, mobile payments can be completed through a QR code from the app.
Paysafecard is one of the most used deposit options in the online sports betting industry in Europe and is now becoming more prominent in the United States. Paysafecard NJ sports betting sites are now widespread, so bettors have plenty of sportsbooks to choose from if they wish to use this payment option.
Its is not just sportsbooks in New Jersey that accept this method, there are also several NJ online casinos that accept paysafecard as well.
---
Depositing at Sportsbooks Using Paysafecard
The first thing you need to do is purchase your Paysafecard card. One of the bonuses of using this service is there are no added fees when you buy your codes, so the amount you pay will be the amount shown with your code. When you have your codes, you then need to find a sportsbook that accepts Paysafecard and create an account.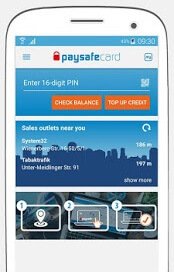 When on the Sportsbook site, you will need to select your chosen payment option. Navigate to the cashier section and click the deposit button, which will list all of the payment methods available. Choose Paysafecard from the list and then continue.
The next step requires you to enter the code and the amount of money you wish to deposit. The sportsbook may have a minimum deposit amount you must meet, so make sure you clear that amount. Additionally, bear in mind that you can use part of the balance from one code and leave the rest for you to use in the future. Once you have confirmed the deposit, it will be done instantly, which is another bonus of using this service. Using paysafe is widely accepted on most sports betting apps as a safe and secure banking option.
---
Deposit and Withdrawal Wait Times Using Paysafecard
When you confirm your deposit to an NJ sportsbook, the funds be available immediately to start betting on your favorite sports teams and try and win some cash. Keep in mind that you are not able to withdraw money directly from your Paysafecard. Players must choose another safe and efficient banking method to have their winnings paid into.
---
How to Transfer Winnings to your Paysafecard
Withdrawing money from your New Jersey sportsbook to your Paysafecard is straightforward and fast. First, head to the cashier section of the online sportsbook and select Paysafecard as the withdrawal option. The set limits for cashing out to your Paysafecard range from $20-$1,000. Another bonus of using this payment service is that any processing fees are paid for by the operator, not the player. This means you can guarantee smooth access to your winnings without having to pay any hidden fees.
---
3 Benefits of Using Paysafecard at New Jersey Sportsbooks
Paysafecard is one of the most trusted payment methods available at any online sportsbook or online casino. There are several reasons why it is a fantastic choice to fund your new account.
1. Safety
Paysafe is among the safest payment services available when making transactions online. Bettors are not required to provide any personal information and can retain their anonymity. Additionally, you do not need to provide any financial information with a third party or use your bank account or credit cards. If you are a new player to a sportsbook and are concerned about security, Paysafecard is a superb option.
2. Speed
Making any online transactions quickly is extremely important to players nowadays. Using Paysafecard ensures your funds will be available to use instantly. Players can bet on their favorite sports teams and events as soon as their deposit has been confirmed.
3. Privacy
Customers who are concerned about sending financial information to a third party won't have that worry using Paysafecard on New Jersey sports betting sites. Additionally, no bank statements will be sent to your house or any documents which list your online gambling transactions. Furthermore, you can keep track of your payments by using your Paysafecard online account.
---
3 Other Popular Banking Methods
Some players may prefer more traditional payment options such as credit/debit cards. All sports betting sites will offer plenty of secure payment methods that cater to different needs. Some may want to receive their winnings instantly, or some won't mind waiting a few days. Whatever your preference, there are many options available.
1. E-wallets
Like Paysafecard, deposits are instant when using e-wallet services such as PayPal or Skrill. Withdrawal times can differ depending on which service you decide to use. There are several PayPal betting sites, as it is the most used e-wallet provider in the world.
2. Prepaid Cards/Play+
A lot of online casinos and sports betting websites will offer prepaid cards for customers in New Jersey. Play+ NJ sportsbooks allow you to fund your card with a debit/credit card or via your bank account. Additionally, you can use the card at any ATM or anywhere Discover® is accepted.
3. Bank Transfers
A customer might wish to add funds to their account via a bank transfer. If you choose this method, bear in mind deposits can take up to three days, while withdrawals can take up to ten business days. Bank transfers are used regularly for withdrawals as they allow for high maximums when cashing out.
---
Paysafecard Betting Sites FAQs
Is Paysafecard safe?
This payment method is among the safest and most secure online payment services available. There is no requirement for you to provide any personal or financial information. As long as you choose to bet at a licensed New Jersey sportsbook, you are protected by the financial conduct authority and the New Jersey Division of Gaming Enforcement. If you are unsure about Paysafecard, check our a Paysafe review and read some comments from those who have used the service.
What betting sites accept Paysafecard?
DraftKings, bet365, PointsBet, Unibet, BetMGM and Caesars are all reputable betting sites that operate in New Jersey and accept Paysafecard payments. They offer the most extensive betting markets at the best prices, and you can simply manage your finances using Paysafecard.
Can I use Paysafe in the US?
Absolutely, Paysafe payments can be used for online casinos and betting sites, but they are also accepted by many other online shops and merchants.
Is Paysafe international?
Paysafe was founded in Austria, and already has a huge customer base in Europe. It has now found its way to the US, where it is becoming far more widespread. You can buy Paysafecards and use them all over the world.
What is the Paysafecard app?
The mobile app can be used instead of physical vouchers. It keeps all your codes, so you can check how much your balance is on each, and then operate mobile payments by scanning a QR code. The app has some other useful features too, including a tool that helps you locate the nearest retail location where to buy more codes.