Gamble USA strives to improve your online gambling experience. We aim to help you play safely, make informed decisions when gambling, and increase your betting knowledge through our guides.
We adhere to strict editorial integrity; our content may contain links to products from our licensed & legal US partners.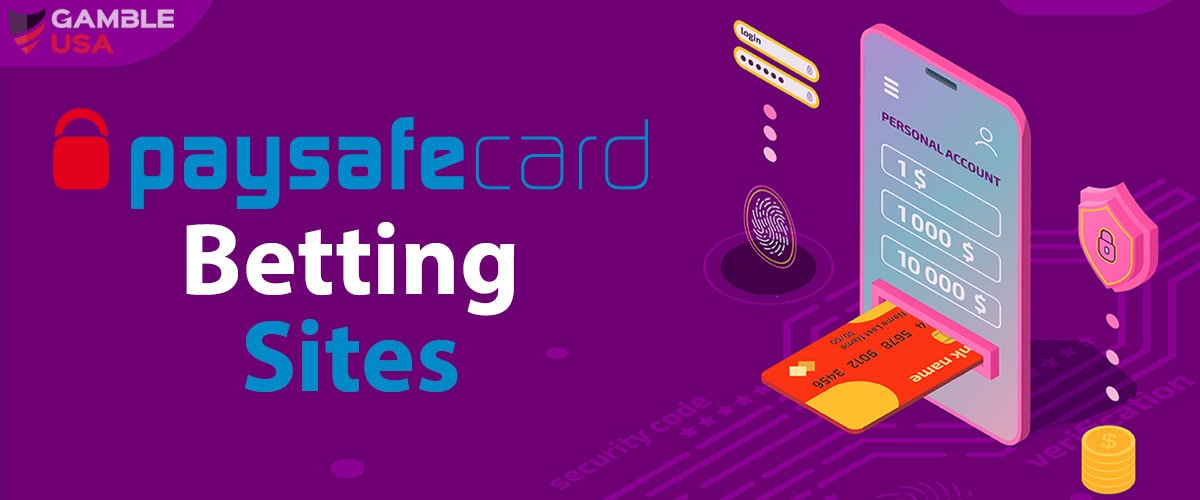 Managing your payments in and out of your betting account is a crucial part of online betting. Ideally, the site that you bet at offers at least two payment options that you are comfortable using, so if you cannot use one channel, you always have a backup.
Lots of bettors use their bank cards or open accounts with popular eWallets, but if you are looking for another option to handle your finances, then you should consider Paysafecard.
About Paysafecard Sportsbooks
Paysafecard is a perfect choice for bettors in the US to make safe, hassle-free, and speedy payments. It does not require you to send any personal banking details nor set up an eWallet.
Paysafecard is an international electronic payment service that was founded in 2000. It is used all over the world and can be used for both domestic and international payments. It has a prepaid voucher payment service, and more recently it issued Paysafecard Mastercards and launched a mobile app for online banking.
Pros & Cons of Paysafecard Betting Sites
| ✅Pros | ❌Cons |
| --- | --- |
| Well-established and internationally recognized | Not all US betting sites accept this payment |
| Free registration | Service fees |
| No need for personal details | Registration is required to make withdrawals |
| Extremely speedy payments | Prepaid vouchers must be physically bought at affiliated stores |
| Awesome welcome bonuses at Paysafecard Sportsbooks | |
US Betting Sites Accepting Paysafecard
It is no secret that Paysafecard has a larger customer base in Europe, though the payment service is rapidly catching on in the States. Currently, there are not many Paysafecard betting sites in the US, but this is likely to change in the upcoming years.
🥇

bet365

bet365 is an international sportsbook with great coverage of sports bets. This bookmaker has quite the following in the US and is a fantastic destination for bettors who like in-play betting. All members of this sportsbook can use the Early Payouts, which are offered for Baseball, NBA, and Hockey, and the perks do not stop there as it offers parlay boosts of up to 70%. With plenty of outrights and a wide range of pregame and live betting markets, bet365 is an extremely versatile sportsbook.
| 💳Payment | 💲Fee | ⏱️Processing Time | 💵Min | 💰Max |
| --- | --- | --- | --- | --- |
| Deposit | Free | Instant | $10 | $1,000 |
| Withdrawal | - | - | - | - |
Paysafecard prepaid vouchers, mobile app and Mastercard deposits are all supported at bet365. Unfortunately though, bet365 does not offer Paysafecard withdrawals.
Note: If we spot any other betting site introducing Paysafecard payments into their system, we will promptly update this list.
Bet $1, Get $200 In Bonus Bets
21+. T&C Apply
21+. T&C Apply
Easy and fast banking options
Huge welcome bonus bet
Bet $1, Get $200 In Bonus Bets
21+. T&C Apply
21+. T&C Apply
How to Find Top Paysafecard Betting Sites
With new betting sites popping up all the time, the offers out there are only getting better. Whether you have never bet online or you have only bet at one place for the past few years, you may be surprised at what offers and perks bookmakers are offering to stay ahead of the competition. Our goal is to highlight the types of benefits you can get at Paysafe sportsbooks today, so you can stay up-to-date with all the latest offers.
Is it Legal
The most important part of picking any betting site is checking whether they are operating legally in the US. Sports betting is legal in most states but not in all, so you must make sure that the state you reside in allows betting. The laws are different in each state, but the ones that do allow sports betting all have gambling regulators. These regulators can issue licenses to sportsbook operators, and legitimize their business. If they have the seal of approval from your local gambling authorities, then you can rest assured that they are completely safe to play at.
Payment Limits
All sportsbooks have limits as to how much you can deposit or withdraw at a time. In fact, different payment options can have different limits. With Paysafecard deposits, the limits depend on the method of payment you are using. Prepaid vouchers may have different limits to using the Mastercard or betting app, and you must also consider that there are also limits set by Paysafecard.
Generally, if you are not on an extremely tight or large budget, then you should face no problems with the limits. However, that can change if you happen to win a massive prediction. It makes all the difference in the world whether you can cash out your mammoth winnings in one go or whether the betting site only allows you to withdraw it in installments.
Payment Speed
Whilst Paysafecard transactions are extraordinarily fast, this does not necessarily mean that at all sportsbooks you can expect the same deposit and withdrawal times. This is because bookmakers require processing time to green light any of your transfers. Deposits are usually instant transactions, as they top up your account as soon as the payment has been confirmed by the payment service.
For withdrawals though, the sportsbook usually requires time to assess your payment request. The top Paysafecard betting sites and other fast payout sportsbooks reduce this time to a minimum so that you can expect to receive your winnings within 24 hours. However, some places may spend more time confirming your withdrawal. It does not mean your withdrawal is not accepted, but you have to hold on for a bit longer to receive your winnings, which is not ideal.
Additional Fees
The fees that you are charged by Paysafecard are one thing, but some bookmakers charge additional fees on deposits or withdrawals. These can either be fixed-price charges or a percentage of the amount you intend to deposit or withdraw. This is not a commission or a rip off of sorts, it is simply the sportsbook charging you for the cost of the transfer. However, instead of the beneficiary taking on the transfer expenses, you are.
This practice is becoming less commonplace nowadays, especially when there are so many cheap and easy payment options. Paysafecard sportsbooks generally do not charge additional fees.
Customer Support
The place you are going to bet at should provide professional customer support. Live chat is a common support tool at betting sites, as it yields quick responses. Should you face any technical issue or need help with anything urgent, then it is a great channel to have at the ready. The same goes for landline phone numbers. You can call up customer support and the agent that responds can give you the information you need to know.
Alternatively, you can reach out to customer support by sending them an email. While you may have to wait longer for a support agent to reply to your query, it has its uses.
Sportsbook Odds and Betting Options
A reliable payment service is crucial to a good betting site, but do not forget the reason why you went there in the first place. The sportsbook should provide extensive betting markets on the sports of your choice, with plenty of juicy promotions. The odds need to be just as good, if not better than rival betting sites. Though the difference is negligible on paper, those extra few cents here and there can really add up.
Another aspect you should consider is what kind of betting options the site provides. In-play betting and a bet-builder tools are a good place to start, but you may also be interested in enhanced odds, tournaments, insurance bets, and round robin betting options.
How to Use Paysafecard for Online Sports Betting
Making transfers using Paysafecard is a breeze. Once you have made your first deposit and withdrawal, you will see just how straightforward and intuitive it is. Before going on to the steps of how to deposit and make a withdrawal at Paysafecard betting site, we should look into how the vouchers, Mastercard and mobile app operate.
Vouchers
Paysafecard vouchers can be purchased at most convenience stores, and there is no additional charge for buying one. If you do not know where to buy one, check the Paysafecard website and you can find a list of their affiliated stores. These prepaid vouchers can be bought at the cashier, and once you have bought one you are ready to go.
| ✅Pros | ❌Cons |
| --- | --- |
| No personal details required | You need to physically buy them at a store |
| No added fees | Does not support withdrawals |
| Refundable if you do not need it | |
Mastercard
To get a Mastercard, you must make a Paysafecard account first. The process is very straightforward and you will not need to pay a dime to set yourself up. Once you do, you can request the Mastercard, which, for all purposes, works in the same way a bank card does. You can even use it to withdraw your money from ATM machines.
For your sports betting, this card allows you to make both deposits and withdrawals. You must submit your Mastercard details to your sportsbook to finalize payments to and from your Paysafecard account. The only downside is that you will be charged minimal maintenance fees for holding a Paysafecard account.
| ✅Pros | ❌Cons |
| --- | --- |
| Supports deposits and withdrawals | Requires registration |
| You can withdraw money at an ATM | Maintenance fees |
Mobile App
Instead of entering Mastercard details or using a prepaid voucher, you can finalize payments on your cell phone using the mobile app. Of course, this option also requires you to set up your own Paysafecard account, which comes with maintenance fees. Withdrawing is an option with the mobile app, and it can be done extremely swiftly.
| ✅Pros | ❌Cons |
| --- | --- |
| Supports deposits and withdrawals | Registration is needed |
| Everything is done on your smartphone | Maintenance fees |
| Two-step authentication for added security | |
Paysafecard Sportsbook Deposit Process
Making your first deposit using Paysafecard may sound a little daunting at first, but once we take you through all the steps, you will know exactly what to expect.
Option 1: Vouchers
To make a deposit using a voucher, you will need to go to a store that sells them. The full list of stores that sell Paysafecard vouchers is available on their website, and you can pay for these vouchers using cash or card. The voucher itself does not contain any of your personal details. Then, log into your account at your sports betting site. To top up your account, you must follow these steps.
Navigate to the Deposit or Cashier option
Select Paysafecard voucher as your payment method
Submit the 16-digit PIN code on your voucher
Confirm the amount you want to deposit
Option 2: Mobile App and Mastercard
Using these Paysafecard payment methods is a little bit different from using a voucher. You will need to have a registered Paysafecard account. The account can be topped up and money can be sent on to the bookmaker through it.
When making a deposit, you will need to supply details about your Paysafecard account, and then once you confirm the deposit, the sportsbook will top up your account.
Paysafecard Sportsbook Withdrawals
Unfortunately, the vouchers can only be used for sending money and not for receiving it. The only way you can receive money via Paysafecard is to have an active account. As mentioned earlier, this is fairly straightforward to create, and you can have yours up and running in no time at all.
Once you have your account, you can request a Mastercard or do everything through your cell phone, by downloading the app.
When you have logged into your sportsbook, then you can request a withdrawal by doing the following.
Select Withdrawal in the Cashier
Click on Paysafecard as your withdrawal method
Enter your Paysafecard Mastercard details/submit the 16-digit Pin code on your app
Submit the amount you want to withdraw and confirm
Payment Speed & Fees
One of the biggest appeals of using Paysafecard is the swift transactions. Instead of having to wait for 3-5 business days to withdraw your money, Paysafecard executes transactions in 24 hours. Deposits are managed instantly in most Paysafecard sportsbooks.
Paysafecard charges fees for account holders, depending on what type of package they get. If you buy a prepaid voucher and still have money on it after 2 years, then you will be charged $2 each month after those first 24 months. Otherwise, prepaid vouchers can be bought at face value and there is no fee for transferring your money.
Paysafecard Betting Bonuses
Generous welcome packages and hefty bonuses are always a major plus, and it is no different for bettors using Paysafecards. Sportsbooks are not only adding this flexible payment service to their payment methods, but some are also gifting bettors who use it with awesome prizes. The most common Paysafecard bonus is a boost on your first deposit, extending your funds and giving you a good head start for your first bets.
Paysafe Betting Site Alternatives
Paysafecard is not the only way to transfer cash into your betting account. There are alternative prepaid vouchers and card services, and some betting sites even offer their own prepaid cards. Though the latter are only usable at those sportsbooks, there are benefits and perks offered to members who use them, making them quite a viable option.
🥈

Betway Play+

The Betway Play+ prepaid card is only valid for deposits and withdrawals at Betway, though it provides all the same safety and ease of access that you would get with Paysafecard. You simply top up your card and then send your money instantly into your Betway account.

The card can also be used to make cashless purchases, and even withdraw money from certain ATMs.

Betway has a lot of good credentials: it is authorized by the NBA, NGL, MLB, and is also an official sports betting partner of the NHL. The sportsbook itself is phenomenal, packed with betting markets on popular and niche sports alike. With a generous reward program, in which the Play+ card is included, Betway is among the top betting sites in the US.
Up To $250 In Bonus Bets
21+. T&C Apply
21+. T&C Apply
Live In-Game Betting
Odds Boost
Up To $250 In Bonus Bets
21+. T&C Apply
21+. T&C Apply
🥉

DraftKings Play+

DraftsKings also offers its own prepaid card to members, and just like the Betway prepaid card, it can be used to cash out money at ATMs or make cashless payments. The card needs to be loaded up with money, and then you can deposit straight into your betting account. It is completely safe to use, and protected by the FDIC for up to $250,000. From time to time, DraftsKings will also reward Play+ members with exclusive promotions.

The sportsbook needs no introduction to sports fans. Founded in 2012, DraftsKings is famous all across the States for its daily fantasy sports, and now it operates one of the most popular sportsbooks in the country.
Up To $1,000 Deposit Bonus
21+. T&C Apply
21+. T&C Apply
The best sportsbook
Amazing odds & offers
Awesome betting app
Up To $1,000 Deposit Bonus
21+. T&C Apply
21+. T&C Apply
🎖️

Caesars PayNearMe

This is a very popular deposit option across many sportsbooks, and, unlike the Play+ card, you do not have to stick to one bookmaker. With PayNearMe, you are essentially buying prepaid barcodes, which you can print or save to a mobile device. It becomes your personal barcode, that you can top up and send money through. Like the Paysafecard voucher, you can top it up at any affiliated cashier.

It only takes 15 minutes for a PayNearMe deposit to reach your Caesars betting account, and then you can enjoy all the remarkable features and perks this betting site has to offer. This includes a wondrous loyalty program and a sportsbook that feels tailored for NFL fanatics.

Promo Code: GUSA1000
$1,000 First Bet on Caesars
21+. T&C Apply
21+. T&C Apply
Promo Code: GUSA1000
Massive welcome bet offer
Earn Caesars Rewards
Promo Code: GUSA1000
$1,000 First Bet on Caesars
21+. T&C Apply
21+. T&C Apply
🏅

PointsBet Trustly

Trustly is a payment service in which you can send money straight from your bank account to the betting site, but without submitting any details about your personal account. It uses Open Banking Technology, which manages the payment and can even speed up the transaction between your bank and the betting sites.

This is just one of the many advantages of playing at PointsBet. The Betting Academy, a personal Parlay calculator and the #Nameabet are distinguishing features of PointsBet that make this sportsbook stand out. With plenty of ongoing offers and a great loyalty program, it is a top choice for US bettors.
10 x $100 Second Chance Bets
21+. T&C Apply
21+. T&C Apply
Awesome live betting
Multiple bet types
Huge range of sports & markets
10 x $100 Second Chance Bets
21+. T&C Apply
21+. T&C Apply
Until more sites like bet365 add Paysafecard in their cashiers, the above banking options are your best alternatives with similar features.