PointsBet sportsbook is rapidly becoming one of America's favorite sportsbooks. This is mainly due to its excellent in-game wagering offering as well as being a very user-friendly sportsbook.
There are lots of betting markets available, and it's easy to join the book, and even easier to make a PointsBet deposit. If you are new to betting online, then this guide is for you. We run down the different banking and deposit options available with the sportsbook and show you how to make a deposit with PointsBet.
PointsBet has also launched the PointsBet Casino as the brand tries to grow in the US. Users can play all of their favorite games at this online casino if they want a change from betting on sports.
The PointsBet online sportsbook is a legal and reputable online wagering platform that is operational in several US states. The PointsBet app has attracted lots of interest because of its signature Points Betting system that differs from the fixed odds type of wagering that you would usually encounter on an online sportsbook. Additionally, you will discover lots of wagering options for significant events like the Super Bowl and NBA playoffs. If there is a popular betting market in the US, it will be available on PointsBet.
There is a PointsBet promo code for new players to benefit from the welcome bonus consisting of 5 x second chance bets worth $100 each, an excellent app, and a wide range of markets. To get the most out of your PointsBet betting experience, you will need to fund your PointsBet account first.

This article details all of the most important information relating to PointsBet payment methods. We will list the PointsBet banking options, touch on how to make a PointsBet withdrawal, and if there is a deposit bonus available. PointsBet is licensed to operate in the legal sports betting industry, so your financial information is protected.
10 x $100 Second Chance Bets
21+. T&C Apply
21+. T&C Apply
Awesome live betting
Multiple bet types
Huge range of sports & markets
Create a PointsBet Account
Before you can make a deposit to your account with the sportsbook, you need to make a PointsBet account. This is a simple process, but if you haven't yet joined a sportsbook online or on your mobile, you may think this is a daunting task. It's really not.
Head over to pointsbet.com and click the sign up now button. Choose your state and press go (you can register in any state, but you need to be in a PointsBet legal state before being able to actually bet). Next, add in your name and email, add your date of birth and last 4 digits from your SSN, add in your cell and home address, set a secure password, accept the T&Cs, and click join PointsBet. Now you have an account, you are ready to make a deposit.
How to Make a PointsBet Deposit
First, we will list all of the different PointsBet payment methods available to fund your account. Each of these banking methods can be used as a PointsBet deposit option or for a withdrawal. The payment options available on the PointsBet website include:
ACH/eCheck
Cash
Credit/Debit Card
Online Banking
PayNearMe
PayPal
PointsBet MasterCard (PointsBet Card)
It is important to note that not all of these options are available in all the states where this online bookmaker is present. For example, if you want to make a PointsBet PayPal deposit, please ensure PayPal betting sites are available in your state.
Let's look at each PointsBet payment method individually.
ACH (Automated Clearing House payment) and eChecks: Selecting this option allows you to electronically transfer your funds between your personal bank account and your PointsBet account.
Credit and debit cards: These payment cards are another popular option, as the transactions are usually instant. You can get a PointsBet MasterCard and use it to fund your account and withdraw. Regarding the PointsBet deposit processing time, using a debit or credit card is one of the fastest options.
PayPal: This e-wallet system is also available. It is arguably the most prominent e-wallet worldwide, with more than 300 million users. All of your details and transactions are protected, and your payment information is safe on your account.
Online banking: Choosing online banking enables you to process online transactions by registering a bank card. You must register for the online banking-enabled card that your chosen bank provides.
PayNearMe: This is a straightforward and convenient payment option. If you choose this in the cashier section of the site, you must print your payment document and take it to an authorized payment location (like a 7-Eleven), where you pay in cash. Your funds will be immediately deposited into your account.
Cash at the casino: Using cash as a PointsBet deposit option means you need to visit PointsBet's land-based casino partner and deposit in person.
The process of depositing the PointsBet app is straightforward. Simply head to the cashier section, click 'deposit' and choose from the list of payment options you are presented with. You can set a PointsBet deposit limit on your account to keep a hold on your spending, and PointsBet's minimum deposit amount is $5.
Whether you are playing on the PointsBet NY site, PointsBet MI, PointsBet Illinois, PointsBet New Jersey, or PointsBet Colorado, the process of adding funds is the same.
If you are a new customer to PointsBet, you can claim up to $2000 in risk-free bets at pointsbet.com. Just use the PointsBet promo code GUSA to qualify. You can enter this bonus code when signing up, and the bonus offer will be yours.
Below you can see screenshots of the deposit screen where you can select your deposit method, then the next screen where you can set the deposit amount.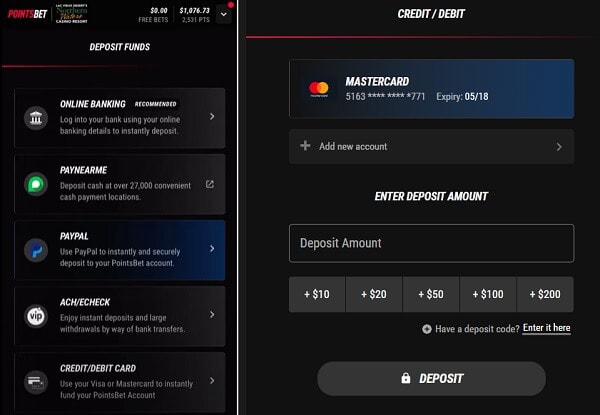 PointsBet Deposit Methods
As we pointed out above, making a deposit with the operator is very easy to do. Funds are normally available instantly after making a deposit, and the sportsbook has a nice low deposit amount of $5 for nearly all banking methods. This $5 minimum deposit amount makes it one of the best low deposit US sportsbooks available.
| Deposit Method | Processing Time | Minimum Deposit | Maximum Deposit |
| --- | --- | --- | --- |
| Debit Card | Instant | $5 | $50,000 |
| Credit Card | Instant | $5 | $50,000 |
| Bank Transfer (ACH) | Up to 24 hours | $5 | $50,000 |
| PayNearMe | 15 minutes or less | $5 | $50,000 |
| Cash | Instant | $5 | $50,000 |
| PayPal | Instant | $5 | $50,000 |
| PointsBet PrePaid Card | Instant | $5 | $50,000 |
PointsBet Withdrawal Options
Whenever you want to cash out and make a withdrawal, you can do so by using any of the payment options we have listed above. A PointsBet PayPal deposit is a good option as you will get your funds quickly and efficiently.
Customer Service
If you experience any issues or account restrictions with PointsBet payments, the customer service team is on hand to help you out. You can contact them by using the live chat option or by sending an email. Alternatively, you can check the Support Center which covers various common issues to try and resolve the issue on your own.
10 x $100 Second Chance Bets
21+. T&C Apply
21+. T&C Apply
Awesome live betting
Multiple bet types
Huge range of sports & markets
Where is PointsBet available?
The PointsBet US betting site is currently available in 14 states: Indiana, Illinois, New Jersey, New York, Kansas, Pennsylvania, Colorado, Michigan, Maryland, Iowa, Virginia and West Virginia. The operator has not ruled out moving into new states as they look to expand their footprint in the United States.
However, even though the name and layout of the PointsBet sportsbook will be the same in all of these states, the deposit options may differ. The most popular payment options such as PayPal and credit/debit card will always be available. But other options, such as cash at a casino cage will only be available in a few of the states. Always check if your preferred banking option is available before making a deposit.
FAQs
Does PointsBet use PayPal?
Yes, PointsBet customers can make deposits and withdrawals by PayPal. In order to withdraw by PayPal, a player must have made a deposit by PayPal to be eligible.
Does PointsBet accept Bitcoins?
No, PointsBet does not accept any form of cryptocurrency as a banking option.
Are PointsBet deposits free?
There are no fees associated with PointsBet deposits and withdrawals. You should be aware that some banks may charge a small fee, typically if you decide to use credit cards, but PointsBet does not charge anything.
How long does a PointsBet deposit take?
Most deposits are instant with the operator, apart from PayNearMe (15 minutes) and ACH Transfer which can take up to 24 hours. As soon as the funds hit the account, you can start betting on the PointsBet sports markets. PointsBet New York is now available in addition to PointsBet Michigan, PointsBet IL, PointsBet CO, PointsBet PA, PointsBet NJ, and more. The sportsbook provides an excellent online sports betting experience.