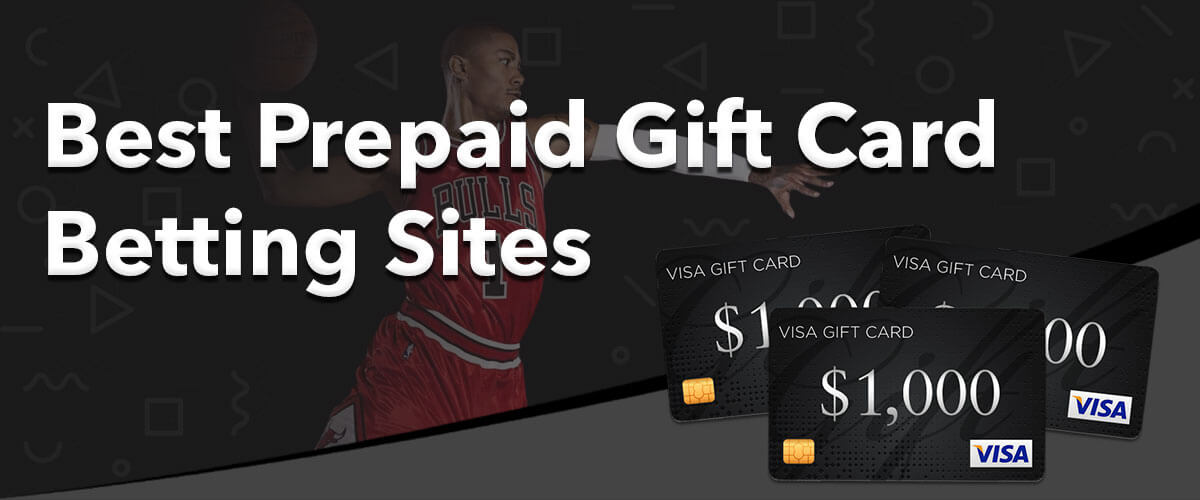 Using a prepaid betting gift card is one of the most secure and discreet ways to bet with your favorite sportsbook. Not every operator accepts prepaid cards or gift cards, but we have tracked down the top sports betting sites that accept prepaid cards.
Prepaid cards and gift cards are quickly becoming a firm favorite with sports bettors thanks to their anonymity and security. Any card transactions when you buy the prepaid card are not shown as direct transactions with your betting site. It means your deposits are anonymous. Why is this important? It protects your info and also your credit history.
Most people value security when making an online transaction, and betting with prepaid cards is a safe way to top up your betting account with your favorite sportsbook.
Safety, security, and privacy are tremendous benefits. Still, players also like purchasing via a debit card or cash from one of many retail outlets. They can purchase and do their betting with prepaid cards. Read our article to learn all about prepaid gift cards and payment cards.
Top US Sportsbooks Accepting Prepaid Gift Cards
Not all betting sites accept a prepaid gift card deposit. You'll want to make sure any gift cards you purchase are backed by either Visa, MasterCard or American Express.
Below is a list of 7 significant sportsbooks that accept prepaid gift cards (legal), including ones that accept this payment method or a similar prepaid card gambling method.
| Sportsbook | Accept Prepaid Gift cards | Accept Game On payments | Accept PayNearMe payments | Accept Play+ |
| --- | --- | --- | --- | --- |
| BetMGM | ❌NO | ✔️YES | ✔️YES | ✔️YES |
| BetRivers | ✔️YES | ✔️YES | ✔️YES | ✔️YES |
| Caesars | ❌NO | ❌NO | ✔️YES | ✔️YES |
| DraftKings | ✔️YES | ✔️YES | ✔️YES | ✔️YES |
| FanDuel | ✔️YES | ✔️YES | ✔️YES | ✔️YES |
| Golden Nugget Sportsbook | ❌NO | ❌NO | ✔️YES | ✔️YES |
| PointsBet | ❌NO | ❌NO | ✔️YES | ❌NO |
All of the above are legal US-licensed sportsbooks. Check the relevant site to check if they operate in your state and accept prepaid cards. They could be referred to as gift cards, for example, the PointsBet gift card is one of the most popular in the market.
When viewing the table above, not all of our top 7 sportsbooks accept standard prepaid cards; however, with such a wide selection of payment methods available, you rarely have an issue with depositing funds to various online sportsbooks.
All seven offer the PayNearMe cash option, while six also offer the Play+ prepaid cards for betting.
GameOn is another popular method for topping up your account. Still, GameOn prepaid betting is restricted to certain states and online sportsbooks, including FanDuel, DraftKings, BetMGM, BetRivers, and others, depending on the state that allows this as a legal deposit option.
#1 BetMGM Sportsbook
BetMGM is one of the most famous gambling brands worldwide. Although maybe known to many for their casino operations, BetMGM has successfully ventured into the sports betting game. You can use prepaid cards to fund your account when betting on the platform, in addition to numerous other efficient and top quality payment options. The BetMGM app is easy to navigate, user-friendly and comes with a range of helpful and unique features.
You will also discover all of the usual betting markets on the BetMGM sportsbook, such as football, baseball, basketball and ice hockey.
#2 DraftKings Sportsbook
DraftKings sportsbook is the market leader in many states in part thanks to a generous welcome bonus and several appealing ongoing promotions. The brand continues to expand across the United States, launching in Maryland, Kansas, New York and Louisiana in 2022 while at the beginning of this year DraftKings entered into Ohio and Massachusetts.
Users can use prepaid cards to fund their accounts on either the main sportsbook or the app. DraftKings places a lot of importance on bringing the latest technology and features to its audience, ensuring an excellent betting experience. Although starting life as a Daily Fantast Sports provider, the brand shows no signs of slowing down.
#3 Caesars Sportsbook
Caesars sportsbook is one of the best US online wagering sites that accepts prepaid card transactions. Caesars is familiar with all US bettors. As well as the excellent main online sportsbook, the Caesars app provides a brilliant option for those who prefer to gamble on the go. Caesars also provides numerous bet types, from your standard monyline and over/under wagers to advanced parlays and more.
How We Rate Prepaid Gift Card Betting Sites
It's ok buying prepaid cards to top up your online sports betting account, but you want to be sure your chosen online sportsbook accepts prepaid cards and can offer a wide range of options and benefits when using a prepaid card.
We have rated our top online sports betting sites that accept prepaid cards based on several factors, and these include:
Prepaid Card Acceptance
Flexible Deposit Limits
Secure & Safe Browsing
Encrypted Transactions (SSL)
Customer Support Team via Live Chat
Welcome Bonus and

Top Betting Bonuses

Range Of Sports
Let's look at some of these important factors to consider in more detail.
Sports and Bet Types
Any top sportsbook that allows payment methods such as Visa prepaid cards or a voucher prepaid card will also have a range of odds and lines available for numerous sporting events. For example, users should be able to bet on NFL games, NBA games, MMA fights, soccer games, tennis tournaments and golf majors. Additionally, standard bet types such as moneylines and teasers should come with more exotic wagers like player props, futures and parlays.
Security
All sports betting sites that accept prepaid card we have listed on this site operate legally in the United States. This means they have been given the relevant license by authorities and have been found to be safe and secure. Consequently, all of your data and personal information will be safe at all times.
Bonuses and Promotions
Welcome bonuses and ongoing promotions improve the gambling experience at an online sportsbook. They help get new customers up and running without significant financial risk. The best prepaid betting sites will offer new users deposit match and risk free bonuses to give them a head start. Similarly, ongoing promos for existing bettors keep people coming back and make things exciting. Promos such as odds boosts and rewards are important for player loyalty.
Mobile App
Mobile betting is massive these days so operators must have an app that ensures wagering on the go is a pleasant experience. This means providing all of the same features you would see on a laptop being seamlessly transferred for a mobile screen. You should be able to place wagers, cash out, deposit and withdraw with ease when using your mobile.
Reputation
Seeing proof is one of the quickest and best ways to judge a prepaid betting site. Customers will often leave a review based on how good or bad their experience was. Have a look on social media as well to see what people are saying about the different US sportsbooks.
Overview of Prepaid Gift Cards for Betting
Using prepaid cards to bet on your favorite sport is easy. You need to make sure that your chosen sportsbook allows the use of these as a deposit method. The best way to do that is to contact your sportsbook's customer support.
We wanted to test if customer support could help with this, so we tested it with a couple of betting sites that accept prepaid cards, including BetRivers and FanDuel, and you can see below the answers from their support desks on live chat.
Here is the live support chat with BetRivers: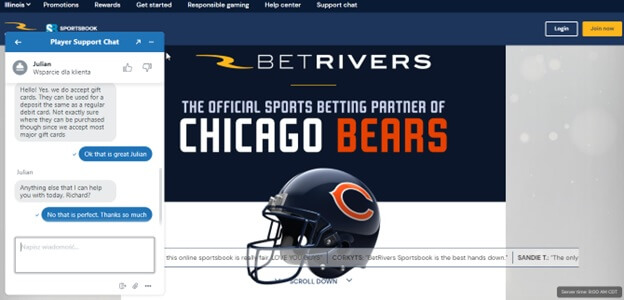 Here is the live support chat with FanDuel:

As you'll see, when we started the chat and asked our question, an automated bot came up with some suggested recommendations which had nothing to do with our query. However, you will be able to ask to chat with an agent, and once we did that, you can see that Matt, the support rep, was accommodating in answering our questions about betting with prepaid gift cards.
So depositing is straightforward using Visa cards (specific to Visa betting sites), Mastercard, American Express, and Discover.
If you need to withdraw funds, however, when it comes to withdrawing, you will need to use either an e-wallet like your Paypal account, Neteller, or Skrill, a transfer to your bank account, or a physical check.
Types of Prepaid Gift Cards Accepted for Betting in the USA
We are fortunate in the US that we have access to a large range of prepaid cards. Let's take a look at some of the different types of cards that can be used to deposit at a sportsbook:
Visa Prepaid Card Betting Sites
Prepaid Visa cards are another very convenient payment method for bettors who don't like to share any of their bank details with online sports betting sites and want to protect themselves from overspending and gambling irresponsibly. Not only this, there are still several banks that won't allow online gambling transactions and will block your deposit. Using a prepaid Visa card obviously bypasses this.
Just like gift cards, prepaid Visa cards are very secure and allow bettors to deposit funds in their online sports betting account instantly. Unlike prepaid Visa gift cards, which are designed for one-time use, prepaid Visa cards are reloadable and can be used in-person and online for various purposes.
When using a prepaid Visa card, bettors can only spend the money they previously loaded onto their cards. From grocery stores to drug stores to online sites, people can buy prepaid Visa cards literally everywhere. Thanks to prepaid Visa cards, bettors can finally relax and enjoy their sports betting experience without worrying about overspending or being charged overdraft fees.
Prepaid Visa cards are becoming a popular payment option among bettors, so people shouldn't be surprised that soon enough, there won't be an online sports betting site that won't Visa prepaid card deposits.
Each sportsbook will accept different types of prepaid gift cards, or just prepaid cards. Below, you can see which options you have at your disposal for betting online in the US.
GameOn Cards

One of the most popular prepaid gift cards is the GameOn card which you can buy at numerous retail outlets. They were initially only available for players in New Jersey and Pennsylvania but have now expanded. They can be played legally in Arizona, Colorado, Indiana, Michigan, New Jersey, Pennsylvania, West Virginia, and Virginia, with plans to go nationwide as state legislation allows.
GameOn has already partnered with several online gambling sportsbooks that accept prepaid cards, so you know they will accept your deposit with no problem. A list of the betting sites that accept GameOn branded prepaid cards includes BetMGM, FanDuel, DraftKings, BetRivers/PlaySugarHouse, Parx, and Hard Rock online sportsbook, and more are planned in the future.
Although you can purchase these cards at various retailers with cash, credit, and debit cards, GameOn does not offer any Prepaid Visa card or Visa gift cards as a purchase option, so you cannot use Visa cards to make a purchase.
It's essential to become aware of the fees you'll pay. You'll be able to fund between $20 – $400, and the fee is a few dollars and will range from $3.95 – $5.95
PayNearMe
PayNearMe is a new and straightforward way of using cash to fund your betting account.
You might be going to a game or the track and don't want to carry lots of cash. Simply log into your sports betting, and online casinos account and deposit funds using PayNearMe (check your favorite sportsbook to see if they accept this method):
Check the deposit methods available and choose the PayNearMe option
Input the amount you wish to add to your account.
This will generate a payslip. You can save this on your mobile device or print out the physical slip.
You can take that slip to an authorized PayNearMe retail outlet.
Hand the slip to the teller and pay the cash amount.
In minutes, the amount is in your account, ready for you to place your bets.
The great thing about PayNearMe is that they have thousands of retail partners across the country, with some big chains including Walgreens, CVS, Family Dollar, and 7 Eleven. And it is only a small transaction fee of $3.99
Using PayNearMe means you'll never be stuck for a way to fund your account by cash, Visa debit cards, or any other type of credit or debit card. The slips act like voucher prepaid gift cards.
Play+ Prepaid Card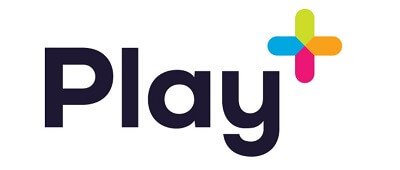 The Play+ reloadable prepaid cards are becoming very popular with top sportsbooks and betting sites, as they offer deposit and withdrawal options, so it is probably the top choice as a reloadable prepaid card.
The significant benefit of Play+ prepaid cards is their relatively low fees. You can use your card on a PAYG (Pay As You Go) basis or activate their monthly fee of just $5.
Pay As You Go Fees can be found on the Play+ website but some of the main ones to be aware of are:
$1.50 per transaction fee for prepaid card deposits.
$0.50 ATM balance inquiry fee
$2.50 ATM withdrawal fee
Over-the-counter withdrawal – 1% or a minimum of $2.95
Transfer to a debit card – 3% or a minimum of $1.00
* Check your favorite online sportsbooks or online casinos for a full schedule of Play+ fees for prepaid cards.
Just one of our top 7 sportsbooks and betting sites does not accept Play+, which is PointsBet. The rest all offer branded prepaid Visa cards using Play+.
You can also use the card to make ATM withdrawals from a wide range of gambling sites which is a significant benefit.
You can also qualify for a deposit bonus and risk-free bet at your favorite online gambling site if signing up for an account using Play+ and making a prepaid card deposit.
Branded Gift Cards
DraftKings is one of the biggest online sportsbooks for sports betting, and they have a range of branded virtual prepaid cards that players can purchase at various retail outlets across the country. They also make gift card deposits easy on their website.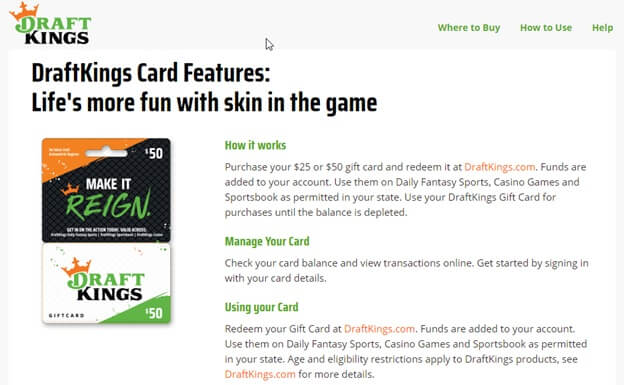 DraftKings gift cards are available in $25 and $50 denominations and, as you can see from the screenshot above, are easy to use. Before purchasing any gift cards, set up your Draftkings online sports betting site account first. You can do that here.
DraftKings prepaid cards, including gift cards, are available at a wide range of retail locations, including:
7 Eleven
Walmart
Target
Albertsons
Circle K
Dollar General
Speedway
CVS
SHEETZ
PilotFlying
So players now have great ways to fund their sportsbook accounts on some of the best sports betting sites and start betting with a prepaid gift card which you can purchase with cash, or a credit card if you wish.
Other operators have released their own gift cards, which you can use to bet online or as gift to your sports betting pals:
Caesars Gift Card
Unibet Gift Card
Benefits of Using Prepaid Gift Card Betting Sites
An online sportsbook that accepts prepaid cards can offer several benefits. Having listened to sports betting fans who visit our site, we have found that the three most important benefits are:
Security & Privacy
Making deposits to online sportsbooks that are not tracked online or through your bank account, allowing you to make anonymous transactions.
Why is that important?
It means those transactions are unavailable to authorities like credit checks and reference agencies. At Gamble-USA, we do not encourage players to gamble money they cannot afford to lose, and we encourage responsible gambling at online sportsbooks. But it is important to note that many financial institutions are now looking at leisure spending when making decisions about giving credit, such as cash and mortgage loans. Prepaid gift cards give players privacy and security when sports betting.
Instant Deposits & Withdrawals
A prepaid gift card or prepaid card functions like a regular credit card or debit card because it has an expiry date and CVV security number.
So you can use this the same way you would your standard bank card to make an online payment, instantly deposit to your favorite betting sites that accept one of these methods and have funds to bet within minutes.
If we use PayNearMe as an example, they now offer you the opportunity to withdraw from your favorite betting site and receive cash.
Easy To Purchase
With so many retail outlets now selling these gift cards, it is easy to go to your local store and buy a prepaid card using cash, debit or credit cards for betting.
You can purchase gift cards from the most prominent retailers, including 7-Eleven, Walmart, Target, Albertsons, Circle K, Dollar General, and many others. Most online sportsbooks now accept prepaid cards as a form of deposit, so accessibility is a main perk of prepaid gift cards for betting.
Accepted at plenty of gambling sites
The good news is there are plenty of prepaid gift card betting sites. Not all online sports betting sites or social casino sites accept prepaid cards. However, most real money gambling sites accept a Visa prepaid card or other branded cards. A lot of prepaid cards are branded under MasterCard or Visa as they feel these are trustworthy options. This is why it is highly unlikely you will come across a gambling site that doesn't accept a Visa debit card or Visa credit card as a payment option.
Good for money management
Bettors do not have to worry about paying any gambling deposits back, which is the case with credit cards. Additionally, all overdraft fees can be avoided when you exceed your account funds with a debit card. Prepaid cards only allow a player to spend the amount loaded on the card which offers a safety blanket for balancing your funds.
Alternative to your main bank account
There are still many banks in the US that don't allow sports betting or any form of online gambling. Sometimes you can try and make a deposit to an operator and your bank will block the transaction. Buying and using a prepaid card or gift card gets around this issue.
Drawbacks To Using Prepaid Cards
Honestly, finding any real drawbacks with these prepaid cards is difficult.
The main one is the fees associated with their purchase and usage. You will find that you may pay a purchase fee, and your sportsbook may charge associated fees for using gift cards.
You should read the terms and conditions from your favorite online sportsbooks and the card provider to understand all fees related to gift cards. Another inconvenience is you might find having to constantly load funds onto your card slightly annoying. Some issues may require you get a new card whenever a deposit needs to be made. Debit cards are beneficial in this respect because you can either use funds or credit from the bank account to make betting deposits.
It is essential to weigh the charges against the clear benefits of security, anonymity, and ease of use.
Prepaid Gift Card Betting Sites Deposit Process
A prepaid gift card is like a credit card but is bought with cash and not attached to a bank account. However, it is used in the same way.
Once you have purchased your card with cash or using another chosen payment method, you can log into your favorite sportsbook or online casino, go to the cashier or deposit section and choose your preferred deposit method.
Add in the card number as you would with any typical online transaction, and the sportsbook will deduct the amount from the card and place it on your sportsbook balance, ready for you to place a bet online. It's that easy.
The process can be slightly different depending on which online sportsbooks you use, but below, you can see the process for each of the above-mentioned payment methods.
How to Deposit Using GameOn
You can purchase GameOn gift cards at the website

https://getgameon.com/pick-your-state/

, or you can purchase them at various retailers.
Sign in to your favorite sportsbook (please note that a select group of prepaid card betting sites accept GameOn)
Visit the account deposit or cashier page and select "credit card" as your chosen deposit method.
Find the 16-digit card number and CVV code printed on the Game On card and confirm your deposit amount.
How To Deposit Using Play+
Go to your sportsbook cashier page and click the add funds/deposit button for Play+
Make sure to select the option Bank Card Load
Enter the amount you wish to deposit/fund your Play+ account with
Add the payment card number you wish to use to fund within the appropriate field
Add the CCV security code and card expiration date in the provided fields
Click Add Funds
On the next screen, verify that your funding amount is correct
Click Continue and Charge My Card
You may save these account settings for faster funding in future
How to Deposit Using PayNearMe
Log in to your favorite sportsbook and visit the cashier to see if they accept PayNearMe.
Select "PayNearMe" from the available deposit methods
Choose your deposit amount, and your sportsbook will generate a barcoded PaySlip.
Download to your mobile device or print a physical copy at home
Take the PaySlip to the nearest PayNearMe retail partner, 7-Eleven, Family Dollar, Walgreens, or any other major retailer that provides this service.
Give the PaySlip to the teller/cashier and confirm your selected amount with cash.
Your sportsbook account will now be credited within minutes, and you can take advantage of a deposit bonus if that offer is available from the sportsbook.
How to Withdraw Winnings Using Prepaid Gift Cards
It's essential to make you aware that most online sportsbooks will not allow you to withdraw back to prepaid cards you have used for sports betting. You will need another payment method from which you can accept withdrawals after using a gift card.
A few examples include:
E-wallets (Paypal, Skrill, Neteller, and others)
A registered credit card or debit card
Bank Transfers
ACH or

e-check betting sites
However, if you are using other payment methods, there are other specific rules to be aware of.
GameOn Withdrawals
GameOn cards can only be used as a deposit method and are not able to be used for withdrawing funds from your sportsbook. Once GameOn prepaid cards have been used, they cannot be topped up and should be disposed of.
PayNearMe Withdrawals
PayNearMe has now made it easy to withdraw funds from your favorite sportsbook by allowing you to collect cash at any Pin4-enabled cash/ATM.
The maximum withdrawal amount is $500, and you do this by going to the cashier section of your chosen sports betting site and selecting your withdrawal method.
You will receive an SMS text confirming the withdrawal with a PIN. You can then go to the ATM and enter the PIN and order reference number, all without using a card.
Play+ Withdrawals
Withdrawals are near instant with Play+ by going to the cashier on your sportsbook and choosing the amount you wish to withdraw. Allow up to 60 minutes for the funds to be allocated to your card. You can then withdraw from any ATM. This feature makes them one of the most popular prepaid cards.
Processing Times & Fees
| Payment Method | Deposit Time | Withdrawal Time | Processing Fees |
| --- | --- | --- | --- |
| Prepaid Gift Card | Instant | Not Available | $3.95 - $5.95 |
| GameOn Card | Instant | Not Available | No fees |
| Play+ | Instant | 1 hour | 1% - 3% with minimum fees* |
| PayNearMe | Up to 24 hours | Up to 24 hours | $3.99 |
Alternatives to Prepaid Gift Card Withdrawals
Most major prepaid card sports betting sites now accept deposits using various prepaid methods, but what about withdrawing your winnings?
If a funding method does not allow withdrawals, then there are three standard methods that 99% of sportsbooks accept so you can access your funds.
Withdrawing to the registered debit/credit card associated with your online betting account
Withdrawing to your registered bank account via online banking
Prepaid gift cards are a welcome addition to funding your betting account, but we don't always have one to hand and are not always near a store. With that in mind, there are also plenty of sports betting sites accepting PayPal as a convenient and fast option to deposit and withdraw your winnings.
Using Venmo to fund your betting account has also become very popular in the last few years and provides a good alternative to prepaid cards or the more traditional wallets like PayPal or Play+. If you are a fan of using your mobile's built-in wallet, you may also want to check out sportsbooks accepting Apple Pay, and if you are an Android user, you may opt for a sports betting site accepting Google Pay.
Prepaid Gift Card Bonuses At Betting Sites
Using a prepaid gift card or other prepaid deposit method does not mean you miss out on a sportsbook deposit bonus. Some payment methods like e-wallets are limited regarding the bonuses, promotions, and online gambling games you can participate in.
This is not an issue with prepaid gift cards and other types of prepayment. Free bets and bonuses are still offered with this payment type.
Simply sign up using our page links and enter the highlighted promo code during your gift card deposit to receive the corresponding free sign up bet.
Play at Prepaid Gift Card Online Sportsbooks Today!
There are various options for sports betting players to purchase and use prepaid gift cards for online betting at their favorite sportsbook. Also, you can choose one of the other methods we have covered here if you are having trouble withdrawing funds.
Convenience and speed set this payment option as one of the best for betting online. Alternatively, you could consider buying a prepaid gift card and handing it out to friends that enjoy placing sports bets or as a gift.
FAQs
What are the most accessible prepaid cards for deposits and withdrawals?
Undoubtedly, Play+ is the most convenient method of betting with prepaid cards and is accepted by many legalized sportsbooks and online betting sites. They can be purchased using your credit card if you wish.
Are the deposit limits lower with prepaid gift cards?
Due to responsible gambling requirements and state gambling sports betting legislation, there are limits to the amounts you can purchase/deposit per transaction when online betting. Prepaid gift cards will also come with their own limits, varying for each brand. For instance, the DraftKings gift card is available in denominations of $10, $20, $50, $100, and $500.
How quickly can I fund my sports betting account using prepaid cards?
All of the payment methods are "instant." However, it's the setup that takes time. For example, using PayNearMe means you must request the amount from your sportsbook cashier and then go to a registered retailer to fund with cash, debit card, or credit card. Only then will it appear on your sportsbook account.
How much can I deposit with a prepaid card?
The deposit limits vary by brand. For example, some prepaid or gift cards allow bettors to deposit as much as $500, bit others will have much lower limits.
Are Visa prepaid card payments to sports sites fast?
These are among the quickest deposit options you can find, with funds added to your betting account instantly.
What fees do I have to pay when using prepaid cards on US sportsbooks?
If you are set on using prepaid cards to fund your online betting account, it would be best if you look at the associated fees at your preferred prepaid card service provider.