Skrill is rapidly becoming one of the most popular online payment solutions available, but did you know you can also use Skrill for sports betting? That's right, there are now several US sportsbooks accepting Skrill.
As more US online sports betting sites appear, new and innovative ways to fund your sports betting account are developing. E-wallet payment options such as Venmo and PayPal mean numerous Venmo sports betting and PayPal sports betting sites are currently available. However, one of the most popular options when participating in online gambling to fund your online bank account is to use Skrill banking.
Previously known as Moneybookers, Skrill has been involved in processing online payments for several industries for over 15 years. During this time, they have established themselves in the betting industry as customers have safely completed online gambling transactions using the Skrill gaming payment option. If you are looking to start betting online, using Skrill betting sites means you can benefit from using a smooth and efficient system to deposit money into your account and withdraw when you win.
A Skrill account provides numerous benefits for customers. The most vital plus is that users can use Skrill to keep their private details safe playing at online sportsbooks. When bettors make Skrill deposits, there is no need to share their bank account or card information with the betting sites they join.
Best Skrill Sports Betting Sites
Skrill users looking to get into online wagering may wonder who accepts Skrill in the sports betting world. When looking for a Skrill betting site, we recommend any of the options below.
Additionally, the Skrill online gambling option is ideal for bettors who like to use different mobile betting apps. In addition to keeping banking information private, Skrill also improves convenience by allowing users to quickly move their funds from one online sportsbook to the next.

If you are looking for the best sportsbooks accepting Skrill, we have got you covered with the list we have created below. These gambling sites offer the best overall online sports betting experience while giving you the flexibility of Skrill for deposits and withdrawals. We will also cover how to pay with your Skrill Account, Skrill withdrawal limits, Skrill prepaid cards, and more.
Because Skrill is a massive name in the online payment processing industry, offering one of the most smooth and efficient payment methods available. It isn't surprising that multiple online sites utilize them for processing payments. Consequently, you have many choices when looking for a Skrill wagering site to make your first sportsbook deposit.
This can be challenging as there is so much choice, with each gambling site promising you several rewards. The sportsbooks we have recommended above in our list are all licensed and secure. We believe this is the most important aspect when dealing with bank accounts and financial details. The only way a site can make our list is by offering a fantastic online sports betting experience but also keeping personal bank account information secure.
How to use Skrill
People who regularly use their credit or debit card to fund their sportsbook account may be wondering, what is Skrill? They may also be asking is Skrill safe? Although now widely used, Skrill still isn't as familiar with people as PayPal. Anyone who has used PayPal before will have no problem adjusting to Skrill. Getting up and running involves signing up for a personal Skrill account and funding it with a bank transfer, debit, or credit card.
Once that is done, users can transfer money to their online betting accounts without sharing personal information.
The process of using Skrill is outlined below:
Log in to your online sportsbook account.
Head to the cashier section and select "Skrill" as your deposit method.
Log in to your Skrill account when prompted.
Choose the amount you want to deposit.
Any balance in the Skrill account will be used to complete the deposit.
If there is no balance, Skrill can complete an instant transfer while still protecting your banking details.
Once the transfer is done, the online betting site will instantly credit the funds to your betting account.
Please be aware that Skrill will ask users who fund their accounts with a credit or debit card if they plan to use those funds for non-gaming activities. Anyone who wants to use Skrill to fund their betting account must choose 'gaming' to ensure the deposit is successful.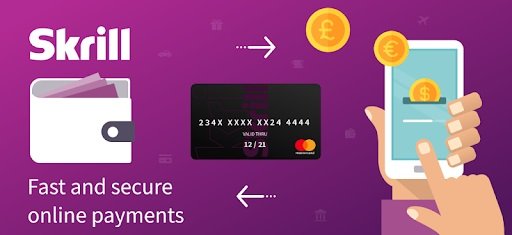 Benefits to using Skrill
Skrill is a deposit method that is widely used, and its reach extends well beyond online sports betting. If you are wondering if Skrill is the best choice for you when you come to bet online, perhaps the below benefits can help make your decision.
Financial Details Kept Private
When bettors fund their online betting accounts with Skrill, there is no requirement to divulge their bank account or credit card numbers to any other party other than Skrill. This should give you peace of mind as, understandably, some people are hesitant regarding online transactions.
Speedy Deposits and Withdrawals
It can be a pain waiting several days for the money you have earned from a betting site to reach your bank account. However, using Skrill ensures fast deposit and withdrawal times. Deposits are processed instantly, while withdrawals are typically completed within 24 hours.
Loyalty Program
Skrill runs a loyalty rewards program for repeat customers. Not many payment systems do this, and it is a great way to benefit from some perks if you are a regular user.
Drawbacks of using Skrill
Naturally, with anything, there are positives and negatives. This also applies to Skrill. We have highlighted a couple of drawbacks of using the Skrill wallet system below.
Withdrawal Fee
Skrill charges a flat $5.50 fee when customers withdraw funds to transfer from their Skrill accounts to their bank accounts. Other deposit methods don't charge fees, so paying just to extract funds you have already generated may seem too much for some. If you have signed up as a new player to any of the Skrill sportsbooks, don't forget to claim your Risk-Free bet which can help to soften the blow of any withdrawal fees.
Not Universally Accepted
Not every US sportsbook accepts Skrill as a payment method. We have listed the best sites above where you can use Skrill, and there are only a handful of others. This may change soon, giving more choice for bettors who wish to use Skrill.
FAQs
Are there deposit and withdrawal limits?
Yes, but these limits vary depending on the customer's account status and history. Currently, the only way to view your spending limits is to initiate a payment or withdrawal request.
Can I use my Skrill prepaid card to fund my online betting account?
No, as the Skrill Visa card does not support online betting deposits. Users who want to fund their mobile betting apps can choose Skrill as their deposit method and then log in to authorize the transfer.