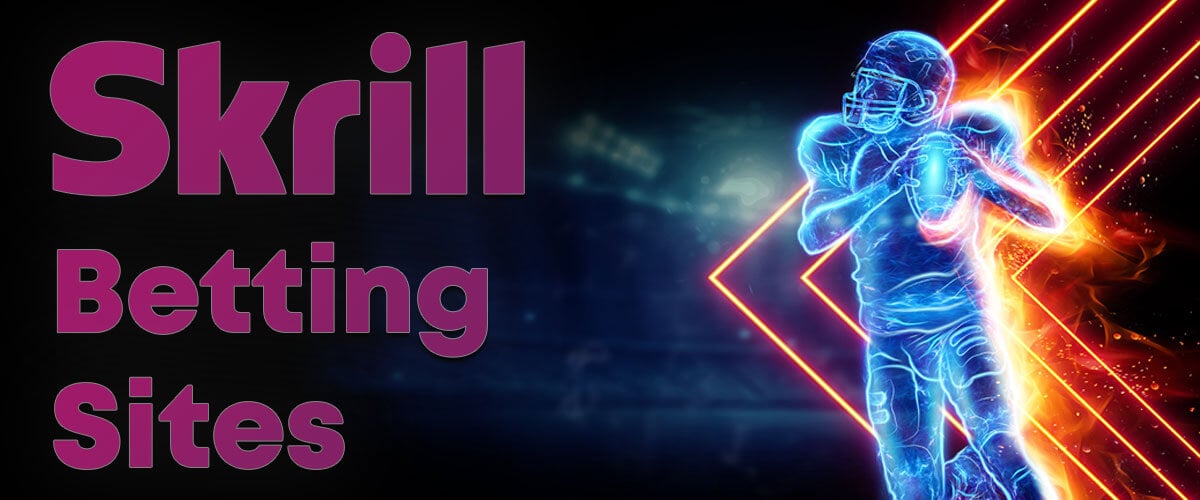 Skrill is rapidly becoming one of the most popular online payment solutions available, but did you know you can also use Skrill for sports betting? That's right, there are now several US sportsbooks accepting Skrill.
As more US online sports betting sites appear, new and innovative ways to fund your sports betting account are developing. E-wallet payment options such as Venmo and PayPal mean numerous Venmo sports betting and PayPal sports betting sites are currently available. However, one of the most popular options when participating in online gambling to fund your online bank account is to use Skrill banking.
Previously known as Moneybookers, Skrill has been involved in processing online payments for several industries for over 15 years. During this time, they have established themselves in the betting industry as customers have safely completed online gambling transactions using the Skrill gaming payment option. If you are looking to start betting online, using Skrill betting sites means you can benefit from using a smooth and efficient system to deposit money into your account and withdraw when you win.
A Skrill account provides numerous benefits for customers. The most vital plus is that users can use Skrill to keep their private details safe while wagering at online sportsbooks. When bettors make Skrill deposits, there is no need to share their bank account or card information with the betting sites they join.
Best Skrill Sports Betting Sites
Skrill users looking to get into online wagering may wonder who accepts Skrill in the sports betting world. When looking for a Skrill betting site, we recommend any of the options below.
Additionally, the Skrill online gambling option is ideal for bettors who like to use different mobile betting apps. In addition to keeping banking information private, Skrill also improves convenience by allowing users to quickly move their funds from one online sportsbook to the next.

If you are looking for the best sportsbooks accepting Skrill, we have got you covered with the list we have created below. These gambling sites offer the best overall online sports betting experience while giving you the flexibility of Skrill for deposits and withdrawals. We will also cover how to pay with your Skrill Account, Skrill withdrawal limits, Skrill prepaid cards, and more.
Because Skrill is a massive name in the online payment processing industry, offering one of the most smooth and efficient payment methods available, it isn't surprising that multiple online sites utilize them for processing payments. Consequently, you have many choices when looking for a Skrill wagering site to make your first sportsbook deposit.
This can be challenging as there is so much choice, with each gambling site promising you several rewards. The sportsbooks we have recommended above in our list are all licensed and secure. We believe this is the most important aspect when dealing with bank accounts and financial details. The only way a site can make our list is by offering a fantastic online sports betting experience but also keeping personal bank account information secure.
#1 Caesars Sportsbook
Caesars sportsbook is one of the best US online betting sites that accepts Skrill transactions. The brand Caesars is no stranger to bettors in the US. In addition to the main betting site, the Caesars app is an excellent option and is easy to navigate, user-friendly and offers a robust selection of unique and innovative features. In addition to having Skrill as a payment method, the Caesars sports betting site also accepts credit cards and numerous other banking options so funding your account and requesting to withdraw money is simple.
Caesars also has odds and lines for various sports betting markets, including Soccer, Boxing, Basketball, Baseball, etc.
Sign-up and claim the Caesars promo code here:
#2 BetMGM Sportsbook
The BetMGM app is a well-known gambling platform that allows players to wager using Skrill. It offers multiple wagering options and sports betting markets for its customers. Some of the markets that BetMGM covers include Football, Cycling, Baseball and more niche options such as Snooker and Handball. The BetMGM app is available in several states across the country including New Jersey, Pennsylvania, Colorado, Iowa, Kansas Louisiana and others. The processing times for deposits and withdrawals on BetMGM are fast and efficient and you won't encounter any fees or delays when betting here.
Click here to register and claim the BetMGM bonus code:
#3 Unibet Sportsbook
Unibet is one of the most prominent online bookmakers in Europe. They have provided a safe and reliable platform for players to wager online for over a decade and have now introduced their services to US players. The Unibet US betting site offers Skrill as a payment option, among many others, and as long as you are 21 or older you can sign up for an account. The Unibet app covers lots of markets including Football, Baseball, Hockey, Tennis, Rugby Union, etc. You can access the Unibet app in Arizona, New Jersey, Virginia, Indiana, or Pennsylvania.
How to use Skrill
People who regularly use their credit or debit card to fund their sportsbook account may be wondering, what is Skrill? They may also be asking is Skrill safe? Although now widely used, Skrill still isn't as familiar with people as PayPal.
Anyone who has used PayPal before will have no problem adjusting to Skrill. Getting it up and running involves signing up for a personal Skrill account and funding it with a bank transfer, debit, or credit card.
Once that is done, users can transfer money to their online betting accounts without sharing personal information.
The process of using Skrill is outlined below:
Log in to your online sportsbook account.
Head to the cashier section and select "Skrill" as your deposit method.
Log in to your Skrill account when prompted.
Choose the amount you want to deposit.
Any balance in the Skrill account will be used to complete the deposit.
If there is no balance, Skrill can complete an instant transfer while still protecting your banking details.
Once the transfer is done, the online betting site will instantly credit the funds to your betting account.
Please be aware that Skrill will ask users who fund their accounts with a credit or debit card if they plan to use those funds for non-gaming activities. Anyone who wants to use Skrill to fund their betting account must choose 'gaming' to ensure the deposit is successful.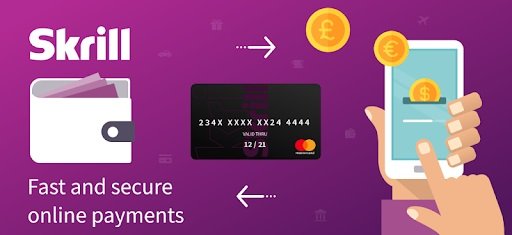 Benefits of using Skrill for Online Betting
Skrill is a deposit method that is widely used, and its reach extends well beyond online sports betting. If you are wondering if Skrill is the best choice for you when you want to bet online, perhaps the below benefits can help make your decision.
Financial Details Kept Private
When bettors fund their online betting accounts with Skrill, there is no requirement to divulge their bank account or credit card numbers to any other party other than Skrill. This should give you peace of mind as, understandably, some people are hesitant regarding online transactions. Not every US bank is comfortable with online gambling transactions. By using Skrill, you have a far greater chance of depositing to Skill, then to the sportsbook.
This is also the case with Amex. Not all sportsbooks accept American Express. So a great way to use your Amex card and claim points is by linking the card to Skrill, then making your sportsbook deposit through Skrill.
Speedy Deposits and Withdrawals
It can be a pain waiting several days for the money you have earned from a betting site to reach your bank account. However, using Skrill ensures speed when you deposit funds and withdraw cash. Deposits are processed instantly, while withdrawals are typically completed within 24 hours.
Loyalty Program
Skrill runs a loyalty rewards program for repeat customers. Not many payment systems do this, and it is a great way to benefit from some perks if you are a regular user.
Bonus Perks
Some of the best Skrill betting sites will offer you bonuses when you chose Skrill as your preferred payment method. These range from a welcome bonus, free bets, bet credits stake, and many more. You can use these to get started on the betting site and even with more cash without spending anything!
Drawbacks of using Skrill as your Preferred Payment Method
Naturally, with anything, there are positives and negatives. This also applies to Skrill. We have highlighted a couple of drawbacks of using the Skrill wallet system on online betting sites below.
Withdrawal Fee
Skrill charges a flat $5.50 fee when customers withdraw funds to transfer from their Skrill accounts to their bank accounts. Other deposit methods don't charge fees, so paying just to extract funds you have already generated may seem too much for some. If you have signed up as a new player to any of the Skrill sportsbooks, don't forget to claim your bonus bet which can help to soften the blow of any withdrawal fees. Note that payment method exclusions apply.
Not Universally Accepted
Not every sports betting site accepts Skrill as a payment method. We have listed the best sites above where you can use Skrill, and there are only a handful of others. This may change soon, giving more choice for bettors who wish to use Skrill.
Making a Deposit with Skrill
To bet on your favorite sports online with any sports betting site, first you must make a deposit. This means that you must also create a Skrill account before signing up for your betting account. Once all of this has been done, head to the banking/cashier page at your online sportsbook and choose Skrill as your preferred payment method.
The best Skrill betting sites will have detailed FAQs that will provide you with lots of information on how to deposit using this service. Completing your deposit should be a straightforward process, even if you have never used Skrill before to make a deposit. Most of the banking pages are streamlined, so it is as simple as choosing Skrill from the list of options, entering the amount of money you want to deposit and confirming.
Your deposit should be made instantly and also come with no additional fees, which is not the case with all available payment options. This is one of the several benefits of using Skrill.
Is a Skrill Account Safe?
Absolutely! Skrill is an e-wallet that provides the same level of security as a bank account. This becomes extremely vital when you are playing on an online sportsbook. Your sensitive details are not shared with the sportsbook, and only Skrill will have access to this information.
Skrill also leverages high-level encryption to ensure that your details don't fall into the wrong hands. The implication is that you can wager without worries, knowing that your financial information is safe. Asides from the measures put in place by Skrill to ensure your safety, there are a few things you can do to stay safe when playing on the best Skrill betting site, including:
Use a safe email address
Don't share your details with anyone
Use a strong password that can't be guessed with ease
Change your password frequently
Be wary of phishing scams. Skrill won't send you emails requesting your password.
Skrill Transaction Fees, Limits, & Withdrawal Times
There are no transaction fees attached when you use Skrill for deposits on most sportsbooks. However, some sports betting websites may add fees, so you will want to determine this first. On the downside, you will need to pay a flat fee of $5.50 for withdrawals.
Also, there may be fees attached depending on the other things you want to use the e-wallet for, like sending money internationally to other countries. You can head to the official Skrill website for detailed information.
There are also transaction limits attached depending on what you want to do. As per the official website of Skrill, the limit per transaction if making transfers from your credit card or via ACH is as follows:
$1,000 – $5,000 per transaction
$5,000 – $10,000 daily
$10,000 – $20,000 weekly
$20,000 – $50,000 monthly
Note that this figure may vary depending on the country you are situated in. When it comes to making deposits, Skrill is extremely fast, and in most instances, you should get your funds in hours. However, there are times when this process may require up to 3 – 5 business days.
The Skrill App
Skrill offers a very reliable mobile app which is very easy to use. It is responsive and as secure as the web version. You can easily transfer funds using the app from any location and deposit them to your sportsbook account using your mobile device. Also, you'll enjoy the same features and benefits on the app's web version.
Brief History of Skrill
Skrill has been in existence since 2001 and used to go by the name Moneybookers. It is an e-wallet that lets you make cash transfers and payments online with low fees. An added benefit is that transactions are faster than many other payment options you'll find today. In 2013, Skrill purchased Paysafecard, a famous prepaid online card merchant that is highly recognized in the online gambling industry. This helped it extend its reach via the Skrill Prepaid Mastercard, but it did not stop there. In 2015, it also purchased UKash, a major competitor of Paysafecard, and combined these two brands to become a leader in the space.
By March 2015, Optimal Payments, the company behind Neteller, purchased the group in a deal running into billions. Currently, you'll find Skrill in more than 200 countries and over 30 million users around the world. It also supports 40+ currencies, making it a great choice for many people.
Skrill has also been incorporated into most banking systems, making it easy for anyone to access. It offers its services to almost all countries asides from a few like Iraq and North Korea. Today, you can bet without problem on most online gambling sites, including those in the United States.
Other Skrill Alternatives
If you feel Skrill is not the ideal payment option for you, there are many other payment methods that are reliable. They are also widely supported in many US sportsbooks. Some examples include:
Skrill Betting Sites FAQs
Are there Skrill deposit and withdrawal limits?
Yes, but these limits vary depending on the customer's account status and history. Currently, the only way to view your spending limits is to initiate a payment or withdrawal request.
Can I use my Skrill prepaid Mastercard to fund my online betting account?
No, as the Skrill Visa card does not support online betting deposits. Users who want to fund their mobile betting apps can choose Skrill as their deposit method and then log in to authorize the transfer.
Can I transfer money from PayPal to Skrill?
No, this isn't possible as PayPal and Skrill now use separate payment gateways. Consequently, if you want to transfer cash from PayPal to Skrill, you will need to do so via a common bank using a debit card.
Is Skrill betting safe?
Yes. All of the Skrill betting sites we have listed on this page are entirely safe and secure. They are licensed to operate by the regulatory authorities in all of the states they are available in. This means your financial details will always be safe and sound.