If you are looking for a fast and safe way to deposit at a US online casino, then VIP Preferred could be the method for you.
Using VIP Preferred is the top choice for ACH transfers and e-checks at most legal US online casinos. The service offers a secure and fast payment system that allows you to make deposits and withdrawals at a growing list of online operators.
Who Should Use VIP Preferred?
Any player who wants to make payments in online gambling establishments securely and without problems should consider opening a VIP Preferred account. It is also ideal for high-rollers who are fond of making massive wagers and want a higher limit.
Best VIP Preferred Online Casinos
If you want to use VIP preferred at a casino, then these are the best online operators that accept VIP Preferred payments:
As online casino gambling grows in the United States, many new payment methods are emerging. Several efficient and convenient deposit methods are available at online casinos at the click of a button. Before playing online slots or table games, bettors can fund their casino accounts via methods such as PayPal or credit/debit cards. There is an increasing number of online operators with websites that accept eCheck.
One of the most modern and efficient online casino payment options is VIP Preferred. This payment system is also referred to as 'VIP check cashing,' 'VIP cash advance,' or 'VIP preferred check-cashing.' This guide will look at how to use VIP preferred casino sites that accept eCheck, and a VIP preferred casino card.
One of the best things about using this service is that there are no VIP preferred fees; the service is free to use, and you can use up to 4 different bank accounts with the payment processor. Global check cashing services are becoming a firm favorite with online players for the flexibility and speed at which you can cash a check and play with funds from it.
As soon as you register a bank account with VIP Preferred, you can start to use that bank account for ACH eCheck transactions at any land-based or online casino that accepts VIP Preferred. It's very quick and easy to create an account, and once you are signed up, you won't need to provide your ID or bank account information again. VIP transactions are easy to make, fast, and safe.
You can also use the popular banking method for sports betting, as there are now several sportsbooks accepting VIP preferred as well.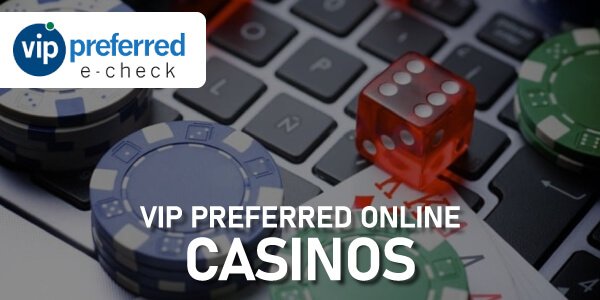 How Do I Deposit Using Online Bank Transfer?
VIP preferred is a fast, secure, and convenient online deposit and withdrawal method. It is offered by Global Payments VIP Preferred, and funds can be transferred directly to and from your checking account into your online casino's bank account.
Please be aware that you can only use an eCheck if you have a US bank account; global check cashing is not possible. Deposit limits depend on individual banks and are shown when you enroll in the VIP Preferred eCheck service.
To make VIP Preferred casino deposits, follow these quick steps:
Go to any of the operators listed above
Create an online casino account and verify your details
Go to the cashier section in your account
Select VIP Preferred and create an account
Go back to the cashier page and enter your deposit amount
Click deposit & funds will be added to your account
How To Make an E-Check Deposit
To deposit using VIP preferred, you will need to sign up at a VIP online casino. Players will need to log in to their casino account and click on the deposit option. If you have never used the VIP preferred method to deposit previously, you will need to join the Global Payments gaming services eCheck program.
If you have used this casino check cashing system in the past, follow the below steps:
Log in to your account and select deposit.
Click the deposit option, which is on the e-check tab.
Choose the bank account you want to deposit with the amount of money you want to add.
Please note if you exceed your deposit limits, the request will be declined.
There are also eCheck withdrawal options for players who wish to access their funds that way. Additionally, you can obtain a VIP casino card. By acquiring a VIP preferred casino card, players can add and withdraw funds at an ATM, adding to the service's convenience.
Global Payments Services Inc also offers schemes such as VIP Global and VIP Lightspeed. Players can access more information on the website; vippreferred.com. There is also detailed information on there regarding how to use eCheck online. If you need more help, you can also reach out to the reliable VIP preferred help desk.
VIP Preferred Online Enrollment
If you are in New Jersey and have signed up at a VIP preferred NJ online casino, you will need to enroll at your chosen casino site's cashier cage or online portal. When enrolling, you will need to provide details such as your address, email, bank information, and a valid ID.
Once you have completed your enrollment form, you can instantly use the service to fund your accounts. VIP preferred online enrollment is essential before you can use the service.
Brief History of VIP Preferred and Online Casinos
VIP Preferred is a leading payment method that was developed by Global Payments. This is a highly recognized company in the United States that is known to offer payment technology services to clients, merchants, and issuers around the globe. These services also consist of processing payments carried out via different forms, including payments with credit cards, debit cards, contactless and digital payments.
In 2012, Global Payments established the VIP Preferred payment method. It targeted this launch at online casinos, and as its popularity grew, VIP Preferred started to incorporate other online sections like sports betting. The belief of VIP Preferred is that the world is going fully cashless soon. And this is starting to become a reality as many companies are leading in this direction.
The company also aimed to demonstrate that clients could carry out transactions online with the least problems. This is because many payment methods still battle with handling online payments without delays. Due to this, tons of online users chose to play in VIP Preferred online casinos.
VIP Preferred has not fully achieved major ground in the online casino scene, and there are still many avenues for growth. Currently, you can only find this payment method in the US states where online gambling and sports betting are legal. However, it is used by more than 3 million individuals, which is impressive. It also links more than 500 gambling platforms via extensive online and physical VIP Preferred networks, making it easy for users to make payments.
How does VIP preferred work?
In a nutshell, VIP Preferred works as a payment processor moving money from your account to an online casino operator. It's one of the fastest casino withdrawals options and offers a secure digital transfer process that allows you to quickly deposit and withdraw funds through your personal checking account. It's as easy to use as writing a paper check and totally hassle-free.
Once you are signed up with the processor, it is as easy as inputting the details that appear on your paper checks. These are the account number and the 9 digit Bank ABA/Routing Number.
VIP Preferred Safety and Security
This online gambling payment method is extremely safe. First, it was designed with online gamblers who want to play casino games in mind and has included the most recent security measures. These include a 128-bit SSL encryption used to carry out transactions and store information. Also, it does not require one to input credit card or bank details at the online casino, meaning there is no possibility of it falling into the wrong hands.
Lastly, this payment option works only with US gambling platforms that have been properly licensed. This adds an additional layer of safety as only platforms that have met specific standards get a license.
Verification Requirements for VIP Preferred
If you want to play in VIP Preferred casinos, there are a few key verification requirements you need to consider.
Use the right information: Your information must be accurate and up to date. As you know, it is not legal to gamble in many US states so it is important that you use the right location. This will ensure you get the full benefit VIP Preferred has to offer. What's more, the online casino bonuses you get may differ depending on the location you choose. We suggest you check out the various terms and conditions first before you accept anyone.
Legal Age: Most legal VIP Preferred casinos will require you to be within the legal age of 21. This is what is required in the US, and these platforms will require some verification. This means you may need to provide your ID and proof of address for your identity to be verified. Don't be dissuaded by this as it is a measure put in place by the best online casinos to protect you.
Mobile Payments Using VIP Preferred
Most regulated online casinos have mobile sites that will allow you to make payments using VIP Preferred. All you have to do is find your way to the banking section of the casino and input your deposit amount. This way, you can make payments with this option regardless of your location. The best part is that making payments using this method is like playing on your desktop device.
If you have not been using the VIP Preferred method previously, you will also stand the chance to register when you pick it as your desired option via the banking page of the casino. Once you do this, the rest is easy and you can use it to make future payments and withdrawals. You still get to enjoy the same level of security, features, and speed when you use VIP Preferred on your mobile device.
Benefits of VIP preferred
Using VIP Preferred is now one of the main banking options for players as it comes with a lot of pros.
Instant VIP Preferred deposits – no waiting around for funds to appear
Over 400+ casinos use it – play at all your favorite operators
3 Millinon+ users – trusted, reliable platform
Easy to use – fast, safe, and secure
Ready 365 days a year – play when is convenient for you
Free of charge – no payment fees involved
Secure – no need to keep entering your card details
Problems with using VIP Preferred
As good as VIP Preferred is, there are, however some drawbacks:
Limited choice – not every casino online uses them as a cashier option
Vip Preferred withdrawal processing can be slow and take between 5-10 days some times
Listed transactions – you can view where you play on a statement
Only available to US players
VIP Preferred set the limits
So if you want to feel like a VIP online, then using the VIP preferred check-cashing facility could be just the cashier option for you.
FAQs
How do I check my limit on VIP Preferred?
You will need to present your ID to a cashier so they can check your available limit. Additionally, you can check your limit at casino ATMs with the @dvantage logo or VIP Preferred Cards accepted here.
How long do VIP preferred withdrawals take?
Withdrawals can take between 1-5 banking days on average. Occasionally this can take longer between 7-10 days on some betting sites.
Is VIP preferred legit?
Absolutely. They are owned by Global Payments Direct, Inc., which is a registered ISO of the Wells Fargo Bank.
What is Betfair VIP Preferred?
This is just one of the cashier services available through the online gaming company Betfair.