Gamble USA strives to improve your online gambling experience. We aim to help you play safely, make informed decisions when gambling, and increase your betting knowledge through our guides.
We adhere to strict editorial integrity; our content may contain links to products from our licensed & legal US partners.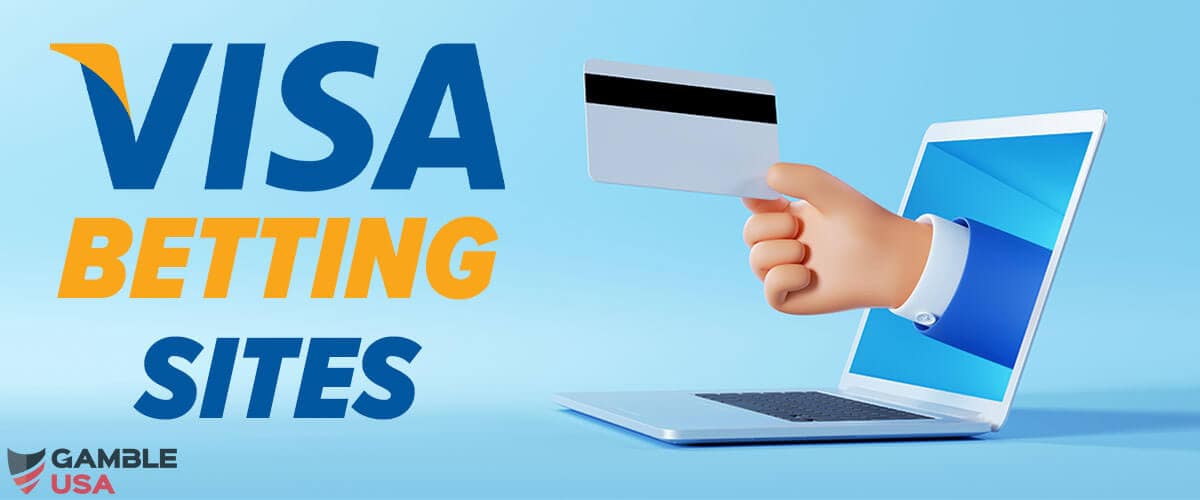 Visa is a name that is very popular among many users today. Many people use it for their daily purchases due to the level of convenience and safety it offers. It should come as no surprise that it is one of the most popular sportsbook deposit methods. In this guide, we will run down the benefits of using Visa and show you what are the best Visa betting sites in the US.
Now, online betting sites and betting apps have realized the reliability and popularity of this payment method and have incorporated it into their platforms. Therefore, you will find numerous Visa betting sites in the US offering you the same features and benefits Visa is known for.
Indeed, many sports bettors will now only use sports betting sites that offer a Visa card as a payment option. Regular bettors now enjoy using Visa gift cards to use for online betting. Being able to make a Visa deposit in the online gambling world is now expected rather than a perk. If an online gambling site does not offer a Visa debit card as an option, they will likely choose another online betting site.
However, although beneficial, the rise of Visa sportsbooks comes with its complexities. New players may find it challenging to choose the best Visa betting sites from the options available since they all promise the best. We have reviewed tons of Visa online betting sites on this page and compiled a list of the best Visa betting sites. We will also cover other essential details, including using Visa for deposits, benefits, and many more.
6 Best Betting Sites that Accept Visa
Our experts did not just choose the sports betting sites that accept Visa they fancied and tag them as the best. Instead, they reviewed them using factors that are beneficial to every player. Some of the things that were considered during our review include:
Licensing of the Visa online gambling sites
Bet types and odds available
Sports markets covered
Rewards and bonuses
Customer support
User interface
Visa deposit method and withdrawal limits
By playing in any of the betting sites that accept Visa we recommend, you can be sure of safety, reliability, and trustworthiness.
| 🏈Sportsbook Operator | 📜Promo Code/Offer |
| --- | --- |
| DraftKings Sportsbook | No Promo Code Required - Up To $1,000 Deposit Bonus |
| FanDuel Sportsbook | No Promo Code Required - No Sweat First Bet Up To $1,000 |
| BetMGM Online Gambling Site | GAMBLEUSA - Up To $1,000 In Bonus Bets |
| PointsBet Sportsbook | GUSA – 5 x $50 Second Chance Bets |
| Caesars Sportsbook | GUSAFULL - First Bet Is On Caesars Up To $1,250 |
| Borgata Betting Site | GUSA - Bet $20 & Get $100 In Bets |
#1 DraftKings Sportsbook
DraftKings sportsbook app is another top betting site that supports Visa debit and credit card deposits and also provides quick DK withdrawals. It is accessible to players in Arizona, Indiana, Michigan, Colorado, New York, Louisiana, Indiana, Pennsylvania, and many more DraftKings states. DraftKings covers a range of sports betting markets, including Basketball, Soccer, and Tennis, among others. You can also enjoy multiple offers tailored to meet your needs when you deposit at DraftKings Sportsbook.
Sign-up and claim the DraftKings sports betting promo code here:
Up To $1,000 Deposit Bonus
21+. T&C Apply
21+. T&C Apply
The best sportsbook
Amazing odds & offers
Awesome betting app
Up To $1,000 Deposit Bonus
21+. T&C Apply
21+. T&C Apply
#2 FanDuel Sportsbook
FanDuel Sportsbook is a leading US platform that supports deposits and FanDuel withdrawals with Visa credit cards. FanDuel sportsbook is legal in many US states, including Michigan, Virginia, New Jersey, New York, Pennsylvania, Indiana, Illinois, etc. FanDuel is a top sports betting site and is highly regarded in the US.
FanDuel has many land-based partners, as well as retail sportsbooks, with one of the best located at The Meadowlands Racetrack in NJ, with which it shares a license. The online betting site also covers numerous sports markets ranging from Baseball, MMA, Tennis, and many more.
Sign-up and claim the FanDuel sportsbook bonus code here:
No Sweat First Bet Up To $1,000
21+. T&C Apply
21+. T&C Apply
Convenient banking
Massive choice of sports
No Sweat First Bet Up To $1,000
21+. T&C Apply
21+. T&C Apply
#3 BetMGM Sportsbook
BetMGM sports app is a renowned gambling platform that allows players to wager using Visa. It offers plenty of betting options and sports betting markets for players. Some of the popular options include Basketball. Cycling, Handball, Snooker, etc. BetMGM is legal and available in many parts of the US, including New Jersey, Indiana, Iowa, Kansas, Pennsylvania, Colorado, and others. BetMGM withdrawals are equally fast as deposits, so you are unlikely to face any fees or delays when betting here.
Click here to register and claim the BetMGM bonus code:
Promo Code: GAMBLEUSA
Up To $1,500 In Bonus Bets
21+. T&C Apply
21+. T&C Apply
Promo Code: GAMBLEUSA
Super fast payouts
Live streaming
Promo Code: GAMBLEUSA
Up To $1,500 In Bonus Bets
21+. T&C Apply
21+. T&C Apply
#4 PointsBet Sportsbook
PointsBet app is yet another sportsbook that lets you make payments with Visa. It covers an extensive range of sports events and offers numerous betting options.
PointsBet legal states include Arizona, Iowa, New Jersey, Pennsylvania, West Virginia, New York, etc. This sportsbook is also safe as it uses recent technology to keep your banking information safe and secure.
To sign-up and access the PointsBet promo code, click here:
10 x $100 Second Chance Bets
21+. T&C Apply
21+. T&C Apply
Awesome live betting
Multiple bet types
Huge range of sports & markets
10 x $100 Second Chance Bets
21+. T&C Apply
21+. T&C Apply
#5 Caesars Sportsbook
Caesars Sportsbook is one of the top Visa betting sites that is no stranger to US players. It is easy to navigate, user-friendly, and offers players a robust selection of features. Caesars will accept credit cards so making a credit card deposit is straightforward.
Caesars also covers various sports betting markets, including Boxing, Soccer, Baseball, Basketball, etc. Players can access it legally in New York, Kansas, New Jersey, Indiana, Pennsylvania, Louisiana, Iowa, and many more Caesars Sportsbook states.
Sign-up and claim the Caesars promo code here:
Promo Code: GUSA1000
$1,000 First Bet on Caesars
21+. T&C Apply
21+. T&C Apply
Promo Code: GUSA1000
Massive welcome bet offer
Earn Caesars Rewards
Promo Code: GUSA1000
$1,000 First Bet on Caesars
21+. T&C Apply
21+. T&C Apply
#6 Borgata Sportsbook
Borgata online sportsbook allows New Jersey and Pennsylvania players to deposit and wager on sports with Visa. It covers plenty of betting markets, including top options like Baseball, Basketball, Football, etc. Players can benefit from tons of features, including an exclusive Borgata prepaid card and a very profitable welcome bonus offer.
Register and claim the Borgata Sportsbook bonus code here.
Promo Code: GUSA
Bet $20 & Get $100 In Bets
21+. T&C Apply
21+. T&C Apply
Quality sportsbook
Extensive range of sports
Promo Code: GUSA
Bet $20 & Get $100 In Bets
21+. T&C Apply
21+. T&C Apply
Step-by-Step guide using Visa Cards on Online Betting Sites
Depositing money on betting sites using Vanilla Visa gambling cards or other branded options is very easy. However, you will first be required to sign up on the platform. Make sure your details are correct when registering, as your information must align with your card name. If you do it right, your deposit should reflect instantly.
Here's a step-by-step guide that you can use to quickly deposit money and play games on Visa bookie sites.
Step 1: Head to the Sportsbook of your choice
Step 2: Register if you are a new user. This will require your details like name, number, etc. If you are not a new user, log in.
Step 3: Find your way to the banking/cashier page of the Sportsbook and choose Visa as your preferred option.
Step 4: Input the details of your Visa debit/

credit card for online betting

. This will include the card number, date of expiry, and CVV. The CVV is a 3-digit code usually behind the card.
Step 5: Input your deposit amount
Step 6: Click on submit to complete the transaction. Visa payments are usually instant, so your money should be in your online sports betting account.
How to choose the best Visa betting sites
If you are determined to choose a betting site that offers a Visa credit card or debit card among the payment methods available, there are steps to ensure you are choosing the best possible online sportsbook to suit your needs. First, you must ensure that the Visa sportsbook you choose is legal and licensed in whatever state they are operating in. You want to avoid any sports betting site that charges when making any Visa transaction. Although this is rare, some sites do charge processing fees for using Visa credit cards, and this can eat into any profits that you make.
Each betting app listed on this page offers free and instant Visa credit card deposits. They also offer free withdrawals, although the waiting times to receive your funds can vary. The best online sportsbooks will process any Visa payments quickly, whether than be a deposit or withdrawal request. It is in their interests for customers to get their funds without unnecessary delays. Additionally, the minimum deposit and withdrawal limits should be broad enough to suit a casual bettor or a more active player.
In addition to offering Visa as a payment method, you should also ensure your Visa sportsbook offers an excellent all-round betting experience. This includes competitive betting odds, a responsive, slick app, a wide range of betting markets, generous bonuses, and great customer service. Each bettor will have different preferences, some will look for attractive bonuses while others will feel the range of bet types is more important.
Can I Withdraw from Sportsbooks using my Visa Card?
Players can swiftly withdraw from their online betting account using your Visa credit/debit card. Most betting sites will require you to use the same Visa card used to make deposits for withdrawals. This is usually done to curb money laundering activities. This is why it is one of the best methods when finding a sportsbook with a fast payout.
However, before you withdraw from your gambling account, make sure you have completed your wagering requirements and have enough funds. You will be unable to withdraw earnings from bonuses till the requirements are complete.
Also, various betting sites have minimum withdrawal amounts, usually around $10 – $50, so make sure you have enough to withdraw. To withdraw from your betting account with your Visa Card, head to the banking/cashier page, click on withdraw and choose Visa as your option. Then input your card details and submit them to complete. Most betting sites will require 1- 3 days to process your payment before reflecting in your account.
Visa Card fees at online sportsbooks
There may be fees attached to Visa depending on the Visa betting site. In most cases, you won't need to pay anything for deposits in your betting account with Visa. However, some sportsbooks that accept Visa deposits may charge you a specific percentage for making withdrawals. This fee is not from Visa itself but from the betting site you are playing on. So, make sure you check out the online sportsbooks' terms and conditions for any fees you may be required to pay before using a Visa card. These can be either in the form of a percentage or as a fixed fee applicable to all withdrawals to your bank account.
Deposit and Withdrawal processing times
Depending on the Visa betting site you use, visa deposits don't have any lag time and are usually processed instantly or within minutes. However, if you use Visa for withdrawals, you will need to wait for 1-3 working days before the money reflects in your bank account. This usually depends on the platform, as it requires some days to process your payments. The process is not instant because extra verifications and checks are needed before transactions. Make sure you go through the terms and conditions of the betting site if a fast payout is vital for you.
Is Visa a Trustworthy Sportsbook Payment Method?
Visa is a payment method that has been around for decades. This payment is acceptable in almost all parts of the world, and you will find people using a Visa card for offline and online payments.
Its level of popularity and its acceptance and use in financial institutions is evidence of the reliability of this payment option. Asides from this, here are a few reasons Visa is trustworthy:
It is fast: Making deposits with Visa on Visa gambling sites is fast. Even though withdrawals are not as fast, it is still safe, and you can be confident that your funds will reflect in your account once it is processed.
Your information is safe: If you use a Visa card on an online sportsbook, you can be sure of your safety. First, Visa sportsbooks use recent security features to ensure your safety. This also includes high-level encryption that keeps your data safe to ensure it does not fall into the hands of fraudulent individuals. Asides from this, Visa itself has various security measures like customer authentication, which will require additional information to make payments. These range from a PIN, 2FA, and OTP to enhance safety. Furthermore, sportsbooks like

FanDuel also require the use of 2FA

in certain states now too, further enhancing the level of overall security.
It is easy to use: Almost anyone can get around using a Visa card to make payments. The process is easy and like making any other form of online payment.
Wide acceptance: Many gambling sites accept Visa which means you won't have a problem finding where to play. The best Visa betting sites highlighted above are just the tip of the iceberg.
Visa options available
This page lists the best sportsbooks that accept deposit from Visa debit cards. Below we have listed some of the prominent types of Visa that you can use at legal US sports betting sites that accept Visa. It is important to note that some US banks will not process a payment they suspect is for gambling purposes. This is a longstanding issue, but is becoming less of a problem now that multiple states have legalized online gambling. Some may also charge bettors a fee.
Visa credit card: When using a Visa credit card, you can add funds to your sportsbook account and take advantage of perks such as cashback. However, you should be aware that Visa has been known to deposit at a sports betting site as a cash advance and charge a fee. This is why you should always carefully check the terms and conditions.
Visa debit card: This is the most popular Visa payment method as you can use your own checking account on all sportsbooks that accept Visa as a payment option. You can transfer funds between your betting account and your personal account without the risk of being charged a fee.
Visa gift card: This is a prepaid card that can't be reloaded. Each time you deposit using this card, the amount is deducted from your card balance.
Visa prepaid card: Some operators have their own branded prepaid Visa cards. Bettors add funds from their own bank card onto a prepaid card and can then enjoy instant deposits and withdrawals. Additionally, users have the option to withdraw cash at any ATM that accepts that prepaid card, or transfer the funds into their main bank account.
✅Benefits of Using Visa on Online Gambling Sites
Using a Visa card on sportsbooks offers numerous benefits, the most important being speed and safety. Visa transactions are fast on betting sites, and you won't have to wait around before you can bet on your favorite sports. Simply deposit the amount you want, and it will reflect instantly.
Also, with the various security measures put in place by Visa and Visa Sportsbooks, you can rest easy and wager knowing your information is secure. If you ever run into a hitch with your payments, Visa has terrific customer support that will get you back on track. Finally, Visa is widely accepted in most sportsbooks you will find. This means you should not have a problem signing up and choosing Visa as your payment option to bet on football, darts, tennis, or any other sport you fancy.
❌Disadvantages of Visa Betting Sites
Like every great thing in the world, Visa betting sites have a few drawbacks. It is important to note them before you settle for this payment option. Some US casinos may not work with Visa cards since a few banks decline payments for online betting. If you are in this category, you may need to find an alternative method.
Also, some sportsbooks will charge a fee when you use your Visa card to withdraw money. This can easily be avoided if you find a sportsbook that does not attach any fee for withdrawals. Lastly, using a Visa card for payment will require you to input your details on the casino, and there is always a record of transactions in your bank statement. This may not be the right option if you care about anonymity when betting with bookies.
Alternatives to Sites that Accept Visa
Sometimes, you may not find a Visa card available on your preferred sports site. Other times, it simply is not available in your jurisdiction. If this ever happens, you can try out other reliable alternatives. They are all secure and will provide the same benefits as Visa. Visa alternative sportsbooks deposit and withdrawal methods include:
Mastercard: This payment option is prevalent in the United States and a major rival to Visa cards. You will find

MasterCard accepted in many US casinos

, and it offers security, speed, and very high limits for deposits. However, you may have issues withdrawing using this option at some Sportsbooks since payment is usually declined by some US banks.
American Express: American Express has been in existence for many decades and has become one of the most reliable cards in the world. It is fast, secure, and offers high deposit limits. However, like MasterCard and Visa, it may not be accepted for withdrawals in some US betting sites. There is a growing number of betting sites that now accept American Express.
PayPal: PayPal is one of the easiest and safest payment methods available today. Therefore, the e-wallet is a leading choice for people who want to bet on sportsbooks. It is free to register for a PayPal account, and it does not require you to input your information on the online betting site. This means it offers more privacy, allowing you easy access to funds with only your registered email. Payments are also extremely fast, and it offers an app that you can download to make payments on the go. Sports bettors often link their Visa Credit or Debit Card to a

PayPal sports betting

account, so they keep their details hidden while betting online.
Neteller: Neteller is an e-wallet that is also extremely popular, as its sister payment method

Skill

. It is accepted in many countries, including the US, and lets you deposit and withdraw money easily. Like PayPal, you don't need more than your email address to register for free on this platform to then place a

Neteller deposit at betting sites

. On the downside, it may attract some fees when used in specific sportsbooks.
Cryptocurrencies: Cryptocurrencies have been gaining momentum over the years and becoming widely accepted in US sports betting sites. This option offers complete anonymity, speed, and safety, making it an excellent alternative to Visa. The most popular choice is Bitcoin, but betting sites accept others like Ethereum, Litecoin, Dash, etc. At the minute, there is no licensed US betting site accepting cryptocurrencies, but this is likely to change.
Other great fast payment method alternatives include:
The Bottom Line on Visa Online Sportsbooks
FanDuel sportsbook, DK, Caesars, Borgata, PointsBet, and several other bookies accept Visa payments to bet on sports. The best Visa betting site is subjective as it depends on what a bettor is looking for. However, you should always choose a legal sports betting site and no offshore sportsbooks. You can directly visit these operators through this page and fund your account using Visa, with a $10 minimum deposit qualifying you for bonus bets, sportsbook deposit bonuses, free bet offers, and several other promotions.
If you have trouble funding your sportsbook account through Visa, you can reach out to the betting sites' support team or refer to this page for details on how to successfully use a Visa Credit or a Debit Card for online and mobile sports betting.
FAQ's
Do online sportsbooks accept Visa credit cards?
Yes, most US online betting sites allow their customers to deposit using Visa credit cards.
Which online betting sites accept Visa?
Most licensed US online sportsbook sites accept Visa deposits. We have listed the most prominent sites above that allow you to fund your account using the Visa card payment option.