Baylor Bears at Iowa State Cyclones Betting Preview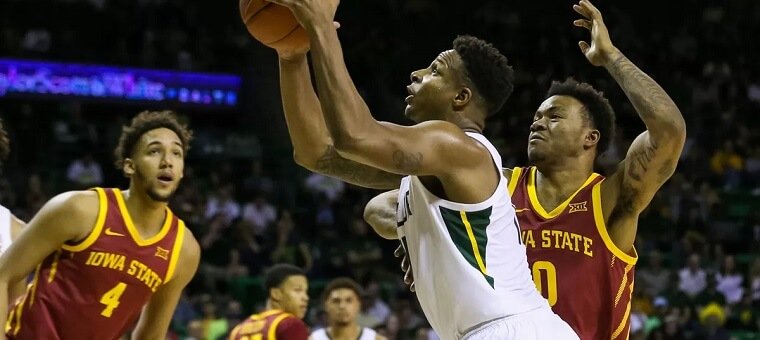 While there has not yet been a clear-cut favorite, the Big 12 boasts the closest thing to it that we have had all season.
Date: Wednesday, January 29, 2020
Time: 6:00pm
Location: Hilton Coliseum, Ames, Iowa
Watch: ESPU
Conferences are scattered, and it is hard to determine who sits on top, but the Big 12 just might have the best team in the country.
Sitting at No. 1 in the national rankings (and actually staying there for a few weeks) are the Baylor Bears. Baylor is 17-1, with its lone loss coming early against the Washington Huskies.
These Bears are a force to be reckoned with, and they will be on the road Wednesday night taking on the Iowa State Cyclones.
We saw this matchup on Baylor's home court just a couple of weeks ago, so we should have a good frame of reference to work with.
Let's break down the matchup, and we will help you determine your best bets.
A Trainwreck Of A Year
In a year where everything seems more wide open than it ever has before, the Cyclones have been struggling more than usual.
In recent history, Iowa State has not been a top-ranked team, but it has managed to be consistently respectable.
That has gone out the window this season, with Iowa State sitting at a measly 9-10 and are 2-4 in conference play.
The Cyclones are led by Tyrese Haliburton, who averages around 15 points per game. Haliburton is a big-time player who shines in this offense.
All in all, the Cyclones' offense isn't really the issue. This Iowa State team definitely finds a way to score points, but its defense is what has really suffered as of late.
Giving up an average of nearly 73 points per game is not the recipe for any team to find wins.
Going against the best team in the country isn't going to make this situation better any time soon.
Bear Down For Defense With Baylor
Boy, have the Baylor Bears turned on a hot streak or what? This team is locked in with recent victories over the Kansas Jayhawks and Florida Gators.
With a defense as strong as this one, it is no wonder why the Bears are atop the national rankings. On a 16-game winning streak, the Bears are holding their opponents to under 60 points per game.
Senior forward Freddie Gillespie is the backbone of this Baylor team. Gillespie is averaging nearly a double-double at nine points and nine rebounds per game.
In the last game against Iowa State, Gillespie put up 14 points and grabbed 11 boards, anchoring the defense as he always does. He will definitely be the key player to keep an eye out for.
There should be a lot of points for Baylor in this game, and the Bears will have no problem putting up big numbers against a shaky Iowa State defense.
I have been adamant all season long that there has yet to be a clear favorite, but Baylor is beginning to separate itself from the field.
The Bears boast a balanced attack, and we will see if they can keep up this play for the rest of the year.
Betting Preview
Coming into this one, it is no surprise that Baylor is the favorite for this game. The Bears are favorites in the spread at -4.5.
I don't think it is too difficult to predict this one. We saw these two teams play a couple of weeks ago, and Baylor won by double digits.
I think you should not hesitate and go with the hot hand in this one. Take Baylor over Iowa State, and don't look back.
Make sure you lock in your bets before tip-off!
Relevant news