BetMGM Signs Deal with Professional Fighters League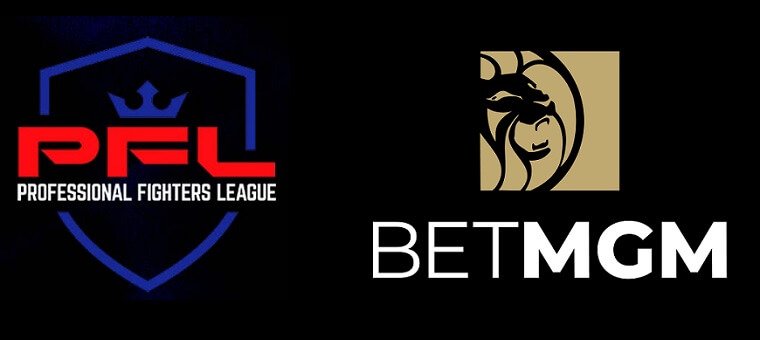 In another new partnership, BetMGM has become the authorized gaming operator of the Professional Fighters League.
The Professional Fighters League revealed on Wednesday that they have agreed to a deal with BetMGM, which sees the sports betting platform officially designated as a "U.S. Authorized Gaming Operator of the PFL." BetMGM is the second operator to become a partner of the PFL following DraftKings signing a multi-year partnership with the league. DraftKings is recognized as the official sportsbook and daily fantasy partner of the fighting organization after that deal was announced on April 20.
The PFL was founded in 2018 and claims it has established itself as the No. 2 MMA company in the world after UFC.
MMA fans will have the opportunity to wager on PFL matches with BetMGM beginning on Thursday with PFL 4 in Atlantic City. Additionally, the event will be broadcast on ESPN networks and streaming platforms. The PFL's six regular-season events have taken place in their own bubble environments at Ocean Casino Resort since the season began on April 23.


21+. T&C Apply
21+. T&C Apply
As part of the agreement, BetMGM will be given access to PFL logos and marks, in addition to VIP events, according to a press release. Additionally, BetMGM customers can benefit from PFL-related promotions.
Peter Murray, PFL chief executive officer, said they are "excited" to partner with BetMGM. The agreement means they could now "evolve our premium betting experiences" for sports fans across the country. Murray added that the fighters face "win-or-go-home matchups in the remaining regular-season events," and expanding their sports betting offerings adds another exciting element to the league.
Thursday night will see fighters from the featherweight and lightweight divisions attempt to earn a spot in the PFL Playoffs in true win-or-go-home scenarios. Former world champion Anthony Pettis will be in action looking to bounce back from an upset defeat in his PFL debut. Pettis will be hoping to earn one of the division's four playoff spots as he faces a tough challenge against undefeated Alexander Martinez.
BetMGM has revealed they are launching a promo for PFL fans. The company says users who place a $25 bet on PFL 4 will get a free $10 bet.
Matt Prevost, chief revenue officer of BetMGM, described the upcoming PFL slate as "phenomenal." He added that they are looking forward to offering fans "exciting opportunities" to get in on the wagering action with PFL promotions.
New SmartCage Technology
The PFL says it is the first organization in combat sports to offer tech that captures and distributes real-time fighter data and analytics through a system called SmartCage technology. The data is integrated into each broadcast and then shown across the league's digital and social channels. Additionally, viewers can access metrics such as kick speed, punch speed, heart rate, caloric burn, and fighter tracking.
The data will lead to customers being able to place online prop wagers, the league said.
Want to stay up to date on the latest legal sports betting news across the US? Then come and follow us over on Twitter @Gamble_usa.
Relevant news