Betsafe Sportsbook App
Gamble USA strives to improve your online gambling experience. We aim to help you play safely, make informed decisions when gambling, and increase your betting knowledge through our guides.
We adhere to strict editorial integrity; our content may contain links to products from our licensed & legal US partners.
Betsafe is a name that has stood the test of time to become one of the reputable names in the online gambling industry. The parent company is the Swedish Gambling company Betsson AB, which has been around since 1963, offering services around the world, building an excellent reputation, and repeating that work while expanding to over 100 countries.
Betsafe Colorado is the first entry into the U.S. market by Betsson AB, and Betsson U.S. Corp. operates it with license number 94607181 from the Colorado Division of Gaming. It offers one of the best customer services in the world, gaining recognition as one of the Top 50 Companies for Customer Service by the International Customer Management Institute (ICMI) – a big deal for any online gambling operator.
The Betsafe betting app is one of the best apps we've come across, and there are many things we love about it. In this Betsafe sportsbook review, we focus on providing valuable information on how to register on Betsafe, downloading your Betsafe mobile app, bonuses, unique Betsafe features, payment options, customer support channels, Betsafe FAQs, and areas that need improvements.
Betsafe Sportsbook Info
Best Quality
Live Betting, Live streaming, live in-game infographics
Legal States
Colorado
Licensing Body
Colorado Division of Gaming
Accessibility
iOS and Android sports app, mobile website, online sportsbook
Minimum Deposit
$10
Sports Markets
Baseball, Hockey, Soccer, Basketball, Football, and more
Betting Types
Moneyline, totals, live bets, futures bet, prop bets, and more
How to Join Betsafe Sportsbook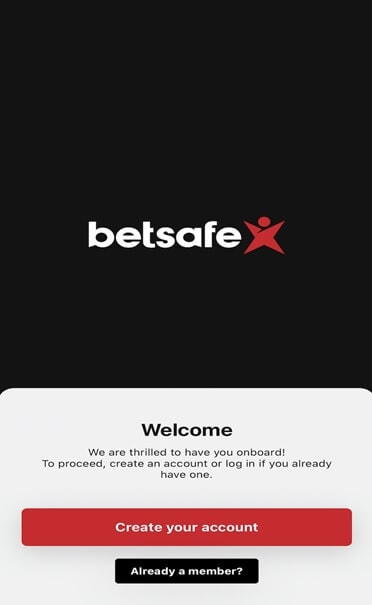 The key to enjoying the live betting feature, odds boost, and single-game parlay features on the Betsafe app is to have an account. Your account is proof that you're a part of the Betsafe family, and you can register for an account by taking these easy steps: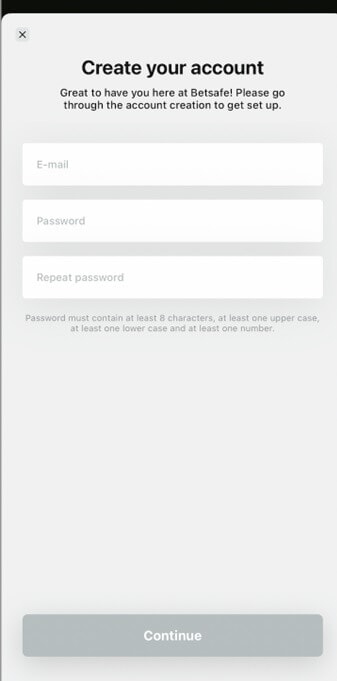 Head to

https://co.betsafe.com/

– the official Betsafe Colorado website, and download the Betsafe app on your Android or iOS device.
Click on the "Create Account" button on the mobile app. This will trigger the registration process.
Provide all the details requested on the registration form. These include your email, password, first name, last name, DOB, address, postal code, city, state, phone number, and last four digits of your SSN.
The sportsbook will perform its background checks and send an activation link to your email.
Once you activate your account, sign in and start betting on your favorite sports.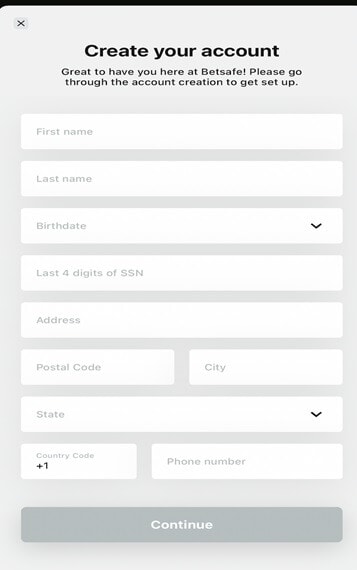 Betsafe is currently only available in Colorado, and you must be within the borders of this state to bet on the sports betting platform. You also need to be 21 or older to legally place bets, as is the case with all legal CO sports betting apps.
Betsafe Sportsbook Mobile App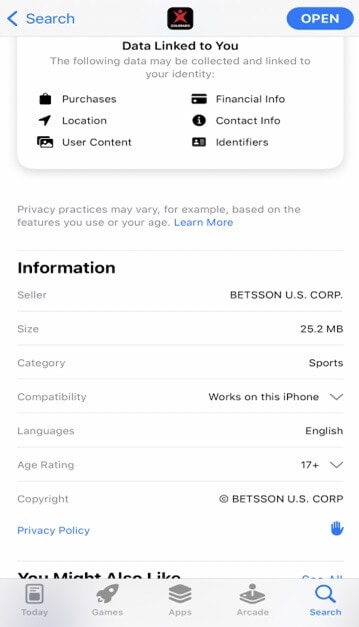 Mobile betting has come to stay, and all gambling operators focus on providing the best services to the mobile gaming community. Betsafe is one of the few platforms with high-quality mobile betting services, accessible through mobile apps or mobile browsers.
Despite being one of the newer betting apps in the U.S. market, the Betsafe app offers excellent performance, fluid navigation, and great functionality. The overall design, awesome interface, and top performance of the Betsafe apps showcase the operators' experience from other markets.
A Betsafe iOS sports app and Betsafe Android sportsbook app are available for download, which replicates the desktop platform's design and features.
Downloading the Betsafe Sportsbook Android App
Android users have an operating system that allows them to customize as much as they want. They also get to download apps from third-party sites if it isn't available on the Google Play store. However, we recommend you get the Betsafe Android app from an official channel to avoid issues later.
To get the official Betsafe Android app, take these steps:
Go to

https://co.betsafe.com/

to get the official download link.
When the link redirects you to a download page, hit the download button to get the app.
Wait for the installation to complete, then launch the app.
You can log in if you already have a Betsafe account or create a new account.
Downloading the Betsafe Sportsbook iPhone App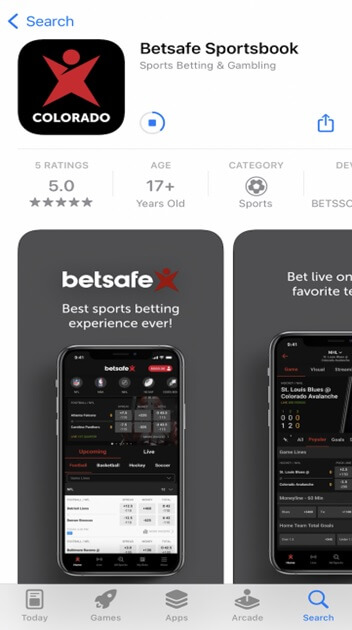 The Betsafe sportsbook iOS app is one of the best sports betting apps we've come across. The navigation is fluid, and it has excellent features like live betting, live streaming, and more. You can get this app by taking these steps:
Head over to

https://co.betsafe.com/

– the official Betsafe Colorado website.
Scan the Q.R. code on the page or find the app download link.
Once you get to the official App Store page, hit the Get button to start downloading the app.
Once installation is complete, launch the app and follow the prompts.
The Betsafe Colorado app doesn't have too many reviews on the App Store. There are five reviews on the app, and these reviewers give the app a 5-star rating.
Our Thoughts on Betsafe Sportsbook
The Betsafe app is one of the best platforms in the U.S. market today, with mobile apps that provide one of the best sports betting experiences in the industry. The platform has many great features that promote live betting, such as in-game infographics, early cashout, and live streaming options.
The app is easy to use, and the navigation is fluid. There is no lag or crashing when placing bets, and technical issues rarely occur. If you encounter a technical problem, you can contact the customer support team via live chat or email. The support team is ranked highly by the ICMI, so you can expect the best support service.
Bettors have access to over 15 sports betting markets, with several betting options, including an extensive list of player prop bets across the various sports on the platform.
Bonus Information
Bonuses are a crucial part of online gambling, and there are many excellent offers to players in the U.S. For Betsafe Colorado, the PointsBet Colorado bonus of up to five $100 risk-free bets is one of the most competitive. If you choose to play on Betsafe Colorado, you can claim a welcome bonus that is a free bet up to $500.
What makes the Betsafe promo code better than the PointsBet offer? The PointsBet Colorado welcome bonus requires you to lose a bet to claim the bonus and is available for the first five days. If you're an expert with a great strategy, you shouldn't lose that much during that period.
For existing players, the Betsafe promotions include the Odds Boosts, which decreases the house edge on a match, and increases your chances of winning the bet. Many more bonuses do come up frequently on this sports betting site, and you may be lucky to be online when the sportsbook is running its risk-free bets, loyalty bonuses, daily missions, or tournaments.
Standout Features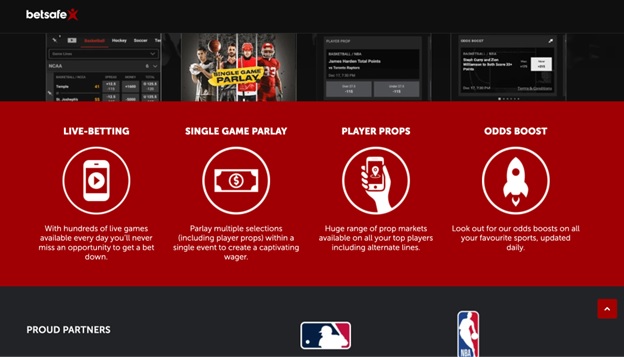 There are many exciting features of the Betsafe sportsbook, and a few of these features stand out to us. These features will improve your experience when sports betting and make you more profitable.
Live betting is one of these standout features. Through in-play betting, you have a chance to place bets on matches after they have started. Betsafe has a tab (on the mobile app and website) dedicated to live betting where you can find information on ongoing matches from various leagues and sports markets.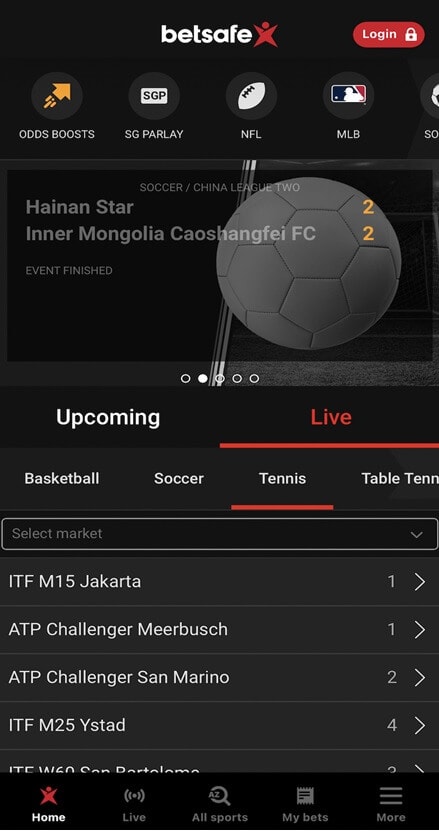 During live betting, the odds on the match change as different events occur, and it is a great idea to only use in-play betting on events you can follow in real-time. Betsafe has a live streaming feature and live in-game infographics that let you follow some top events. Combining the live betting and live streaming feature of the sportsbook provides an excellent in-play betting experience.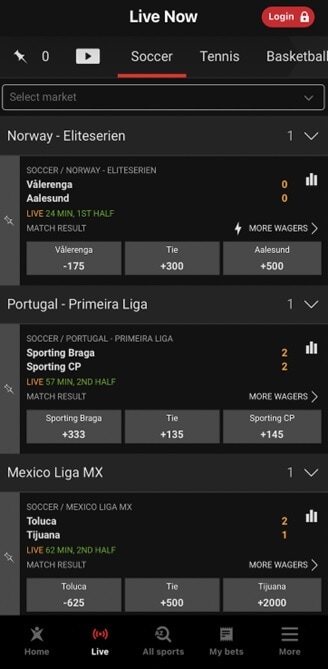 The early cashout feature is another excellent addition to the sportsbook. Through this feature, players have a chance to close a bet before the final whistle. If you're following a match and things take an unforeseen turn, the early cashout option can save you from losing your entire bet.
Consider a soccer match between two evenly matched teams in which your favorites get a red card. This changes the game's dynamics and creates a handicap they may be unable to overcome. If you bet $20 on your favorites, you can use the early cashout feature to get maybe $10 of your bet instead of losing the entire $20.
Losing a bet can significantly impact your bankroll, which is why the Odds boost on Betsafe is an excellent option for every bettor. There are daily odds boosts on various sports on Betsafe, and you can find the right match to bounce back after a losing bet on the platform.
If you do come up with a favorite bet on the Betsafe platform, you can pin this bet, so it is easy to find when you're ready to bet on the event.
Betsafe Sports Markets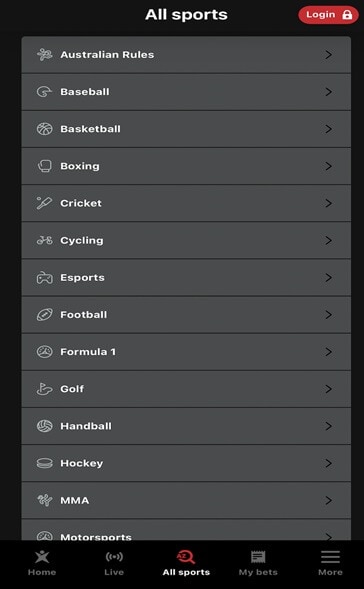 Betsafe sportsbook grants you access to more than 15 sports markets, which include top sports markets like Basketball, Soccer, Football, Hockey, and UFC. Slightly less popular niches like F1 are also available with Betsafe, with the sportsbook actually being behind one of the best F1 betting apps around, Online gaming offers limitless possibilities, and an online gaming community that is rapidly gaining momentum is the Esports community.
With lots of prizes to be won and sponsorships from top companies like Red Bull, Intel, Honda, Coca-Cola, and Mercedes Benz, it's great to have a platform that offers excellent esports betting services. Betsafe has a solid esports betting service, and you can find top games like LOL, Rocket League, Dota 2, and C.S.: G.O.. Other sports markets and sports leagues on the sportsbook include:
Australian Rules

Baseball

(MLB, North America, Japan Pro Baseball, Mexican League LMB, Korea KBO)
Basketball (

NBA

, NCAA, WNBA, EuroLeague, FIBA World Cup, EuroBasket, Spain, Italy, South American, Central America and Caribbean)
Esports (Dota 2, Call of Duty, Rocket League, League of Legends, Counter-Strike GO)

Football

(NFL, NCAA)
Handball
Hockey (

NHL

, World Championship, Sweden, Finland, Switzerland, Germany, Austria, CHL, Czech Republic)
Motorsports
Rugby League
Rugby Union

Soccer

(MLS, Champions League, European League, European Cups, Europa Conference League, World Cup, International Leagues)
Volleyball
Betsafe Betting Options
In addition to the extensive list of sports markets on Betsafe Sportsbook, you have access to several betting options. Through an excellent combination of these betting options, you can make excellent profits every time you visit Betsafe. Understanding how each bet option works is crucial, but veteran sports bettors will know about each option on the sportsbook.
Moneylines: This is a bet on what team will be the match winner. The outcome of this type of bet is determined at the end of the game, and a sportsbook can grade a match as a win, loss, or draw.
Totals: The totals bets allow you to bet on the combined number of points both teams will score in a match. You can choose to go over or under when placing a totals bet. For example, if the point total of a game is set at 50 points, you can place an Under bet if you think the match will end with combined points below 50.
Props: Player prop, team prop, and game prop are popular proposition bets you can place. The prop bets don't usually have anything to do with the final score but often with an event occurring. A bet on Steph Curry making a double-double is a perfect example of a player prop.
Futures: A bet on an event that will happen in the future or at the end of a tournament is a future bet. Popular futures bets include bets on who will win the NBA playoffs or the highest goalscorer at the end of the MLS season.
Single Game Parlay: The single-game parlay allows you to combine different bets from the same event to create an excellent bet slip. You can combine the prop bets, totals, moneylines, and other bets to create your S.G. Parlay on Betsafe.
Live Betting: This is an exciting type of bet that lets you place bets after an event or game has started. In-play betting keeps you on the edge of your seat with odds that change in real time, making these bets very exciting. You can make the most of the Betsafe live betting feature by combining it with live streaming and early cashout options.
Specials: Betsafe often has parlay builder bonuses and odds boost that can improve your bets. You can find more information on these specials on the home page of the sportsbook.
Which states is Betsafe Sportsbook available in?
Setting up in the sports betting industry since 1963 has given Betsafe a chance to build an excellent reputation. It is a known brand worldwide and finally entered the U.S. market in March 2022.
The Betsafe platform is currently only available in Colorado, and the company is taking its time to make the necessary preparations to expand into other U.S. states. It has a partnership with Dostal Alley Casino, and the company is keeping in line with its general business strategy – aiming to take a low-risk approach while growing in a financially safe fashion.
With Betsafe Colorado receiving the GLI 33 certification from Gaming Laboratories International (GLI), it is one step closer to kickstarting operations in other markets.
Banking
An online sportsbook is only as good as its payment methods, and we must let you know that Betsafe offers some of the best options on the market. If you're a fan of bank cards, then whip out your Visa or Mastercard credit cards to fund your Betsafe account.
Due to limitations on credit cards, with some banks not supporting online gambling, you may want to use the e-wallet services like PayPal or Skrill. You should note that the credit card option isn't available for your first deposit on the sportsbook.
VIP Preferred by Global Payments is the last option for deposits on Betsafe. You can use PayPal, Skrill, VIP Preferred, or Online Bank Transfer for withdrawals. One condition Betsafe has set is that players can only use withdrawal methods corresponding to the deposit method they use. This is a form of security feature on the site.
Customer Support & Contacts
Betsafe offers one of the best customer services on any online sports betting site. Its customer-centric operations and years of experience in the gambling industry are reasons why it is so successful in this area. There is a comprehensive FAQ section on the platform, and you can get information on payment methods, responsible gaming, licenses, verification, and more.
If you have more pressing issues, you can get help from support team members through the live chat or email (support@co.betsafe.com) channels. The live chat option has a 30 seconds response time, while the email channel has a 30 to 60 minutes response time. On the FAQ page, you learn that these support channels are open from 09:00 to 00:00, but it is common to get a response 24/7.
Areas For Improvement
Betsafe sportsbook does many things excellently, giving little room for criticism. However, there are a few things that need improvements. With the platform launching in Colorado in March 2022, many players still wait for news concerning its expansion into other states. We would love to see the betting site offer its services in other competitive locations like New Jersey, Michigan, Indiana, or Pennsylvania.
However, before it starts focusing on its expansion, we need more payment options on the Betsafe Colorado platform. On competitors like FanDuel, Credit cards, debit cards, ACH/eCheck, Prepaid cards, Venmo, PayPal, Online transfer, PayNearMe, and Cash @ 7-11 are some of the options you get. Compared to the options on Betsafe Colorado, bettors are spoiled for choice.
With Betsafe offering detailed live in-game infographics, live streaming, and in-play betting, few online sportsbooks can compete with its services. Once it improves on its minor flaws, it will indeed become one of the top platforms in the country.
Final Words
Betsafe sportsbook is one of the few platforms that has entered the U.S. betting market and gone straight to the top of the list. It offers in-depth sports betting markets with excellent coverage of the best betting types, including player props on most sports betting markets.
Features such as in-play betting, live streaming, early cashout, and detailed live in-game infographics that seem like a luxury on many of the top betting sites are regular features everyone can access on Betsafe.
Some limitations affect the Betsafe sportsbook, and the most noticeable is its availability in only one U.S. state – Colorado. If you stay outside Colorado and need another sportsbook with unique features to captivate you, then the PointsBet sportsbook is a great option. You can go through our PointsBet sportsbook review or learn more about DraftKings, another top name in the U.S. market.
FAQs
Is Betsafe Sportsbook safe?
There are several areas to consider when assessing the safety of Betsafe Sportsbook, and it excels in all areas. The sportsbook holds player funds in separate bank accounts of Tier-1 financial institutions. It also uses encryption technology and SSL certificates to protect player information it obtains on its mobile apps and websites.
With a license from the Colorado Division of Gaming, and other licenses from the UK Gambling Commission, Malta Gaming Authority, Italy, Germany, Spain, Sweden, Ireland, and more, this is additional proof that the safety standards of the sportsbook meet the requirements of top regulators around the world.
Is there a Betsafe mobile app?
There is a Betsafe mobile app for Android and iOS users. You can get the right app for your device by visiting your store or getting a link from the Betsafe sportsbook website.
Which is the Betsafe Sportsbook bonus code?
Betsafe currently offers a welcome bonus of a free bet up to $500. However, you don't need a Betsafe sportsbook promo code to claim this offer. All you need to do is register on the sportsbook using our link, and the offer will be available.
What states is Betsafe Sportsbook legal in?
Betsafe sportsbook is currently only legal in Colorado. The sportsbook began its operations in Colorado in March 2022 and is steadily making preparations to launch in other states in the country.

Free Bet Up To $500
Get Bonus
21+. T&C Apply
21+. T&C Apply
Betsafe is committed to responsible gaming. Links to Betsafe's responsible gaming policy and self-exclusion program may be found on Betsafe's website