BettorEdge Review
BettorEdge is a unique social sports wagering platform that launched in January 2021. It's unlike a standard online sportsbook, as members bet amongst each other, rather than against the "House." As a result, there are no hidden fees connected to wagers, and members are given access to true odds, rather than what a sportsbook decides to offer.
This platform acts as a sports betting exchange, rather than a sportsbook. Owners James Seils and Greg Kajewski have even referred to it as "the Venmo of sports betting." Members of BettorEdge trade bets in a similar way to how stock market trades are made. There is also a social aspect to this platform that allows members to follow, talk, and wager with each other.
This review of BettorEdge explains how exactly this platform works. It also reveals how this wagering platform differs from a traditional sportsbook while highlighting its pros and cons. There are some truly unique features of this exciting new betting exchange and many sports bettors around the country are beginning to take notice. Read below or use our links to join BettorEdge from 45 states, deposit $10, and get a bonus up to $500!
What Is a Social Betting Exchange?
Social betting exchanges differ from standard sportsbooks by allowing members to wager against each other, rather than against the "House." Standard sportsbooks always give themselves an edge over players due to what is known as the vig. This is essentially a fee that these sportsbooks charge – offering odds that favor the "House" to all, locking a profit in the long run.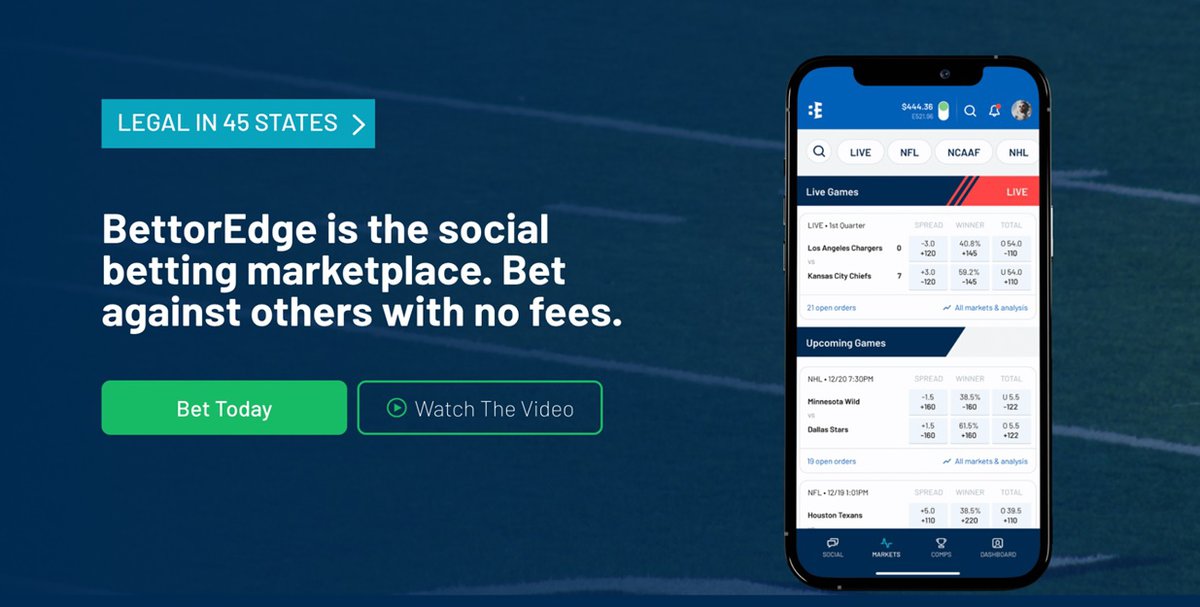 Social betting exchanges completely remove the "House" from the equation. The market, or odds, will change depending on how bettors are wagering, rather than what the House decides.
Many betting exchanges, including BettorEdge, also have a social media component involved. This gives a community feel to the platform that standard online sportsbooks lack. Social betting exchanges are all about players and remove the hidden fees, difficult payout conditions, and other frustrations that many bettors have with popular sportsbooks.
How BettorEdge Works

BettorEdge was launched in January 2021 as a legal substitute for standard sportsbooks. Its owners claim to be avid sports bettors, yet grew frustrated with the fees and unfair advantage that most sports betting sites come with.
Despite being a completely unique wagering platform, BettorEdge is easy to understand. After creating an account and making a deposit with this platform, members can choose to place their bets on any available market. Bettors are the ones affecting the odds and no edge is given to the "House."
Members here can also set their own lines on events using Limit Orders. In order for these wagers to be made official, however, another player will need to match your bet by placing an opposite order. All orders are considered open until this takes place.
After placing a wager, bettors will be given real-time data on team performances and market changes. During this time, bettors can update and sell their original bet to other members. This form of wagering resembles stock trading and is completely unlike the betting process done through standard sportsbooks.
At the end of the sporting event, all bets are settled. The goal among bettors is to have earned more than they originally staked. It combines a stock exchange with sports betting, offering a truly unique wagering experience for sports fans around the US.
BettorEdge Promo Code
BettorEdge is still a new wagering platform and, as a result, offers fewer bonuses to players than more established sports betting brands do. It is, however, currently offering a generous welcome bonus to new members that helps to instantly boost these new players' bankrolls.
The welcome bonus from BettorEdge provides first-time members with up to $500 in bonus bets. In order to claim this bonus, players will need to verify their ID. From here, members will become eligible to receive a 100% first-deposit bonus of up to $500.
BettorEdge also provides its members with a top notch referral program. This allows members to share a specialized referral code with friends. After a referral signs up and makes a first deposit, the referrer will receive a bonus of between $2 and $500. The amount of money earned from a referral will vary based on market movements, specific programs, or promotions. Many other sites provide more bonuses than BettorEdge, yet members here will still be happy with the current line up.
BettorEdge Marketplace Explained
All members of BettorEdge have the ability to wager on popular sports leagues including the NFL, MLB, NBA, NHL, EPL, UCL, MLS, WNBA, and more. College sports wagering is also available through this exchange.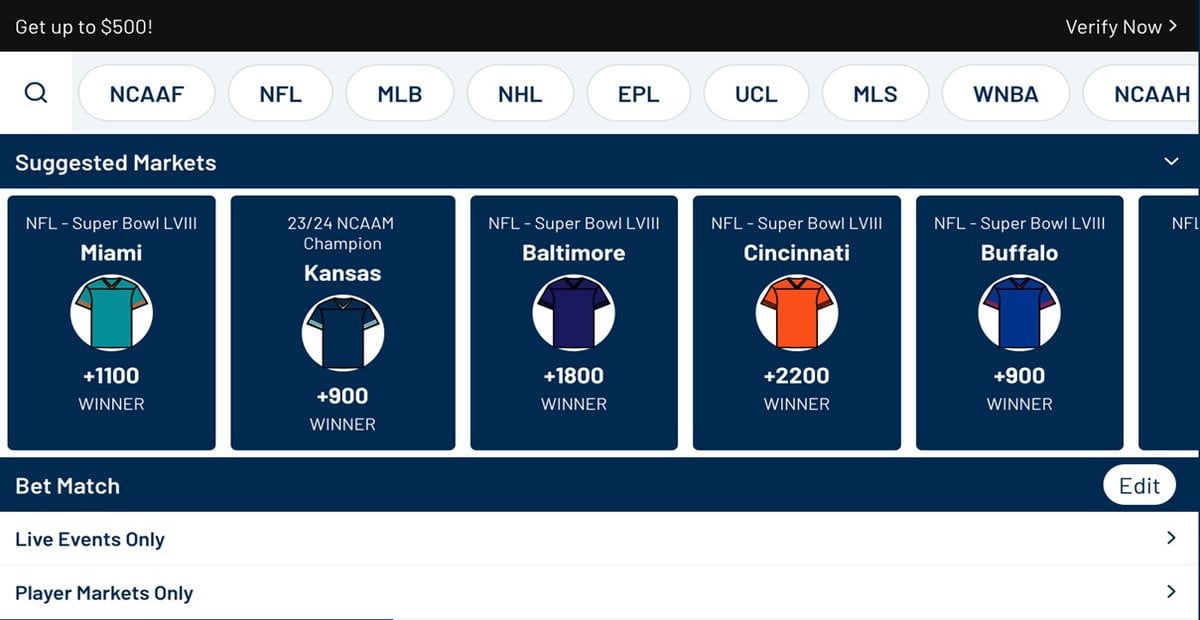 This platform also provides members with a great variety of betting markets for each of these leagues. Once a market is opened, players will gain access to the opening lines. After making a bet, known as an "order" with BettorEdge, this exchange works to match that wager with opposite current or future wagers. This pits players against each other, rather than against the House.
BettorEdge is now legal in 45 states and has received more than 500,000 orders. This marketplace is constantly expanding, making it easy for most bettors to find fellow members to match their wagers. The popularity of BettorEdge is growing quickly and it's likely that many new sports fans will join this platform in the coming years.
BettorEdge Markets & Lines
Many of the same types of wagering options found at traditional sports betting platforms can be made through BettorEdge. That includes moneyline, totals, and point spread bets. Several other bets, including props, can also be made on major sporting events such as the Super Bowl and NBA Finals. The bet slip featured at this exchange is excellent and showcases implied win probability and potential winnings.
Two types of orders can be placed – Market Orders and Limit Orders. Market Orders are placed prior to the start of a sporting event. Limit Orders are made after the event has begun, and can be adjusted and even sold before the event has concluded. Limit Orders also give members the ability to create their own implied probability and odds for an event.
If an order placed is particularly large, it may take several opposite orders to completely fill it. While your order is being filled (waiting for opposite wagers to match your bet) the order is called an Open Order. As more wagers come in for a sporting event, the lines for these sporting events will be adjusted. Bettors are the ones that change the odds, rather than the online sportsbook itself.
BettorEdge vs Sportsbooks
There are several key differences between BettorEdge and traditional online sportsbooks. Firstly, all bets placed here are done in a format similar to stock trading. As more wagers are placed by bettors, the odds for sporting events fluctuate. Wagers are not locked in until after the sporting event has concluded, meaning players can adjust and sell their wagers to other bettors during the event.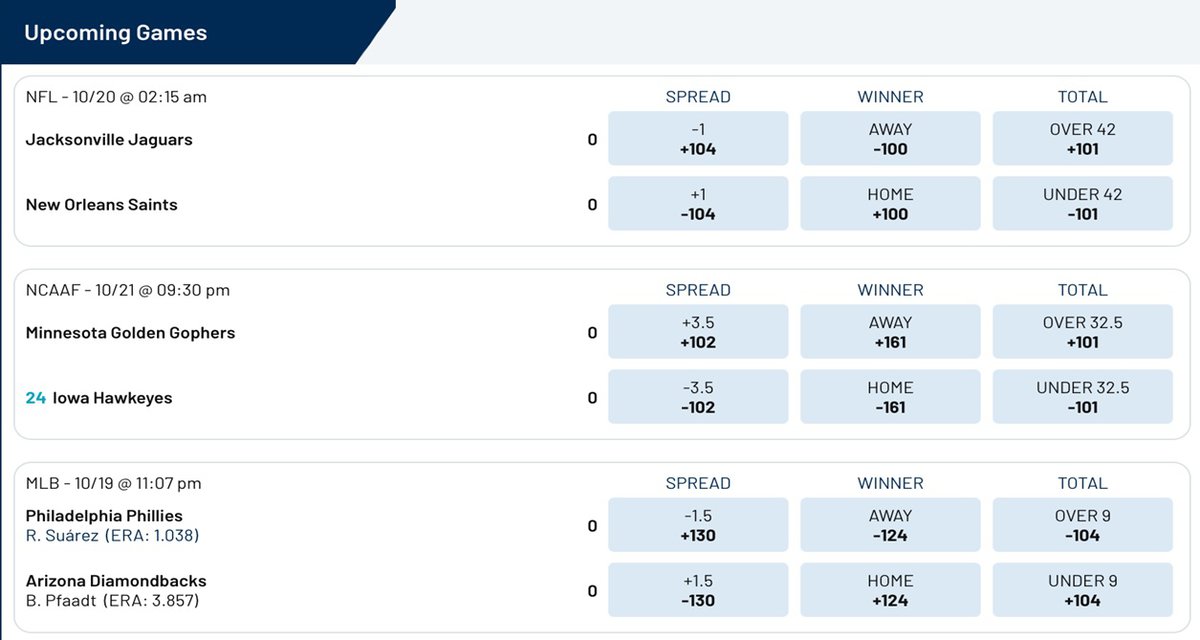 Online sportsbooks possess a natural edge over bettors due to their ability to establish a vig. As previously mentioned, the vig is essentially a fee that sportsbooks charge to bettors by manipulating the odds. With BettorEdge, odds are adjusted based on market activity, rather than by an online sportsbook looking to gain an advantage.
This is a key reason why so many sports bettors are flocking to this platform. Bettors are given true odds for sporting events, rather than odds that heavily favor the House. Of course, this is still a fairly new product and there may be times when placed orders are not filled due to a lack of bettors. Sportsbooks may present an easier overall wagering process, yet the lack of fees, great in-play betting options, and ability to create your odds on events make BettorEdge one of the most exciting online sports wagering platforms in the country.
Is BettorEdge Legal?
BettorEdge is a completely legal, regulated platform in 45 states around the country. This is not an online sportsbook. It stands as an exchange, similar to Venmo, allowing individual bettors to place "orders" on sporting events.
There are no fees associated with BettorEdge. This platform does not benefit when members lose wagers and does not set the prices at which members set orders. This differentiates BettorEdge from traditional sportsbooks and allows it to legally operate throughout much of the country.
Registration Process
The design of BettorEdge is excellent and very user-friendly. It should take less than 10 minutes to create a new account with this peer to peer exchange. After the registration process, new members can make a deposit and immediately begin placing wagers on their favorite teams and players. The steps below explain exactly how to make a BettorEdge account today.
Click the "Claim Bonus" tab featured on this Gamble USA guide page.
Click the "Sign Up" button on the BettorEdge homepage.
Create a username and password for your BettorEdge account.
Verify your ID by providing your full name, home address, and more.
Allow BettorEdge to verify your location.
Only these five steps are required to become a new member of BettorEdge. After signing up, make a deposit of $10 or more using an accepted banking method. This will qualify all new members to receive a deposit bonus of up to $500 in bet credits. Use these bonus funds to wager on any of the available markets provided.
BettorEdge App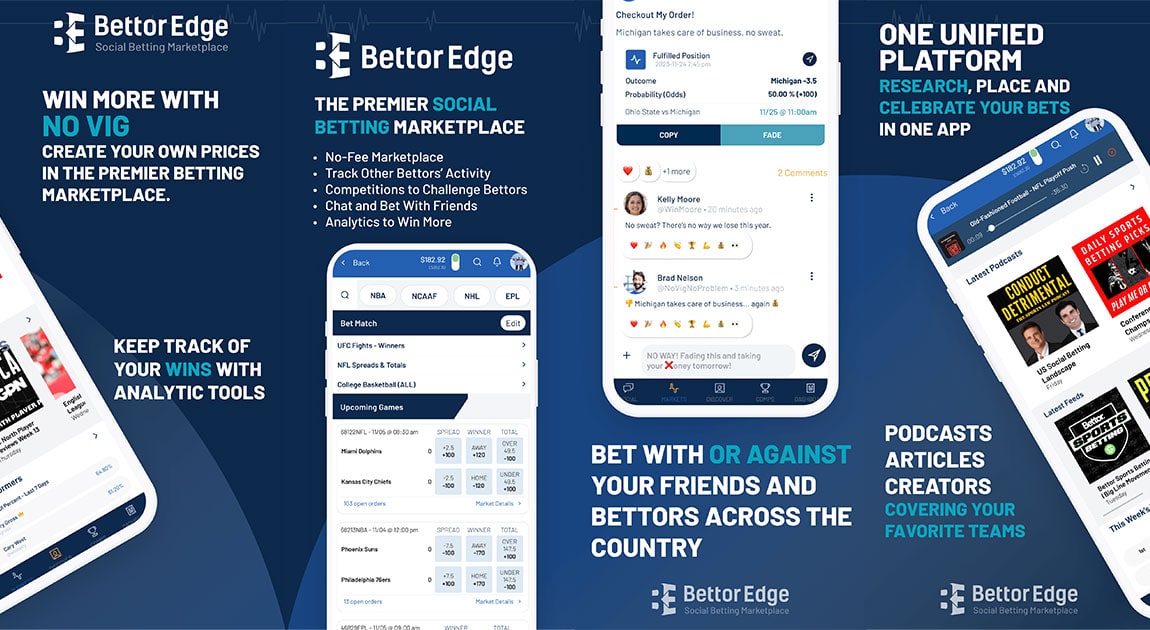 BettorEdge is a new, modern online sports wagering platform that runs extremely smoothly. Unfortunately, this platform has yet to develop a mobile app for its users. In order to access this sports betting exchange using a smartphone, players will need to visit the BettorEdge mobile website.
This mobile website works extremely well, offering all of the same features that the desktop version provides. It is easy to navigate using both an iPhone and Android device. There are clear tabs that help new users move between pages.
To make things easier, smartphone users can bookmark this mobile site and add it to their phone's home screen. This makes it easy for these smartphone owners to access their BettorEdge account and begin placing wagers.
Banking
The cashier system at BettorEdge is fairly standard, yet only one option exists to deposit and withdraw funds. To fund your account and collect winnings, you will need to utilize a direct ACH transfer. Deposits are instant, while withdrawals can take up to three working days.
Many users are pleased to find that there are no fees associated with either deposits or withdrawals. Some, however, complain about the lack of variety of banking options. Many competitors allow for a combination of banking options including traditional bank transfers and third-party wallets. BettorEdge is still a new platform and it is likely that additional cashier options will be added in the near future.
Safety & Security
BettorEdge is a fantastic, modern online sports wagering platform with more than 15,000 users around the country. It has ensured that it follows all rules and regulations in order to legally operate throughout nearly the entire country. This dedication to user security has allowed it to gain five-star reviews from the majority of its members.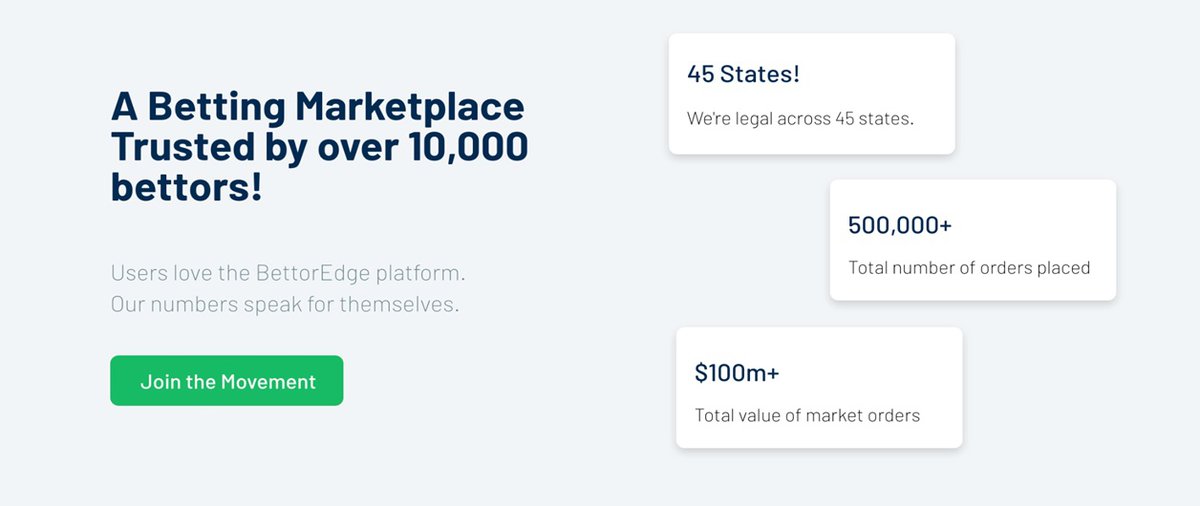 Direct ACH transfers remain the only option to deposit and withdraw funds. While the lack of payment variety is certainly apparent, members can rest assured that their funds will always be secure. ACH transfers are regulated by the federal government and managed by the National Automated Clearing House Association (NACHA), ensuring transfers will be made successfully.
Customer Support
The customer support system at BettorEdge is decent. The main form of support here is the "Help Center" page, which provides answers to many of the most common questions that members ask. This page provides information on this platform's banking system, betting markets, and social features.

Members can also reach out to BettorEdge directly using the "Submit a Request" feature. This support option even allows players to attach screenshots with their questions, helping to better explain whatever issue they may be experiencing.
Who Should Try BettorEdge?
BettorEdge is a legal, fun online sports wagering platform available in 45 states around the country. It acts as an exchange, allowing sports fans to make wagers with each other, rather than against the House. As a result, members of this platform are given far better odds and can communicate with each other in a social media-like setting.
Online sports betting is now legal across 25 states and Washington D.C. Those in states without access to legal online sportsbooks will likely enjoy what BettorEdge has to offer. It looks and feels like a standard online sportsbook, yet is able to legally operate across most of the country.
Most sports bettors will love what BettorEdge has to offer. This exchange provides odds on nearly all of the most popular sports leagues in the country. Members can make all of the same types of bets provided by online sportsbooks including moneyline, totals, point spread, and prop bets. It provides a fun sports betting experience without the hidden fees that sportsbooks charge.
BettorEdge also provides a modern user interface, a secure cashier system, and solid customer support options to ensure questions are always answered. These features make this exchange one of the best substitutes for traditional online sportsbooks in the US. Anyone located in states without legal sportsbooks should check this platform out today.

Up To $500 Free Bonus Cash
Get Bonus