Bids For Chicago Casino Coming Soon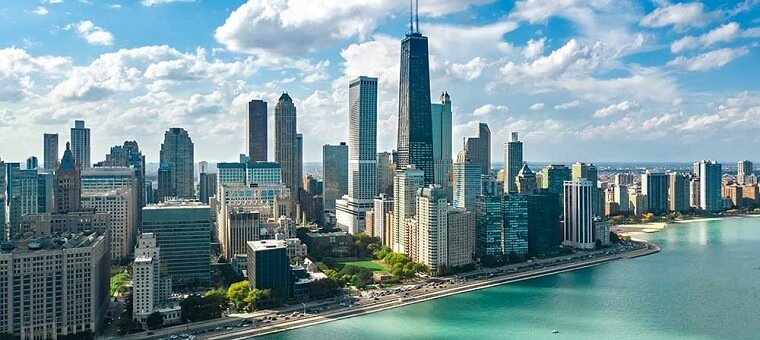 The city of Chicago recently announced plans to begin accepting bids for a proposed integrated casino resort within the city limits.
The expanded gaming law passed in 2019 called for a new casino to be built in Chicago, but not much progress has been made since that time.
According to city officials, bids can begin being submitted in early April, but it's unclear how quickly a winning bid will be accepted. Five other cities were also approved for new casino projects, and action has been taking in other parts of the state.
A long list of criteria has been established by Chicago city officials, and the Illinois Gaming Board has had some input as well. There is hope that this will become one of the top casino destinations in the United States as Chicago is one of the largest cities. Talks of online casino gaming is also being discussed in the state as well.
One problem is that an exact location has not yet been established for the new project, and that could keep some potential bidders from making a play. This potential location will be a part of each bid that is submitted but will have to be approved.

21+. T&C Apply
21+. T&C Apply
US casino industry executives have applauded the plan for the new Chicago casino and have urged other big cities to do the same. New York City is another location that doesn't have a casino property, but that could change in the coming months.
Las Vegas Casinos Expected to Bid
Chicago Mayor Lori Lightfoot has made it very clear that the city is hoping to receive bids from Las Vegas area companies. Lightfoot and her office are planning to stay out of this process, but popular companies will likely get a closer look.
With only one potential property coming to Chicago, the Windy City will not become a casino market similar to Las Vegas. There is potential to make some serious money here, especially if sports betting is included in the bid.
Initially, the Illinois Gaming Board announced a 72 percent revenue on casino gaming revenue at this property. Lightfoot and her office petitioned the state to lower the tax rate in an effort to try and attract bigger companies.
That petition was successful, but one of the highest tax rates in the country will still be attached to the integrated resort.
Illinois Sports Betting a Giant
Illinois sports betting officially launched in March 2020, with online betting options first launching in June. It has taken Illinois just a few months to become one of the biggest sports betting markets in the United States.
Most of the sports betting has been done online, but that is realistically the only option available in the state. Most of the retail sportsbooks remain closed or operating under strict protocols because of the COVID-19 pandemic.
Illinois is currently focused on getting the integrated resort up and running in Chicago, but lawmakers are also exploring the possibility of legalizing online casino gambling. Michigan just launched an entire suite of iGaming options including online sports betting and MI online casinos, which could put some pressure on Illinois to do the same.
Follow us over on Twitter @Gamble_usa for the latest legal casino and sports betting news across the US.
Relevant news