Bingoport
Gamble USA strives to improve your online gambling experience. We aim to help you play safely, make informed decisions when gambling, and increase your betting knowledge through our guides.
We adhere to strict editorial integrity; our content may contain links to products from our licensed & legal US partners.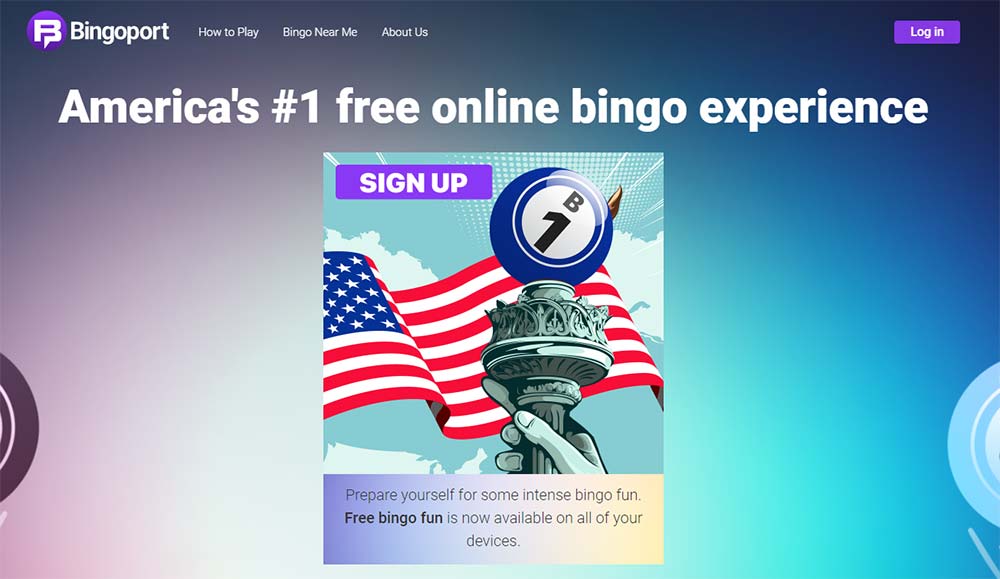 If you love playing bingo for real money without risking your own, sweepstakes casinos are a great place to start. Join Bingoport, it's one of America's favorite bingo sites operating on the sweepstakes model.
Bingoport was founded in early 2005 by 1st Leads Ltd, a company operating out of Methuen, Massachusetts. The site has a long history of providing a safe playing environment for its customers.
It's easy to play for free when you join Bingoport; just signup and start playing one of the many bingo games on offer to earn Port Points which players can then exchange for various rewards, including real cash prizes. You can also exchange them for Session Access Tokens (players cannot buy these, and they cannot be redeemed), which allows you to play in featured sessions with higher jackpots.

Bingoport is a great place to play bingo – new games start every 15 minutes 24/7 – and you can choose from many different free bingo variants. You'll receive 500 Port Points just for signing up, and there are numerous ways to boost that balance immediately.
If you want to know more about how Bingoport rewards its players, or you are curious to find out how Bingoport allows you to redeem cash prizes by playing bingo, then it's all covered in our review of one of the favorite bingo sites.
Bingoport Bonuses
🎁Bingoport Bonuses
✍️Signup Bonus
500 Port Points
📧Email Verification Bonus
500 Port Points
🧾Complete your Profile Bonus
500 Port Points
💰Daily Top-up Bonus*
*Points must dip below 250 to qualify.
1,000 Port Points
🎁Welcome Bonus
$25 free dining advantage card
💵Free Bingo Bonus
Win up to 50,000 Port Points per session
💲Refer-a-friend Bonus
1,000 Port Points
Bingoport No Deposit Bonus Code
Bingoport is a sweepstakes casino, so there is never any need for players to risk any of their own cash; they can always play for free and win real money if luck is on their side.
Earn Port Points and Session Access Tokens (Bingoport's virtual currencies) without spending anything when you join Bingoport. There is no need to enter a no deposit bonus code at this site; free offers are credited automatically on completing certain tasks such as signing up, verifying your email address, and other activities that will be discussed later in this review.
1,500pp Bingoport No Deposit Bonus can be redeemed after sign-up and account completion.
Every day, if your Port Points balance is less than 250, Bingoport will credit your account with another 1,000 free Port Points – no code is required. Port Points can be exchanged for Session Access Tokens, which players can use to access exclusive games with higher cash prizes and other rewards.
Welcome Bonus
New players are spoiled when they join Bingoport sweepstakes casino by the excellent welcome bonus. Simply signup to play, and you will receive 500 Port Points. If you immediately verify the email linked to your player account, you will receive another 500 Port Points. Fancy another 500? Just fill out your profile, and in under 5 minutes, you'll have 1500 Port Points in your balance, and be playing bingo games on site for free. Get ready to win for real though! You can cash out real money prizes using your free Port Points alongside other rewards. No codes are necessary to claim these offers.
On top of this, if you play 12 sessions within 24 hours of signing up, a $25 free dining advantage card will be posted to you.
How Bingoport Works
Bingoport is a sweepstakes casino which means you can play for free. Always. You do not have to make a purchase to enjoy the games. Just join Bingoport, create an account, and you'll earn Port Points, which you can use to play any of the bingo games on offer.
Players can also trade in Port Points for Session Access Tokens (SAT) at a rate of 5,000 PP to 1 SAT – these SATs have no value in themselves, and they can never be withdrawn – but they do allow you to gain access to the higher jackpot feature sessions run by BingoPort.
Prizes are awarded in Port Points, and these can be redeemed for real cash prizes via Paypal at the following rates:
12,000 PP = $10
21,000 PP = $20
50,000 PP = $50
Bingoport is legal in all states except Washington, provided you are 18 years or older.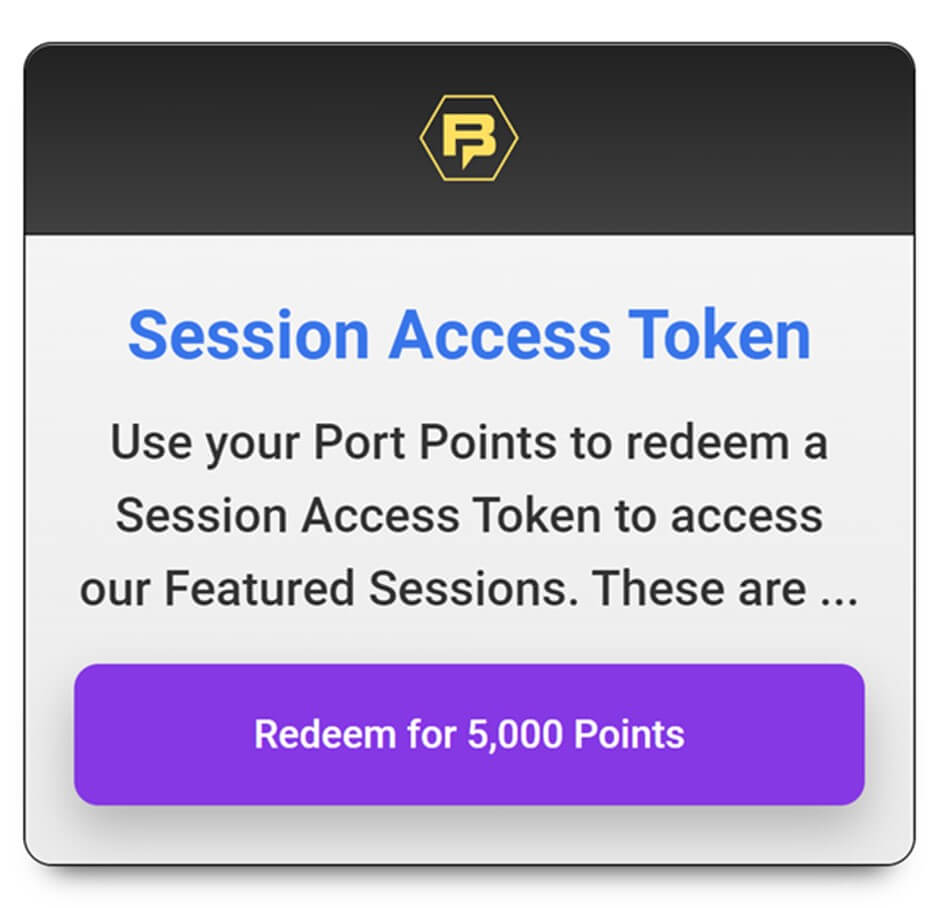 How to Get More Port Points and Session Access Token Coins
There's no doubt that Bingoport sweepstakes casino is good to its players, whether new or existing. Every day you can take advantage of new opportunities to replenish your Port Points balance, and it doesn't have to cost you a cent.
Keep track of your Port Points total at the top right of the homepage, and be sure to claim any offers you like the look of to top it up. Bingoport doesn't need players to enter any codes to claim its bonuses – they are automatically added for your convenience.
Daily Free Port Points
Already a customer at Bingoport? Then get ready for a fantastic daily reward for your loyalty! Every day you sign in you will receive a fresh supply of 1,000 Port Points absolutely free; no bonus code is necessary. The only stipulation required to qualify is that your Port Points balance must be less than 250 to gain the 1,000 free daily points.
Refer-a-friend Bonus
Existing players can quickly earn Port Points to increase their balance by taking advantage of Bingoport's Refer-a-friend Bonus. It is super easy to activate this reward. All you need to do is share your referral link with friends via Facebook, WhatsApp, Twitter or email. For each of your friends that take your advice, you'll be awarded 1,000 free Port Points just as soon as they've verified their account.
Subscribe to Bingoport Bulletin
Loyal customers can use the unlimited Port Points available on purchasing a subscription to the e-magazine Bingoport Bulletin. Every time a subscriber's Port Points balance falls below the 500 threshold, they will automatically be credited with an additional 2,500 points for free. On top of this, subscribers will receive 30 Session Access Tokens every month – the only way to get these tokens for free. Typically, they cost 5,000 Port Points each to obtain and they are the only gateway to entering the featured sessions. Finally, subscribers are given access to exclusive giveaways and prizes.
Play Free Bingo
All players can use the free Port Points allocated on signup to play free bingo games that allow them to win more Port Points – up to 50,000 to be exact! Players can then exchange these points for Session Access Tokens allowing even bigger wins and the option to redeem Port Points for real cash.
Dining Advantage $25 Promo
New players can claim the Dining Advantage welcome offer if they participate in 5 12-game bingo sessions. To qualify, players must verify their accounts, and their member profiles must be entirely filled out. Within 24 hours of completing the 5 12-game sessions, eligible players will receive an email with instructions on how to claim their discount card.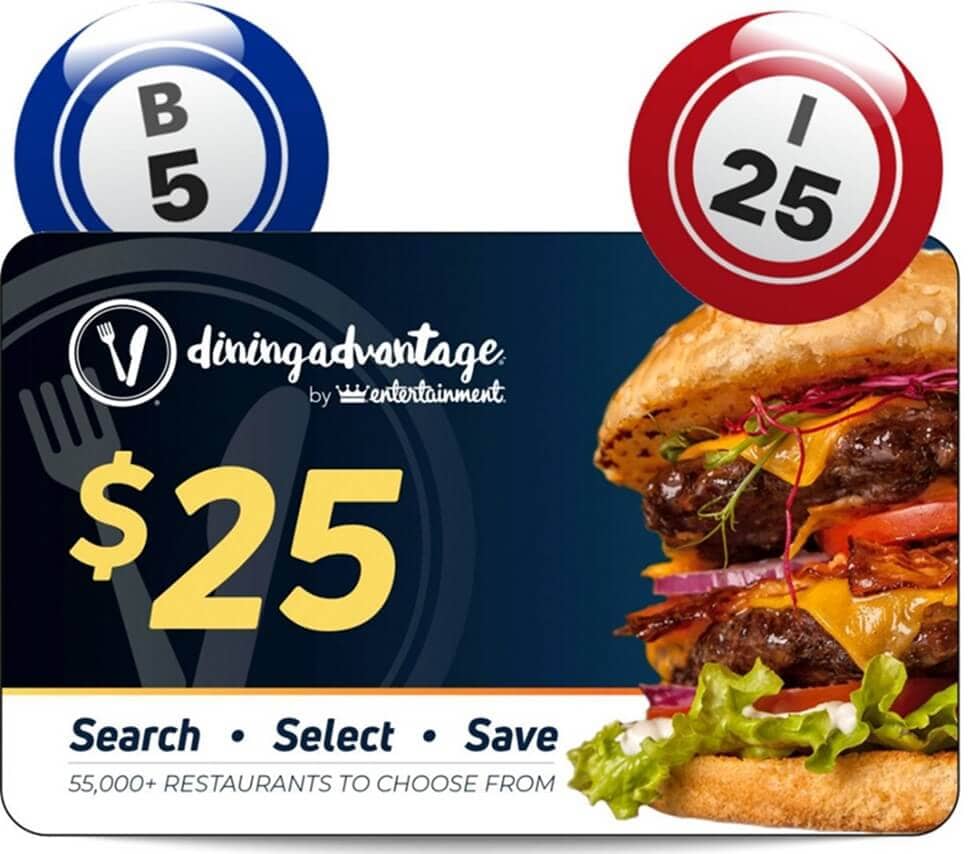 Bingoport Software and Games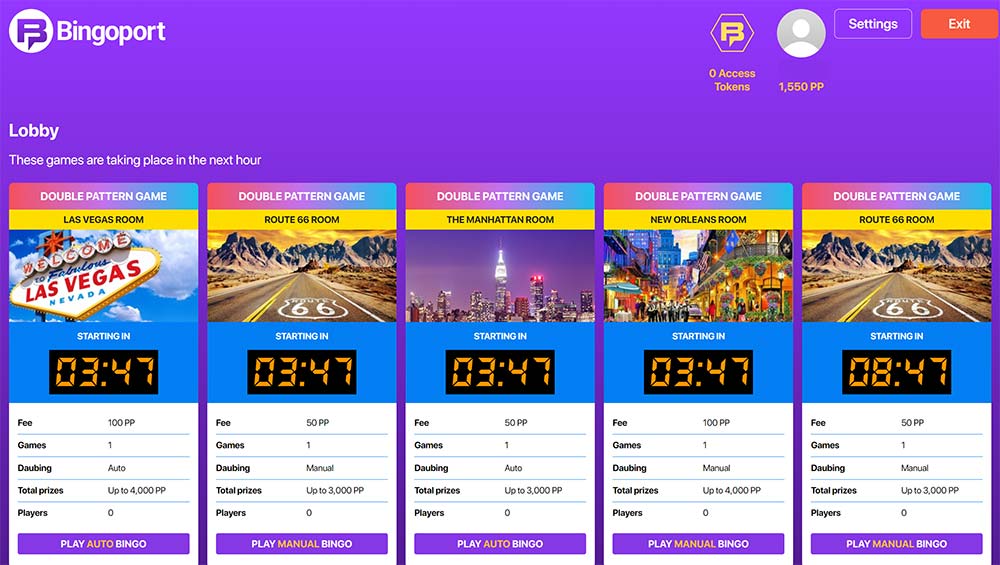 Bingoport offers a great selection of bingo games; manual and auto-daubing versions are available.
Regular Sessions
Players can play any bingo games occurring in the regular sessions for free. The Port Points accrued during your play in the regular sessions can be traded for Session Access Tokens to get you into the more lucrative Featured Sessions. The following are some of the options available:
Speed Bingo
New Speed Bingo sessions begin every 15 minutes around the clock in the Port Points a Plenty room. Each session comprises 5 games and the 30 cards provided feature automatic daubing. It costs you 250 Port Points to join a session, allowing you to win 5 jackpot prizes of 300 Port Points each.
Quickie Sessions (Manual Daub)
Quickie Sessions featuring manual daubing for old-schoolers start every 15 minutes between 7:05 pm EST to 7:35 am EST. Five games occur during every session, and you are responsible for daubing the three cards you receive. Entry to a session will cost you 250 Port Points, allowing you to win 5 jackpot prizes of 300 Port Points.
Double Pattern Games (Manual Daub)
Every hour between 8 am and 6 pm EST, a new Double Pattern Manual Daub game begins in the New Orleans Room. You can participate in 12 multi-pattern games each session and will daub the three play cards you receive manually. You will have to pay an entry fee of 500 Port Points to participate but jackpot prizes totalling 14,400 Port Points are up for grabs.
Featured Sessions
Featured Sessions require a Session Access Token to take part, which can be obtained by trading 5,000 of your Port Points for each. Some of the available Featured Sessions are:
Early Winner Takes All Session
Every day at 3 pm EST in the Red Carpet Room, a new session occurs. This is a tournament format session comprising 12 games over which jackpots escalate. Thirty cards are received, and players are responsible for auto-daubing them. It will cost you 5,000 Port Points to obtain the SAT necessary to play. The winning player wins 25,000 Port Points which can be cashed out for real money via Paypal.
Mega Monthly Session Qualifiers
These games allow winners to access the Mega Monthly Main Session to win massive jackpot prizes. A new session begins at 8 pm EST every Monday to Friday and the games are in the form of a tournament. Twelve games take place, and the prize pot value escalates with each one. Thirty cards are received and auto daubed for your convenience. You will have to exchange 5,000 of your Port Points for the session access token required to join the session, and the top 4 players will be granted access to the Main Session.
Mega Monthly Main Session
On the first Sunday monthly, at 8 pm EST in the Red Carpet Room, a new and exciting Mega Monthly Session begins. The four players who won the qualifiers are eligible to play. They will take part in 12 games with additional lucky jackpots available over each game. Thirty cards will be auto-daubed for players. Players can win jackpots totaling 500,000 Port Points during these sessions. That's a lot of real money cash prizes for redemption!
Account Registration
Bingoport sweepstakes casino has gone to every effort to make sure that their site is simple for players to signup. You can cash out real cash prizes without the need to make a purchase and for just a few minutes of your time. Just follow these easy steps:
Fill out the form on the homepage – enter your email address and password and choose the state you are in from the drop-down selection.
Click the purple "Sign up" button.
Filling out the form automatically accepts the Bingoport T&Cs and states that you are 18 years old or older.
The screen will display a message stating that you have been awarded 500 free Port Points, and players can click a purple button saying "Continue to Bingo Game" to begin play.
Click through 4 screens explaining how the Bingoport site works.
Click the "Play Free Bingo" button to join the games.
The no deposit bonus offer of 500 points will show in your balance – now you can play for free and withdraw real money prizes.
Remember – it is possible to play the free bingo games on offer without verifying your account but if you wish to redeem your cash prizes or purchase a subscription to Bingoport Bulletin then you will have to carry out KYC.
Use any free Port Points you receive to play first; you get more daily. If you'd like to increase the number of Port Points available to you, become a subscriber and make your first purchase.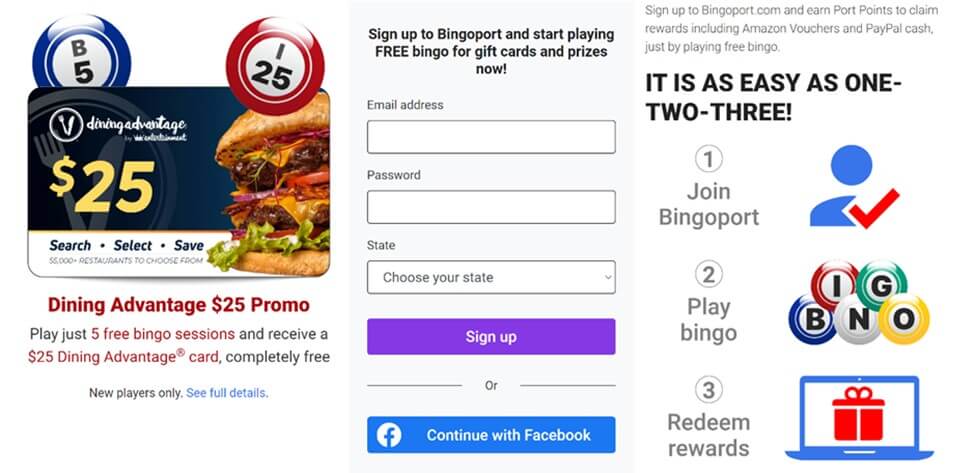 Bingport Login
Accounts at Bingoport can be created using an email and password combination or simply by using your credentials on your Facebook account and allowing a one-click login; registration is quick and easy regardless of which method you use. Additional Port point bonuses are awarded for account verification, instantly boosting your free credits and making the withdrawal process quick and easy once verified.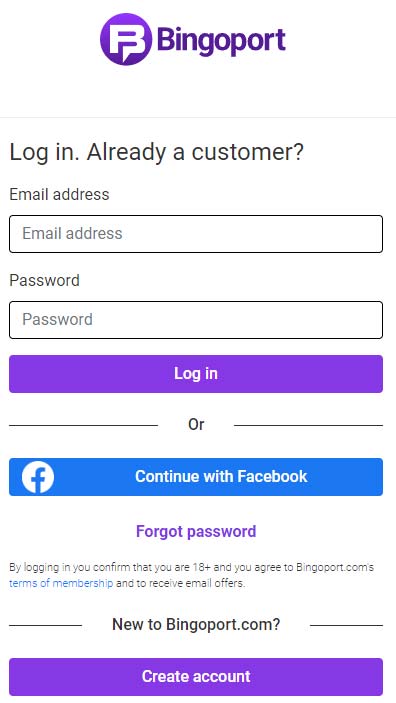 Mobile Bingoport App
No Bingoport app is available for download, but this isn't an issue due to the intelligent and responsive way the website has been designed.
Bingoport sweepstakes casino's website has been fully optimized for mobile access and is compatible with standard browsers and operating systems such as iOS and Android. There is no loss of functionality, with games loading just as quickly on mobiles as on a desktop and all games offered on the main site are also available to mobile users.
When you login in from a mobile device, you will be met with a vertical version of the main site. The "Log In" button appears in the top right, and in the top left is a drop-down menu with options to navigate through the site. It is all very intuitive and user-friendly.
Bingoport Purchase and Redemption Methods
You have to win Port Points to redeem cash prizes at Bingoport. Port Points are given for free on signup and then daily when your balance falls under 250. You cannot purchase them; they can only be given to you for completing specific tasks. You never have to buy to receive Port Points. You can always play for free.
You must build your Port Points balance up, and when it reaches 5,000, you can trade your points in for a Session Access Token that will allow you to participate in Featured Sessions for big Port Points prizes.
The only purchase option is to buy manual bingo daubers, which costs 15,000 Port Points for a pack of 4.
PayPal is the only means of making a cash withdrawal at Bingoport, and Port Points can be redeemed for cash via PayPal at a rate of:
12,000 PP = $10
21,000 PP = $20
50,000 PP = $50
Players can redeem Port Points for Amazon Vouchers at a rate of:
12,000 PP = $10 Amazon Voucher
21,000 PP = $20 Amazon Voucher
50,000 PP = $50 Amazon Voucher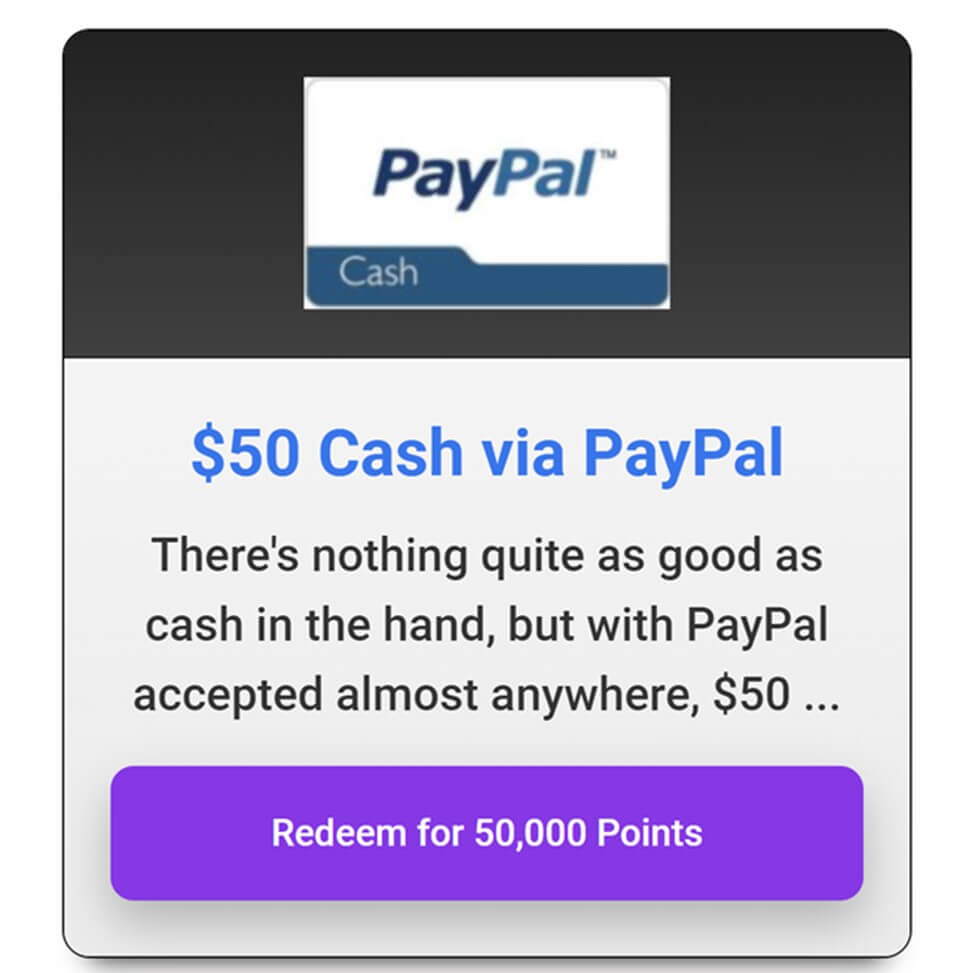 Redeeming Cash Prizes
It is straightforward to redeem your Port Points for cash prizes at Bingoport. You will have to verify the email account connected to your PayPal account to be able to withdraw.
As long as you have the correct number of Port Points for the redemption you wish to make, are signed into your account, and are a premium subscriber to the Bingoport.com Bulletin, there is very little else to do. Just visit the menu tab marked "Redeem" and choose from 4 options: Session Access Token, Merchandise, Cash via Paypal, or Shopping Vouchers. Click on the option you wish to redeem, and you will be guided through the remaining steps. All cash prizes are redeemable via your PayPal account.
Support Channels
Bingoport does not offer any live support. They do have an excellent Help Centre with a built-in search feature. It covers many commonly asked questions, so it's a great place to start if you need support.
Email support is available at – support@bingoport.com. There may be a short delay in receiving a response but having tested the service, we found the support staff knowledgeable and friendly, and they responded to us in under 24 hours.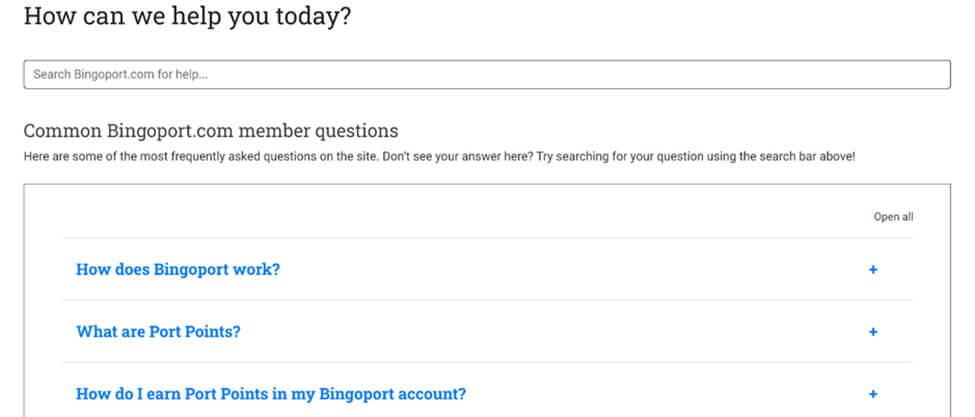 Bingoport Hits and Misses
| ✅Hits | ❌Misses |
| --- | --- |
| Sweepstakes casino / free to play | Only for US players |
| Optimized for mobile use | Few games on offer |
| Accepts US Players | No Live Support |
| Safe and legitimate | Can only withdraw cash via PayPal |
| Well-organized Help Centre | Not all information is easy to find |
| Lots of free Port Points offers | |
Bingoport Overview
If you love playing free bingo and being able to claim rewards for real, then play bingo at Bingoport to win Amazon vouchers and PayPal cash. New games start frequently, and players can play in a safe environment at one of the most popular bingo casino sites.
Plenty of rewards are on offer, and no purchase is necessary to play. So, signup and get playing free bingo today to claim your PayPal cash using your Port Points balance.
FAQs
Is Bingoport legal in the USA?
Absolutely! Bingoport operates entirely legally in 49 US states; Washington does not support sweepstakes casino operations. As long as you are of age to gamble in your state, you can lawfully use the services offered by this group.
Can I win real money playing at Bingoport?
Sure, you can! That's the beauty of sweepstakes casino sites – you don't need to risk your dollars, but you can redeem real money via the coins (Port Points) you accrue.
What games can I play at Bingoport?
As the name suggests, Bingoport only caters to you bingo nuts out there. You can play bingo games starting every 15 minutes in various rooms, 24 hours a day. Entry fees vary, as do jackpot prizes and rewards. Be sure to claim rewards on offer including Amazon vouchers.
Do I need a Bingoport bonus code?
No! Great, isn't it? Any bonuses you qualify for will be automatically added to your account, and you can play bingo games for free immediately. Be sure to take advantage of cashing out real money prizes, though. More rewards are always on offer.
Is Bingoport legit?
It most certainly is! It has a long history of offering customers safe and fair bingo games. It can provide legit services to people all over America if they are aged 18 or more. Washington is the exception, as it does not allow participation in such activities.
Is there a Bingport App in the US?
No Bingoport App is currently available in the US for Android and Apple devices. The mobile website, however, is fully responsive and works seamlessly on all mobile devices.
Where do I find the Bingoport lobby login?
Once you have registered an account at Bingport, simply log in clicking the purple "Login" button located in the top right hand corner of the website, then entering your account username and password.

1,500pp Bingoport coins No Deposit Bonus
Get Bonus