Bobby Bowden passes away at the age of 91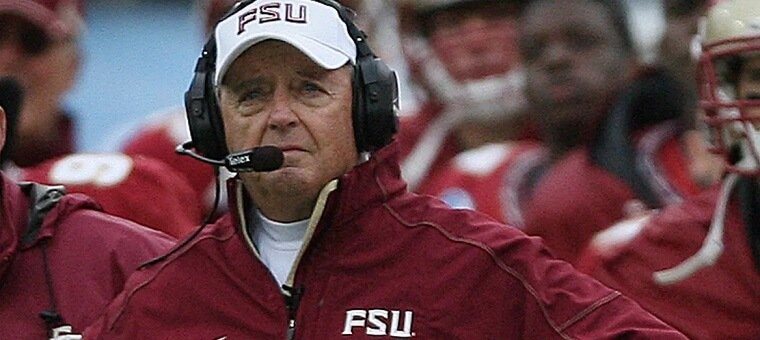 The college football world lost a legend this weekend as Bobby Bowden passed away at the age of 91 after a brief fight with pancreatic cancer.
Bowden is considered one of the best coaches the sport has ever seen, and his death sent shockwaves throughout the sport.
Bowden made a few stops along the way during his college football journey, but he is most known for his work at Florida State. He spent 34 seasons as the head coach of the Seminoles and had just one losing season during his entire tenure.
Before becoming the second-winningest coach in college football history, Bowden was actually recruited to the University of Alabama as a quarterback. He left the Crimson Tide before ever playing a game after he learned that he was not allowed to marry his high school sweetheart during his freshman year.

21+. T&C Apply
21+. T&C Apply
Bowden eventually went on to play quarterback at Howard College, and he also joined the baseball and track team. He eventually became the head coach back at Howard in 1959, but his coaching career really took off after that point.
His first head coaching job at the Division 1 level was with West Virginia University in 1970, and he compiled a 42-26 record there. He had a chance to take over the Marshall University football program but ultimately chose to move to Tallahassee and lead Florida State instead.
His Seminoles team went 5-6 during his first season at Florida State but posted a winning record every year after that. Beginning in 1977, the Seminoles made 28 straight bowl game appearances and became one of the best college football programs in the country.
Bowden also was able to guide the Seminoles to a National Championship in both 1993 and 1999 and fell just short in a couple of other seasons. His teams had a span of 14 years that saw them finish the year ranked in the top-five.
Things started to change for Bowden and Florida State in the early 2000s, and he ultimately resigned from coaching in 2009. After the NCAA stripped 12 wins from the career resume of Bowden, his total stands at 357.
Tributes Pour in on Social Media
Florida State was the first to announce the passing of Bowden on social media, but it didn't take long for other giants in the sport to share their condolences. Mike Norvell, current head coach at Florida State, called Bowden an "incredible man" in a statement.
Urban Meyer and Nick Saban are two legendary coaches that competed against Bowden in the SEC, and both took to Twitter to offer condolences. Saban called Bowden "a great ambassador," and Meyer called the former coach a "legend."
Bobby had a pair of sons, Terry and Tommy, that followed in his footsteps and coached major division 1 football programs. He was a father to six kids, and all of the kids were by his side when he passed.
Bowden was inducted into the College Football Hall of Fame back in 2006, just a few years before he retired.
For more legal casino and sports betting news across the US, follow us on twitter @Gamble_usa for the latest news and offers.
Relevant news