Gamble USA strives to improve your online gambling experience. We aim to help you play safely, make informed decisions when gambling, and increase your betting knowledge through our guides.
We adhere to strict editorial integrity; our content may contain links to products from our licensed & legal US partners.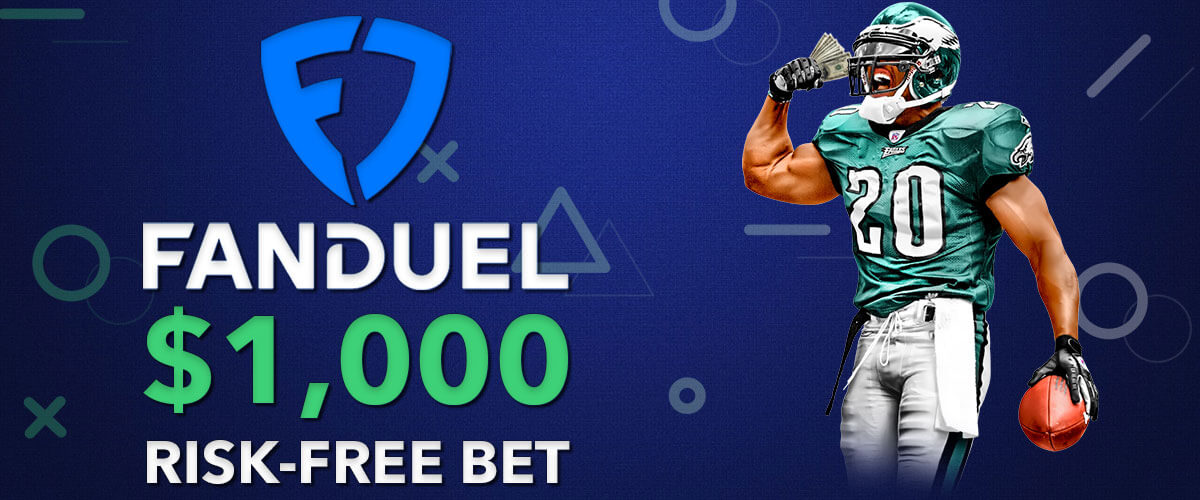 Are you new, or relatively new, to online sports betting and need help deciding which of the many options available will best suit your needs? Or perhaps you are less than completely satisfied with your current sportsbook and looking for another place to play with more competitive odds and better bonuses. Either way, we think FanDuel Online Sportsbook would make an excellent choice.
Not only is the FanDuel sports betting app one of the most widely available and highest rated in the sports betting industry, but it is also surprisingly user-friendly. In addition, FanDuel offers one of the most generous special promotions for new users of any regulated sports betting site in the country: your first bet risk-free up to $1,000!
Prior to mid-2018, sports betting was completely illegal in most states. But the Supreme Court May 14, 2018 ruling repealed PASPA, giving individual states the authority to decide whether and to what extent to legalize sports betting. As sports betting became a legal option in more and more states, the number of different retail and online sportsbooks where sports bettors could wager also increased.
The first FanDuel Online Sportsbook opened for New Jersey players on September 6, 2018.  As of January 1, 2023, a little over four years later, FanDuel Online Sportsbook is available in 18 states. However, FanDuel's online presence and familiarity to sports fans date all the way back to 2006 when it offered Daily Fantasy Sports (DFS) exclusively. FanDuel subsequently became the leading DFS site in the country, but it didn't stop there. After the repeal of PASPA, it wasted no time expanding its services to include full-scale sports betting. FanDuel Sportsbook is now consistently ranked No. 1 or No. 2 in betting handle and revenue in every state where it is available, and its $1,000 risk-free bet has certainly contributed.
🎁FanDuel $1,000 Risk-Free Bet
📜Promo Code
None - Use Links
💰Free Bet Offer
Risk-free first bet up to $1,000
💲Minimum Deposit
$10
🇺🇸 Valid States
AZ, CO, CT, IA, IN, IL, KS, LA, MD, MI, NJ, NY, OH, PA, TN, VA, WV, WY
📅Promotion Duration
Ongoing
⏱️Last Verified
September 2023
FanDuel No Sweat First Bet Promo
No Sweat First Bet Up To $1,000
21+. T&C Apply
21+. T&C Apply
Convenient banking
Massive choice of sports
If you already have a FanDuel Sportsbook account, great. Even though you won't be eligible for the special risk-free bet offer we are highlighting, since FanDuel offers it for new customers only, there are plenty of other FanDuel promotions for existing customers.
However, if you're not already signed up with FanDuel Sportsbook, joining with our convenient FanDuel link couldn't be easier. Instead of spending a lot of extra time Googling FanDuel, you will be taken directly to the registration page of the official site, where you can sign up right away and instantly qualify for this special offer.
Best of all, your first bet in any FanDuel betting market of your choice is completely affordable. If you don't win, FanDuel will cover 100% of your loss up to $1,000 to try again for free. That's why FanDuel calls the offer "No Sweat First Bet!"
You must be 21 years of age or older and live in or have access to legal online sports betting in one of the following states to be eligible. If you qualify, you can open a new account at FanDuel Sportsbook today and give the No Sweat First Bet up to $1,000 a shot. The amount of the bet cannot exceed the amount of your first deposit, and only your first wager with real cash qualifies.
No FanDuel Sportsbook promo code is needed to access the FanDuel Sportsbook "No Sweat First Bet" offer. However, the fastest way to sign up and guarantee access is by using our page links to visit the sportsbook and create your FanDuel account.
Keep reading for a complete description of how the FanDuel Sportsbook risk-free $1,000 first bet offer for new users works and the applicable terms and conditions.
Steps to Claim the $1,000 Risk-Free Bet at FanDuel Sportsbook
No Sweat First Bet Up To $1,000
21+. T&C Apply
21+. T&C Apply
Convenient banking
Massive choice of sports
Before you can claim the $1,000 risk-free bet offer at FanDuel Sportsbook and use the site to make other bets, you will need to complete the sign-up process and create an account. Here are the six easy steps you need to follow to get started.
Download the FanDuel Sportsbook app onto your Apple iOS or Android mobile device from the App Store or the Google Play Store, respectively. Or simply tap on our links on your mobile device or computer. No FanDuel promo code is needed. You can download the FanDuel Sportsbook app later when you are ready to place bets.
Click on the Join Now tab and then on the state where you wish to open a new account.
Complete the registration form with the requested information and agree to the FanDuel terms of use.
Make your first deposit.
The minimum deposit is only $10. FanDuel Sportsbook accepts all of the following safe and secure deposit methods:
MasterCard,

Visa

, or Discover

credit cards

and

debit cards

(But check with your bank first to make sure the transaction won't be declined.)

eCheck

(ACH)

PayPal

(personal accounts only)
Online Bank Transfer
PayNearMe: Cash deposit at a participating retailer such as 7-Eleven or CVS
Cash deposit at the cashier's cage of the affiliated land-based casino
*Except for credit and debit cards and PayNearMe, the withdrawal methods are the same.
5. Satisfy FanDuel's Two Factor Authentication requirement, if requested.
Two-factor authentication is now mandatory at all licensed online and mobile sportsbooks and casinos in New Jersey and Connecticut, and FanDuel may require it in other states as well. While somewhat annoying, completing this FanDuel 2FA step is important to provide your FanDuel account with an extra layer of security and greatly minimize the possibility of unauthorized use.
6. Make your first real money cash wager.
Only your first bet is eligible for the special risk-free bet offer. The minimum bet is $10, and the maximum that will be covered by the offer is $1,000. However, the amount of your bet cannot exceed the amount of your first deposit, so if you wish to bet the $1,000 maximum, you will need to deposit $1,000.
If you win, you will receive back both the cost of your bet and your winnings. If your first bet loses, you will receive the cost of the bet back in the form of a non-withdrawable site credit to try again.
How the FanDuel $1,000 Risk-Free Bet Works
One shortcoming of risk-free bets is that the offer only kicks in if the first bet loses. In fact, if you win your first bet, other than being paid, as you would for any winning bet, you get nothing extra from the sportsbook. Even so, winning is always better than losing.
By the way, if your first bet pushes, you break even and get back the cost of the bet. But that's all. You won't receive a second-chance bet.
But let's say you do lose your first bet. Within 72 hours of the bet being settled, you will receive a site credit in the same amount up to $1,000. You then have up to 14 days to use the site credit on one or more other wagers.
Your first wager can be on any professional or college sports betting market and bet type available to FanDuel Sportsbook customers, including live betting. It must be a single wager, but otherwise, no minimum odds or other restrictions apply. Any resulting site credit for free bets is valid for any FanDuel betting market as well, with the following exceptions. It cannot be used for a same game parlay or a FanDuel round robin. Also, using the site credit to bet on opposite sides of the same game (arb betting) would be considered abuse of the offer and is strictly forbidden.
If the free bet wins, you will receive the winnings from the bet but not the cost of the bet. So, for example, if your first bet is for $550 on the Golden State Warriors at -110 odds and it loses, and then you use your site credit of $550 successfully and your free bet on the Phoenix Suns at the same odds wins, you will be paid $500. The sportsbook will keep the full cost of the free bet, including the $50 vig.
Summary of Key Terms
As with any sportsbook promotion, before opting into the No Sweat First Bet promotion at FanDuel Sportsbook, make sure you fully understand all of the terms and conditions. For your convenience, we are summarizing them below.
Valid dates: Check with FanDuel Sportsbook directly, although the table with the

FanDuel legal states

should hold.
First Bet

Must be a single wager of $10 or more and the player's first bet as a FanDuel user
Can be on any FanDuel betting market
Can be any accepted bet type
No minimum odds restrictions
The bet cannot be for more than the amount of the first deposit, but if it is a losing bet for more than $1,000, the offer for a free bet is still capped at $1,000.

Free Bet

If the first bet loses, a non-withdrawable site credit in the same amount up to $1,000 will be issued within 72 hours.
The player has up to 14 days to use the site credit.
The site credit can be used either on a single free bet or multiple free bets, at the player's discretion.
Free bets can be on any FanDuel betting market and bet type except for same game parlays and

round robins

.
No minimum odds restrictions
If the free bet wins, FanDuel Sportsbook will pay out the winnings from the bet but not the cost of the bet.
FanDuel Risk-Free Bet Reddit
You might see the same offer or what looks like the same offer posted on Reddit. However, if you're hoping to find a FanDuel promo code there for this offer or a better one, you are wasting your time.
Most of the offers on that site have either expired or are erroneous. So, forget Reddit and use our convenient link instead, which is completely legitimate and will give you guaranteed access to the FanDuel Sportsbook $1,000 Risk-Free Bet promotion according to the terms and conditions mentioned above.
FanDuel Sportsbook Free Bets No Deposit Required
Online sportsbooks usually don't offer new customers a free bet as a sign-up bonus prior to making their first deposit and wager. However, free bets are often available to existing customers at FanDuel Sportsbook, either as a reward for a player's activity on the site or in conjunction with the FanDuel Refer A Friend promotion and other reload promotions.
FanDuel Sportsbook Risk-Free Bets for Existing Customers
Existing customers are eligible for a variety of FanDuel promos, too. While some of these offers take the form of risk-free bets, free bets are more common. The main types of promotions are summarized below. As with the risk-free bet for new customers, no special FanDuel Sportsbook promo code is needed.
Refer-A-Friend Promotion
This ongoing offer is open to all registered FanDuel Sportsbook players in New Jersey, Pennsylvania, Michigan, and West Virginia (the only four states where FanDuel Casino is legal). It is a great way to earn extra free bets all year long without risking a penny.
Simply invite your friends (up to five every 30 days) to sign up using your exclusive referral link. For each friend who accepts your invitation and deposits and wagers $10 or more, you each receive $50 in free bets at FanDuel Sportsbook and $25 in free play at FanDuel Casino!
VIP Offers
The FanDuel VIP program is by invitation only. If you qualify, you will receive free bet offers galore.
Odds Boosts
These are opportunities to wager on select sporting events with reduced juice or more favorable odds than the general public.
Other Promos
You never know when the FanDuel app or website might surprise you with other offers for free bets and risk-free bets, so check frequently. Parlay insurance, the FanDuel Reward Machine promotion, and the free-to-enter contests are just a few examples.
Should You Go for the $1,000 FanDuel Sportsbook Risk-Free Bet?
Obviously, a better promotion for new customers would be to receive a free bet regardless of the outcome of the first wager. But compared to the risk-free first bet offers elsewhere, the FanDuel Sportsbook offer for your first bet is one of the best.
Unlike at some sportsbooks, FanDuel does not require you to use your entire site credit on a single wager. So, for example, if you receive a site credit of $1,000, you do not have to plunk all of it down on one bet and hope for the best if you would prefer to spread it around. Also, as with the original bet, there are no minimum odds requirements. Lastly, you have 14 days – plenty of time to research different betting possibilities and look for one or more games where your bet has an excellent chance of winning. In other words, you have a lot of flexibility with regard to both your first bet and any free bets. The good news is that the risk-free bet is valid in all states where FanDuel works, unlike competitors that switch their sports betting promo codes for each market. Similar offers do exist, though, and nothing stops you from signing up on various betting sites:
FanDuel Sportsbook Key Features
The following table summarizes the key features of both the FanDuel Sportsbook app and FanDuel Online Sportsbook. It will help you decide if this sportsbook is a good choice for you.
📱Apps
💵Betting Markets
💲Bet Types
💳Banking Methods
☎️Customer Support
🇺🇸 States
iOS
Android
18+ recognized sports betting markets
Moneyline
Point Spread
Over/Under
Parlays
Props
Live betting
Futures
MC, Visa, or Discover credit & debit cards
eCheck (ACH)
PayPal
Online Banking
FD Prepaid Play+ Card
PayNearMe
Cash at affiliated casino
FAQ
Live chat
Email
AZ, CO, CT, IA, IN, IL, KS, LA, MD, MI, N, NY, OH, PA, TN, VA, WV, WY
As you can see from the above table, FanDuel Sportsbook not only offers great betting market depth but a wide variety of bet types. It is currently available in 18 states with more on the way, and you can choose from a wide variety of banking methods to fund your account. Customers in New Jersey, Pennsylvania, Michigan, and West Virginia also have access to FanDuel Casino.
Tips and Strategies for the FanDuel Sportsbook Risk-Free Bets
The best strategy to use with this offer is to try to win your first bet. You won't be eligible for a free bet, but you have already made a profit. On the other hand, if you lose your first bet and win the free bet, you not only don't make a profit; you don't even break even because you are still out of the vig. The best you can do is get most of your money back.
You might be able to turn the offer into a winning proposition, however, if FanDuel isn't the only sportsbook where you have an account or decide to open one. Ideally, you can locate a game where another sportsbook's generous odds boost lets you bet the favorite at the same odds that you are laying on the underdog at FanDuel Sportsbook. But If you can't find better odds at the other sportsbook, simply make two opposite sides point spread bets at -110 each.
Your best bet is to sign up simultaneously with FanDuel, and another sportsbook also offering a $1,000 risk-free bet. Then, bet on the opposite side at each sportsbook. It doesn't matter which team wins because either way, you lose the vig, but you also gain a free bet. If the free bet loses, you are still only down the vig. But if the free bet wins, you're on easy street!
FAQ's
Does the FanDuel no sweat bet expire?
The FanDuel no sweat bet promotion has been ongoing for a long time. You can check with the sportsbook directly to make sure the offer is valid when you sign up, although we will keep you posted on this page.
What is the FanDuel no sweat bet?
If your first real money wager loses, FanDuel Sportsbook will give you a site credit for the full value of your bet up to $1,000. You then have up to 14 days to use the site credit on one or more bonus bets. If any of those bonus bets win, you will be paid the winnings but not the cost of the bet.
Do I need a code to get the FanDuel $1,000 no sweat bet?
No promo code is necessary to get your first bet covered on FanDuel. Check the terms and conditions associated with this offer to not miss out.