Gamble USA strives to improve your online gambling experience. We aim to help you play safely, make informed decisions when gambling, and increase your betting knowledge through our guides.
We adhere to strict editorial integrity; our content may contain links to products from our licensed & legal US partners.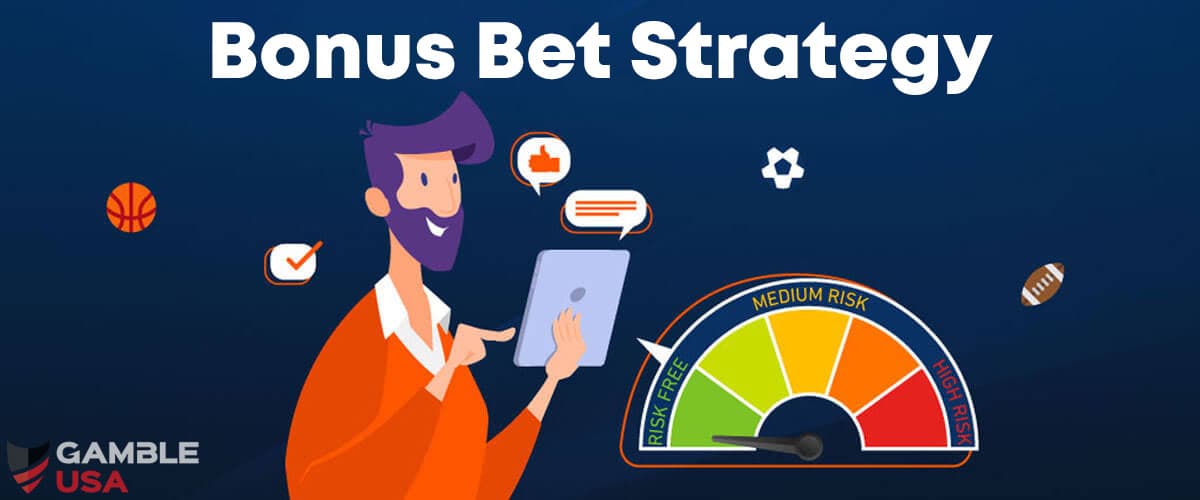 Every sportsbook service should always have some form of a welcome offer available to new customers. The trend of these changes, from no deposit promotions to matched deposits, and now we're seeing most services offer new player free bet promotions.
The promotion awards you free bets to the value of your initial wager but only if it loses. If your bet is successful, you'll continue as normal, simply receiving your winnings.
To make the most of these free bets, we'll be going through some strategies you can incorporate into your wagers, think of them as like free play at a casino. Remember that the strategy isn't a guarantee to claiming some winnings, just pointers to hopefully making the best bets.
#1 Take Risks
If you're betting free, why not max out on the risk that you're taking with your first bet? The bonus may apply on only your first wager, so it's worth a risk. It may seem like basic advice, but new customers often overlook it. When you've opened your account and made your first deposit, you'll be able to place a bet on an upcoming match. The odds will vary between the matches, and you'll want to go long.
By doing this, you can hope for the unlikely event of an upset and claim the winnings of your initial bet, which should be a fair amount. If your bet loses, you can rest assured that you will receive your initial stake through the
free bet promotion. Once your account has been credited with the qualifying bet, you can look at more reasonable odds to bet that money on.
Examples of High-Risk Free Bets
Let's assume you're using the BetMGM $1,500 bet promotion currently available. You've used the GAMBLEUSA promo code and go all in on the full amount. You've got $1,000 to play with, and you come across the 5.00 moneyline odds for the Indianapolis Colts to beat the Dallas Cowboys. An unlikely outcome, but it will be a huge payout if they pull it off.

As you can see from BetMGM's betslip if you wager that $1,000 on the Colts, you'd receive a total of $5,000 (including your initial stake). You wouldn't be bothered about losing out on the promotion with those winnings. But if the Cowboys won the match or if there was a draw, you'd lose the $1,000, and the free bet promotion would be triggered to award your account 5 x $200 free bets, which can then be used on other matches.
#2 Hedge Your Free Bets
With sports betting, hedging is an important concept; a hedge here means to bet on both sides of the match and ensure that at least one of your predictions will be correct. That also means that one of your wagers will lose.
That's where the free promos come in! A guarantee of a winning bet and a losing bet will provide you with the perfect opportunity to claim your winnings from one wager and have a chance to bet the awarded free bet from the losing wager on another match. Double-check the terms to see how long it will take to process the site credit. You might miss the match you were hoping to bet on.
For the majority of these strategies, you'll need to have a means of calculating your expected value (EV) of a specific wager. Let's use a $100 bet on this match as an example:

If it's a positive value:
EV+ = 100/(Odds + 100) = 100/(115+100) = 46.51%
That's a 46.51% chance to win a total of $115.
For the negative value:
EV- = Odds/(Odds – 100) = -140/(-140-100) = 58.33%
A 58.33% chance of winning $71.43.
We then use this formula:
Total Expected value = (Amount won*Win probability) – (Amount lost*Loss probability)
= (115*0.4651) – (100*0.5833) = 53.49 – 58.33 = -4.84
A negative expected value is fairly common with sports betting odds that have been available for some time. You'll need to follow a service that analyzes these odds or have a keen eye for a good matchup to find the ideal bet.
Examples of Hedging Your Free Bet
For this example, let's assume we've opened accounts with BetMGM and FanDuel. That will provide us with two $1,000 free sport bets. With FanDuel's latest Super Bowl odds, you place the $100 free bet on the Bengals to win at +2000. Your potential winnings are $2,000.
Naturally, nerves start to mount before the big day, and you decide to rip the bandaid off and hedge your bet. You place your first $1,000 BetMGM bet on the opposition at odds of -150, with potential winnings of $500.
If your first bet wins, you will lose the $1,000 you've bet with BetMGM but have the $2,000 from the FanDuel wager. A net gain of $900. If your second bet wins, you lose the initial $100 bet with FanDuel but claim the $1,500 from BetMGM with a total profit of $400. Despite the outcome, you will have a free bet to use at either of the operators.
#3 Make Bets with Low or Negative House Edge
You've likely heard the phrase, "the house always wins". Well, there's a good reason for this! All betting sites include a certain degree of the house edge. It's the transaction fee that an online sports betting site charges customers and just like banks, betting sites try to offer the lowest house edge possible.
Let's take an example of a match with perfectly balanced odds to understand how the house edge works. Say Argentina and Portugal meet in a knockout match of the soccer World Cup, there's no clear favorite, but sportsbooks offer odds on either team ranging from -105 to -110. Ideally, it'd be +100, and you'd win $100 for every $100 you bet. In reality, you'd be winning $95.24 with the -105 odds, and the $4.76 would go to the online sportsbook.
How to Find Low Vig Bets
Most experienced bettors are familiar with vig and try to minimize its impact on their wagers. Using a vig calculator, you can compare odds at different sportsbooks to find your best deal. An easy tool is available here, and you can just use the specifics of your match, as shown below.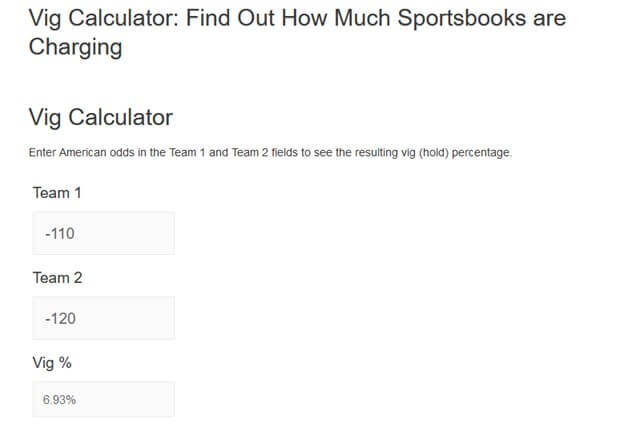 Research the match you're interested in, compare the vig that each sportsbook applies, and then sign up for one of the many free betting offers with cheaper services.
#4 Research The Free Bet Rules and Restrictions
Our next tip will apply to any promotion you sign up for, researching the restrictions, terms, and conditions. There's no worse betting experience than depositing your own money and seeing that you've missed a condition to claiming a welcome offer.
Usually, the restrictions will be specific to your age, location, and account eligibility. The conditions will be specific to the free bet itself; the minimum wager, minimum odds, time frame, sportsbook promo code, etc.
Most Favorable Free Bets
Free betting will always be in your favor; even if you lose, you'd have had one more chance than betting without the promotions! That being said, some promotions are more favorable than others. First, look at the maximum amount, a value that accommodates whatever you can afford. Then look for the fine print to read up on all the specific terms and conditions of the free bet.

#5 Maximize The Free Bet Value
Any free bet or site promotion will offer a maximum amount that new customers can claim. Most bonuses are now just matched to your initial wager, and you'd probably want to make the most of the opportunity. By maxing the free bet promo, you ensure that either your winnings from the first bet will be greater or you'll have a larger budget to spend with your awarded site credit if the bet loses.
But still Gamble Responsibly
Remember that the one free bet example may be ideal for one bettor but not suitable to your budget. You will be wagering a significant portion with your first bet to gain the maximum reward from the one-off offer. Take a close look at what you have to spend to make the free bets work in your favor.
#6 Free Arbitrage Betting
Another strategy to turn sports betting odds in your favor would be arbitrage betting. It's an option that has become fairly scarce as sports betting sites have higher activity than ever before, and the arbitrage window of opportunity is very small.
Let's assume Caesars offers odds of -400 on the Clippers and 290 on the Hornets. BetMGM has slightly different odds at -233 for the Clippers and 185 for the Hornets. You then take the highest positive and lowest negative. In this case, Hornets are at 290 with Caesars and Clippers at -233 with BetMGM. Head to this arbitrage betting tool and type in those odds with your available wager.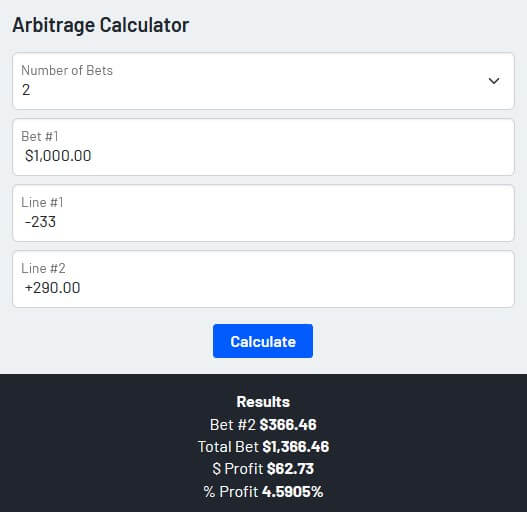 By doing this, you've guaranteed that you will make a 4.59% profit while being able to use your free bet promotion with the wager that you lost and have another chance at placing winning bets.
How Free Betting Works?
While each free bet offer uses the same format, the process to be awarded the site credit may differ from site to site. The first noticeable attribute of the free offer will be the maximum amount, for example, $1,000. This means you can wager any amount between the minimum and maximum bet while satisfying the minimum odds requirement. If the bet loses, you will either receive multiple free bets or a lump sum free bet to use on a match of your choosing.
Free bet promos can vary dramatically, so take your time when reading the terms.
Benefits and Drawbacks of Free Bets
Free bets offer many benefits, especially to new bettors. You will have a chance to try your luck with a match while having the security of rebetting the initial stake made with your own money. The terms and conditions of these offers are also quite forgiving compared to the other formats used.
Unfortunately, every deal has its drawbacks, and with free betting, it would be the initial capital required to maximize the awarded free bet. You're consequently making two fairly large bets in a row, and if you're unlucky enough to lose both, you've lost all of it. If you win the second, you're likely breaking even. Either way, free bets give you an extra opportunity to lock in that bet.
Another downside is that if your free bet wins, you don't get anything from the promotions. That's not the case with deposit bonuses at sportsbooks.
Best Free Bets for Your Strategy
There are tons of quality free bet offers at the moment, from the PointsBet $2,000 to the FanDuel No Sweat First Bet offer of $1,000. We recommend looking at some of our detailed sportsbook reviews to determine which service has the sports markets you're interested in and the best odds available. Then you can use all these pointers when you sign up with any of the listed sports betting sites and get right to the action!
Is There A Way to Avoid Risk While Betting Online?
Unfortunately, there is no foolproof approach to entirely avoiding risk while betting online. You will have to accept there is always a chance of losing your free bets purely from the outcome of the matches. There are certain ways to minimize the risk by securing your account and researching your bets, but at the end of the day, it will always be a game of probability and chaos.
Summary
This brings us to the end of our free bets strategy guide. You should have a solid understanding of how the promotion works and how you can claim that site credit. Our six strategies should help you make an informed betting decision, but remember that anything can happen in the sporting world, and you might just be on the wrong side of luck on the day.
Always read the free bet terms to ensure you are not missing a factor that could exclude you from the rewards. Finally, look at some of our detailed sports betting site reviews to find your ideal match to place your bets and claim the best free bet offer out there.
FAQs
Which betting sites offers bonus bets to new customers?
Nearly every licensed US sportsbook will offer some form of bonus bet to new users. These bonus bet promotions usually give you free money in return for making deposits or placing your first cash bet. You can then follow a bonus bets strategy to maximize the potential of the bonus money you receive.
Do risk-free bets still exist?
The type of wagers that used to be referred to as "risk-free" do still exist, but the legal sports betting industry does not use the term "risk-free" in conjunction with promotions any longer. Instead, operators use terms such as "bet credits" or "bonus bets" to increase the level of transparency for players.
Can I convert bonus bets to cash to withdraw?
You can't do this directly. Users cannot withdraw bonus bets, however, there is the possibility to use them to place bets and then win withdrawable cash. Make sure you read all of the terms and conditions that will include additional wagering requirements that you may have to meet to withdraw your winnings.