Gamble USA strives to improve your online gambling experience. We aim to help you play safely, make informed decisions when gambling, and increase your betting knowledge through our guides.
We adhere to strict editorial integrity; our content may contain links to products from our licensed & legal US partners.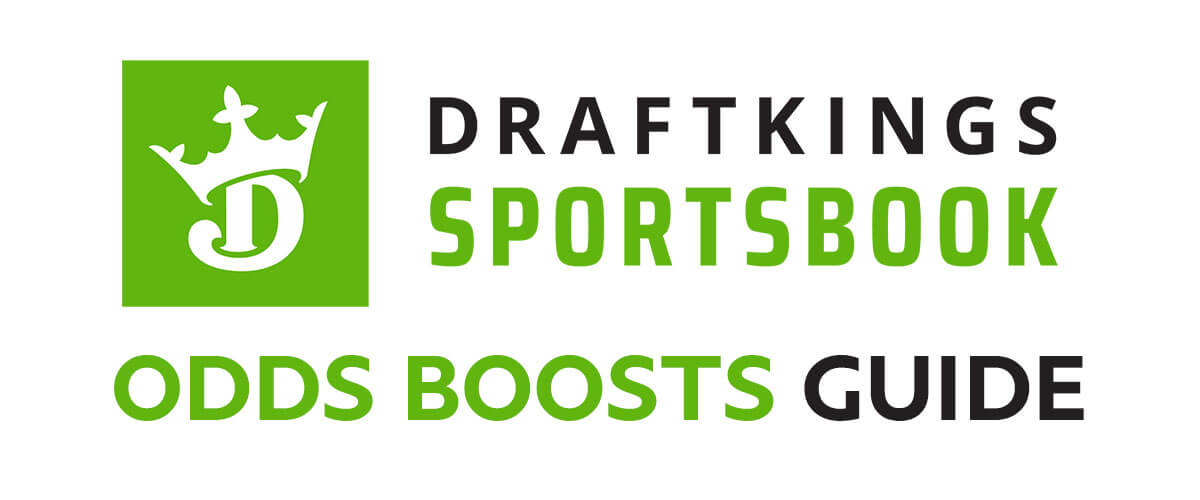 The DraftKings Sportsbook is one of the largest operators in the entire country and has become a household name over the past few years. Because of its popularity and success, DraftKings features several forms of promotions and bonuses, including tons of daily odds boosts!
Increased odds in sports betting are always a great way to risk your money to potentially win more at better odds than a regular wager. If you're looking for information to boost your bankroll, read below for information on how to find odds boosts and how they work on DraftKings, as well as examples and why sportsbooks choose to offer these promotions.
How Odds Boost Work on DraftKings Sportsbook
Up To $1,000 Deposit Bonus
21+. T&C Apply
21+. T&C Apply
The best sportsbook
Amazing odds & offers
Awesome betting app
A regular line for a spread bet on almost every sports betting platform will feature odds of -110 rather than +100 because operators have to build in their own profits to keep their business afloat (DraftKings is no exception). The odds changing in this way is what's known as a vig, which is not implemented during an odds boost.
Odds boosts on DraftKings are available for all kinds of bets including, but not limited to, moneyline, spreads, over/unders, prop bets, parlays, and much more! Read below for more information on how to find odds boosts on the platform.
How to Find a DraftKings Odds Boost
On DraftKings, there are two major ways to take advantage of odds boosts including going to specific market pages or selecting the correct promotion. Odds boosts work by the sportsbook giving users promotions on bets that are better than their original odds.
Most sportsbooks offer odds boosts on a specific bet, but some offer odds boosts for numerous events and markets on bets you can craft yourself! The odds boosts that will allow you to build your own bet and add an odds modifier to them will always be found on the promotions page (pictured below).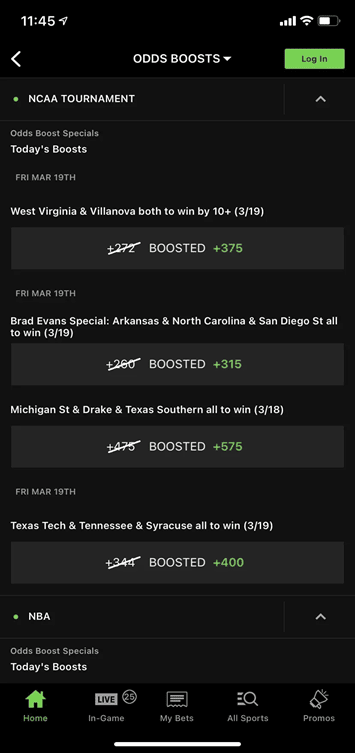 Using an Odds Boost
There are two different ways to use odds boosts on the DraftKings mobile app or website and they both only take a few seconds to do.
The first way is by directly clicking the bet and adding it to your bet slip from the original market's page. By selecting the odds boost for that bet, the odds will automatically be boosted when entered into the bet slip.
The second option to apply an odds boost to your bet is by going to the promotions page (or the promotional banner) and selecting "opt-in" on the specific promotion. After doing so, select your bet or bets, then in the bet slip, click the "bonus" button located underneath the risk amount.
Remember to read all of the terms and conditions of the promotion before placing your bet, many odds boosts require users to place a wager on specific markets or a specific number of legs (if a parlay). To do so, go to the promotions page and expand the terms and conditions of the odds boost or modifier that you want to use while betting on DraftKings.
Up To $1,000 Deposit Bonus
21+. T&C Apply
21+. T&C Apply
The best sportsbook
Amazing odds & offers
Awesome betting app
Are Odds Boosts a good way to bet online?
The short answer is not exactly, but it can be. Odds boosts are strategically placed by operators (including DraftKings) to get more bettors on one side of the line, which in theory, is better for them. However, many odds boosts can help bettors win more and not all of them are a sure loss.
Similar to all types of betting, you will need to do your research before placing your bet and if done properly, can net you plenty of extra winnings when used in tandem with an odds boost. Essentially, don't just place a bet because it has boosted odds, do your due diligence first!
Why do sportsbooks offer Boosted Odds?
Sportsbooks use boosted odds as a promotional tool to get more users betting on a specific line, which would potentially net the user more money. If the user wins more money, they're more likely to talk about the platform and mention it to their friends, so platforms use odds boosts for word-of-mouth marketing.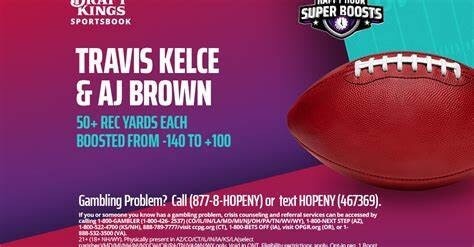 Sportsbooks have hundreds (if not thousands) of employees figuring out the best analytical way of earning more users while not losing money, meaning that not all odds boosts are sure things. If they were to boost odds on easy bets consistently, they'd lose their business (and DraftKings is doing just fine), so always do your research!
Odds Boost Examples on DraftKings
Boosted odds on DraftKings come in all shapes and sizes and can vary heavily in value depending on the team, night, game, and several other factors. For example, some bettors favor parlay betting while some favor straight bets and DraftKings offers a boost or modifier for both!
As far as the types of boosts and modifiers available on DraftKings, there was an NBA promotion earlier this season for a same-game parlay odds modifier that gets bigger for each leg added! Similar to that, they featured an NFL bonus for customers betting on the Super Bowl that boosted odds for a number of first touchdown scorer bets.
Some odds boosts available (particularly for parlays) can be given based on the betting market you're in. For example, I live in Colorado and I receive odds boosts on Denver Nuggets home games for popular parlays (as seen below).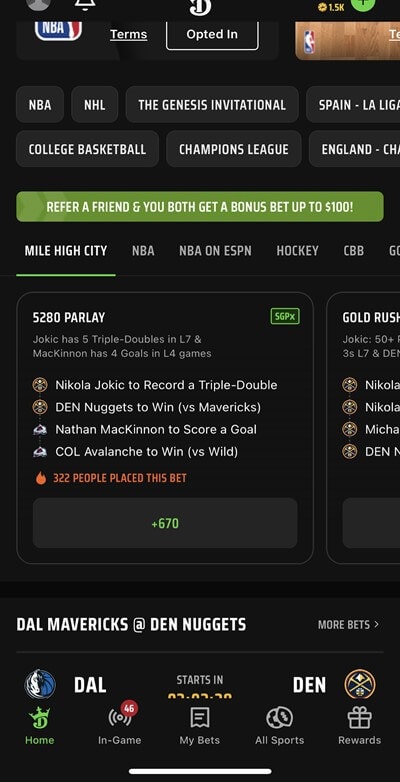 Odds Boosts Strategies and Tips
A good strategy for odds boost betting will always be arbitrage betting, which is sometimes referred to as "betting the middle". What this means is taking a two-sided bet, and betting on both sides using odds boosts from different sportsbooks to net you profit from either outcome.
While this is similar to hedging your bet, it really takes advantage of the boosted odds available on the different sportsbooks. You definitely won't win a ton of money from your bets, but DraftKings arbitrage betting is definitely a strategy to limit your losses and keep the profits coming.
A good tip for odds boost betting is to rarely take the boosted parlays because every time I see one, there is a red herring in there. What I mean by this is all of the boosted parlays feature a couple of easy bets (listed at the top of course) with one or two unlikely bets thrown in.
Other Sportsbooks with Odds Boosts
Most sportsbooks offer some form of odds boost or modifier for their users to take advantage of and they're very easy to implement and understand. Most of the time, the best of the best sportsbooks will always have the best promotions, however, many smaller sportsbooks use odds boosts as their main promotional tool!
Below is a table of my top five sportsbooks for odds boost betting that contains links to sign up for an account (as well as promo codes) to get their welcome bonuses!
| 🏈Odds Boost Sportsbook | 🎁Welcome Bonus | 📜Promo Code |
| --- | --- | --- |
| FanDuel | $1,000 Risk-Free Bet | N/A |
| PointsBet | Five $50 Risk-Free Bets | N/A |
| Caesars | $1,250 Risk-Free Bet, 1,000 Tier Credits, & 1,000 Rewards Points | GUSAFULL |
| BetMGM | $1,000 Risk-Free Bet | GAMBLEUSA |
| BetRivers | $500 Risk-Free Bet ($100 in NY) | SPORTS |
FAQ's
How to find the latest odds boosts on DraftKings?
To find the best odds boosts available on DraftKings, go to your betting market of choice and see if there are any promotional odds boosts available from the tabs at the top of the screen. If you're looking for a broader look into the odds boosts available, go to the promotions page and select the odds boosts tab.
DraftKings odds boost not showing. What can I do?
Go back to the odds boost promotional page and be sure that you've selected the "opt in" button, which should read "opted in" if it already has been. If the promotion has already been opted in, go back and read the terms and conditions of the odds boost to be sure that your bets match the criteria for the promotion.

If your promotion has already been opted in and all of the terms and conditions have been met but you are still unable to get your odds modifiers, contact customer support for help!
How can I troubleshoot a DraftKings odds boost not working?
Read the terms and conditions carefully and be sure that your bet matches up with all of the qualifications. If all of the requirements are met, contact customer support through the chat feature in the app or website to get things ironed out with a representative from DraftKings.