Gamble USA strives to improve your online gambling experience. We aim to help you play safely, make informed decisions when gambling, and increase your betting knowledge through our guides.
We adhere to strict editorial integrity; our content may contain links to products from our licensed & legal US partners.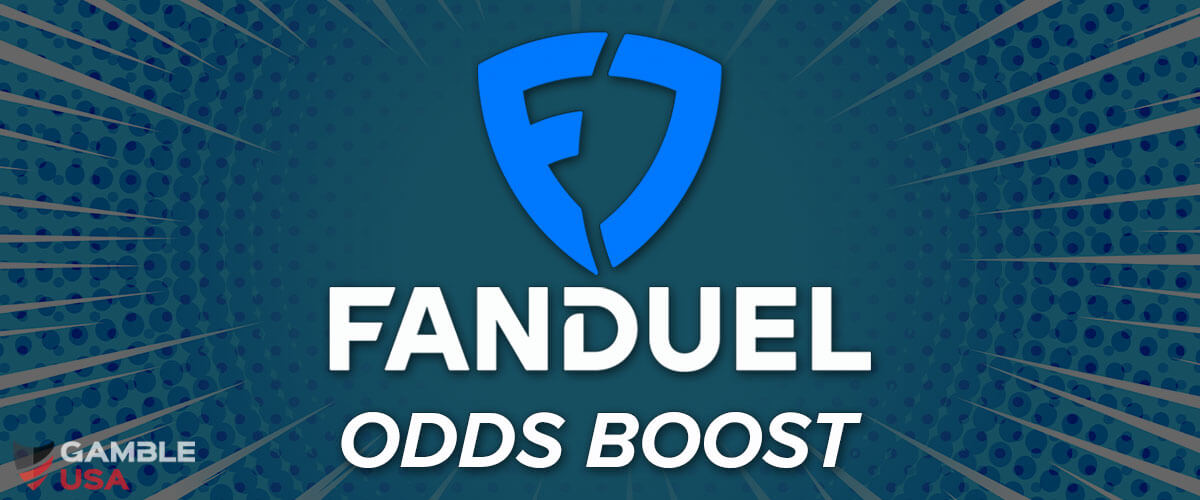 If you are looking to get better value from your sportsbook bets, then "Odds Boosts" are a great way to achieve that with your betting.
Odds boosts have become a favorite bet type for gamblers in the US for some time now, and FanDuel was one of the very first licensed sportsbooks to offer them.
Since being introduced to bettors, the trend in using odds boosts has only grown, with more and more sportsbooks offering these to sports bettors, and giving you a real chance to make your sports betting pay.
Several top sportsbooks now offer regular odds boosts on football, basketball, baseball, and hockey, and FanDuel is one of the sites that bettors trust to give them great odds and other exclusive bonuses to make betting more fun.
If you haven't played an odds boost before, then you are missing out. Odds Boosts are available every day on FanDuel.
How Odds Boost Work on FanDuel Sportsbook
No Sweat First Bet Up To $1,000
21+. T&C Apply
21+. T&C Apply
Convenient banking
Massive choice of sports
An odds boost is where the sportsbook will take the original odds and increase them to bigger odds. FanDuel regularly introduces improved odds on certain events.
As an example, two recent increased odds boosts in the NBA saw Jayson Tatum and Jaylen Brown to Score 25+ Points Each with odds boosted from +130 to +200, which was over 50% better than the original odds.
And in a second NBA game, we saw another boost of 40% with Kawhi Leonard and Paul George to Score 25+ Points Each being boosted from +250 to +350.
As a player, you just need to keep an eye on the respective section on FanDuel and consider if the odds boost is worth the risk. If it does, there is no reason to not use the bonus to your advantage, and ultimately get more for the same wagers.
How to Find a FanDuel Odds Boost Today
Finding a FanDuel Odds Boost is easy to do.
All you need to do is go to their site as we show in the image below and select "Boosts" from the left side menu.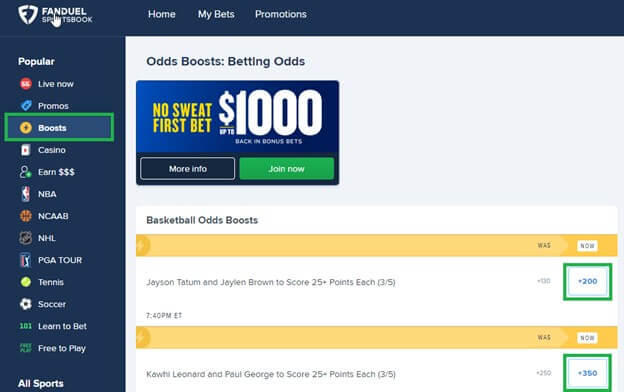 In most cases, popular events or matches where FanDuel wants to draw attention will be featured. These are updated daily, so you should watch out for unique opportunities to increase the output of your bets.
Using an Odds Boost on FanDuel Sportsbook
To use an odds boost on FanDuel, all you need to do is log into your online sportsbook account and then click on boosts as we have shown you above. Any daily odds boosts for that day will then be shown to you with the increased odds that are being offered.
Using the example below, you'll find an odds boost on golf. Unfortunately, Tiger Woods was not included in this offer.

It is important to be aware that these Odds Boosts are only available for a limited time, and only on selected sports.
So if you think this is a value odds boost, click on the enhanced price and it will open your bet slip.

So we have entered our stake of $100, but you see it has come up with a max wager for this odds boost of $50.

So we changed our stake to $50 and we can now place our bet with a chance to win $125.
It's key to understand that FanDuel odds boosts have different max wagering requirements. Some are $25, some $50, and you sometimes get odds boosts worth $100.
Are Boosted Odds a good way to bet online?
You're damn right they are! Odds boosts are some of the best and most profitable ways to bet online for sure.
Here, it is just you against the sportsbook.
The sportsbook will take a stance on a bet, and offer what they think are attractive odds. It is up to you as the sports bettor to weigh up if they are right or wrong.
Are the odds they are offering too high in your opinion? If so, then the odds are on your side and the boost is providing positive expected value. If you think the odds are not high enough, then you should not risk the bet as you do not have an advantage over the sportsbook.
We'll cover some odds boost strategies for bettors further down the page. Ultimately, you should use your knowledge and gut and only take a chance at FanDuel odds boosts that you think are worth taking.
Why does FanDuel Sportsbook offer Boosted Odds?
No Sweat First Bet Up To $1,000
21+. T&C Apply
21+. T&C Apply
Convenient banking
Massive choice of sports
Like most sportsbooks, FanDuel wants to look after its loyal customers, and odds boosts are a great way of doing this. They offer boosted odds so you place a bet on a specific FanDuel game that they might think is hard to call.
Sportsbooks do this in the hope that a gambler might have a further wager on the event, maybe a same-game parlay or a first-scorer bet.
Odds Boost Examples on FanDuel
There are many different types of odds boost for you if you are registered on the FanDuel app.
Some of our recent favorites are:
Any of three players on a PGA tour event to score eagles in a certain round
Two players from a specific NBA match to each score 25 points
Two players from the Super Bowl Final to each score a touchdown during one-quarter of play
And maybe if the Cleveland Cavaliers faced off the Philadelphia 76ers then we might see an odds-boost offer on Donovan Mitchell and Joel Embiid.
As you can see, anything goes and it remains to the discretion of the FanDuel odds trackers and marketing team as to whether a game will get boosted odds, and by what percentage.
Odds Boosts Strategies
If a sportsbook is offering an odds boost on a team to win an NFL match, then you have the opportunity to make a guaranteed profit by using arbitrage betting.
Let's say for example that FanDuel, DraftKings sportsbook, or Caesars are offering an enhanced price on an NFL game.
You can back one team with your odds boost and the other team on another sportsbook to guarantee a profit.
Example:
Kansas City Chiefs (-125) vs Philadelphia Eagles (+150)
Let's say you are betting a total stake amount of $200.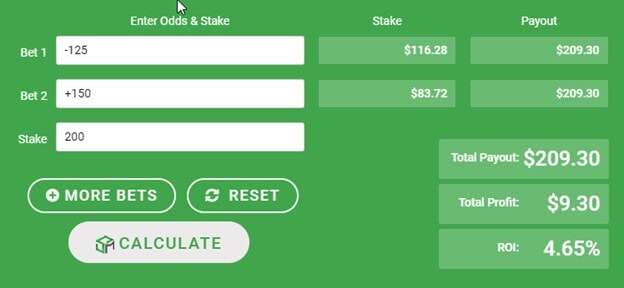 If you placed $83.72 on the Eagles, and also placed a bet of $116.28 on the Chiefs on the moneyline market on the two different sportsbooks, they can ensure profit no matter who wins the game.
You would have placed a total of $200 in wagers on both teams combined. But each bet will return the same amount of $209.30. It might not seem like a huge profit, but these arbitrage opportunities (arbs) are a great way to make a guaranteed profit.
It means you are making close to a 5% ROI on your bet.
Other US Sportsbooks with Odds Boost Bonuses
To always stay on top of the best odds boost bets, and to get the best sportsbook odds, it makes sense to monitor not just FanDuel but different sportsbooks. This provides a great way to make an arbitrage play as we showed above.
Our top sports betting apps for odds boosts and our dedicated guides to their bonuses are listed below:
FanDuel Odds Boosts
Caesars Odds Boost
Betway Odds Boosts
BetMGM Odds Boosts
FAQ's
How to find the latest odds boosts on FanDuel?
FanDuel users can find all the latest odds boosts by going to the main FanDuel homepage and selecting "Boosts" from the menu on the left side of the screen. Boosts are highlighted in a yellow color, so it is easy to find.
FanDuel odds boost not showing. What can I do?
When an odds boost is not showing, don't worry. This is because they only go live just before a game starts. If you click on boosts and nothing shows then just come back an hour before the game to see any offers.
How can I troubleshoot a FanDuel odds boost not working?
We encountered the same situation when testing the odds boost markets on FanDuel. You have to revisit the link often, as these markets get updated regularly. It's not a problem with the website. The best way to troubleshoot is to contact the FanDuel support team and they will be able to tell you if there is a problem on your end or if (and this is most likely) the odds boosts are not yet available for the game you wish to bet on.
Which sports can I use my Odds Boost on?
FanDuel offers odds boosts on a wide range of sports including NFL Football, NBA Basketball, Major League Baseball, the National Hockey League, MLS soccer, golf, and more.