Gamble USA strives to improve your online gambling experience. We aim to help you play safely, make informed decisions when gambling, and increase your betting knowledge through our guides.
We adhere to strict editorial integrity; our content may contain links to products from our licensed & legal US partners.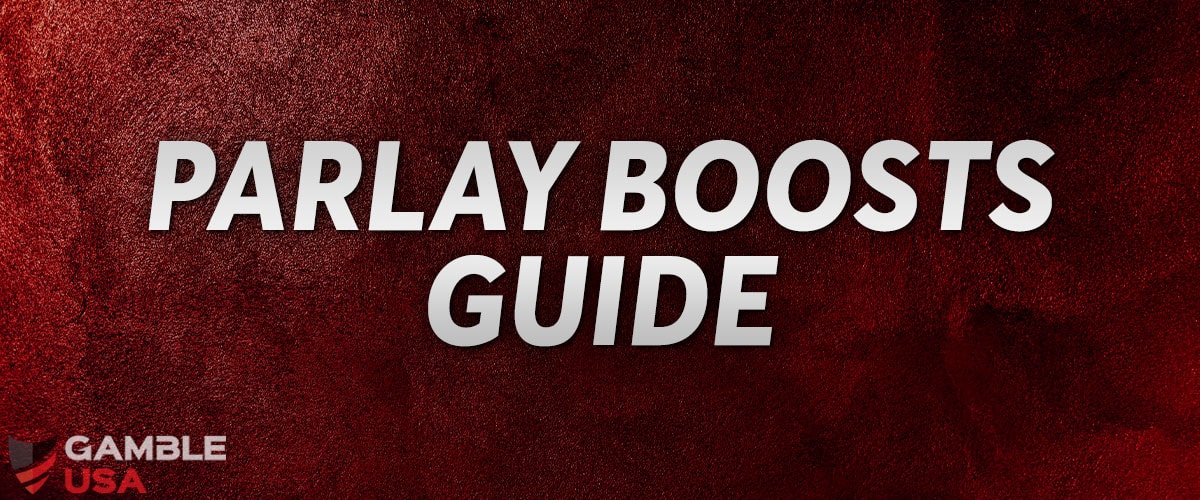 This article is all about what a parlay boost is and how odds boosts work on a parlay bet. If you like betting on parlays, you will like parlay boosts and the enhanced odds they offer even more.
Boosted odds mean bigger winnings, and many sportsbooks are now adding this feature!
What is a Parlay Boost?
Parlays are one of the most popular ways to bet on sports. Particularly in major sports like the NFL and NBA, where multiple games that you want to bet on might be taking place on the same day, instead of betting on each game separately, you can combine them in a parlay bet.
Some online betting sites like FanDuel Sportsbook and DraftKings Sportsbook also offer Same Game Parlays (SGPs). which are wagers combining different outcomes of the same game (i.e., the winning team, an over/under bet, and one or more prop bets).
Whatever format you use, the advantage to you as a bettor is a larger payout if you win than if you bet on each component separately. But a parlay boost is even better.
Parlay boosts are a special sports betting promotion that many sportsbooks offer that not only make sports betting more exciting but can increase your potential payout significantly. A parlay boost changes the odds in your favor, thereby increasing the payout if you are a winner.
The sportsbook is not only giving you much better odds than if you were to bet on each part of the parlay separately but also better odds than it normally offers for that particular parlay. In other words, these bets give you a great bang for your buck.
Here is an example of an odds boost that Caesars Sportsbook offered for a 3-team soccer parlay at the time of writing:
Arsenal, AC Milan, and Rayo Vallecano all win: +950
Maximum bet: $100
If you had chosen instead to make three separate 1X2 bets on these outcomes, you would have faced these odds:
Arsenal -135
AC Milan -111
Rayo Vallecano +185
Much to the delight of all of the bettors who took advantage of the increased odds, the parlay hit, so those who bet the $100 maximum got a whopping $950 payout. Even those who only bet $10 collected a far from shabby $95.
Why Do Sportsbooks Feature Parlay Boosts?
Given these results, you may wonder why sportsbooks make these kinds of offers. Why would they knowingly offer gamblers better odds than would ordinarily with an opportunity to win more money?
Sportsbook odds boosts attract more action, and the bigger their betting handle, the bigger their profit. Also, boosted odds are not offered across the board on all markets on all parlay bets. The sportsbook typically selects the eligible parlays rather than letting you build your own and besides including three or more legs, might use teams or players you know little about. So, the bottom line is that these bets are harder to win than you may think – and remember – if one leg of the parlay loses, you lose your entire bet.
On the flip side, if you pick your spots wisely, you can win a lot of money. There is a good chance, too, that the same sportsbook will become one of your favorite places to play online, so many more offers for sportsbook odds boosts should be coming your way. Parlay boosts are a win-win for both the sportsbook and the bettor.
How Do You Get A Parlay Boost?
Because parlay boosts are extremely popular with bettors – and understandably so – many sportsbooks offer them. The way they are offered and how you qualify varies with the individual sportsbook. But as with any other type of bet offered online, you need to be a registered player to take advantage.
One place you should always check is the promotions page. Some sportsbooks like FanDuel and DraftKings offer daily parlay boosts for that day only. Similarly, the example given in the preceding section was listed on Caesars Sportsbook's promotion page.
Most sportsbooks frequently send emails to their loyal customers announcing special promotions, some of which might include parlay boosts, so be on the lookout for those offers, too.
Another good place to find odds boosts might be the sportsbook's posts on social media.
Steps to Use Your Parlay Boost
Once you have found an offer that appeals to you for a parlay boost, placing your bet is as simple as placing any other bet online. Here are the steps you need to follow:
Sign up with the site if you have not already done so.
Read the fine print, including all of the terms and conditions carefully, and make sure that you want to proceed.
Decide on the amount of your wager.
Enter your selections on your bet slip.
Your bet slip will show each component of your bet, the applicable boosted odds, and how much you will be paid if you win. Review all of this information carefully, and make any desired edits.
Submit the bet slip.
Best Sportsbooks to Earn a Parlay Boost
The best sportsbooks offer a variety of options. They also offer these promotions very frequently, if not daily. Rules, terms, and conditions vary, but on any given day, whenever you see these promotions, they will cover one of the following types of bets:
Multiple outcomes in the same game
Different games in the same sport
Different games across multiple sports
Most of the time, all of the components of the parlay will be preset by the sportsbook, but some sportsbooks let you build your own parlays and offer boosted odds on those, too. We will now briefly describe the various kinds of parlay boost offers you can expect to find at five top US sportsbooks
🥇FanDuel Parlay Boosts
FanDuel Sportsbook offers both multigame and same game parlays in all of the major sports. FanDuel also offers a unique feature called SGP+, which lets you add more selections, including other games to your SGP, and in the NFL you can even do so after the game has started.
FanDuel offers enhanced odds "on an impromptu basis" on certain wagers, including select parlays. However, these special promotions are referred to as "FanDuel odds boosts" rather than parlay boosts since FanDuel also offers boosted odds on straight bets and props.
FanDuel only offers odds boosts on games happening the same day or the next day. We recommend checking the promotions page, where all of the available offers will be prominently featured. You can also use the dropdown menu of different sports to locate the game that interests you, and if an offer for boosted odds is available, it will be highlighted there as well.
No Sweat First Bet Up To $1,000
21+. T&C Apply
21+. T&C Apply
Convenient banking
Massive choice of sports
No Sweat First Bet Up To $1,000
21+. T&C Apply
21+. T&C Apply
🥈DraftKings Parlay Boosts
This sportsbook uses the term "profit boosts" for these promotions. A profit boost is different from an odds boost because instead of boosting the odds on the entire bet, only the profit portion of the payout is boosted.
As with FanDuel,  DraftKings users should check the promotions page of the website for a given day's options. Then, if you see an offer you like, select the applicable boost in the "Bonuses Available" section of the bet slip before placing your bet.
At the time of this writing, DraftKings was offering a 100% profit boost on any MLB SGP.
Up To $1,000 Deposit Bonus
21+. T&C Apply
21+. T&C Apply
The best sportsbook
Amazing odds & offers
Awesome betting app
Up To $1,000 Deposit Bonus
21+. T&C Apply
21+. T&C Apply
🥉Caesars Parlay Boosts
At this sportsbook, you can take your pick from many select offers for either odds boosts or profit boosts. Furthermore, Caesars is one of the few sportsbooks where the offer is sometimes available on a futures bet, so you can log in at any time and always find an extensive range of options in different sports.
Simply click on the Boosts tab at the top of the page for a complete list of all of the parlays that are currently being offered with odds boosts. For each parlay, all of the specifics – the sport, required parlay components, date and time, boosted odds, and maximum bet – are provided.
Alternatively, some parlays might be eligible for a profit boost. As soon as you add a wager to your bet slip, check the Bonus Drawer to see what profit boost, if any, is available, including the boost percentage and the maximum wager covered.
Promo Code: GUSA1000
$1,000 First Bet on Caesars
21+. T&C Apply
21+. T&C Apply
Promo Code: GUSA1000
Massive welcome bet offer
Earn Caesars Rewards
Promo Code: GUSA1000
$1,000 First Bet on Caesars
21+. T&C Apply
21+. T&C Apply
🎖️BetMGM Parlay Boosts
The BetMGM sportsbook uses the term "parlay boost" (rather than odds boost or profit boost) to apply specifically to parlay bets with enhanced odds. Rather than posting these special offers as promotions on the website, they are included as earned bonuses added to your account.
Some BetMGM parlay boosts are sport and event-specific, while others can be applied to any sport and game of your choosing.
There are two ways to earn a parlay boost at BetMGM Sportsbook:
As a randomly awarded bonus waiting for you when you log into your account
As a reward tied to a previous promotion
Promo Code: GAMBLEUSA
Up To $1,500 In Bonus Bets
21+. T&C Apply
21+. T&C Apply
Promo Code: GAMBLEUSA
Super fast payouts
Live streaming
Promo Code: GAMBLEUSA
Up To $1,500 In Bonus Bets
21+. T&C Apply
21+. T&C Apply
🏅PointsBet Parlay Boosts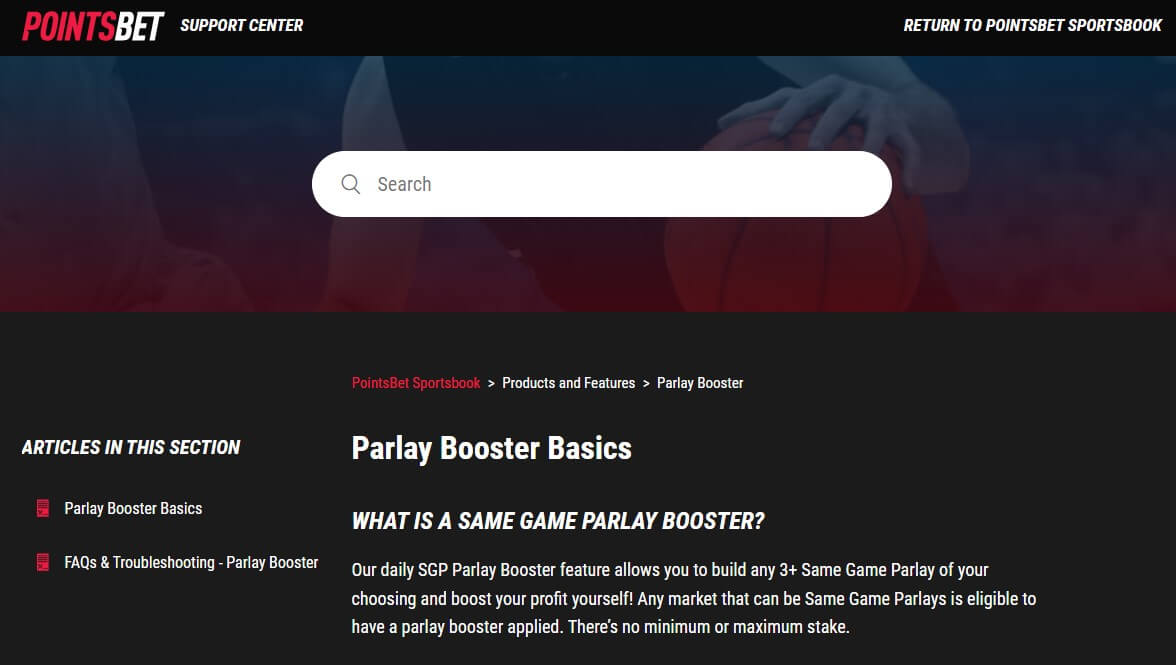 The PointsBet sportsbook is a great choice for those who like to build their own parlays. The site offers a daily SGP Parlay Booster that lets you build any 3+ SGP of your choice and boost your profit in any eligible markets. There is no minimum or maximum stake.
10 x $100 Second Chance Bets
21+. T&C Apply
21+. T&C Apply
Awesome live betting
Multiple bet types
Huge range of sports & markets
10 x $100 Second Chance Bets
21+. T&C Apply
21+. T&C Apply
Do Sportsbooks Give Same Game Parlay Boosts?
Yes, the top sportsbooks offer same game parlay boosts daily. PointsBet Sportsbook even extends the offer to parlays that you build yourself.
Tap the links on this page, register or log in, and see what offer awaits in your account.
Is a Boost Bet the Same as a Parlay Boost?
Boost bet is a broader term that can apply to straight bets as well as parlays. Odds boost is another term used instead of boost bet, and all prominent sportsbooks feature it.
Are Parlay Boosts Worth It?
Parlay bets are a very popular form of wagering, particularly with small bettors, because the payout if they win is significantly more than if they make each part of the same wager as separate bets.
When you take advantage of special offers like odds boosts and profit boosts, you get even more value from these wagers. However, the downside is that eligible parlays typically include three or more legs, so they are hard to win.