Parlay bets are among the highest-paying wagers in online sports betting. This bet type allows players to merge multiple markets into a single bet for a chance to claim decent returns—this is only possible if all wagers are won, however.
If you happen to lose just a single selection from the mix, the whole bet crashes.
Luckily enough, sportsbooks know the terrible feeling of losing a parlay wager. So, most regulated sportsbooks offer parlay insurance to cushion punters from the stinging parlay losses.
Call it a marketing gimmick if you want, but this bonus will prove handy in the long run. There isn't any sportsbook promo code required to claim an insurance promo, whether it is a multi sport parlay insurance offer or a free bets insurance bonus.
In this write-up, we'll discuss what parlay insurance is and how it works.
We'll also review the best sportsbooks in the US with bettor-friendly parlay offers. Stick around as we get into the full details.
What is a Parlay Insurance Bonus?
Parlays or accumulator bets are one of the riskier wagers one can make. While the payout can be irresistible due to the numerous legs or picks, a single "unfortunate" leg can send the whole bet slip to the dustbin. That's why sportsbooks offer parlay insurance to encourage bettors to make parlay bets. It's more or less like a small refund for the lost stake.
With that said, parlay bonuses come in two main types – free bets and cashback. With free bet insurance, bettors risk an amount at once and get bet credits similar to the initial stake on a losing bet.
If that doesn't sound good to you, consider the cashback insurance instead. Here, you get a refund of the original bet if only a single leg loses.
This means you can do whatever you want with the parlay insurance. Let's expand on the types of parlay insurance in the next section.
Insurance Bets Offers Explained
To begin with parlay cashback, a sportsbook can offer a percentage of your parlay losses. In most cases, the maximum parlay insurance cashback is $25 to $50. Although this might sound great on paper, the percentage is usually less than 10%.
This means you'll need to stake a sizable sum and lose in order to walk away with the total amount.
If the cashback isn't your thing, many sportsbooks offer an alternative in free bets. With this bonus, the sportsbook will give you free bet credits without strings attached. Just meet the parlay insurance conditions, and the prize is yours to keep.
However, free bet parlay insurance is not ideal for four or five-leg parlays.
You'll also find some sportsbooks offering odds boosts on parlay bets. As impressive as they sound, it might actually be a trick to lure you into unrealistic parlay odds. So, be careful with these promotions.
Parlay Bets Explained
As said before, a parlay bet is an accumulator wager that combines at least two wagers into one bet. Each bet or market in a parlay bet is called a leg. All legs must win for the parlay bet to payout. In short, a win from an initial leg is carried forward to the next leg. You can't afford to lose even one leg of the parlay or everything falls down.
Below is an example:
Leg 1: Bet $10 on +200 and win $20
Leg 2: Bet $20 on -200 and win $10
Leg 3: Bet $10 on +300 and win $30
You can see that you win $60 if all the bets win. And by the way, you can have as many legs as you want, with some sportsbooks setting a limit of four or five legs per parlay to get the parlay insurance.
Placing multiple bets instead of a single individual bet can potentially earn you far more money and are also more fun. For example, rather than just betting on the Dallas Cowboys to win the Super Bowl, why not add a prop bet or numerous prop bets for the big game and use a same game parlay to add some excitement. Same game parlay insurance is available, and using this means you aren't looking at every leg of a parlay to win.
Naturally, with parlay betting, it will be more difficult to win, but just think of the potential earnings  if every leg hits.
Additionally, most online sportsbook sites will allow bettors to cash out their parlay bets early if they feel it isn't going well. Features such as cash out have become a crucial factor in online sports betting.
But always remember that making a parlay bet can be risky because of the uncertainty involved.
Like any other bet, parlay bets also have their set of rules. For starters, the bet still wins if any of the legs ends in a draw. However, the payout consideration will reduce because the tie bet won't count.
In addition, the whole bet crumbles down in a single leg loss, and that's where parlay insurance comes in.
Meantime, be sure to read the parlay insurance terms and conditions to find out if the requirements are tenable. It's common to find a sportsbook setting the minimum odds for each leg at +400.
Also, some sportsbooks can run multiple parlay refunds daily, with some offering the bonus only once daily. So, read and understand the parlay insurance fine print.
How Does Parlay Insurance Work in Practice?
Evidently, any bet with a payout qualifies as part of an accumulator bet. This is with the exception of bets such as teasers and round robins. But to help you understand parlay insurance better, we'll use point spreads.
That's because these bets have a 50/50 chance of winning. Often, spread bets have -110 odds, whether betting on the underdog or the favorite to cover the spreads.
To that end, let's calculate the edge for the sportsbook in parlay bets. If you choose a single-game point spread bet, the sportsbook will have a lowly house edge of 4.55%.
This means the expected loss from a $100 bet is $4.55 based on our parlay bets calculator.
However, increasing the parlay bet to multiple legs would increase the house edge and the possible payout.
So, suppose you make a two-leg point spread parlay bet; it means you have a 50% chance of winning on each leg. This reduces your chances of winning the parlay wager to 25%.
Now you know why many sportsbooks encourage multiple-leg parlays, if possible, four or five legs to qualify for the insurance. They know the bet will likely lose.
Sportsbooks with Parlay Insurance Offers
Many regulated and reliable sportsbooks in the US offer parlay insurance of some kind. But the reality is that these promotions come in varying sizes and complexities. Let's break down the best operators with parlay insurance promotions in the US. You can also get this promo on these parlay betting apps as well as desktop sites.
#1 PointsBet Parlay Insurance
PointsBet Sportsbook is a unique case regarding parlay insurance. Unlike other sportsbooks that have four or five-game limits, PointsBet allows as few as three legs to qualify for the reward. You can place SGPs on NRL, NBA, AFL, NFL, MLB parlay betting, and NCAAB games.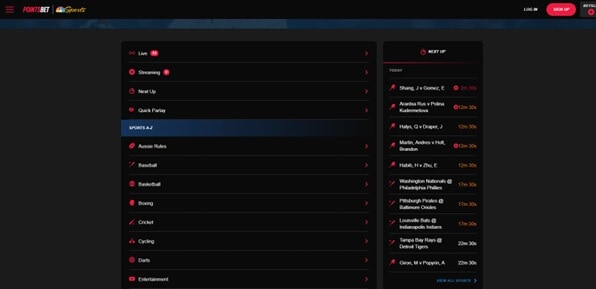 Here's how it goes; navigate to the event you want to bet on and tap the "Same Game Parlay" button on the navigation menu. Next, select the markets to add to your parlay bet. The legs must have minimum odds of +100 to qualify.
If you are happy with the legs, add them to your bet slip and wait for a refund of up to $25 if a single leg loses.
Now, that should be a friendly requirement, except if you like to play safe with heavy favorites.
Also, take advantage of the Parlay Booster feature, which allows bettors to create a parlay or SGP with at least three legs and boost their profits. After adding the SGP to the bet slip, tap the Booster Odds Lightning to increase the odds accordingly.
PointsBet Parlay Insurance summary:
Win up to $25 in parlay insurance bonus.
Include 3+ parlay legs to qualify.
Each leg should have minimum odds of +100.
The parlay refund is in free bets.
Play the free bet before withdrawing the bonus.
SGPs are available in MLB, NCAAB, NFL, NBA, NRL, and AFL.
Parlay Booster to boost parlay odds.
Read more and see how to do a Parlay on PointsBet.
#2 FanDuel Parlay Insurance
FanDuel is the first sportsbook to allow Same Game Parlays (SGP) in the US, which is now a massive hit in the industry. People love visiting the site to place a FanDuel same game parlay and can choose from a huge number of sports available. The FanDuel sportsbook also offers Multi-Sport Parlay Insurance, which involves legs from different sports.
To begin with FanDuel one game parlay insurance, the sportsbook allows bettors to combine multiple legs from the same sport and get up to $25 if a single selection loses.
For example, a four-leg parlay from NHL will qualify you for a refund if a single leg loses.
However, the requirements state that each leg should have at least +200 odds. Also, the SGP insurance refund is available only once daily, with bets like multi-fame parlays, teasers, round robins, and live bets being ineligible for the reward.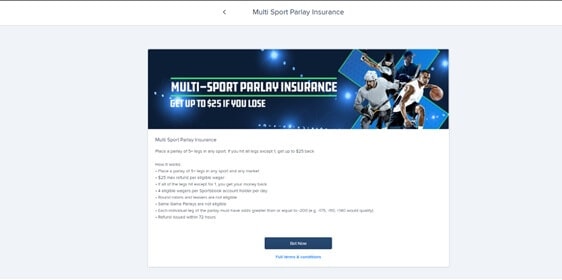 As for the Multi-Sport Parlay Insurance, FanDuel parlay bettors can combine at least five legs from varying sports. In that case, you'll get up to $25 cashback if a single leg loses. Note that each leg must have at least -200 to qualify.
In the meantime, your bet slip should not include markets like teasers and round robins. Also, you'll get the refund within 72 hours, which might be too long for some bettors.
And after receiving the cashback, you have seven days to use it, or FanDuel will render the bonus bet null and void.
FanDuel SGP Insurance summary:
The maximum parlay refund is $25.
The parlay bet should have 4+ legs to qualify.
Each leg should have at least +200 odds.
SGP refunds are available once per day.
Multi-sport parlays, round robins, teasers, and live bets don't qualify.
FanDuel Multi-Sport Parlay Insurance summary:
The maximum parlay cashback is $25.
The parlay bet slip should have 5+ legs to qualify.
Each parlay leg should have at least -200 odds.
Teasers and round robins do not qualify for the reward.
Bettors receive the parlay insurance within three days.
#3 DraftKings Parlay Insurance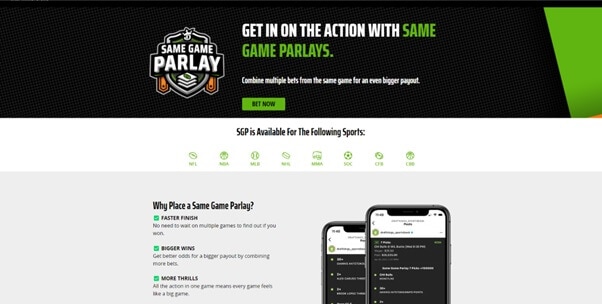 DraftKings is another well-respected name in the US sports betting space. This US-licensed sportsbook offers SGP insurance on popular sports like NFL, NBA, MLB, NHL, MMA, CFB, SOC, and CBB. The DraftKings sportsbook was initially known for providing Daily Fantasy Sports Contests but now offers every type of sports bet you can imagine.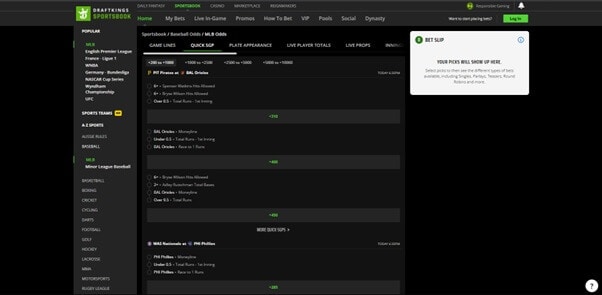 To claim this reward, start by finding a game with the +SGP icon at the top-left corner. Toggle the icon and choose the available legs. You'll need to make at least a four-leg parlay bet to claim the $25 free bet if one leg loses.
DraftKings Sports bettors are eligible for up to four SGP refunds daily, which should be good enough for an average bettor. Bettors also need a minimum of -200 odds to qualify for the insurance. And another thing, teasers and round robins are not eligible for a refund.
DraftKings Parlay Insurance summary:
The parlay bet should have 4+ legs to qualify.
Players get up to $25 in free bets.
Refunds are available up to four times per day.
The minimum odds for each leg is -200.
Round robins and teaser bets don't qualify.
SGPs available in NFL, NBA, MLB, NHL, MMA, CFB, SOC, and CBB.
See exactly how to parlay on DraftKings here.
#4 BetMGM Parlay Insurance
BetMGM Sports is another American-owned sportsbook with irresistible parlay insurance offers. At BetMGM, players get up to a $25 refund in a parlay SGP bet or one-game parlay wager with at least four legs. Of course, the refund is only available if a single leg is lost.
The BetMGM sportsbook lets bettors take advantage of this insurance at least once daily. Although that may not be ideal for most bettors, the sportsbook makes up for that with no odds requirements. Put simply, a bet with any odds will do.
BetMGM will deposit the free credits into your betting account within 24 hours. Also, lucky bettors must use the bonus within seven days of earning them. That's long enough!

BetMGM Parlay Insurance summary:
Up to $25 refund on SGP.
The SGP bet should have 4+ wagers.
Parlay insurance is available once per day.
No minimum odds requirements.
Bettors have seven days to use the parlay bonus.
New to BetMGM? See how to parlay with BetMGM.
Tips to Use Parlay Insurance Promotions
Up to this point, you should be in a position to choose a parlay insurance wager that fits your betting style. With that done and dusted, let's talk about tips on getting the most out of your parlay insurance.
Look at the size: With sportsbook bonuses, the bigger is always, the better. Although most sportsbooks will cap their bonuses at $25, platforms like BetMGM can reach $50. Always choose bigger parlay insurance rewards because they allow you to bet with higher limits. And in return, you can risk less and get more value. So, all in all, don't wager with more than the maximum insurance amount.
Choose lower minimum legs: The number of legs that can qualify for the parlay insurance promotion is another critical consideration. If you choose a sportsbook with lower parlay leg requirements, the house edge reduces drastically. For example, a three-leg parlay has better chances of winning than a four or five-leg parlay bet.
Multi-sport parlay insurance is better: As discussed earlier, FanDuel is one of the few sportsbooks with Multi-Sport Parlay Insurance. You can add parlay legs from different sports or games in a Multi-Sport Parlay bet. This way, you can add the juiciest parlay markets with higher chances of winning.
Line shopping: This is where most sportsbooks with parlay insurance fall short. As an intelligent bettor, always fill your parlay ticket with heavy favorites. For this reason, compare the parlay odds offered in different sportsbooks. There's nothing wrong with having multiple sportsbook accounts.
Stick to the favorites: Another parlay insurance trick is creating a slip consisting of

moneyline

favorites or

spread bets

. As we discussed earlier, spread bets have higher chances of winning than other wagers. Favorite moneyline legs can also bring in a win or a draw, which is what you're looking for. Note that parlay insurance with minimum odds requirements of -200 is always better than one with a +200 limit.
Parlay Insurance Vs. Risk-Free Bets
Most legal online sportsbooks offer risk-free bets and parlay insurance.
So, what's the difference here?
First and foremost, a risk-free bet is part of the sign-up package, whereas parlay insurance is part of loyalty programs. With a risk-free bet, the sportsbook will offer a refund up to a specific amount on your first bet.
But like parlay insurance, the bet must be lost for you to get the bonus.
Let's take FanDuel Sportsbook, for example. This sportsbook offers new customers an impressive $1,000 in risk-free bets.
Here, a bettor only needs to create a FanDuel account, place a real-money wager, including parlays, and win the reward if the bet loses.
As you can see, these bonuses are similar in the sense that you get a refund if the bet loses. Also, the amount you win can depend on the initial stake. However, risk-free bets are more beneficial because the amount is more considerable.
But again, you'll need to risk more to get the maximum amount. If the bet wins, you walk away with the winnings only.
Is it Worth Opting for Parlay Insurance?
Now let's wrap up this parlay insurance guide by answering this all-important question. The thing is that parlay bets are some of the most unpredictable wagers in the sportsbook.
That doesn't change even if you stack your bet slip with hot moneyline favorites. In the end, a loss is almost a guarantee, primarily if the bet consists of five or more legs.
So, without parlay insurance to back you up, placing a parlay bet with many legs is usually a bad idea.
Remember, the house edge keeps increasing as you add more parlay legs into the slip. If you have a 25% chance of winning a two-leg parlay in point spread betting, this reduces to 17.5% if you add two extra legs.
All said and done; a parlay bet slip should always feature the hot favorites to win the wager or at least the insurance bonus. And if possible, take advantage of multi-game parlay insurance and parlay insurance odds boosts to maximize the situation. We certainly recommend you should get parlay insurance where possible.
FAQs
What is parlay insurance?
Parlay insurance covers each leg of your parlay wager. If only one leg loses, you will receive a refund typically up to $25. Parlay insurance works as a fall back in case one leg goes wrong, and a parlay insurance offer is one of the better sports betting promotions available.
Should I use parlay insurance?
We strongly recommend using parlay insurance if you enjoy placing parlay wagers. These types of bets are among the most risky out there with insurance included, but having that backup offers a great piece of mind. Also look into one game parlay insurance if you want to place a single game parlay bet.
What do I get if my parlay loses but I have parlay insurance?
Depending on the rules laid out by the operator, parlay insurance will be paid in the form of bet credit or site credit. If it is site credit, this is more likely to be cash and will be returned to you in addition to the money from any winning wager. For bet credits, these must be bet again and win to then become cash.
Are there parlay insurance limits?
Yes. The maximum parlay limit will be listed in the terms and conditions of the parlay insurance offer. The values typically range from $10 to $50.