Gamble USA strives to improve your online gambling experience. We aim to help you play safely, make informed decisions when gambling, and increase your betting knowledge through our guides.
We adhere to strict editorial integrity; our content may contain links to products from our licensed & legal US partners.
Online casinos always offer great bonuses and promotions to entice new players to join and keep existing players happy. However, online casino bonuses will almost always have a playthrough requirement, also referred to as wagering and rollover requirements.
You must know about playthrough requirements before opting for any bonus offer. Whether it is a deposit bonus, a no deposit bonus or a free spins bonus, there will typically be a wagering requirement you must meet. Keep reading to get all the important information about playthrough requirements so you know all about them when you play at online casinos.
Alternatively, you can click to claim any of the following no deposit bonuses or casino match offers that come with no or 1x playthrough!
What Do Playthrough Requirements Mean?
The casino playthrough meaning is the number of times you have to playthrough (wager) the bonus before you can withdraw the bonus funds from your online casino account and get some free money. You need to know that, in some cases, you will have to playthrough the bonus and deposit and not only the bonus amount.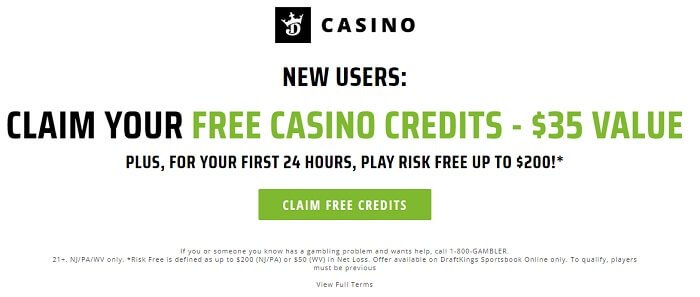 For instance, let's assume a welcome bonus has a match of 100% up to $1,000 and a playthrough requirement of 10x. If you take full advantage of the bonus funds and make a deposit of $1,000, you will receive $1,000 in bonus funds in your account, and with the $1,000 deposited, you will start with $2,000. With the wagering requirements at 10x, you will have to bet $20,000 (10 x $2,000 – bonus and deposit) on the site before withdrawing the remaining winnings from your account.
In terms of a playthrough requirement, it is important to know that if you lose the bonus funds and the deposit, you are not locked into the wagering requirement if you make another deposit. In the example above, the playthrough requirement of 10x is fulfilled if you wager 10x the bonus and deposit or lose all of the money in your casino account.
Do All Bonuses Have Playthrough?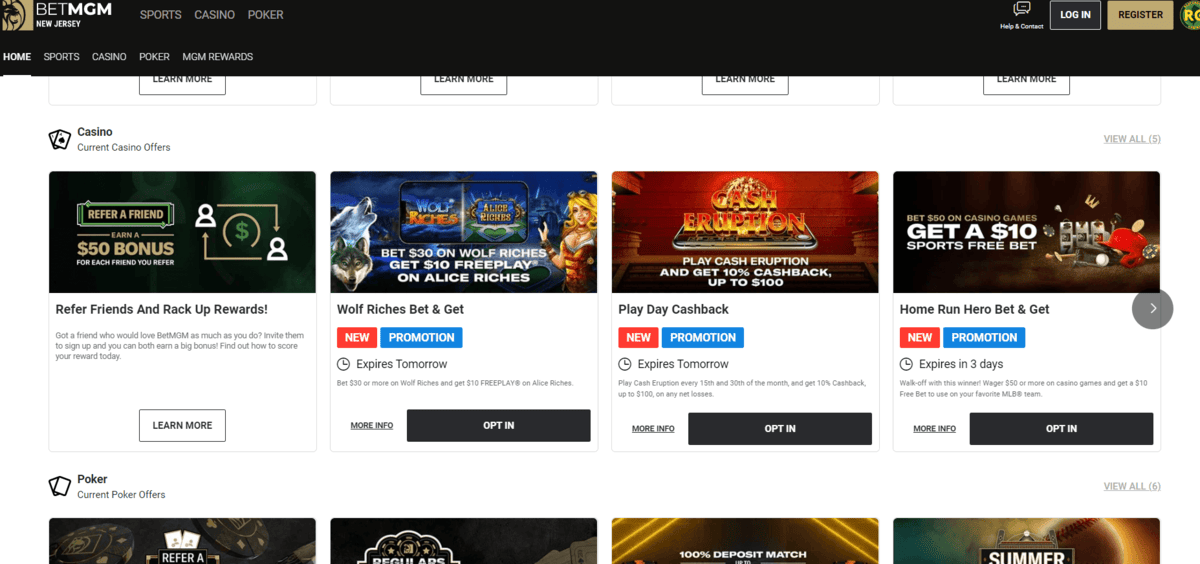 While not all bonuses have a playthrough requirement, the vast majority will. This is why reading through the bonus terms and conditions is vital before opting for a bonus. You want to ensure you can fulfill the wagering requirements and keep the bonus money. There are cashable no deposit bonuses out there with no wagering requirements, but they are rare. This will depend on the casino and each of their offers. The golden rule is that the bigger the bonus, the higher the playthrough requirements. Casino bonuses that almost always have playthrough requirements include:
No deposit free spins or cash – bonus given right after registration
Welcome bonus – deposit match or free spins bonuses come with 20 – 40x wagering requirements in most cases
Reload offers – whatever the reload bonus, it will usually come attached with playthrough requirements
On the other hand, comp points and cashback are two types of bonus offers that will not have wagering requirements. Comp points are playing credits you can earn if you are part of an online casino's loyalty/VIP program. Cashback is the refund that online casinos offer on net losses, and you will get those funds directly back to you with no playthrough requirement tied to it.
Still, it is within the right of each casino operator to tie these offers with playthrough.
Which Casino Has a Bonus With No Playthrough Requirements
You will not find US online casinos that do not have a playthrough requirement for their bonuses. While you may find some sites with specific bonuses with no wagering requirement,  they are rare and will never apply for welcome bonuses or other types mentioned.
The same goes for cashback offers and comp points, as you can find them available at US online casinos, but all licensed online casinos will have wagering requirements tied to nearly all bonus offers.
Nonetheless, BetRivers Casino, FanDuel Casino, and SugarHouse Casino are renowned for attaching minimal wagering requirements to their promotions – at 1x. This means that all deposit bonuses must be played through only once, which is more than fair.
DraftKings Casino, Golden Nugget, and Borgata Casino tend to set their playthrough at 20x, which is not bad either.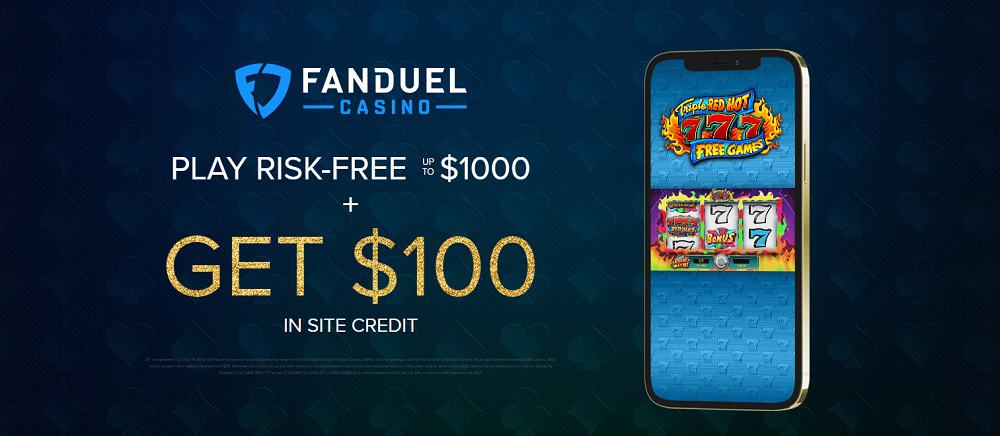 How to Beat the Online Casino Playthrough Requirements
The first thing you need to note when it comes to beating the wagering requirements in an online casino is that no strategy works for all sites. Each casino has varying rules and regulations concerning how much you must wager to fulfill the playthrough requirements. This means you'll need to alter your strategy and gameplay to ensure it aligns with the casino.
Nonetheless, there are a few tips that can draw you closer to your goal of beating the wagering requirements ensuring you have fun:
Choose the Right Bonus and Online Casino
The bonus you choose, along with the online casino, is critical in determining how easy it would be to beat the wagering requirements. If you settle for a bonus with unreasonably high playthrough requirements, it will be impossible to beat regardless of what you do. Also, you may want to stay from bonuses with excessively low wagering requirements, as the bonuses are usually small and not worth the effort – although this is not always the case.
Play the Right Casino Video Game
To roll over the playthrough requirements, you will have to wager the bonus amount, and usually the deposit, before withdrawing the funds. However, you need to be aware that certain games contribute differently to the wagering requirements, as some will contribute more than others. This is vital to know and this is especially the case if you like to play certain games.
For example, playing slots at online casinos will contribute 100% to the playthrough requirement the vast majority of the time. Video poker and table games, such as blackjack and video roulette, will often contribute less, around 10%. Most of the time, live casino games and progressive jackpots will not contribute to the playthrough requirements.
The game contribution to wagering requirements is important, as it is not rocket science to know that you want to fulfill the rollover requirements as soon as possible so that you can get the bonus money quickly. If blackjack is your game of choice and only contributes to 10% of the playthrough requirement, which is 10x, then the rollover is 100x!
If slots are your cup of tea, then you are fine with a contribution of nearly always 100%. Still, if you do play slots, make sure that you play the games that contribute to the requirement, as they almost always do, but sometimes high RTP and variance games do not.
You can always read about game contributions in the terms and conditions of the bonus offers. Many online casinos have this info in fine print, but it is always available and may be found on a separate page. Nonetheless, it is important to stick with titles that will help you clear the wagering requirements fast.
Read the Terms & Conditions
As we have mentioned above, it is always a good idea to have a good read of the terms and conditions page before you claim any bonus offer. Making sure you read the fine print means you will have knowledge that you can use to your benefit later on. This means you will be able to meet your wagering requirements quickly and efficiently.
Some of the key terms and conditions to check for when it comes to playthrough requirements with online casino bonuses include:
Minimum Deposit Amount: This is the minimum amount of cash you must deposit to become eligible for the bonus. It usually ranges from $10 to $20.
Time Limit: Once you have triggered the bonus, you will have a limited amount of time to use it. This is typically up to 14 days.
Stake Limit: Most bonuses have a maximum stake limit. Make sure you don't exceed this limit, as the casino could decide to remove your bonus and any associated winnings.
Why are some games excluded?
Some games are excluded or have a smaller contribution to the playthrough requirement, as they are riskier for online casinos. For example, table games have a higher return to player percentages (RTP), which means the player has the advantage with minimal risk for higher RTP games, as they will win more often. Therefore the player will have more wins contributing to the playthrough requirement. This is the case for newer releases for slots, as they typically have higher RTPs to entice new players to try the new slot machines.
When it comes to live casino games, they rarely contribute to the player requirement. One reason is that the live games are table games and, therefore, have higher RTPs. Another reason live games do not contribute to the requirement has to deal with player collusion. For example, in a live roulette game with multiple players, it is easy for two of them playing to collude and counter-wager against each other. One player will win, but both will contribute to the wagering requirement.
Lastly, progressive jackpots and tournament games are often excluded so that the community pots do not increase in size from bonus funds. That's reasonable since the casino would then have to pay these out in real money wins.
Which Playthrough Requirements Are Considered High?
Typically, a wagering requirement is high if it is over 10x. However, a key factor is your level of play. If you are a casual player that does not often play, a lower bonus offer with a lower wagering requirement is the way to go. Still, if you often play and wager a significant amount before you plan to withdraw, a higher wagering requirement can be more lucrative. The rule of thumb with bonus offers is that the more lucrative the offer, the higher the wagering requirement.
Let's say there is a wagering requirement of 10x on a $100 bonus. That would be 200 spins at $5 per spin playing a slot machine. Since slot action is fast and furious with the spins, it would not take long to fulfill the playthrough requirement.
Several sites with low wagering requirements are listed on top of this page, so indifferently to your betting habits, they are good to go.
Best US Casino Bonus Playthrough
The best US casino bonus playthrough is one that has the lowest wagering requirement. Two online casinos have great bonus offers with very low playthrough requirements in WynnBET Casino and BetRivers Casino. Each offers a welcome bonus with a wagering requirement of only 1x. Each welcome bonus is different, with 100% matching up to $250 on your initial deposit on BetRivers and $1,000 on WynnBET.
FanDuel is another online casino that regularly offers 1x playthrough requirements for bonuses. For example, they have two monthly promotions with a 1x playthrough requirement; Tuesday Slots Special (free $10 betting $100 on slots) and Wednesday Win-Win (get a $20 bonus when betting $200+ at the casino). Their insurance bonus and $100 no deposit bonus is also available with 1x playthrough, unheard of before.
Can I Cancel My Bonus?
If you later have second thoughts about a bonus, you can easily opt-out. Most online casinos will allow you to cancel a bonus after you have opted in. The process is often rather easy, but you must contact the online casino's customer service department. All bonus winnings will be forfeited if you decide to cancel your bonus, and any real money balance will remain.
Canceling a bonus is never advantageous, as while you play, you are reaching the playthrough requirement for that bonus. No matter how close you are to fulfilling the wagering requirement, you will not get any bonus funds when canceling. Still, canceling is good if you want to start fresh without a bonus and keep subsequent winnings.
Again, reading the terms and conditions of casino offers is always a good idea to ensure you can meet the playthrough requirement to get the bonus funds.
Playthrough requirements are present for nearly all bonus offers from top online casinos. A bonus is a great way to get extra money and pad your gaming bankroll. However, you have to make sure you know all about the bonus and the playthrough requirements it has.
Other Important Terms and Conditions
Playthrough requirements are crucial to deposit bonuses and other promotions, but they are not the only term and condition that matters.
Time limit – the period that you must complete any playthrough
Maximum bet – how much money can be played per round
Win cap – maximum amount from bonus winnings
Bonus code – symbols and numbers required to receive your bonus
Excluded games – titles you cannot play when wagering a bonus
Not all of the above will apply, but the playthrough almost always will. Join our recommended low playthrough casinos USA and read the terms and conditions to always makes the most of what's on offer!
Other Tips to Beat Playthrough Requirements with Ease
There you have it; everything you need to know about playthrough requirements and how to beat them. Note that beating wagering requirements is not straightforward, and patience is critical. You need to stay level-headed, and not act on impulse, as getting frustrated will have the opposite effect. You'll soon walk away with some extra funds if you can stay calm.