Gamble USA strives to improve your online gambling experience. We aim to help you play safely, make informed decisions when gambling, and increase your betting knowledge through our guides.
We adhere to strict editorial integrity; our content may contain links to products from our licensed & legal US partners.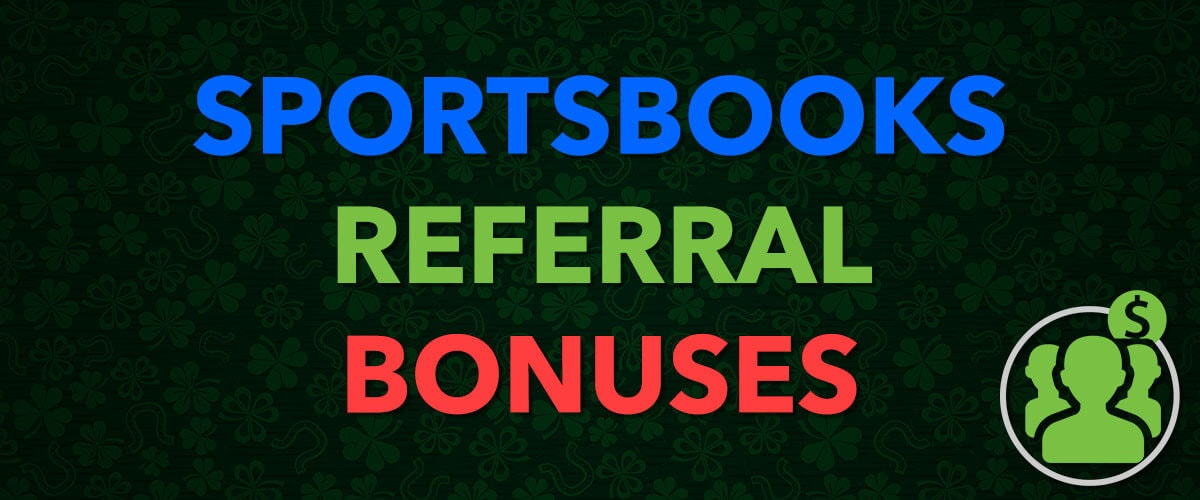 If you have a friend that loves sports betting as much as you do, there is no better gift than referral bonuses. The best refer a friend sportsbooks giveaway $100 free bet insurance and special offers to both you and your friends as soon as you start using the unique referral codes we share with you.
A sportsbook referral bonus is the best way to start betting with your friends. US sportsbooks introduce free bets, risk-free bets, odds boosts, and other promotions to attract players, but sportsbook referral bonuses are a great promo. Both you and your friends can get something out of it, with $50 or $100 a free bet being commonplace on the leading betting apps and betting sites.
Instead of creating an account and placing a wager directly on the sportsbook, you will source your friend with a referral link to register. A referral bonus will apply to both sportsbook accounts after placing an initial deposit. By simply using a referral code, you could win thousands of dollars in site credit, bet insurance, free bets, or risk-free bets – as your friend.
Sports betting sites are very accessible today and refer-a-friend offers are just another innovation to take advantage of. Our quick guide can help you get the most out of Caesars Sportsbook referral bonuses and others like DraftKings Sportsbook and the FanDuel referral bonus.
Refer a Friend Sportsbooks: Earn Rewards for Inviting Your Friends
Partaking in refer a friend program isn't complex. And it can help you and your friends win free cash to place bets on upcoming events and multiply your bankroll. There is no limit to how much you can win by using referral programs on several US sportsbooks.
The welcome $1,000 risk-free bet offer and the refer-a-friend sportsbook bonuses are currently the two most widely accessible offers in the US. DraftKings, Caesars, BetMGM, FanDuel, and other big names introduced referrals to attract more loyal players, and upcoming betting apps like BetAmerica, LeoVegas, and bet365 have followed suit.
Terms and conditions apply to all refer-a-friend sportsbook programs, but they mainly limit the number of friends you can refer and set a bonus cap. We will explain this below further.
So, how does a referral bonus work in simple terms? You can generate a unique referral code or a referral link (depending on the sportsbook) to share with your friends as an existing player. Then, they can join the same sportsbook as you through our page links right here and enter the shared code or link during registration. All referral bonuses require an initial deposit from your friend, and you will then be awarded a certain amount in free bets, risk-free bets, or insurance bets. Referring your friend is as simple as that, and the majority of sportsbook referral bonus offers will add $50 to $100 free bets for existing customers to you and your friend's sportsbook account.
Using our page links is vital since they will allow your friend to also capitalize on the sign-up free bets or other sportsbook offers. If you are new to sports betting, you must first deposit, play, and then you can start referring your friends.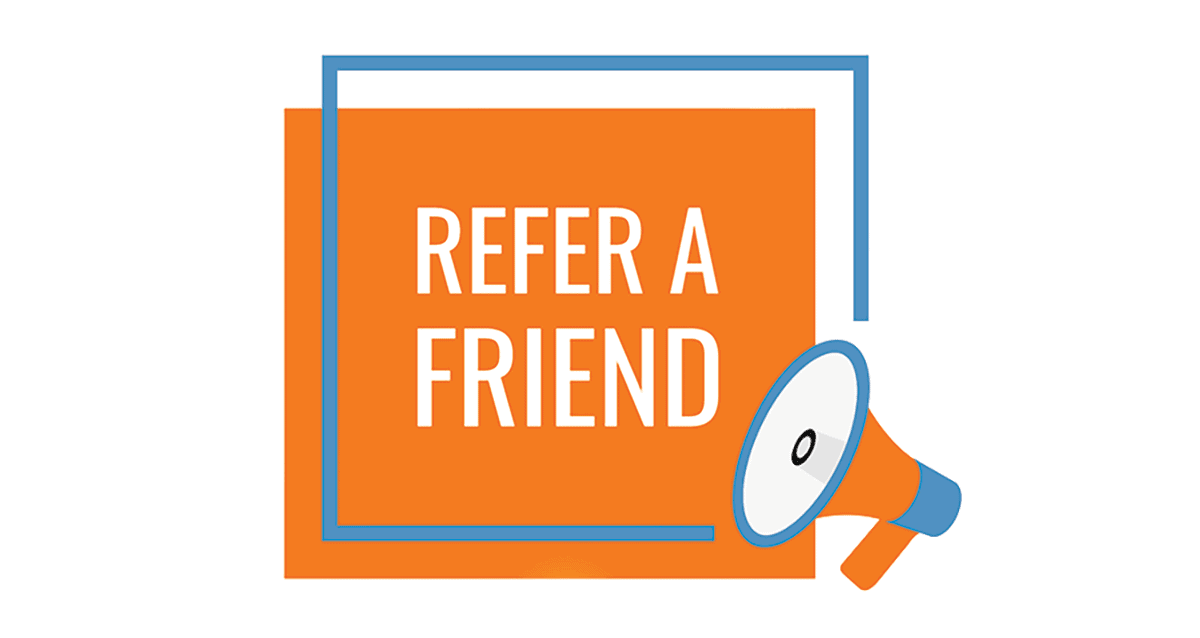 Best US Sportsbooks with Refer a Friend Schemes
The vast majority of sports betting sites offer a referral program. Caesars Sportsbook, DraftKings Sportsbook, and FanDuel Sportsbook provide the best odds, type of sports bet, game coverage, and sports sign-up bonuses for new players. If you are a new user, it is best to sign up on one of these sites before you start referring your friends. Setting up a new website account or betting on their dedicated apps is a breeze. When done, you can start capitalizing on the casino no deposit bonus codes for existing users, like the casino no deposit referrals. Below, you can see the best US sportsbooks with referring friend programs:
The above links can take you to our complete reviews of each betting site. You can find details on their bonus offers, game offerings, betting options, and availability. All of them are among the best NJ betting apps, but you can also find out whether they are available in PA, MI, NY, and other US states. Below, you can discover more about friend sign-up offers available on each book, including New York sportsbook bonuses and PA promo codes for existing players.
Claiming the opening sportsbook bonus is straightforward. Once you have registered, the betting bonus will be added to your account, whether it is a risk free bet or a promo for a specific sport. If you have a sportsbook promo code for any of the above, you can enter it during the registration process.

About the Refer a Friend Bonus
Friend sign-up offers are the simplest form of sports betting bonuses. There isn't a need to know a lot about betting odds or how to bet moneylines, parlays, or round robins. As long as you and your friend meet specific requirements, you can get cash and free wagers out of these. Below, we highlight the main terms and conditions applying to referral bonuses:
There is often a limit to how long you must have an active sportsbook account before referring your friends.
Caesars refer to a friend, as other referral programs require users to have an active balance before generating a unique referral code.
Depending on the sportsbook, you will need to source your friend with a referral code or a link to join through.
Players must have conducted a deposit or more and have placed a minimum bet number since their account creation. This rule does not apply to the friend's bonus since it is credited upon their first deposit.
At least on most sportsbooks, there is a maximum limit to how many friends you can refer.
The bonus amount for you and your friend will vary across sports betting sites from $10 cash to $20 and $50 to $100 for every new friend.
The

minimum required deposit

for your friend will also vary, although it is usually the same as the minimum deposit allowed on the website.
Each rewarded referral bonus type varies. Most sites will give away a free bet or risk-free bet, while an insurance bet is also commonplace. The crucial part is reading

how to bet on DraftKings

or

how to bet on FanDuel

using the offers since a separate guidebook will apply to these. For instance, some free bets will only apply on a specific game day, or you must meet certain wagering requirements before you cash out the free bets.
Some referral bonuses apply on both the casinos and sportsbooks, while others vary per product or state. For instance, a

PA online casino refer a friend bonus

on Unibet is different than on the NJ sportsbook.
Remember that the above are not universal nor applicable to all sportsbook referral bonuses. Reading the sportsbook's bonus terms is crucial to getting the most out of them.
Tips when Selecting Betting Referral Bonuses
As with any sports betting promotion, referral bonuses come with certain limitations. For instance, the Caesars referral program might seem the best, but you won't know until you consider all the minor details.
Every significant online sportsbook, whether it is on the Michigan sportsbook list, an Arizona sportsbook or Colorado sportsbook will offer a welcome bonus and a referral offer of some kind. Consequently, choosing the best sportsbook referral bonus among Michigan referral offers or in any other state can be tricky and there are many things to consider. The best sportsbook bonuses will come with simple wagering requirements so you can use it to wager on college football or whatever your favorite sport is without worrying about strict playthrough targets.
These are the questions that could help decide which is the best sportsbook for referrals:
Which sportsbook offers the highest referral bonus?
How many friends can I refer to my sportsbook?
How much should the referred friend deposit?
What wagering requirements apply to referral-free bets?
For how long is my referral bonus valid?
What are the maximum betting odds I can use for my free bet?
Always think about the amount the referee needs too deposit or bet as you won't want to burden your friend by making them put down a lot of money and bet a huge amount, especially if you don't know if they are on a strict bankroll management amount. As your main aim is getting your hands on a bonus once your friend has signed up, always go for refer-a-friend offers that don't require large amounts from the person you're referring to.
A lot of online sportsbook bonus offers also come with time limits. With a referral bonus, as you are relying on another person, make sure you give them as much time as possible to make the best decisions, particularly if they are new to sports wagering. Online sportsbooks tend to make it straightforward, but it is still worth giving yourself plenty of time.
Reading through the referral promotion's terms and conditions will shed light on the above areas. The main aspects concerning this bonus are covered here, so you should be safe after reading through it.
How Referral Bonuses Work
Referral bonuses apply to registered users and the friends they choose to invite to the game. Depending on the sportsbook, you can generate a unique referral code or link by visiting the account tab or the promotions page. After generating the referral code, you must share it with your friends.
As long as you satisfy the promotional requirements, such as minimum deposit and placing a wager in the past, the process is quick and straightforward.
Your friend can use the code when creating a new account or joining the sportsbook through the unique link shared with them. After their first deposit, you will both receive your referral bonus.
The exact process can be followed several times until you receive the maximum referral bonus. The Caesars refer a friend and the PointsBet refer a friend are the best promos with a $100 free bet for each new friend.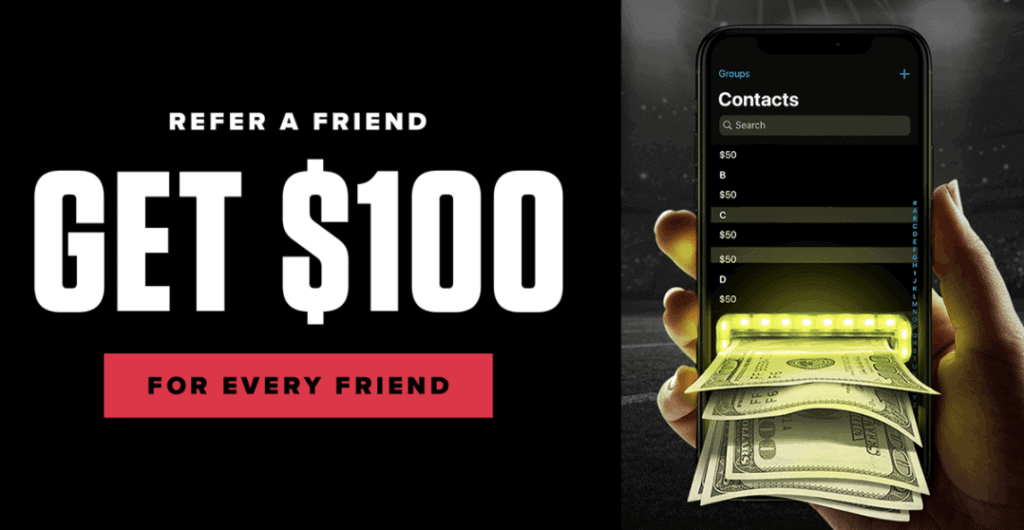 How to Refer My Friend to a Sportsbook
If you have ever used a referral scheme for online shopping or other industries, the process is identical on sports betting sites. A few differences might apply from one sportsbook to another. We highlighted the main requirements above, but here are the exact steps to qualify:
Visit the promotions tab and tap on the refer a friend bonus
When the unique referral link is generated, send it to your friend
They must then visit the sportsbook using the shared link and create a new account. Since you have followed the process, you can tell them what they will need; i.e., a unique username, password, address details, last four digits of SSN, etc.
A minimum $10 or higher deposit is a universal refer a friend requirement.

PayPal betting deposits

,

Venmo sportsbook deposits

, etc., are all supported by the leading sportsbooks.
After your friend's first deposit is processed, you will receive your $100 free bet or higher, depending on the selected sportsbook referral bonus.
Before you complete the same process, you must wager your free bet. Referred friends can also take advantage of the same promo with their friends. New players can opt-in for the best sportsbooks with referral programs through this page, acquiring the no deposit free bets offered and the risk-free bets applying to them.
Best Sportsbook Refer-a-Friend Offers
With the accounting part of referral bonuses out of the way, it is time to find the highest value referral sportsbook schemes. We dug deep to uncover all legal US betting sites with a refer-a-friend bonus, and we list them below:
FanDuel Sportsbook Refer-a-Friend: Refer an unlimited amount of friends to deposit $10 and win $50 for each new deposit. FanDuel will also offer a $1,000 first bet insurance for using our links as a new player.
DraftKings Sportsbook Refer-a-Friend: With each newly referred friend, up to a maximum of five, depositing $25 or more, you earn $100. New players can use the page links to win a

$1,000 sportsbook deposit bonus

.
Caesars Sportsbook Refer-a-Friend: Each friend must deposit $50, and you will earn $100. New players can use GUSAFULL to receive $1500 free bet insurance as part of the Caesars sportsbook referral bonus.

Betway Sports

Refer-a-Friend: Earn a $50 free bet for each new referral and a $250 risk-free bet as a new user.
BetRivers Sportsbook Refer-a-Friend: All newly referred friends spin a wheel to find their bonus. A deposit of $50 is required to qualify, while new

BetRivers

bettors can claim a $250 matched bonus using the code 250MATCH.
BetMGM Sportsbook Refer-a-Friend: With a 20 referral bonus cap, you can receive up to $1,000 in bonuses; each friend must deposit $50 to qualify. New players who use the code GAMBLEUSA will also win $1,000 in free bets.

888 Sports

Refer-a-Friend: Refer up to 10 friends and win $150 for you and your pals.
PointBet Sportsbook Refer-a-Friend: Earn $100 for each new friend and use our page links for a $2,000 risk-free bet as a new player. There is a $2,500 yearly cap for the

PointsBet

referral bonuses.
TVG Racebook Refer-a-Friend: Without a cap on referred friends, a deposit of $25 will reward you and your pal with $25 each. New

TVG

players can also win $300 risk-free bets using RISKFREE300.

TwinSpires Sportsbook

Refer-a-Friend: Every time a referred friend deposits $10, you will receive a $10 free bet. New players using the code SUPERBONUS will also win a $1,000 risk-free bet.

Unibet Sportsbook

Refer-a-Friend: With a maximum cap of 10 friends and $500, a $50 bonus for each new referral applies on Unibet. A $250 risk-free bet also awaits new players.
William Hill Sportsbook Refer-a-Friend: The referral scheme of William Hill is now the same as the Caesars sportsbook; $100 for each new friend depositing $50.
Tipico Sportsbook Refer-a-Friend: Why not get more than the initial $750 risk-free bet at

Tipico

? For each new referral, users earn $50 in free site credit.

Borgata Sports

Refer-a-Friend: Like BetMGM, for every new referred user at Borgata who deposits $50, you will also win $50.

Parx Sportsbook Refer-a-Friend

: The Kambi referral scheme implemented by Parx can see you winning $50 for each referral.

bet365 Refer-a-Friend

: That's the most unique referral program covered so far. Instead of a free bet, bet365 gives users a 30% share of all losses their friends suffer.
You can make over $20,000 through the above referral bonuses, and that's not counting the free bets with no deposit and the $1,000 risk-free bets you can receive on sign-up. The referred friends can also get a lot out of these offers, so why wait?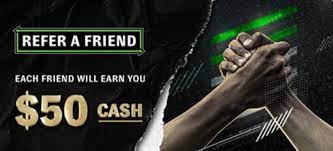 Refer a Friend on Reddit
For a sportsbook to stand out in the fiercely competitive US sports betting market, it must be doing everything right. Giving away freebies is the best way to increase their player base, but simply doing that will bankrupt them. Keeping active players is the real challenge while growing your fan base, and referral bonuses are the best way forward.
Reddit users know such marketing practices, which are common to all industries and not just sportsbooks. Several subreddits are dedicated to referral links and unique generated codes for users without friends with similar interests. ReferralCodesHub and RefExchange are just two examples where everyone can find a friend to refer to their sportsbook. The sports betting Reddit community is massive in the US, so there is no reason not to get something out of it. Non-registered users can even find Reddit sportsbook promo codes for new players.
FAQ's
How do I generate and share a referral link?
Any registered member can visit the promotions area and generate a code. A few books will require you to fill in a form too. You can then share the code or link with your friend via social media, SMS, email, etc.
Who can access the referral code bonus?
Any player with an active sportsbook account for longer than two weeks and a betting history can use refer-a-friend bonuses.
How many friends can I refer?
This depends on the sportsbook, which limits the maximum number of friends or via a bonus cap. For example, PointsBet allows up to $2,500 in referral bonuses per year, while Caesars sportsbook has a 10 friend bonus cap.
Why should I use a friend bonus?
This offer is a win-win situation for you and your friends. Both win a hefty bonus for literally depositing money you would anyway. It would be best if you did not refer any friend who suffers from a gambling problem, though, since all offers and sports betting promos should be used to enjoy a few extra wagers.