Gamble USA strives to improve your online gambling experience. We aim to help you play safely, make informed decisions when gambling, and increase your betting knowledge through our guides.
We adhere to strict editorial integrity; our content may contain links to products from our licensed & legal US partners.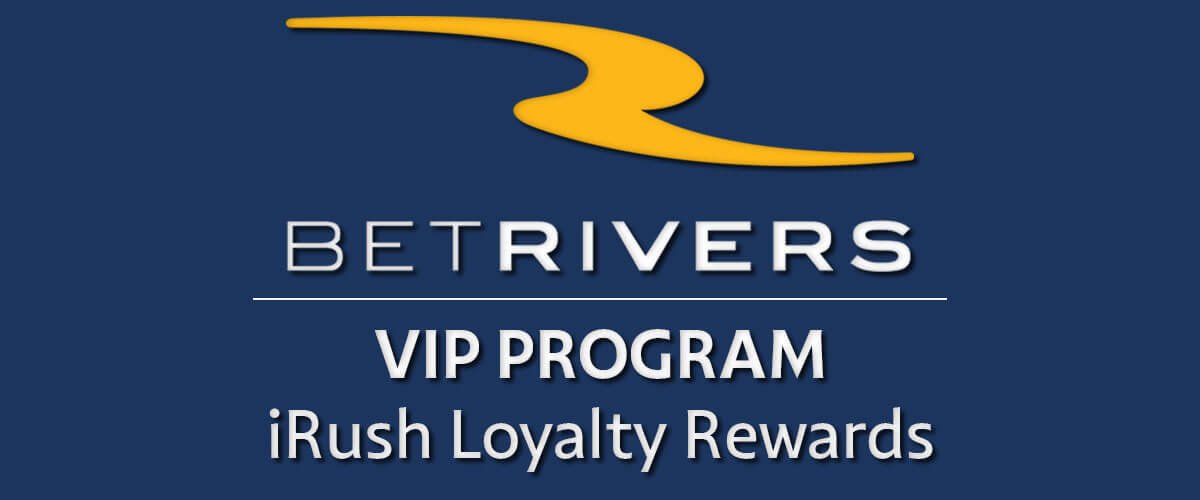 Have you ever imagined getting freebies and rewards for betting on a gambling site for real money? You don't have to imagine anymore, as this is already the case via Loyalty Rewards and VIP Programs.
Top online betting sites understand the value of loyal customers who bet consistently. Therefore, they show players this by offering them unique online rewards through loyalty and VIP programs. Depending on the site, these rewards may consist of bonus money, monthly gifts, free trips, and access to unique tournaments and games.
Promo Code: SPORTS
Up To $500 2nd Chance Bet
21+. T&C Apply
21+. T&C Apply
Promo Code: SPORTS
Regular promos & rewards
Generous sign up bonus
Promo Code: SPORTS
Up To $500 2nd Chance Bet
21+. T&C Apply
21+. T&C Apply
However, every reward program is built differently, and one of the best options available today is on BetRivers – a leading online betting site for players in the US. The BetRivers Reward Program is called iRush Rewards and provides numerous benefits, including free gifts, birthday gifts, a free Android playing device, and faster withdrawals. These can greatly elevate your gambling experience if you play your cards right.

If you are considering how to take part in the BetRivers loyalty program and don't know how to go about it, this guide can help. We will cover everything you need to know about the iRush Rewards program, how to enter, the numerous benefits, and other essential aspects. Knowing this, let's begin.
What is the iRush Rewards Program?
The iRush Rewards program is BetRiver's unique version of the typical VIP program that you'll find on many other online betting sites. This reward program, like that you'll find on other platforms, aims to reward you for gambling on BetRivers. Once you sign up for a BetRivers account, you automatically enter into the iRush Rewards program.
Note that you can also enjoy a profitable welcome bonus if you register using the right bonus code for your state. For instance, if you are in New Jersey and register on the BetRivers casino using the code CASINO500, you'll get a 100% deposit match up to $500 before being included in the rewards program.
Promo Code: CASINO1000
100% Deposit Match up to $1,000
21+. T&C Apply
21+. T&C Apply
Bonus Code: CASINO1000
Speedy payouts
Licensed & legal US casino
Promo Code: CASINO1000
100% Deposit Match up to $1,000
21+. T&C Apply
21+. T&C Apply
Then, as you wager for real money, you start to earn loyalty points to progress up the iRush reward levels. As opposed to many other reward programs, BetRivers offers you two types of points for every real money bet. These are the Loyalty Level Points and the Bonus Store Points. With the Loyalty Level Points, you can boost your level on the loyalty tier.
The Bonus Store points don't have any cash value, but you can redeem them and use them to purchase rewards at the Bonus Store. As you progress up the tiers, you get access to better and more generous bonuses. Also, you get discounts on items in the Bonus Store – which means more rewards.
Points last for 60 days, and for the first 30 days after you accumulate points, they stay in your account. After 30 days, the points start to decline during the remaining 30 days. Fortunately, any points you lose during those 30 days will be replaced with new points as you continue to bet. However, the Bonus Store Points last for a year, which is more than enough time to use them up.
How does iRush Rewards program work?
The BetRivers iRush loyalty rewards program is one of the easiest schemes of its kind to grasp in the online betting world. Whether you are joining the BetRivers online casino or sportsbook, working out how to earn points is straightforward. BetRivers bettors can earn two types of points for every wager they place on casino games and sporting events:
iRR Bonus Store Points: Bonus store points are the name of the currency used for iRush Rewards; you can earn these points or use them to exchange for different bonuses in the bonus store. If you collect enough BetRivers bonus points you can earn some really nice bonuses.
iRR Loyalty Level Points: Loyalty Level Points work the same way lots of these types of programs do. You earn points to move you up the tiered VIP program. The more you bet, the more points you earn and the faster you move up the ladder.
Joining iRush Rewards
To become part of the iRush Rewards scheme, you must first sign up for a BetRivers sportsbook account or join the Bet Rivers casino. When you have provided the relevant details and had your account verified, you can automatically start collecting points towards the rewards scheme by placing wagers BetRivers app.
If using BetRivers sports, you can move up the tiers by wagering on the numerous betting markets available, from regular NBA, NFL and MLB games to big events such as the Super Bowl. Likewise if you prefer the casino as a betting option, you can use your BetRivers bonus to play on your favorite casino games and you will soon start climbing those tiuers.
You will instantly added to iRush Rewards as soon as you register on the platforms. There is no added cost to join.
Do BetRivers Rewards Apply on Both Casino & Sportsbook?
The BetRivers rewards program applies to players in the online casino and sports betting site. Once you register on any of the platforms, you'll instantly be added to the rewards program. All that is left is to wager on your favorite sport or casino games consistently – and you'll rack up points to progress up the tiers.
However, the number of iRush rewards points you earn on each real money wager differs depending on whether you play on the sportsbook or online casino. We will cover the differences between both in the next section.
iRush Rewards Tiers
The BetRivers iRush Rewards program has 11 tiers, all requiring different points. The operator takes a different approach compared to other sites regarding how it names the tiers. Here, the levels are categorized into 1-10, with the final level named Elite. To get to the Elite level, you will need to be invited by BetRivers after fulfilling specific criteria.
Check out the table below for a breakdown of each of these tiers.
| iRush Rewards Tiers | Points Required |
| --- | --- |
| 1 | 40 |
| 2 | 160 |
| 3 | 400 |
| 4 | 760 |
| 5 | 1,400 |
| 6 | 2,800 |
| 7 | 5,200 |
| 8 | 8,800 |
| 9 | 13,600 |
| 10 | 20,000 |
| Elite | Invite only |
How to Reach a New Rewards Tier
You'll need to accumulate the required tier points to get to a new reward tier, as discussed above. All players who register on the BetRivers site are instantly included in the program. Next, players must make wagers to move up the tier levels.
The amount you need to wager differs depending on if you are playing in the sportsbook or casino. We will be covering both below, starting from the sportsbook.
Sportsbook Accumulation
| Bets Combined | Bet per 1 point |
| --- | --- |
| 1 | $6 |
| 2 | $3 |
| 3 | $2 |
| 4 | $1.50 |
| 5 | $1.25 |
| 6 | $1.05 |
| 7 | $0.90 |
| 8 | $0.75 |
| 9 | $0.60 |
| 10-12 | $0.50 |
As you can see from the above, betting on higher combinations requires you to pay less cash for each point. If you wager on a single combination, a single point will cost you $6. However, if you wager on 10-12 combinations, you pay $0.50 per point. This means betting more means a higher number of points at discounted prices.
Casino Points Accumulation
| Casino Game RTP | Wager Per Point |
| --- | --- |
| 94% | $4.17 |
| 95% | $5.50 |
| 97.5% | $10 |
| 99% | $25 |
Accumulation of points works differently when you are playing in the online casino. Here, the amount you need to spend for each point is dependent on the RTP of the game. Games with lower RTPs require you to spend less to accumulate points since the casino has the upper hand. For instance, each $4.17 you wager on a casino game with a low RTP of 94% gets you a single point.
However, if you wager on a game with 99% RTP, you get a single point for $25. If you are interested in quickly racking up points in the online casino, your best bet is playing games with lower RTPs.
Monitoring and Maintaining your Loyalty Level Tier
You can use the progress bar to monitor your Loyalty Level in real time alongside the number of points you need to get to the next level. To retain your present tier level, you will have to keep making wagers at the same frequency as you were previously doing. If you fail to do this, your points will be deducted, as we mentioned earlier, and you will drop lower on their tier levels.
Fortunately, BetRivers uses an easy formula to determine the average points you amassed within the remaining 30-day window. Remember we mentioned that the points start to drop after the remaining 30 days of the 60 days it is valid for. So, say you got a total of 600 points between the last 31-60 days, you will lose 60 points today, since 600 divided by 30 is 60. This means to keep the same number of loyalty points you have; you must earn no less than 60 points today.
You will spot a number beneath your Avatar, which indicates your Active Loyalty Level. As we mentioned, make sure you make it to the top to get everything the rewards program offers.
VIP and Loyalty Benefits with BetRivers iRush Rewards Program
Players who make it into the BetRivers iRush Rewards program will be eligible for numerous prizes. These include:
Bonus Store Access
BetRivers Special Offers
Custom Deposit Limit Assistance
Exclusive BetRivers Swag
Exclusive VIP Promotional Calendar
VIP Birthday Gifts
Exclusive VIP Events
Expedited Withdrawals
Dedicated VIP Manager
Luxury VIP Gifts etc.
You can check out the image below for the complete list of benefits you enjoy with the Rewards program.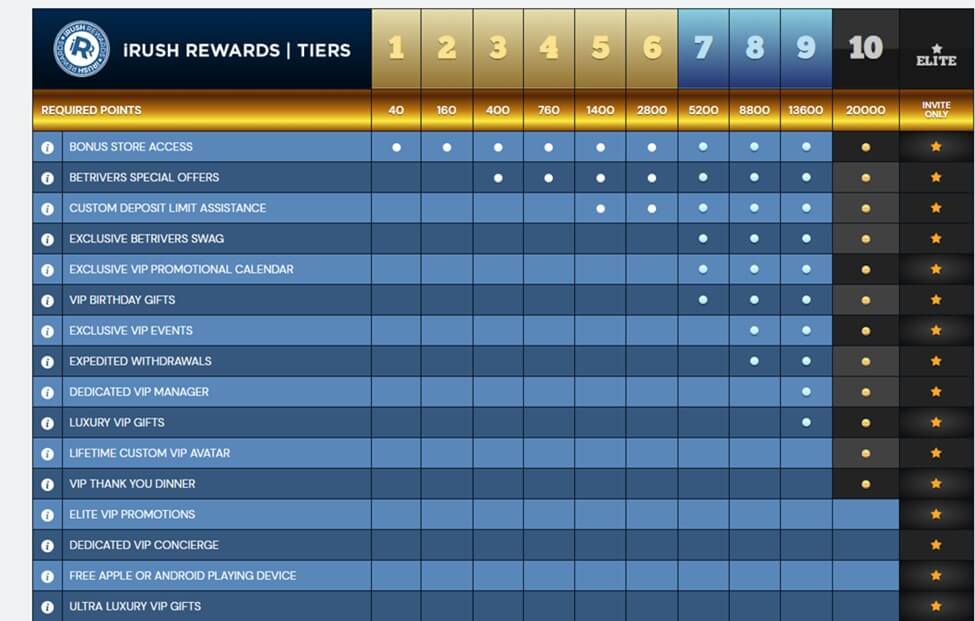 Note that the rewards you can access are dependent on your tier level. The higher your tier level, the more points you can access. The level 10 tier gives you access to most benefits, but you'll only truly enjoy all BetRivers offers when you are invited into the Elite tier level. Make sure you bet more to earn points, but remember to do it responsibly so you don't develop a gambling problem.
Best Games to Play for More iRush Reward Points
As we covered earlier, you'll need to play casino games on BetRivers if you want to accumulate points faster. Even though we don't recommend playing titles with lower RTPs to rack up points faster, you can play progressives. These games have high volatility with massive wins and generally come with lower RTPs. Note that you'll need a larger budget when playing these games as winnings don't come frequently. Here are a few of the options we recommend you try out.
| 🎰Slot Title | 💯RTP |
| --- | --- |
| Flaming Fuse Zodiac | 94% |
| Star Watch Fire | 94.1% |
| Pirates Plenty | 94.69% |
| Wolf Run Inferno | 94.98% |
| Money Inferno | 95% |
These games will cost you $4.17 – $5.50 per wager, depending on the option you settle for, which means you spend less to rack up points. You can play any of these titles on BetRivers via our links.
BetRivers Company Overview
BetRivers online casino is the online section of the Rivers casino based in Philadelphia. Rush Street Interactive, a popular online gaming company, is the brains behind both of these companies. The company initially started operations in the 90s, but it wasn't until 2009 that it kicked off its gaming segment.
Rush Street has since established four casinos in the US and has more than 9,000 employees. Even though it has not spent too much time in the industry, it has risen to become one of the most popular gambling sites today. Presently, the casino is legal in Michigan, West Virginia, Pennsylvania, and New Jersey. Sign up via our link using the BetRivers promo code CASINO1000, and get a 100% match deposit bonus up to $1,000.
Promo Code: CASINO1000
100% Deposit Match up to $1,000
21+. T&C Apply
21+. T&C Apply
Bonus Code: CASINO1000
Speedy payouts
Licensed & legal US casino
Promo Code: CASINO1000
100% Deposit Match up to $1,000
21+. T&C Apply
21+. T&C Apply
In 2019, BetRivers launched its online sportsbook in Pennsylvania. Then, later on, it released the first mobile betting app in Indiana. Now, BetRivers is legal in numerous states including Iowa, Maryland, Virginia, Colorado, Arizona, and Illinois. Register on BetRivers via our link using the promo code SPORTS, and get a $500 risk-free bet bonus. If you are in New York, you get $100 instead. You also stand the chance to benefit from other offers including NFL Parlay Insurance, NBA insurance, and Odds Boosts.
Promo Code: SPORTS
Up To $500 2nd Chance Bet
21+. T&C Apply
21+. T&C Apply
Promo Code: SPORTS
Regular promos & rewards
Generous sign up bonus
Promo Code: SPORTS
Up To $500 2nd Chance Bet
21+. T&C Apply
21+. T&C Apply
States where BetRivers is available
The BetRivers platform is available in the following states:
BetRivers Arizona
BetRivers Colorado
BetRivers Illinois
BetRivers Indiana
BetRivers Iowa
BetRivers Louisiana
BetRivers Maryland
BetRivers Michigan
BetRivers New Jersey
BetRivers New York
BetRivers Ohio
BetRivers Pennsylvania
BetRivers Virginia
BetRivers West Virginia
It doesn't matter whether you are using BetRivers IL, BetRivers PA or the Ohio sportsbook, the iRush Rewards scheme works in the same way.
Summary
There you have it, everything you need to know about the BetRivers iRush Rewards Program. If you play your cards right with this program, you can win many luxury gifts that make your stay worthwhile. The scheme compares well to rivals such as FanDuel and Caesars sportsbook versions. However, remember that you'll need to wager consistently to maintain your tier level on the program. This may need you to invest a lot of cash, but we believe the benefits will be worth it in the long run. Sign up on BetRivers today using the SPORTS promo code and get a $500 risk-free bet to start playing. This will also get you into the iRush Rewards program for a chance to enjoy various rewards.
FAQ's
How to sign up for Rush Rewards Online?
Signing up for the Rush Rewards online program is very easy. Simply sign up on the BetRivers online casino or sportsbook and instantly be included in the rewards program. To progress up the tier levels, keep making real money wagers to accumulate points and enjoy amazing rewards. However, to get to the Elite tier on the Rush Reward program, you'll need to receive an invite from the operator.
What is the Rush Rewards players club?
The Rush Rewards player club is the loyalty program offered to players on BetRivers. Players who sign up here are instantly added to the program and will progress up the levels as they make real money wagers. Anyone who makes it into this program can earn Loyalty Level Points which they can use to progress up the tier levels, and Bonus Store points to purchase rewards from the Bonus Store.
Can you use your loyalty points at BetRivers retail locations?
You can trade the bonus store points and not the loyalty points for rewards offline at Rivers Casino in Philadelphia. You can also get complimentary cruises, hotel accommodations, and playing devices. Rush Rewards is a separate loyalty scheme available at BetRivers physical casinos.
Is there a Rush Rewards app?
There is no dedicated Rush Rewards app available. However, you can monitor your Loyalty Level Points and Bonus Store points via the dedicated BetRivers mobile app. You can download this app on your Android device via the Google Play Store, or your IOS device on the App Store.
What is the number to contact the Rush Rewards center?
You can use the normal support center number (855) 287-9947 to reach the Rush Rewards center. They will be willing to help you with any inquiries pertaining to the loyalty program.
Can I use BetRivers rewards on SugarHouse?
No, you can't. Even though SugarHouse is the sister site of BetRivers, you will be unable to use the rewards there despite featuring the same rewards program.
How much bonus money can I earn on BetRivers?
The amount of bonus money you earn is not fixed. You can continue to stack it up in the bonus bank until it reaches your desired amount. BetRivers offers a bonus money meter which you can use to easily keep track of how much bonus money you have.