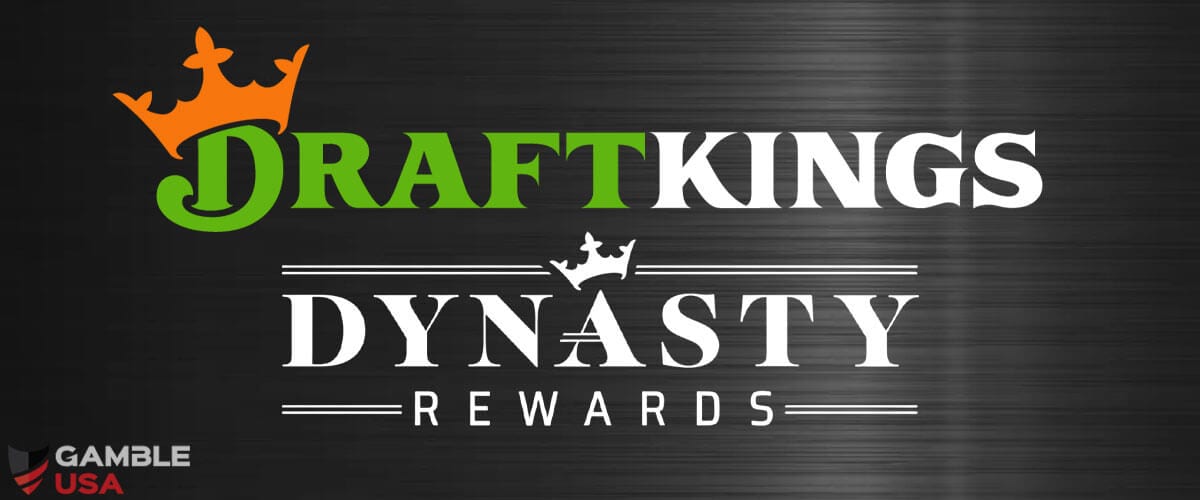 DraftKings is one of the largest sports betting and daily fantasy platforms in the United States that has partnered with casinos around the country to bring their users one of the best rewards programs in the business.
DraftKings has established itself as one of the market leaders in online sports betting. With an excellent sportsbook app, a range of markets including the NFL season, college football, the NBA, and Major League Baseball, it has attracted lots of customers. The DraftKings sportsbook app has quickly become the go-to betting option for a lot of bettors, and the rewards program is another feature that attracts people.
The DraftKings VIP program features several different rewards that users can earn through every dollar they spend with the platform, whether online or in person! It has multiple levels for users to earn their way up to with unique benefits such as welcome bonus offers and promotions on different bet types for wagering on their online sportsbook.
If you're interested in the rewards program and want to know more information on the different ways this program can benefit you directly, then keep reading. This guide will teach you the terminology, requirements, levels and benefits, rewards and features, and how to signup for the DraftKings VIP program.
Up To $1,000 Deposit Bonus
21+. T&C Apply
21+. T&C Apply
The best sportsbook
Amazing odds & offers
Awesome betting app
---
DraftKings VIP Program Terminology
This section will help you understand the terminology spread throughout this piece on the VIP program, so be sure to read it before you go any further! Reading below will help you better understand the rest of the article and, most importantly, the program!
👑 Crowns
Crowns are the form of currency that DraftKings uses for their rewards system that users can earn through anything they do on the different DraftKings platforms. DraftKings Crowns can be redeemed by either accessing the Dynasty Rewards store or converting them to DK Dollars to place bonus bets. Everytime you play with $1, you receive 1 Crown. You can then exchange 500 Crowns for $1.
They can be found in gold lettering underneath your account balance or in the rewards screen.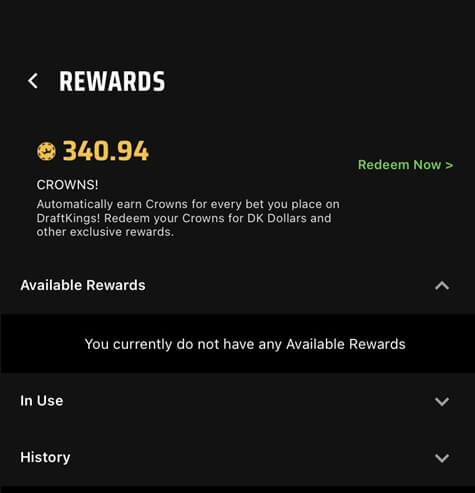 💲 DK Dollars
DK Dollars is bonus money given to DraftKings users who have converted their crowns or reached a new level of the VIP program. Users can spend DK Dollars however they'd like, but they cannot be withdrawn directly from your DraftKings account.
🏆 Dynasty Rewards Status
A user's Dynasty Rewards status at DraftKings would mean the rewards tier they have access to. I am a bronze member, as seen below, which can be found by going to the account page and selecting the "Dynasty" button.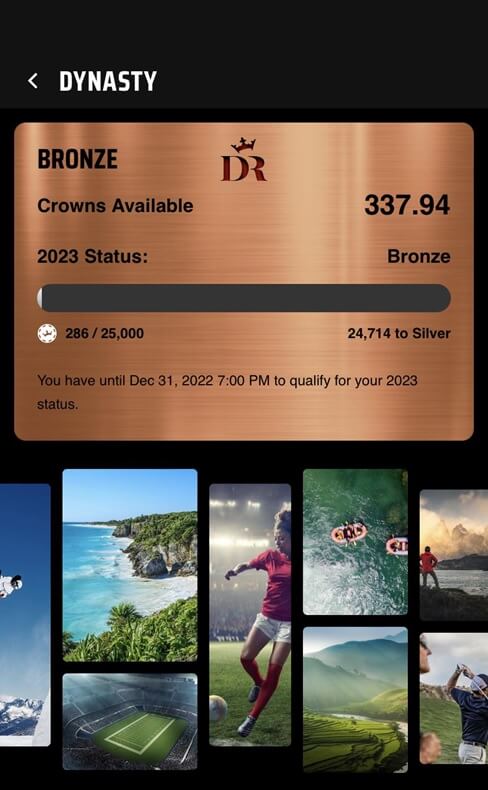 ---
Requirements to Be a VIP on DraftKings
The DraftKings VIP program doesn't require much to join at the basic level of bronze; however, it does require users to spend money to level up their benefits. There are five levels, each of which gives users different benefits based on how loyal sports bettors they are.
To begin, the only requirement you'll need is to have a DraftKings Sportsbook account. After you've created your account, you'll be automatically enrolled in the DraftKings VIP program and be in the bronze tier.
The requirements to create an account with DraftKings are that you're 21 years of age or older and provide the following personal information to confirm your age and identity.
Full Name
Date of Birth
Email
Phone Number
Address
Last four digits of the SSN
Gender
This account will allow you to use the DraftKings daily fantasy sports platform in 45 states, while DraftKings sportsbook is legal in over 17 states, including:
Kentucky
New Hampshire
Oregon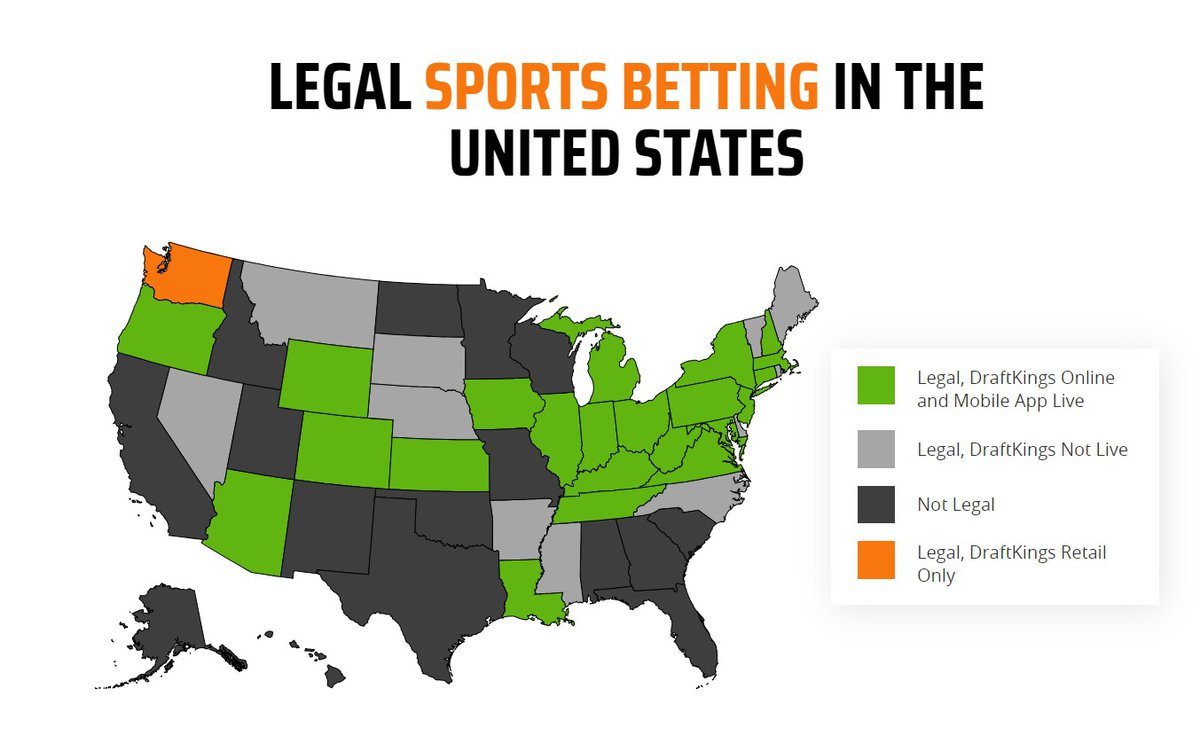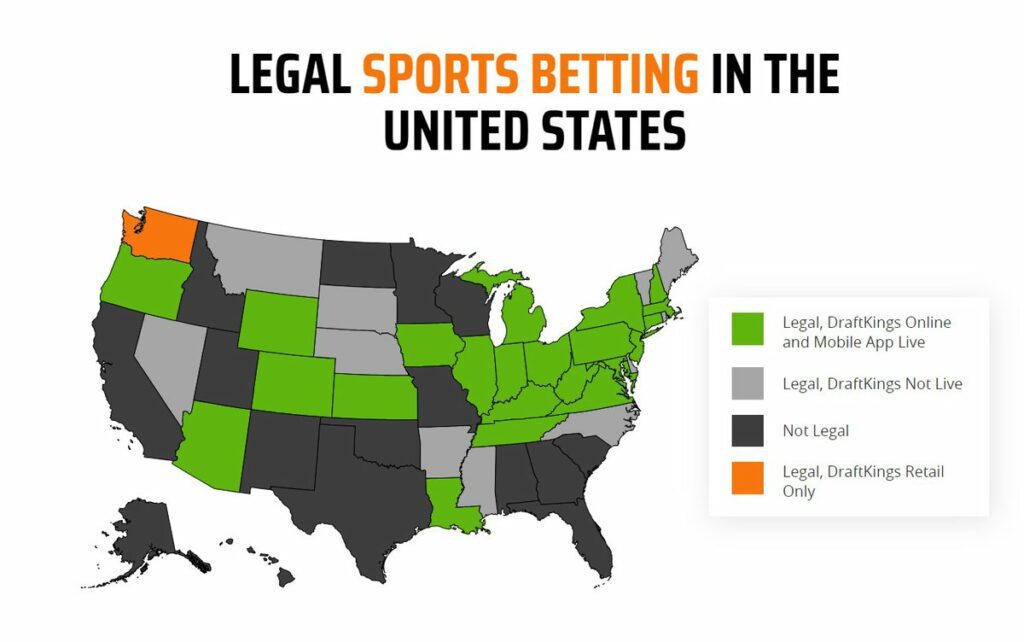 Users can access their DraftKings account through a web browser on their website or via their mobile phone on the DraftKings sports app. iOS users can download the app through the Apple App Store, while Android users can download it from the Google Play Store.
Up To $1,000 Deposit Bonus
21+. T&C Apply
21+. T&C Apply
The best sportsbook
Amazing odds & offers
Awesome betting app
---
DraftKings VIP Levels and Benefits
As mentioned above, The DraftKings VIP program has five different dynasty rewards statuses for users to reach every year using all DraftKings platforms, such as a partnered casino, DFS, and sports betting to get there. Each level requires a different amount of crowns to be earned before being unlocked, and the higher tiers can be complicated to reach without spending a lot of money.
New customers will be automatically enrolled, as I stated above, but can receive trials to higher tiers through other DraftKings users' referral services. For more information on the specific benefits of each tier, please read below the five levels and their bonus offers.
🥉 Bronze Members – Instant Join
The bronze tier is the base tier of the DraftKings VIP program, so it's pretty basic. However, it does offer more than a lot of other sportsbooks. I'm referring specifically to the ability to redeem crowns for DK Dollars, which are bonus bets.
Access to redeeming crowns for bet credits
Access to the Dynasty Rewards Store
Access to different promotions, missions, and achievements
🥈 Silver Members – 25,000 Crowns
Silver members have acquired at least 25,000 crowns over the past year of their account and receive more promotions and a welcome reward. This is also the first tier where a monthly crown accrual bonus is implemented, which is how users can quickly gain through the ranks to get the full advantage of the DraftKings VIP program. But more on that later.
Below are the exclusive benefits for the silver tier:
Tier exclusive promotions and contests
Minimal welcome reward
10% monthly crown accrual bonus
🥇 Gold Members – 125,000 Crowns
Gold members have a challenging road ahead and must accrue 125,000 crowns over a year to earn these rewards. This is the first tier that offers upgraded customer service and an even better accrual bonus. New and improved promotions allow bettors rewards such as parlay insurance, enhanced odds, and alternate lines.
Priority customer service
Moderate welcome reward
Tier exclusive promotions and contests
20% monthly crown accrual bonus
💎 Diamond Members – 500,000 Crowns
The diamond tier can be reached by earning a hefty 500,000 crowns over a year for six great benefits, including a good-sized welcome reward in the form of DK Dollars, a free trial for a friend for gold benefits, and access to exclusive live experiences. These live experiences can range from tickets and access to exclusive areas at sporting events to deals on rooms at participating casino partners.
Tier exclusive promotions and contests
Nice welcome reward
Access to exclusive live experiences
VIP customer service associates to assist your needs
The ability to gift a gold tier trial to another person
30% monthly crown accrual bonus
🌟 Onyx Members – 1,000,000 Crowns
The fifth and final tier of the DraftKings VIP dynasty rewards program is onyx which requires users to accrue 1,000,000 crowns to gain access. Being the highest tier in the program, it gives onyx members many exclusive benefits and DraftKings reload promotions, the best customer service, a trial of diamond tier membership for a friend, and access to even more live experiences.
Tier exclusive promotions and contests
Sizeable welcome reward
The ability to gift a diamond tier trial to another person
Access to exclusive live experiences
Access to a dedicated VIP customer service host
40% monthly crown accrual bonus
Secret "Royal Treatment" VIP Members
This royal treatment from DraftKings Dynasty Rewards is an invite-only tier that is very difficult to access, especially if you're not a millionaire. Other users can recommend you, or you can email them yourself at dkvip@draftkings.com, but be sure to be a diamond member at the very least because your account will be reviewed for how much you spend with DraftKings before they get back to you.
Up To $1,000 Deposit Bonus
21+. T&C Apply
21+. T&C Apply
The best sportsbook
Amazing odds & offers
Awesome betting app
Extra Exclusive DraftKings VIP Showcase Program
One day you may sign into your DraftKings app and receive the following notification:
CONGRATULATIONS!
You've qualified for
DRAFTKINGS VIP SHOWCASE PROGRAM
Showcase your gaming status through this exclusive opportunity!
Your account has been selected as a prospect to join the DraftKings VIP community, and for the next three weeks, you will live like a VIP at DraftKings. This exclusive offer is rare and only given out to players who are identified as "future VIP prospects". After the three weeks, you can progress to the illustrious VIP status. If you do not receive the upgrade, then do not worry as you will still earn status and pick up Crowns during your VIP run, and can continue as you were before.
---
DraftKings Showcase Rewards
This is separate from the DraftKings Dynasty Rewards program. There is no tier credit, DK dollar, or DK Crowns that apply to this scheme. The Showcase Rewards are related to DraftKings' invitation-only VIP program. If you have managed to achieve VIP status from betting on sport with DraftKings, you will get access to exclusive bonus bets, all expenses paid trips, enhanced customer service and more perks. This level of VIP is reserved for the most valuable of customers, who have been betting on events like the NFL playoffs or the Super Bowl for a long time and have accumulated a lot of rewards and the operator sees fit to keep them on board through this scheme.
Sometimes, DraftKings will choose special customers and invite them to experience being VIP members for a limited time. After that, they will bring them up to the VIP level. During that limited time, those who are selected can access special offers, also known as Showcase Rewards. Essentially, they are a sort of trial period for the full DraftKings VIP program.
It doesn't matter if you are using DraftKings Ohio, DraftKings Kansas, DraftKings Maryland or playing in a different DraftKings marketplace, if the bookmaker chooses you, you are in.
---
How to Reach a New VIP Level on DraftKings
The only way to raise your status in the DraftKings VIP program is by earning crowns, which can be done in several different ways! First of all, anything you do through DraftKings that costs money will add crowns to your account, and even if you redeem them for rewards, they'll still be counted toward your VIP level.
Whether using the daily fantasy sports platform, the online betting platform, or the DraftKings online casino, your money spent with DraftKings will give you crowns. The cashback conversion rate, on the other hand, will change based on how you choose to spend that money, meaning that you will receive crowns differently through each platform.
Online table games such as blackjack and video poker give users one crown per $5 spent, while games, such as DraftKings slots and the sports betting services give one crown for every $2 spent. DraftKings DFS gives users one crown for every dollar spent, which is the best of the three.
Other ways to earn more crowns are by completing different achievements and missions, which will give you extra crown boosts based on the difficulty. These missions are set daily and can be found by going to the promotions page in the bottom right of your DraftKings app, then by clicking the Missions page at the top of the screen.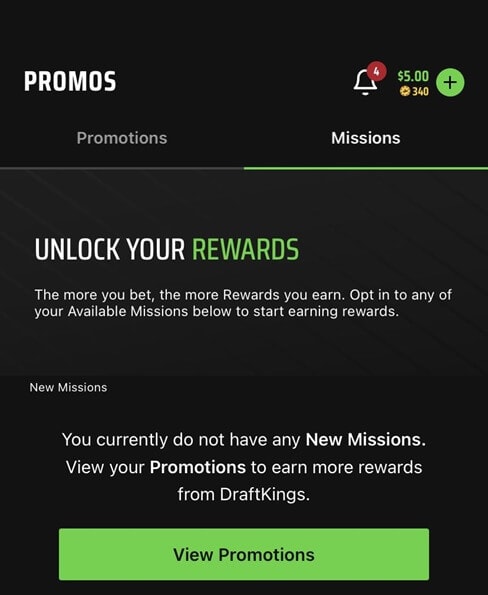 While users can complete these missions for crowns, your rewards will sometimes come in other forms, such as bonus bets or DK Dollars.
---
Rewards & Features Exclusive to DraftKings VIP Members
Above I've briefly described different rewards and features given to users in DraftKings VIP Dynasty Rewards. Still, below I will be detailing each of them for you to understand better.
Bonus Bet Credits
Bonus bets are exactly what they sound like and can be rewarded by redeeming crowns or accomplishing missions. The bonus bet amount is generally around the amount of your average wager and can only be used once.
Similarly, they will be limited to the type of bet you redeemed, meaning you cannot use a free sportsbook credit in the online casino. While they are limited to the bet types, they are not limited to the betting markets, meaning you can go placing bets on DraftKings at anything from live betting to player props.
DK Dollars are essentially bonus bets with no deposit because they can't be outright withdrawn. However, they can be used in any increment and on any game the user wants.
Exclusive Bonuses and Promotions
Draftkings offers several different bonuses such as odds boosts and missions for sports betting and welcome bonus offers for the higher levels of Draftkings VIPs. The welcome bonuses traditionally come in the form of many crowns equivalent to a specific dollar amount. These crowns can be redeemed for other rewards of your choosing or for just the number of DK dollars the crowns convert to.
Odds boosts can be found on the homepage of the DraftKings app, and missions are found in the promotions tab. These bonuses get better and better the higher up you go in DraftKings VIP.
Dynasty Rewards Store
The dynasty rewards store is one of the best things about DraftKings because it allows users to redeem their crowns for great deals on live experiences or merchandise! The dynasty store allows users to redeem their crowns for travel, watches, gift cards, and even appliances.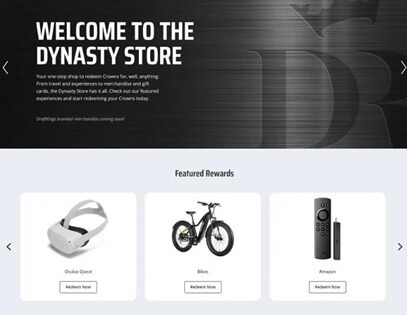 DK Dollars are used to purchase these items, and in most cases, there isn't much of a deal with the exchange rate; however, the travel category has several deals, and the store will have sales on select items.
Unfortunately, DraftKings users in Indiana do not have access to this feature because local gaming enforcement laws prevent this type of redeemable reward.
Customer Service Upgrades
The higher levels a user will reach will dictate the type of customer service they receive from DraftKings, so they make sure their most loyal customers are taken care of. As I mentioned above, reaching the gold tier gives users access to priority customer support, basically just an upgraded version of the regular customer support with your requests being processed before those without gold Dynasty Rewards status.
In the diamond tier, users will be given access to two VIP associates who can assist them with anything they need, including settings to their account to help them play responsibly, assistance with large transactions, or issues they may have.
The onyx tier gives users access to the best customer service the platform offers in the form of a dedicated customer service host that caters to your every sports betting need and helps you redeem your exclusive benefits such as live experiences.
Access To Different Live Experiences
These live experiences will feature access to some of the in-person events with which DraftKings Sportsbook is partnered in the United States. Events at venues partnered with DraftKings can have particular exclusive areas for Diamond and Onyx members. Sometimes, members can receive free access to the event entirely for entertainment purposes.
Unfortunately, there won't be any special access to events like the World Cup or events in other international leagues like the Olympics because they are not sponsored by DraftKings yet. DraftKings Canada will have the same live experience options as their US counterpart!
DraftKings VIP Text Message
As you bet on Thursday Night Football or any NFL season game and start to spend more time on the site, you may be moving up tiers in the loyalty program without realizing. The more you bet on sports, the more DraftKings will reward your loyalty. Lots of bettors get contacted via text message inviting them to VIP experiences on behalf of the operator. This will happen as you have wagered enough for DraftKings to deem you worthy of a VIP prize.
So after you placed that same game parlay on the New York Yankees or bet on numerous Ohio State football games, you may have qualified for the VIP experience. There is no specific trigger point for internal controls at DraftKings to get in touch with you, but a lot of betting activity in a single month could result in a text message.
Some of the prizes include tickets to watch your favorite team play to dining packages and more.
---
Sign up and Become a DraftKings VIP Member Today!
If you're interested in signing up for DraftKings for this great rewards system, then be sure to click our link here to sign up and get a 20% sportsbook deposit bonus on your initial deposit worth up to $1,000 for new users. The minimum deposit for this deposit match is $10 and can only be used on sports bets, including a flash bet or live wagering. Check out details on the DraftKings Sports promo and the DraftKings Casino bonus code for the offers' rundown of each VIP platform.
If you're wondering, is DraftKings safe and legal in my state? Remember, making an account is still completely legal if you meet the requirements, even if you're not allowed to use it in your state yet. If you think you may have a gambling problem, please click here before it is too late for resources on crisis counseling.
Up To $1,000 Deposit Bonus
21+. T&C Apply
21+. T&C Apply
The best sportsbook
Amazing odds & offers
Awesome betting app
---
DraftKings VIP Loyalty Program FAQs
How do I get DraftKings VIP status?
You can only get VIP status at DraftKings by invitation. The VIP status includes perks such as tickets to live events, cash prizes, exclusive merchandise and invitations to private contests that are not available for other players.
What is DraftKings VIP showcase?
This is an exclusive trial run offer that is only awarded to some players. If you rare selected for the DraftKings VIP Showcase, you will be treated like a VIP member for three weeks, after which you may become a permanent part of the DraftKings VIP community. If you do not progress to the VIP status after three weeks, then do not worry too much, as you will still earn crowns and tier credits for your activity during that period.
What are Crowns in the DraftKings loyalty program?
Crowns are virtual credits that you receive when you play at DraftKings. You receive 1 Crown for every $1 that you play, and when you have accrued 500 Crowns, you can sell them back for $1.