FanDuel is a top DFS betting site in the US, neck to neck with the likes of DraftKings. It's also one of the leading online sportsbook and casino operators. While much of its fame is due to the stellar gaming options courtesy of partnerships with top sports and casino partners across dozens of states, FanDuel is also big on incentivizing bettors.
It starts off with several new player bonuses in each product category and climaxes with loyalty programs like the Players Club and the exclusive FanDuel VIP scheme. This review will assess the merits of the loyalty program and what it takes to obtain VIP status.
Bet $5, Get $150 In Bonus Bets
21+. T&C Apply
21+. T&C Apply
Convenient banking
Massive choice of sports
---
Does FanDuel Have a VIP Program?

FanDuel Sportsbook is a bit hush on the VIP program and doesn't promote it as much as other rewards and bonuses on the site. However, the operator does indeed have a VIP program, and it is an exclusive one for players who meet the criteria.
Similar to the DraftKings VIP program, FanDuel VIP is invite-only. This makes it all the more satisfying for players who get the lucky invitation.
At most online sites, VIP status is reserved for high rollers and those who regularly spend big money on bets. Even with inclusive programs like the one at DraftKings, you'll need to roll out thousands of dollars in bets before you advance to the higher tiers. High roller capacity is even more pertinent for FanDuel VIPs.
Is the FanDuel Sportsbook & Casino VIP Program the Same?
FanDuel is a one-stop gaming destination for US bettors, thanks to Daily Fantasy Sports, sportsbook, racing, and casino products. The operator offers a single VIP program across the platform. Regardless of a preference for sports betting or casino gaming, all eligible players can become VIP members.
You can join via the FanDuel online site using a web browser on your device. Or you can do so with the dedicated sports and casino apps available for Android and iOS devices.
---
Essential Requirements to Become a FanDuel VIP
The FanDuel VIP program is available for a select few. As such, the requirements are much stricter than if it were an all-inclusive program where you were automatically enrolled. Below are the major assessment criteria for VIP eligibility:
Spending Level
There isn't a stipulated amount of money to be spent before attaining VIP status at FanDuel, but this is a simple case of the more, the better. VIPs are usually high-net-worth customers who have proven this through their gaming activity on the site and who are capable of maintaining such high stakes.
It's important to note that not all high-stakes bettors will receive VIP status but to stand a chance of getting that special invite, you definitely need to have a large bankroll.
Frequent Activity
The VIP program is a way for the operator to show appreciation to loyal players. As a result, VIP players must be active users who regularly visit the sportsbook or FanDuel casino.
VIP Status at Another Sportsbook
Some casino promos may restrict eligibility for players who already enjoy a similar offer elsewhere. This is not the case with the VIP program of focus in this review. On the contrary, having VIP or equivalent status at another sportsbook increases your chances of being inducted into the FanDuel VIP scheme.
The operator checks your betting activity and assesses your ability to maintain a high-roller gambling style. And being a VIP at other reputable platforms like Draftkings or BetMGM is a point of reference to show you have what it takes.
---
How to Become a VIP on FanDuel
The big question is, how do you become a FanDuel VIP? As explained in earlier sections of this guide, attaining FanDuel VIP status is strictly by invitation from the operator. There isn't a FanDuel Casino promo code required to trigger it. Neither can you opt-in or claim it as you would other incentives at the site.
If you fit the mold, the VIP customer team will take note of your account and contact you personally. That said, a request form is provided on the VIP page for interested players who believe they've got the chops to become FanDuel VIPs. By applying to become a VIP member, you can nudge the casino into recognizing your account quicker. Here's how to go about it:
Navigate to the FanDuel VIP page at https://www.fanduel.com/vip.
Scroll down the page, and complete the request form by entering your name, email, and other details as prompted.
Wait to receive a reply from the customer support team.
The operator will review your application, checking your spending level, frequency of betting activity, and other pointers from your account. If you're invited, you simply have to continue your high roller streak to keep receiving the exclusive benefits offered.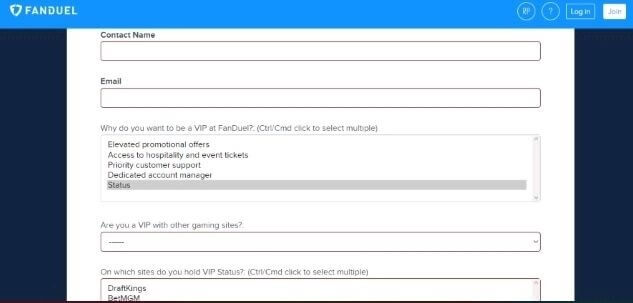 Below are the eligible states where you can become a FanDuel VIP:
Bet $5, Get $150 In Bonus Bets
21+. T&C Apply
21+. T&C Apply
Convenient banking
Massive choice of sports
---
What is the FanDuel Players Club?
FanDuel also offers a tiered program called the Players Club. This is the operator's initiative to reward regular players for their loyalty and is strictly for DFS players. There are different levels to the program, which is designed with FanDuel Points (FDP) on a monthly level-up basis. Basically, the amount of FDP earned in a month will determine your Players Club status for the next.
The FanDuel Players Club levels are:
Free Agent (50 FDP required)
Practice Squad (125 FDP required)
Reserve (250 FDP required)
Prospect (500 FDP required)
Rookie (1,250 FDP required)
Pro (2,500 FDP required)
AllStar (7,500 FDP required)
MVP (25,000 FDP required)
Hall of Famer (125,000 FDP required)
Legend (600,000 FDP required)
GOAT (2,500,000 FDP required)
The Players Club is open to DFS players and is available in 44 states across the US.
How Does The Tier & Point System Work on FanDuel?
You earn FDP every time you join paid contests. Every $1 in entry fees will award you 5 FDPs.
Play more to gather points and increase your Player Club status.
You can further use points to enter paid contests. There's a link under the entry fee that allows you to use points in lieu of cash.
Only FDP earned through paid contests will contribute to your Player Club status.
FDPs are non-redeemable currency, but players get special rewards depending on the number of FDPs earned by the end of the month.
Rewards include weekly and monthly free play, access to special promotions, premium customer support, and a personal account manager. FanDuel merchandise like baseball caps, T-shirts, cups, and more are available.
Check the Rewards Center section of your profile for your FDP balance and progress towards status levels. You can easily track your status from the FanDuel app.


Both the Players Club and the VIP scheme are loyalty rewards designed to build strong relationships with loyal players. However, while the former is reserved for the most important clients, the latter is all-inclusive. Every new FanDuel Daily Fantasy Sports player is automatically enrolled in the Players Club. So from the get-go, you can play to earn and slowly work your way up.
---
VIP Benefits for FanDuel Members
FanDuel VIP players don't just get bigger bonuses and promos than regular players. They also get bespoke and tailored promotions. One of the perks is a personal account manager who monitors your account and betting habits to provide you with special offers that cater to your preferences. So, you can expect tailored promotions and bonuses, access to exciting events, dedicated support, etc.
FanDuel VIP Deposit Bonus
The deposit bonus is the most common incentive at online sportsbooks. The standard FanDuel deposit bonus is the Bet $5 Get $150 Bonus Bet offer on NFL, and this welcome bonus requires an initial deposit minimum of $10. While this offer is great for low rollers, it's not big enough to cater to the betting levels of high rollers.
The VIP deposit bonus solves this problem. It is designed for professional gamblers and high-stakes bettors, so the amounts offered are much larger. VIP bonuses are often personalized, so the deposit bonus you receive will depend on your preferences. You'll likely get a different offer depending on whether you spend more time wagering on casino games or betting on FanDuel sports.
Exclusive Promotions for VIP Players
The VIP department at FanDuel crafts several special rewards and gifts for VIP players. Weekly and monthly promos are common to ensure you regularly have something to look forward to and keep you engaged. The casino will treat you to a birthday bonus on your special day. Also, festive occasions and holidays will usually come with more promos to ginger your betting activity.
You'll receive an email informing you of these offers. For the topmost VIPs, your personal account manager will let you know what new goodies are available for you.
Bonus Bets for Existing Players
Bonus bets are a common incentive for existing players at this online sportsbook. As a VIP, you can expect bonus bet offers large enough for the amounts that high rollers tend to work with. Since most VIP perks are tailored to individual players, you'll find that the bonus bet offers are available on your favorite sports and betting markets.
Odds Boosts
VIP perks aren't always in the form of cash or bonus bets. FanDuel is quite fond of odds boosts and regularly provides them for loyal players. This operator is not scared to give up some or all of the vig for VIPs either. So you'll often get the opportunity to bet on events with more favorable odds. Games with boosted odds will be indicated on the homepage of the app.
Special Event Invitations
The benefits of VIP membership at FanDuel are far-ranging, and some of the perks extend to special event invites or access to limited games (at the casino).
FanDuel Group has several online and retail partners that regularly host hospitality events. VIPs get the esteemed privilege of attending these gatherings and may often get free access. The operator will also offer tickets to big games with premium seats.
Personal Account Manager
The bespoke VIP experience at FanDuel includes a personal account manager. Higher-level Player Club members get their own personal VIP host; the same goes for players inducted as FanDuel VIPs.
The personal account manager will review your account to help you stay updated on the latest features and offerings. They are also responsible for offering tailored rewards and hosting VIPs at special events.
If you feel you're missing out on any perks, you can ask your account manager to push for more bonuses. VIPs are highly valued customers, so the operator makes it a point to satisfy your needs as much as possible.
---
Signup and Become a FanDuel VIP Member Today!
There's no denying that VIP bettors get absolute preferential treatment. FanDuel VIPs, in particular, enjoy the maximum gaming experience thanks to one of the best-crafted loyalty schemes in the industry. Becoming a VIP starts with signing up on the site or via the mobile betting app. There are several criteria before you become one, and while you wait for VIP status, you'll be able to enjoy exciting markets, great odds, and regular bonuses.
Start with the $1,000 no sweat bet when you make your first deposit via the FanDuel Sportsbook promo code. Or check out the new player offer for the casino and get spinning, among other incentives.
Bet $5, Get $150 In Bonus Bets
21+. T&C Apply
21+. T&C Apply
Convenient banking
Massive choice of sports
---
FanDuel VIP FAQs
How can I become a VIP member at FanDuel?
You can only receive VIP status at FanDuel by invitation. To increase your chances of being selected for the illustrious VIP status, you need to make big deposits and regularly play at the FanDuel Casino or bet at the FanDuel Sportsbook. If you have VIP status at another sportsbook, it is worth mentioning this to FanDuel as they will try to enroll you in theirs to beat the competition and give you better offers.
What is the FanDuel Players Club?
The Players Club is a loyalty program that is strictly for Daily Fantasy Sports players. You can collect FanDuel Points if you are in the Players Club, and can use them to enter exclusive contests or receive special rewards at the end of the month. The more you play, the bigger your rewards and offers will be.
Where is FanDuel legal?
The FanDuel Sportsbook is legal in 20 states:
AZ, CO, CT, IL, IN, IA, KS, KY, LA, MA, MD, MI, NJ, NY, OH, PA, TN, VA, WV & WY
FanDuel Casino is legal in all the states where online casino games can operate:
CT, MI, NJ, PA, & WV
The FanDuel Daily Fantasy Sports is available across 44 states.