Boom Fantasy
Gamble USA strives to improve your online gambling experience. We aim to help you play safely, make informed decisions when gambling, and increase your betting knowledge through our guides.
We adhere to strict editorial integrity; our content may contain links to products from our licensed & legal US partners.
Boom Fantasy is one of the best-known daily fantasy sports platforms in the US. While it doesn't have the reputation of juggernauts like FanDuel and DraftKings, the brand stands out thanks to its unique approach to the sector. It steers away from the standard salary cap limits and lineup competitions and narrows its scope to individual athletes.
Boom Fantasy lets you make predictions on your favorite players without taking away the benefits that make DFS so popular. You still get to play multiple game types, wager on major American sports leagues, claim hefty bonuses, and game on the go.
Besides the lack of lineup competitions and live chat support, Boom Fantasy ticks all the boxes. The following review will go over all the details that have led us to this conclusion, but let's start with a simple overview.
Boom Fantasy Review
Launched in 2015, Boom Fantasy entered the daily fantasy sports industry during its golden era with a bang. The New York-based company decided to deviate from the well-known and widespread DFS gaming template, offering pick 'em player predictions instead of salary-capped lineup competitions. Though risky, this move proved successful.
Players took to fast-paced pick 'em gameplay quickly, taking advantage of 40x stake prize opportunities. Answering straight-to-the-point questions for a chance at a fixed payout resembles parlay betting, so it wasn't hard to grasp. Plus, it has much looser age restrictions and broader state coverage than regular sports betting, allowing Boom Fantasy to cater to a larger audience.
Boom's promotions are another plus. Though not the biggest in the market, they go a long way for newbies and veterans, providing free entry into new competitions or enhancing a selection's winning potential. The well-designed payment system makes claiming them and withdrawing your winnings a breeze.
💥Boom Fantasy
📅Established
2015
🏈Sports coverage
NBA, NFL, MBL, CFB, NHL, MLS
🎁Welcome offer
Up to $100, first entry bonus
📜Promo Code
TOPPROMO
💳Deposit methods
Visa, Mastercard, PayPal
💵Minimum deposit
$10
Boom Fantasy Promo Code & Bonuses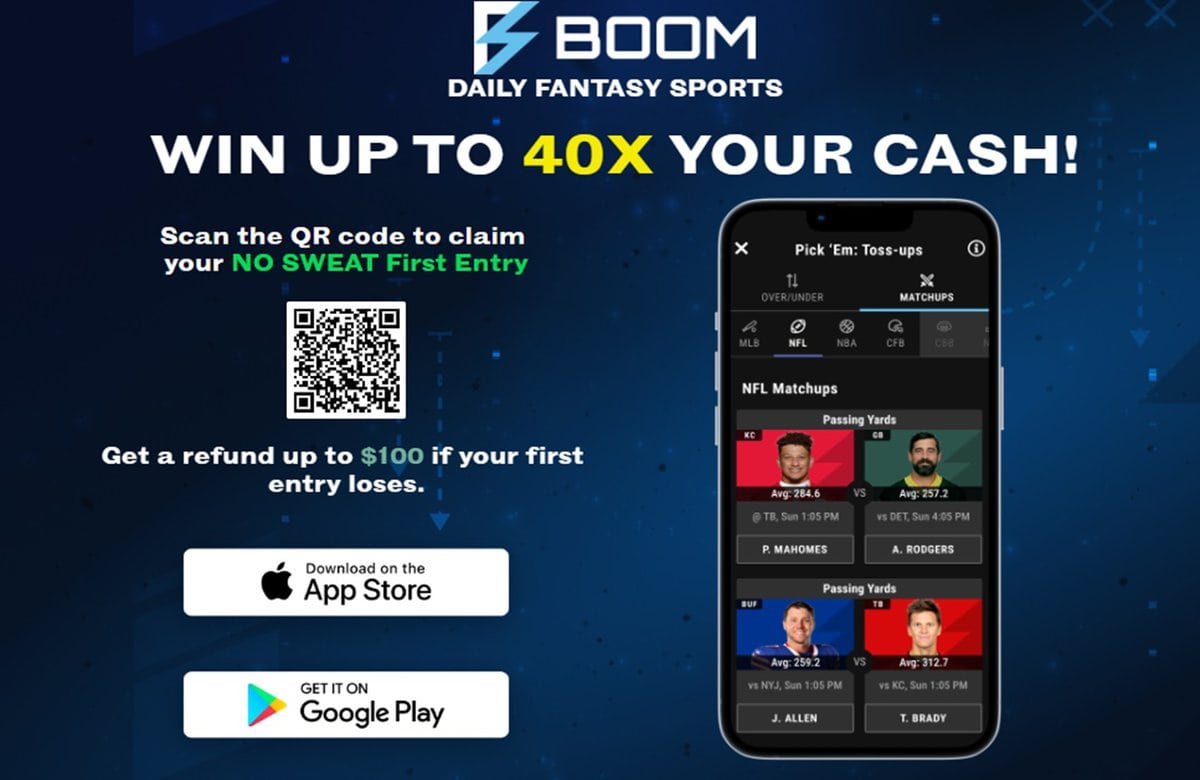 Boom Fantasy currently offers three promotions:
Boom Fantasy welcome bonus — 100% up to $100 no-sweat first entry match deposit promotion available to new players. Sign-up using the Boom Fantasy promo code TOPPROMO (note that the promo code is advertised once you first join the platform, but there's no mention of it later – to be on the safe side, you can always try to enter it), deposit at least $10, and enter whatever contact you like. If you lose, the platform will refund your account with bonus funds up to $100. These funds have a 30-day expiration date and cannot be withdrawn.
Boom Fantasy new user deal — One-time entry into a special contest with a promotional question. To enter, players must make a single entry with a maximum of two picks for up to a $10 fee. This entry doesn't have to be the first one they've created on the app. However, if that's the case, it may also count toward the no-sweat bonus.
Boom Fantasy refer a friend incentive — Multiple $25 referral bonuses are available to returning players who recommend Boom Fantasy to at least four friends in the first six months of joining. To trigger it, your friend must register, make a $10 minimum deposit, and play through it following the site's general Terms of Service rules. These bonus funds are also subject to a 30-day expiration period.
🎁Bonus type
📜Promo code
🔞Eligibility
Welcome bonus
TOPPROMO (if applicable)
18+ players from Alaska, Arkansas, California, District of Columbia, Florida, Georgia, Illinois, Kansas, Kentucky, Maine, Michigan, Minnesota, New Mexico, North Carolina, North Dakota, Maine, Oklahoma, Oregon, Rhode Island, South Carolina, South Dakota, Texas, Utah, Wisconsin, Wyoming

19+ players from Nebraska

21+ players from Massachusetts
One-time entry deal
N/A
Referral bonus
N/A
These offers may seem modest if you're new to daily fantasy sports. Nevertheless, they're up to par with the top brands. The only promotions that stick out as more generous — the DraftKings $500 welcome bonus and FanDuel's three free entries deal — come with slightly more complicated terms and conditions. If you're not willing to wager $25 for every dollar of your promotion or get your reward in point form, Boom Fantasy may be a better match.
How Boom Fantasy Betting Works
Boom Fantasy betting involves making predictions of 2, 3, 4, or 5 players'  performances by answering specific questions. The platform offers a choice between two types of questions:
Over/Under — Here, players get a projected total for a specific stat based on the performance of a particular athlete. They should answer whether they believe the athlete will score Over or Under said projection in whatever game they're playing that day. For example, the Boom Fantasy app may offer a stat saying Tom Brady will have 305.5 passing yards. If Brady racks up more than 305.5 yards, Over will be the winning answer. However, Under will be the correct choice if he accumulates 305 or less.
Matchup — With this type of question, Boom Fantasy users must choose between two athletes, depending on who they think will perform better for a particular stat. For instance, the app may pit two well-known NBA players, having the user select who will score more points during a single match. Some of Boom's Matchup questions may feature bonuses to make the head-to-head more balanced. In that case, the stat may read — Aaron Rogers (20+) vs Tom Brady — giving Rogers a 20 yards advantage. If Brady amasses 250 and Rogers 240 passing yards, Rogers will still win the matchup because of the added yardage (240+20=260).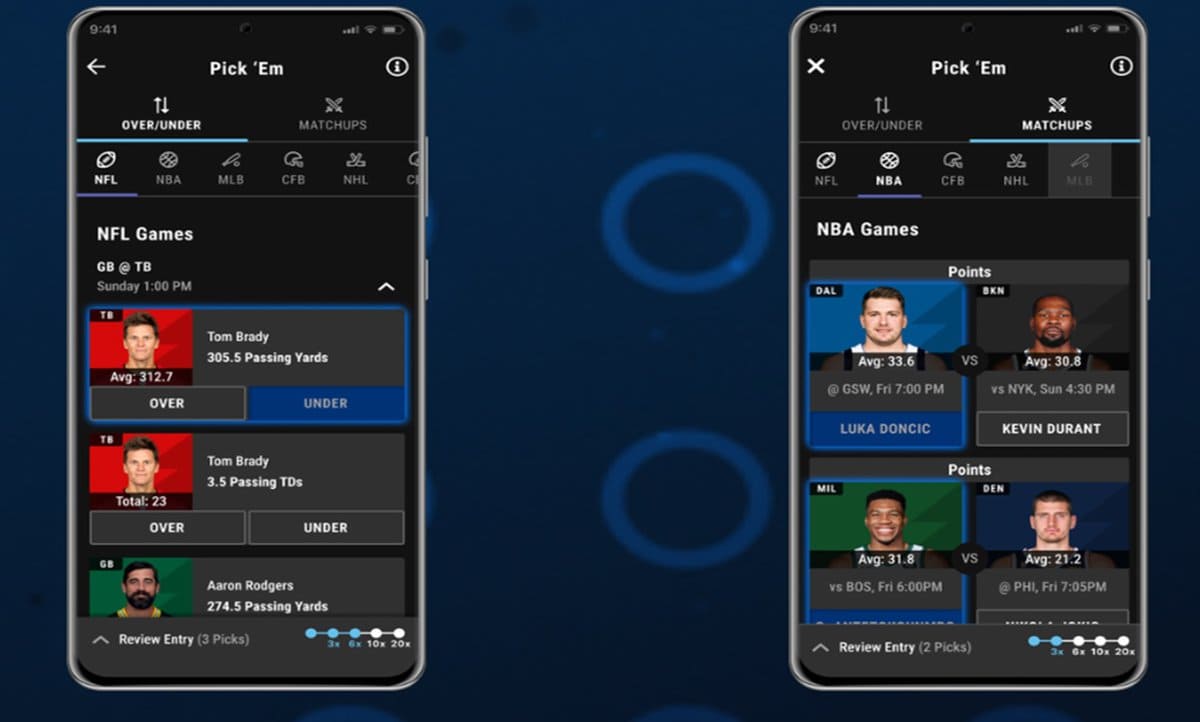 Boom Fantasy players can answer more than one question and combine Over/Unders and Matchups in a single entry. This way, they can diversify their strategy and enjoy better winning chances.
Boom Fantasy DFS Contests
To engage in the above pick 'em contests, you must choose between three Boom Fantasy game modes — Toss-Ups, Longshots, and Favorites. The following sections will discuss each one, providing payout tables.
Toss-Ups
Boom Fantasy Toss-Ups are the most traditional form of pick 'em play, so they're a great starting point for new users. They let players choose from two to five predictions per entry and impose no limits on Over/Under-Matchup combinations. Many players prefer Toss-Ups because they can bet on both sides simultaneously to improve their odds.
| ✅Selections | 🤑Payout |
| --- | --- |
| 5/5 correct | 20x |
| 4/4 correct | 10x |
| 3/3 correct | 6x |
| 2/2 correct | 3x |
| 1 correct + a tie | 1.5x |
| 1 incorrect + a tie | 0x |
Boom Fantasy's maximum entry fee for Toss-Ups is $500 for four legs and $250 for two legs. Nevertheless, these limits may be subject to exceptions due to promotional offers or other on-site changes.
Longshots
Longshots are fantastic pick 'em contests for players who like to root for the underdogs. They let you place two or three Over/Unders on a particular player and win up to 40x your stake. However, such a high payout potential comes with a catch. Boom Fantasy Longshots don't allow players to choose between an Over or Under answer for the available stats. Instead, the app automatically picks one side, and the players only decide whether they think the option is worth a bet.
| ✅Selections | 🤑Payout |
| --- | --- |
| 3/3 correct | 40x |
| 2/2 correct | 10x |
| 1 correct + a tie | 2.5x |
| 1 incorrect + a tie | 0x |
The maximum entry fee for Boom's Longshots reaches $100, offering up to $4,000 per prediction. Once again, there may be exceptions, depending on the brand's current promo offers or rule changes.
Favorites
Opposite to Longshots, the Favorites game mode allows Boom Fantasy members to stick to the tried and tested. They grant players a chance to place an entry on expected winners and involve two to five Over/Under selections with smaller payouts but excellent winning odds.
| ✅Selections | 🤑Payout |
| --- | --- |
| 5/5 correct | 3x |
| 4/4 correct | 2.2x |
| 3/3 correct | 1.8x |
| 2/2 correct | 1.3x |
| 1 correct + a tie | 1.1x |
| 1 incorrect + a tie | 0x |
Favorites pick 'em questions feature a $500 maximum entry fee, regardless of your selections, though there may be exceptions for the reasons mentioned above.
Coverage
Coverage isn't one of Boom Fantasy's official game modes but a feature that can help you win if one of your picks falls short. To take advantage of it, make an entry with minimum required picks, and activate the Coverage toggle.
| ✅Selections | 🤑Payout |
| --- | --- |
| 5/5 correct | 10x |
| 4/5 correct | 2x |
| 3/5 correct | 0.4x |
| 4/4 correct | 5x |
| 3/4 correct | 1.5x |
| 3/3 correct | 2.25x |
| 2/3 correct | 1.25x |
A tie or cancellation will reduce the number of scored questions in an entry and regress the total payout. For example, a 3-pick entry with a tie or cancellation will become a 2-pick entry.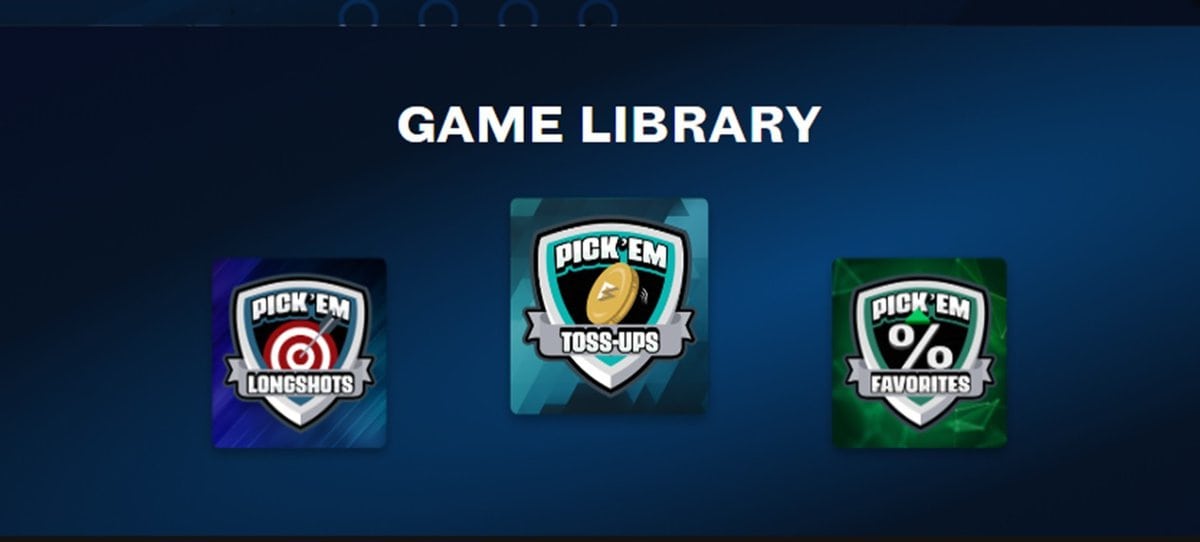 Boom Fantasy Betting Markets & Sports
The Boom Fantasy selection of betting markets and sports isn't as strong as those of some leading US sites like FanDuel or DraftKings. Nevertheless, the platform covers fan favorites, from football and basketball to hockey and soccer. Users can try their hand at pick 'em play in competitions like NFL, CFB, NHL, NBL, NBA, and more. Some of the most popular stat options include:
Passing yards
Passing touchdowns
Runs
Hits
Pitches thrown
Points
Assists
Goals
Boom Fantasy doesn't feature any Formula 1, NASCAR, or combat sports selections, but that could change soon as the brand continues to forge partnerships and widen its services.
Sign-Up Process
Getting started on Boom Fantasy is pretty straightforward. Nonetheless, if you need clarification on the process, the step-by-step guide below should help. Check it out, follow the instructions, and you'll be all set.
Download the app — Boom Fantasy is a mobile-focused DFS platform, so you must download its native app to play it. Visit the brand's official website and use the designated QR code or Apple or Play Store buttons to start.
Set up the app — Download Boom Fantasy and install it. Check your device storage and follow the on-screen instructions for installing and launching the app. Boom's apps aren't huge, so the process shouldn't take more than a few moments.
Create an account — Boom Fantasy won't let you look through its offering or play games without an account. Open the app, select the Sign Up button, and complete the registration form. Make sure the information is correct, enter the welcome bonus promo code (if applicable), agree to the Terms of Use, and submit your request.
Make a deposit — To claim the bonus and enjoy real-money gaming, you must deposit real cash. Log into your new Boom Fantasy account, navigate to the Deposit section, and open the Cashier page. Select your preferred payment method and transfer at least $10 to qualify for the welcome promo.
Start gaming — You'll be ready to play as soon as the funds reach your Boom Fantasy account. Open the Contests page, choose between game modes and questions, and make an entry.
Boom Fantasy Betting Apps
Boom Fantasy entered the market with only an iOS app. However, an Android version was released recently as part of the brand's ongoing development. The two are mirrors of each other, so players won't be at a disadvantage regardless of what they use.
The Boom Fantasy app interfaces are well-designed. Their clean and organized layout makes navigation effortless. Advanced software performs well across different devices, keeping the apps responsive and lag-free. Fewer markets and game format options mean less clutter, making gaming more accessible to beginners.
The app's primary drawbacks are related to its player and running updates presentation. The platform lists players alphabetically, so there's a lot of scrolling and searching. The fact the selection pages lack running updates doesn't help. If something's wrong with your selections, you won't get notifications about the necessary changes until you've tried to make a wager.

Banking Methods
Boom Fantasy doesn't abound with banking methods, which is surprising considering its status. The brand collaborates with two types of processors — credit/debit cards and e-wallets. Users can choose between Visa, Mastercard, Discover, and PayPal. However, not all are available for both deposits and withdrawals, so the choice is narrow.
Boom's security and efficiency help cushion the blow. Transactions are safeguarded by cutting-edge cryptographic protocols and processed with care — deposits clear in up to 10 minutes, a standard for the industry. Withdrawals take a little longer — from 5 to 7 business days — mainly because of how traditional payment solutions like credit cards work.
To withdraw your funds, you must verify your account and have at least $10 in your balance.  The former is a result of the KYC procedure that you'll come across on all reputable real-money gaming platforms, so it's nothing to worry about. If you meet the conditions, the platform will start the withdrawal process through the banking method you used for your deposit.
However, if the sum you want to cash out exceeds your deposit, you can choose a different method. Problems rarely arise, but if they do, Boom's customer support is at your disposal.
Customer Service & Contacts
As mentioned in the beginning, customer support is one of Boom's biggest downsides. The site has a customer support team but lacks diversity in its communication channels. Help is only available via email (support@boomfantasy.com) and Boom Fantasy FAQs. The former doesn't offer the best response time, and the latter covers the basics, so neither is ideal.
Given the widespread use of live chat and phone channels in the iGaming industry, we expect Boom Fantasy to expand its offering soon.
Is Boom Fantasy Safe?
Boom Fantasy is one of the most trusted daily fantasy sports platforms available in the US:
Its experience stretches close to a decade.
It's licensed and regulated in 25+ states.
It implements state-of-the-art encryption technology.
It offers two highly-rated daily fantasy sports app variations.

Where Is Boom Fantasy Legal?
Boom Fantasy operates in 27 states, covering over half of the United States. The lineup includes:
Alaska
Arkansas
California
District of Columbia
Florida
Georgia
Illinois
Kansas
Kentucky
Massachusetts
Michigan
Minnesota
Nebraska
New Mexico
North Carolina
North Dakota
Oklahoma
Oregon
Rhode Island
South Carolina
South Dakota
Texas
Utah
Wisconsin
Wyoming
All these US states have regulated DFS markets, so you're free to create a Boom Fantasy account in all of them as long as you follow their age restriction laws. In most states, the minimum age requirement for playing daily fantasy sports is 18, with two exceptions: Nebraska, where the minimum age is 19, and Massachusetts, where it is 21.
Is Boom Fantasy Legit?
There's no doubt that Boom Fantasy is a legitimate DFS platform. It joined the market eight years ago, surviving the numerous regulatory changes that have shaken the US iGaming landscape in the past few years.
While it's not the biggest DFS brand in the country, it's grown into one of the most popular providers in the industry. Today, its parent company boasts numerous successful partnerships and prestigious accolades, including SBC's 2022 Rising Star and 2022 Employer of the Year.
Who Owns Boom Fantasy?
Boom Fantasy is a subsidiary of Boom Shakalaka Inc., a video game software company based in New York. The organization recently rebranded into Boom Entertainment, expanding its services to online gaming and sports betting.
This development helped it clinch high-profile clients in the casino, pro sports league, and media sectors. Notables include MSG Networks, 8AMGolf, NBC Sports, Penn National Gaming, Yes Network, and more.
Is Boom Fantasy Better Than Other DFS Sites?
Boom Fantasy is yet to reach the heights of popularity the US's top DFS platforms enjoy. Nevertheless, it already has the hallmarks of an excellent fantasy sports app.
The brand incorporates popular sports betting elements into a DFS format, giving players a new way to engage in their favorite sports. The prediction questions format is simple to grasp, and the Boom Fantasy app is easy to navigate, making gaming accessible to a wide range of players.
The platform tops these benefits off with great bonuses and generous cash prizes. With a few adjustments in the support, selections, and payment areas, the Boom Fantasy app could reach the upper echelons of the industry in the near future.

100% up to $100 No Sweat First Bet