Buffalo Bills at New England Patriots Betting Preview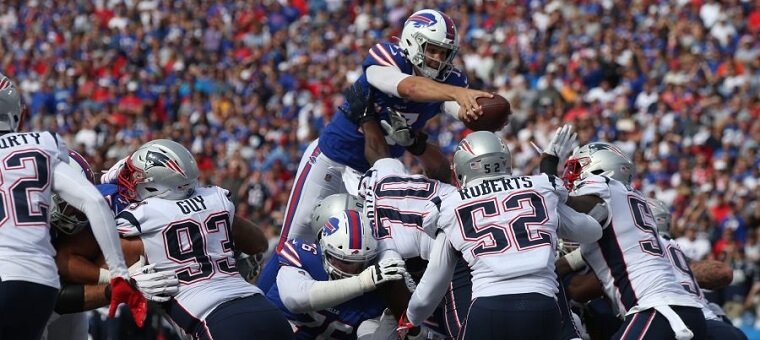 The 2019 NFL regular season is in its final two weeks, which means it is about to get wackier than it has ever been.
Date: Saturday, December 21st, 2019
Time: 3:30pm
Location: Gillette Stadium, Foxborough, Massachusetts
Watch: NFLN

Lines are provided by DraftKings Sportsbook – Sign up now and get a $200 risk free bet!
Many divisional rivalries are taking place this weekend, and almost all of them have implications on the final standings for the postseason.
The Buffalo Bills have surprised everyone this season by joining the top of the AFC. They will be headed to Foxborough, Mass., to take on the New England Patriots to have a chance at the AFC East title.
New England can lose this week and still hold on to the title with a win over Miami in Week 17, but the stakes are high for the Patriots' offense to prove people wrong.
Let's break this down and help you with your bets.
Do The Bills Have A Super Bowl Defense?
After Sunday night's win over Devlin Hodges and the Steelers, Buffalo looks like it is as good as any team in the AFC.
Devin Singletary has morphed into a talented three-down back, and Josh Allen has had fantastic numbers all season long at quarterback.
What stands out most about this team is its defense. In Sunday night's game, Tre' Davious White showed out with a pair of interceptions, and he is now leading the NFL in interceptions.
White is the cornerstone of a strong secondary for Buffalo, and his play makes everything easier for the offense to put points on the board.
These turnovers allow the offense to get set up with short field position, which gives Allen an easy time to put together drives that lead to points.
The Bills' defense will be a problem for New England, as Tom Brady and his offense have struggled to move the ball against anybody.
While this is not the typical style of play in the modern NFL, it has worked so far for the Bills this season and puts them in the hunt to win the division and locks them in a Wild Card spot.
Is It Time To Ask What's Wrong With New England?
It feels like every year we find ourselves asking if it will be the last of the Patriots, yet they always prove us wrong.
The problem with this year is that New England boasts one of the worst offenses in the NFL, and that's not for lack of trying.
The Patriots spent a first-round pick on N'Keal Harry in last year's draft, they traded a second-round pick to Atlanta for Mohammed Sanu before this year's trade deadline, and they used a first-round pick on Sony Michel in last year's draft.
With all that capital put towards the offense, why are we asking if Brady has any weapons?
As it turns out, most of the guys they took are not reliable, and it has hurt them all season. Hurt seems relative when you've clinched a playoff spot and have double-digit wins again, but this year seems different.
The Patriots are going to struggle mightily in the Buffalo game, which we have already seen early in the season when they squeaked out a win in Buffalo.
This might be the year the Patriots get knocked out of the playoffs early.
Betting Preview
There will be a lot of buzz surrounding this game and whether or not Brady can get it done this year.
The Patriots are the favorite at -6.5, but against the spread this year, the home favorite is just 57-81-5.
This doesn't bode well for Patriots fans, and I think the Bills are ready for their signature win. I'm taking Buffalo in this contest.
Remember, this is a Saturday game, so make sure to lock in your bets before kickoff!
Be sure to check back for more Free NFL & NCAA Football picks and follow us on Twitter @Gamble_usa and Happy Holidays!
Relevant news