Gamble USA strives to improve your online gambling experience. We aim to help you play safely, make informed decisions when gambling, and increase your betting knowledge through our guides.
We adhere to strict editorial integrity; our content may contain links to products from our licensed & legal US partners.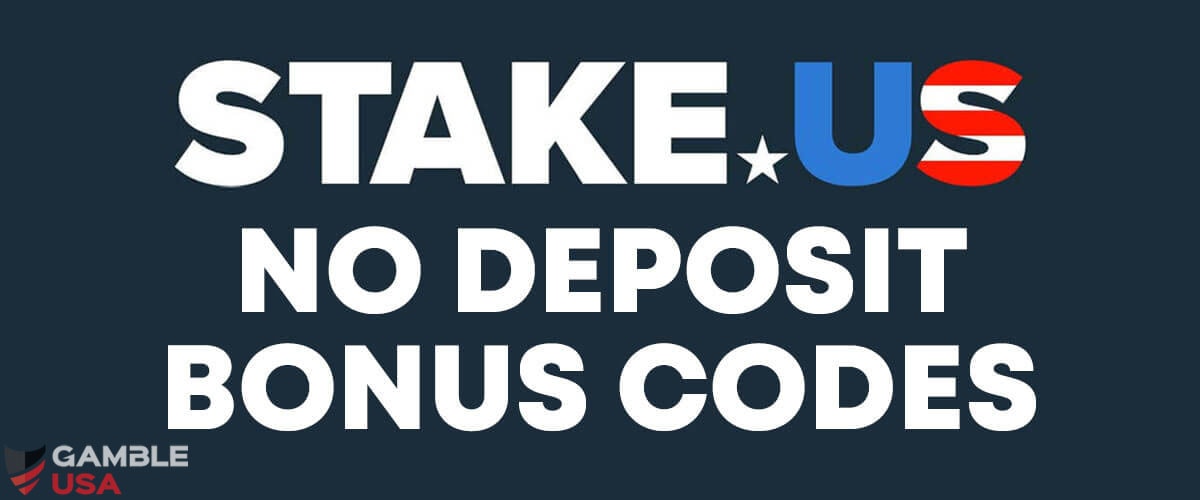 Stake.us is easily the most popular social casino in the USA. Soon after its launch, it attracted swathes of casual gamblers and video slot enjoyers, offering hundreds of popular games, as well as dozens of opportunities to claim free stake cash and gold coins.
The $1 in free stake cash and 10,000 GC offered on a daily basis definitely helped its rise. VIP bonuses, mail bonuses, and other opportunities to win free SC no deposit which you can play on 400+ games to then redeem for cash make up a good proposition.
We registered on Stake.us, got the bonuses, and gave its slot games a couple of spins using the casino's virtual currency. We made this article to help you understand the benefits and bonuses you'll be able to reap without making any deposits at Stake.us, so let's dive straight into it.
If you are ready to play, hit the link and start getting free coins Stake.us.
10,000 GC + 1 Stake Cash No Deposit Bonus
Only legal crypto gambling site in the US
Stellar range of slots, including Stake Originals
RNG and Provably Fair Games
All Free Stake No Deposit Bonuses
| 🎁Name | 🤑Offer | How to Claim❓ |
| --- | --- | --- |
| Sign-up Bonus | 10,000 Gold Coins + $1 Stake Cash | Register a new account, verify it, and sign up to Stake.us |
| Daily Login Bonus | 10,000 gold coins + $1 Stake Cash | Log in to a verified account |
| Post Card Promo | $5 Stake Cash | Send a request card to Stake.us via mail |
| Reload Bonus | Variable, based on activity | Go to "Reload" from the user's VIP section |
| Other promotions | Daily races, challenges, tournaments, social media contests, giveaways, mail-in, refer-a-friend, drops | |
Note: All obtained bonuses and rewards can be claimed from the VIP section on the user's account. No promo code is required – hit out page links and you will qualify when metting the requirements.
On Stake.us, players can bet using two types of currencies – stake cash and gold coins. All players can get free stake cash and gold coins by simply signing up, through promo codes, playing games, participating in unique events, and competing in Stake leaderboards while purchasing SC and GC packages is also an option.
In terms of game variety, this social casino offers 420 slot games, 3 live dealer games, 18 exclusives (Stake Originals), and 8 table games for players who prefer simpler card or dice games like Blackjack or Baccarat.
As for who can visit and play at Stake.us, nearly all 21-year-old US citizens can register and play at Stake.us without a deposit; it is legal in 44 states and is currently only not available to citizens of the following states:
Washington
Nevada
Idaho
New York
Kentucky
One of the things we loved the most about Stake.us is that its sweeps are redeemable for real cash; more specifically, 1 Stake cash is the equivalent of 1 US dollar and can be redeemed for cryptocurrency, we'll cover the process comprehensively in a bit.
Stake.us No Deposit Bonus on Sign-up
10,000 GC + 1 Stake Cash No Deposit Bonus
Only legal crypto gambling site in the US
Stellar range of slots, including Stake Originals
RNG and Provably Fair Games
The welcome bonus at Stake.us is more than enough for players to explore the most popular Stake casino games without worrying about their bets. It took us only one click to make a new account and just a couple of minutes to verify it.
With 10,000 gold coins and $1 stake cash in the bank, we went on to play Cursed Seas – a game we believe will win in the Slot Battle promo event.
To get this bonus, you will first need to make an account, so just follow these steps:
Go to Stake.us in your browser; our page links instantly take you there
Tap "Register" in the top-right corner of the screen
Make a new account or sync your existing Facebook, Google, or Twitch account
Tap "Get Verified"
Provide physical documentation of your ID
Scan the QR code or send a verification link to your smartphone via SMS
Once your account is up and ready, you'll now need to tap your profile icon, choose "Settings", and tap "Offers."
Stake.us Daily Login No Deposit Bonus
Many social casinos give daily bonuses to players so that they don't have to worry about their account balance and enjoy gambling. Stake.us isn't much different, since it awards free gold coins (and a bit of Stake cash) each day.
To get this bonus, all you need to do is simply log into a verified Stake account. Unverified accounts, sadly, cannot benefit from this bonus. As soon as you log in, a pop-up window will appear with the text "Let's get you verified". Proceed through this section to get your free 10,000 GC and $1 Stake cash every day.
Stake.us Weekly & Monthly Bonuses
To ensure its players can continue playing slots, dice, and cards even after a bad run, this online casino gives its customers numerous opportunities to grab free stake cash and gold coins.
Weekly and monthly no deposit bonuses are available to all players who have reached the "Bronze" tier – the lowest level in the VIP Club, which you'll be a part of as soon as you verify your profile.
Creating an account, sadly, won't be enough for you to utilize these bonuses. You will need to verify your profile, which will immediately unlock the Bronze VIP level, giving you additional sweeps to play games.
How to check your VIP Level & Progress
This online social casino has a budding community club called "VIP Club". It works on the same principles as the "reward programs" of many online casinos, meaning that you just have to register and play, and you'll gradually climb your way up. As soon as you make an account, your VIP level will be displayed on the home screen.
Notice that there is a small arrow next to the "Your VIP Progress" text. Clicking on it will take you to the VIP Table, giving you a summary of which rewards wait for you throughout a total of 6 levels, including Bronze, Silver, Gold, Platinum, and Diamond.
Playing on this social casino site will fill the bar; as soon as it's full, you'll reach the next level, which will unlock the bonuses in the next tier and give you more Stake cash and gold coins to play with.
Stake.us Postcard No Deposit Promo
Stake.us sweeps aren't as easy to obtain as gold coins, mainly because the former can be redeemed for real crypto prizes. One of the best ways to get some for free is to send a mail to the casino's physical address. Doing so will reward you with 5 free Stake Cash.
The postcard must be handwritten and sent to Sweepsteaks Limited 13101 Preston RD STE 110-5027 Dallas, TX 75240. On the front of the mail envelope, write "Stake Cash Credits".
Filling in the sender's information is slightly different. You'll have to include your full name, and your Stake.us username, use the return address included in your Stake.us account, and use the same email address as when you registered.
For the final piece of information, you'll need to go to Stake.us "Policies", navigate to "Terms", and scroll down to clause 8.3. You can find detailed instructions about obtaining this bonus here, but more importantly, this is where you will find the automated postcard code generator. Once you've obtained the code, include it on the postcard's front page so that it can be seen once the card is in the envelope.
The content of the postcard must read the following:
"I wish to receive Stake Cash to participate in the sweepstakes promotions offered by Stake Sweepstakes. By submitting this request, I hereby declare that I have read, understood, and agree to be bound by Stake's Terms and Conditions."
Again, you'll need to own a verified account at Stake.us so that the casino can deposit the funds if all the requests are fulfilled.
Social Media Contests and Bonus Drops
With tens of thousands of followers, Stake.us is quite big on the leading social media platforms. The casino regularly hosts contests and bonus drops on its Twitter, Instagram, and Facebook, so following Stake can help keep you in the now.
When it comes to contests, one of the most popular events Stake.us frequently hosts is "Guess the Game". Stake picks a game from its catalog, and embeds a blurry, pixelated image to its social media posts. All you have to do to enter these competitions is simply comment on the post. If your answer is correct, you have a chance of winning tons of Stake sweeps.
The winner is picked at random, and the casino typically announces the results within 24 hours after the competition is over.
Stake "Drops" feature exclusive promo codes that all registered players can use to grab free Stake Cash and gold coins.
These events have unique requirements and a prescribed drop limit. For example, only players who've played through 3,000 Stake Cash in the past week can participate in the latest drop. Each drop also has a prescribed value, which is the amount of free stake cash and gold coins each eligible player can obtain.
Stake.us Free Daily Spins
Currently, this social casino does not offer any free spins. The "Reload" bonus is not to be confused with re-spins (or any similar feature).
It tops up the player's balance based on activity and performance. Technically, it does give you some free sweeps to play, but it affects your wallet rather than giving you the option to use free spins with the desired wager.
Stake.us Refer a Friend No Deposit
The affiliate program that this casino created is remarkably pro-player. Bringing people to Stake.us rewards players with free virtual currency whenever their friends register (and verify their accounts), but only if this is done through special referral links obtained through the referral bonus.
To become a Stake.us affiliate, you only need to go to the Affiliate Program page (accessible through the left sidebar from "Affiliates") copy the referral link, and send it to your friends.
Wagering Requirements & Restrictions
Stake.us has a 3x wagering requirement on all its sweeps. This means you must use the coins on the games before they are eligible for cash out. For instance, if your account has 30 SC, you must bet 90 SC and any winnings can be redeemed.
Of course, you'll also need to fit the minimum redemption limit, set at roughly 40 SC.
Remember that users must also meet a few other requirements to play at Stake.us and win cash prizes:
Be outside Washington Nevada, Idaho, New York, Kentucky, and Michigan
Have a verified account
Be over 21 years old
How are Stake.us Bonuses Calculated?
Bonuses are calculated based on a mix of the player's performance and recent activity. It's "play-to-win" in its purest sense, but there are a couple of extra benefits for players on a losing streak.
Even though the brand keeps the exact percentages hidden, it would be fair to assume that around 50% of the bonus is derived from how often you play, and the remaining 50% comes from how "well" you play. According to Stake's help center, this balance shifts in favor of the player's performance if they are losing more often than winning.
Knowing this, it becomes easy to create a strategy to get the most out of each bonus. Don't be afraid to play simply because you are low on gold coins or Stake cash; play as often as you can to capitalize on Stake.us no deposit bonuses.
Stake.us Bonuses That Require A Deposit
There are currently no bonuses that require Stake.us players to make a deposit. However, you can purchase additional gold coins by clicking on your wallet and selecting the "Buy Coins" option.
Buying gold coins results in the equivalent amount in free stake cash (buy $20 worth of GC and get 20 free SC).
It is important to note that Stake Cash cannot be purchased directly. The casino states that players can only get these sweeps through free & promotional offers, including daily reload, promotional giveaways, and via postcards (mail-in).
How to Qualify for These Free Stake Cash Offers
10,000 GC + 1 Stake Cash No Deposit Bonus
Only legal crypto gambling site in the US
Stellar range of slots, including Stake Originals
RNG and Provably Fair Games
Qualifying for Stake.us bonuses and promotions is quite straightforward. The process may be different for each situation, but in all cases, you will need to make and verify a new account or sign in to a previously-verified one.
For the sign-up bonus, you can either go directly to Stake.us or use the promo code link for thousands of free stake cash and gold coins. Weekly and monthly bonuses are available from the player's VIP screen while to qualify for the Daily Bonus Drop and Reload Bonus, you'll need to reach at least Platinum 1 tier.
Redeeming Free Sweeps Coins for Real Money at Stake.us
Stake.us players can redeem all the Stake cash they've earned for crypto prizes; on the opposite end, Gold Coins have no monetary value and can only be used to play games at this social casino.
To redeem your free sweeps, you'll need to meet the prescribed wagering requirement; more specifically, your earned SC must be rolled over three times. For example, if you've earned 30 Stake cash, you'll need to bet through at least 90 Stake cash before you can redeem the initial amount.
After that, all that's left to do is go to your profile, tap "Wallet", and click "Redeem". A minimum of $40 is required to cash out in BTC, DOG, LTC, USDT, and more altcoins.
Summary
Imagine being able to earn real crypto prizes and enjoying stress-free betting in a social casino environment without depositing a single dime. That's precisely what you can expect at Stake.us.
The only thing this casino wants from you is to make an account, verify it, and enjoy some quality time playing hundreds of slot games. A word of advice – don't worry about losing. Whenever you run out of gold coins or Stake cash, there will be plenty of bonuses available monthly, weekly, daily, and even hourly to keep you in the black.