Roulette is undoubtedly one of the most well-known casino games globally. When people think about casino floors and gambling, images of a roulette wheel spinning immediately spring to mind. Atlantic City has some of the best hotspots to play Roulette.
Visit any casino in Atlantic City, and you will likely see several people gathered around roulette tables.
AC has played an essential role in the history of gambling in general in the United States. In the 1970s, voters in New Jersey chose to approve casino gambling in a referendum. This was done in an effort to make Atlantic City the Las Vegas of the east. Those efforts have proven fruitful as Atlantic City has grown to become the second most popular gambling destination in the US behind Las Vegas for casino games such as roulette and blackjack.
Best places to play Roulette online in NJ
Atlantic City was also the first location where you could play different variants of roulette. Atlantic City roulette offers players the chance to play European roulette and French roulette. Additionally, as online gambling became legal in New Jersey, players can now play NJ online roulette at NJ online casinos. It is common in New Jersey to find players playing French roulette online or accessing baccarat apps. This article covers all of the critical information about the best casinos to play roulette in Atlantic City and more.
Where to Play Roulette in Atlantic City
One thing to bear in mind before you begin looking for a roulette game in Atlantic City is that you won't find any that you can play for $1. All of the games available in New Jersey casinos require a minimum bet of at least $5 per spin. The below casinos offer roulette with some single zero options, with bets ranging from $5 to $5,000 at most spots.
Borgata Hotel Casino
This casino has the biggest roulette offering in Atlantic City, with 17 roulette tables, including one that can play European roulette. You will struggle to find more choices in any Las Vegas casino when it comes to the games available at the Borgata Hotel Casino. Play roulette online at the Borgata Online casino.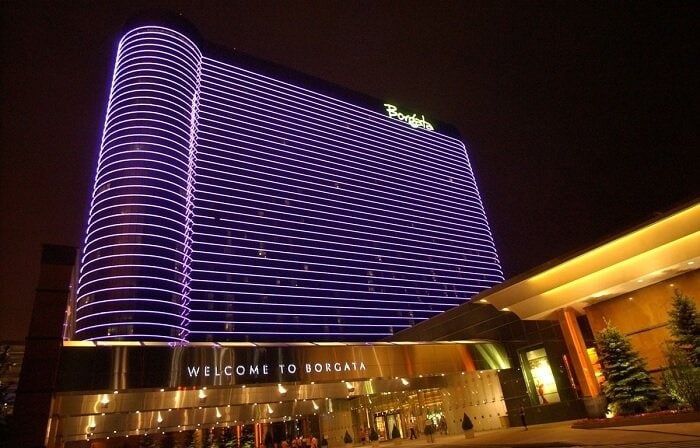 Golden Nugget Casino
This casino has live dealer roulette available. Players can also play casino classics such as blackjack, mini-baccarat, craps, and poker. You can also play online at the Golden Nugget online casino which has several variations of roulette available. Golden Nugget is one of the most popular AC casinos and draws in players from all over the US to play on the many Atlantic City slots and table games.
Bally's Casino
Bally's is one of the rapid roulette locations where you can bet at your own betting station, as well as the more traditional method with a wheel and a dealer. There are also numerous table games available as well as several slot machines. There isn't a Bally's online casino so anyone wanting to play with this iconic casino will need to visit the sprawling property which can be found on the Boardwalk in Atlantic City.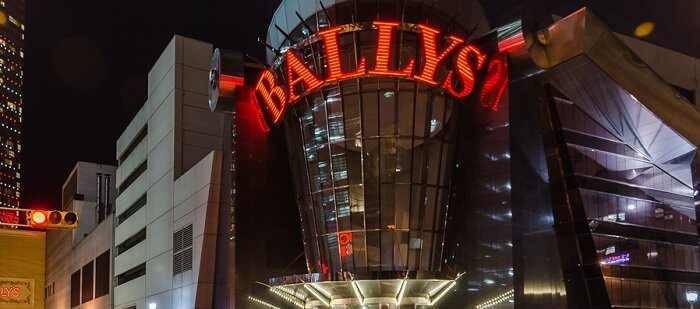 Tropicana Casino
At the Tropicana, you can play roulette alongside a wide range of Asian-style table games. This casino is also well-known for its award-winning slots, of which there are over 2,500 different ones available. The casino is located just a short walk off Palm Walk. Tropicana has created a stylish and inviting environment for the premium player and offers one of the best Atlantic City Roulette options.
Harrah's Resort
Bettors can play rapid roulette at Harrah's in AC at modern betting terminals. Additionally, there are over 3,800 of the latest slot titles available, as well as video poker options. The casino may not be the first name people think of when they think of roulette and AC but it has some of the most popular tables going. You can find traditional roulette, as well as modern twists on the classic table game.
Hard Rock Hotel & Casino Atlantic City
Formerly The Trump Taj Mahal, the Hard Rock AC hotel & casino offers roulette among the 100+ table game options, which include a unique baccarat pit. The Hard Rock is one of the most memorable casinos in AC and boats over 2100 slot machines as well as over 2000 rooms, salons, and a fitness center.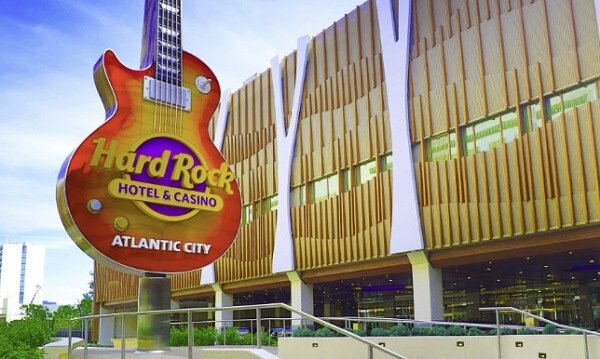 Atlantic City Roulette Payouts
The good news for players flocking to Atlantic City to bet on roulette is that it offers a specific variant of the game where the roulette odds favor the player. When choosing between American roulette or French roulette, we would typically always recommend playing the European version as it has a smaller house edge.
Traditionally, European roulette favors the player as the wheel features a single zero, whereas an American roulette wheel has a double zero. This means the house edge is smaller when playing the European version and increases your chances of winning.
However, if you are in Atlantic City, you should ignore this advice. The reason for this is if you make an even-money bet on an American wheel and the ball lands on the single zero or double zero slots, you will get half of your stake back. Consequently, the house edge of this American version of the game is 2.63% compared to 5.26% of the standard American variant. The house edge for European roulette is 2.70%, so you get the best odds in Atlantic City playing the American version.
How to Play Roulette
One of the reasons roulette is so popular is that it isn't the most complicated game to play. You can have a roulette strategy to try and increase your chances of winning, but the principles remain the same despite what version you are playing. There is always one numbered wheel, 1-36, and depending on the variant, you could be playing single zero roulette or double.
Additionally, there is a board on the roulette table that features all of the numbers and fields where you can place standard bets by choosing red or black, odd/even, or cover the numbers ranging from 1-18 or 19-36.
Can't wait to get to AC to play roulette? Want to practice your game plan before hitting the tables? Well, you can check out these top-rated NJ casinos that offer the best NJ online roulette casinos. Don't forget, you can now play roulette with real live dealers in one of the several NJ live dealer online casinos as well.
You may also want to read
AC Roulette FAQs
How to win roulette in Atlantic City?
Many people have different strategies when it comes to this game. In Atlantic City, we would recommend playing the American version as the house edge is favorable, and it increases your chances of winning.
Where to find 5 dollar tables roulette in Atlantic City?
The Borgata Hotel Casino and Tropicana have $5 tables in Atlantic City.
How do I place a bet at roulette in Atlantic City?
There are many bets you can place playing this game in Atlantic City. You can place even-money bets on a single number, odd/even, red or black, or on a range of numbers. Please be aware of the minimum bet requirement before playing.