Gamble USA strives to improve your online gambling experience. We aim to help you play safely, make informed decisions when gambling, and increase your betting knowledge through our guides.
We adhere to strict editorial integrity; our content may contain links to products from our licensed & legal US partners.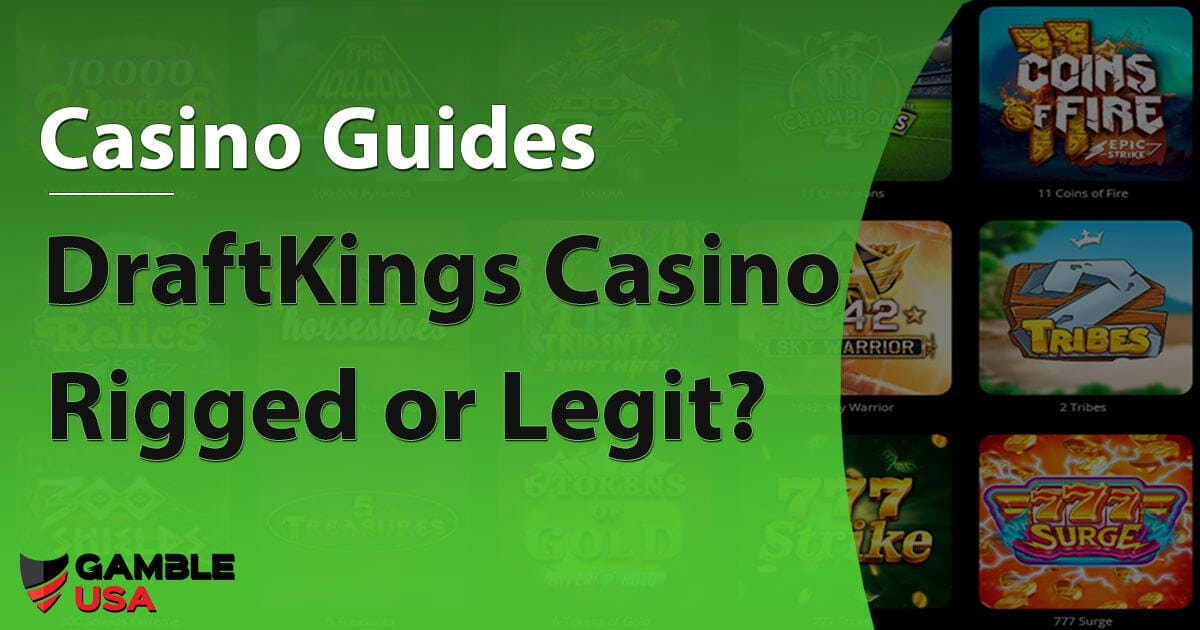 DraftKings is a name nearly every US sports fan will be familiar with. They have one of the biggest DFS platforms, a hugely popular sportsbook, and an awesome online casino. A lot of disgruntled players may ask the question is DraftKings Casino rigged?
If you played on online casinos in the US prior to legalization in 2013 this became a much more serious question, as with so many casinos popping up and disappearing overnight, it was natural to ask, are these online casinos rigged? And the answer, unfortunately, was usually yes. If the games themselves didn't have some sort of unfair code programmed into them, then it was usually the casino itself that was so happy to allow you to deposit, but when it came time to withdraw money, it was hurdle after hurdle until finally, you'd get a message saying that your account had been suspended for some ludicrous reason and that your funds were now forfeit.
$50 Casino Credits + $2,000 Bonus
Excellent mobile app
User-friendly design & games
Though following New Jersey's decision to legalize online casinos in 2013, this all changed. Online casinos now had a legitimate path to offer their services to US citizens. However the skepticism of many players remained, and with every new online casino that came to fruition, that old question resurfaced once more — how do I know this casino isn't rigged? And it's that question that brings us to the point of this article which is to answer the question: is DraftKings Casino legit?

The short answer is yes. With $417 million in revenue recorded in the first quarter of 2022, there's no need to jeopardize their future by rigging their games or doing anything shady behind the scenes.
Of course, the simple mention of revenue might not be enough to convince you. So in this article, we'll go in-depth on the inner workings of DraftKings and explain how you can be sure that DraftKings is not rigged.
Player Reviews Of DraftKings Online Casino
The math behind online casino games can be so complicated. So perhaps the simplest way to check whether or not an online casino is legit is to ask the users what they think.
Reddit Reviews DraftKings
Checking reviews for DraftKings, you'll see two types of posts repeated. "I just turned $1 into $1000, wow DraftKings is the greatest", and "DraftKings is rigged. I just lost five hands of blackjack in a row". These posts are usually made by new online players either in a moment of ecstasy following a big win, or in a spur of fury following someone who usually has poor financial management going on a small losing streak. However, looking through the comments of these posts you'll usually find more level-headed reviews.

These reviews are perhaps pessimistic, although nevertheless realistic. They talk about how online casinos don't need to be rigged, as the house always wins in the end. Which is more or less accurate. If you play online casinos with the intention of winning 100% of the time and making a massive profit, you will be disappointed in the end. But if you take a more realistic approach and tailor your expectations to either having fun or grinding a steady profit by taking advantage of bonuses, you'll have a much more positive experience.
The reviews cover a lot of information, from the real money games, how easy it is to use a promo code, the best odds to find if it is as good as playing at a land based casino.
Overall the reviews for DraftKings on Reddit are mixed. Though looking at experienced users, the consensus is clear. DraftKings is legit. They offer good bonuses. Fairly represent the RTP of their games. And when it's time to collect your winnings, the withdrawal process is smooth.
TrustPilot Review Of DraftKings Online Casino
Trustpilot is arguably one of the worst places to get impartial reviews of anything. The overall rating of 1.3/5 DraftKings can seem like the bottom of the barrel. But reading the individual reviews, you'll see that beyond the usual shouts of "RIGGED!" by users with only one review to their name — the majority of complaints are about the KYC process that people unfamiliar with online gambling might view as a potential for identity theft.
It's a fair reaction. When the internet first became mainstream, the idea of sending through sensitive information was risky due to how vulnerable connections were. However, in modern days, security protocols ensure that when you submit your data to a secure site, it is safe.
Trustpilot has perhaps the worst opinion of DraftKings on the internet. But when you filter out reviews from users with only a single review to their account, you'll start to see that the opinion of DraftKings casino among experienced users is much like any other of the trusted licensed casino sites. It's fair. First withdrawal may take a little longer. Good bonuses.
Social Media Opinion On DraftKings
With reviews tied directly to a person's real name — social media is perhaps the best way to get impartial reviews. Looking at their Facebook or Twitter page, you won't find too many people ranting. Instead, the general consensus of DraftKings is that it is one of the best online casinos in the US for table games, with a selection of games much more expansive than many of its competitors.
The one criticism you will often see repeated is the playthrough requirements of their welcome bonuses. With a 15x playthrough requirement attached to their welcome bonus, it can be a bit of a shock when you aren't allowed to withdraw as quickly as you thought you'd be able to. At 15x, it is a lot higher than other online casino playthrough requirements. But when you consider that the DraftKings Casino welcome bonus is the highest with a first deposit match up to $2,000 — you can perhaps understand it. If there wasn't one, people would deposit $2,000, then withdraw the $4,050 with many people never returning. DraftKings is a business. It's important to remember this as to offer such amazing welcome bonuses, they need to ensure that once you deposit, you do give them a legitimate chance.
$50 Casino Credits + $2,000 Bonus
Excellent mobile app
User-friendly design & games
Overall, when you sift past the emotional reviews of people either getting massive wins or losses, you'll see that DraftKings is trusted. People talk about blackjack games and how they are fair on many online casinos. Deposits and withdrawals are conducted smoothly with minimal fuss. Games are conducted with fairness, with table games like blackjack and roulette all providing realistic win rates over the long haul.
Are DraftKings Casino Games Rigged?
No. The claims of games being rigged are pretty common among all online casinos. Though in truth, there's absolutely no need to rig the games as the games are already set up in a way where the casino will win in the long run.
In my experience talking to many types of players, I find that those who play online slots tend to understand this better. This is probably because with DraftKings slot machines, you win far less than 50% of the time, and therefore it's understandable when you go on losing streaks. The much more common type of player to complain is those who play table games with a significant element of skill like online blackjack and roulette.
This is because with these sorts of games, when playing optimally, your win rate is around 50%, and therefore when you lose coin flip after coin flip, it can feel much more egregious. Take blackjack for example — no doubt the casino game most associated with skill. In blackjack, the optimal strategy will get you a win rate of 42.22%, an 8.48% tie rate, and a loss rate of 49.1% — which is a win or draw of about 50% of the time. This can therefore make the idea of something like five losses in a row seem impractical and a clear sign of rigging. And looking at the math, 0.491⁵ which works out to 2.85%, may seem an unlikely occurrence. But if you're playing a 100-hand session, something that is expected to occur 2.85% of the time is more than likely going to occur.
Understanding the odds can help you realize that even something that is unlikely to occur in a single instance can be very likely to occur over an extended period.
How Is DraftKings Kept Fair?
Of course, while understanding probabilities can help you recognize variance, there still may be that lingering question of how DraftKings is kept fair. The question of how can you know that they haven't altered the code to give themselves an additional edge? Well, there are a few factors that make that next to impossible.
DraftKings Casino Information
Legal States
New Jersey, Connecticut, West Virginia, Michigan, Pennsylvania
State Licenses
New Jersey Division of Gaming Enforcement
Connecticut Department of Consumer Protection
Michigan Gaming Control Board
West Virginia Lottery Board
Pennsylvania Gaming Control Board
Minimum Age
21
Responsible Gaming Features
Self Exclusion (Temporary Or Permanent)
KYC User Verification
Optional Deposit Limits
Availability
https://casino.draftkings.com/
Software
When opening up a game from DraftKings, the first thing you'll see is the loading screen.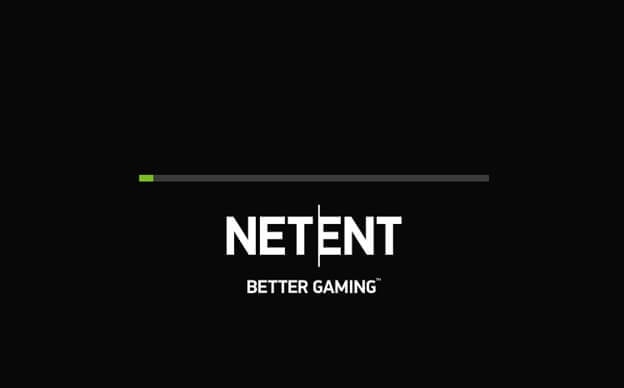 On these screens are the reputable names of NetEnt, Relax Gaming, SG Digital, NextGen Gaming, and many more. These are some of the most trusted and vigorously tested software providers in online gambling. These companies all share a similar philosophy of truthfulness that ensures fair play online. You can rest assured that these providers would never license their games out if there were even the slightest doubt that the casino may alter the coding or RTP settings of a particular game.
Compare this to unlicensed offshore sites and you'll find that the software providers are usually lesser known, with the machines sometimes being developed in-house. This, of course, can lead to rigged games.
RNG System
RNG (Random number generators) are what makes a fair game. At its worst, they can be coded in such a way as to ensure that numbers that are less favorable to the player come up more often than they should. As such, authentic RNGs with true randomness are the most important factor when it comes to fair play.
To this, DraftKings Casino online recently signed a deal with White Hat Gaming to use their RNG software to power their table games. While blackjack and roulette enthusiasts may not recognize the name White Hat — among slot players, they are legendary, having been the pioneers of the bonus buy feature. Licensed by the MGA (Malta Gaming Authority), White Hat Gaming is subject to regular software testing by independent gaming laboratories to ensure that all of their games are accurate to their advertised RTP.
However, it's not just the MGA that tests DraftKings games.
DraftKings Licensing Status
The strict online casino laws of the US can sometimes be a little suffocating. Though licensing is harder to achieve in the US due to the criteria that online casinos must meet, these stringent requirements are aimed 100% at protecting the player. On top of software providers' testing, US online casinos are subject to an additional level of testing at the state level. This means another round of all their games being tested by independent auditors randomly.
But it's not just RNG that's tested. According to state legislature, all online casinos must be partnered with a land-based casino. This ensures that no matter what happens to an online casino, they are financially responsible. So if worse comes to worst and DraftKings were to fold, players would still be paid out by the relevant brick-and-mortar casino that DraftKings is tied to in that state.
Currently, DraftKings casino is licensed in five US states for online casino play. New Jersey by the New Jersey Division of Gaming Enforcement, Connecticut by the Connecticut Department of Consumer Protection, Michigan by the Michigan Gaming Control Board, West Virginia by the West Virginia Lottery Board, and Pennsylvania by the Pennsylvania Gaming Control Board. Each of these states have similar requirements in place. So no matter which of those five states you are located in — if you play with DraftKings, you're guaranteed secure and fair play.
DraftKings Commitment To User Safety & Responsible Gambling Policy
Never the one to do the bare minimum, DraftKings doesn't just meet the baseline, but actively goes a step further. With their commitment to responsible gambling, they ensure that their services are only offered to people who are eligible. When creating your account with DraftKings, you'll be asked a lot of information per their KYC policy. This information is scanned through an online state database to ensure that you are who you say you are, and that you are eligible to play.
On top of that, if at any point you think you may have a gambling problem — DraftKings is here to help. They have optional programs you can enroll in to limit the amount you can play with daily, weekly, and monthly deposit caps. Additionally, if you feel you need a break, you can with their "Cool Off" feature. You set how long you want to take off; for that time, DraftKings will ban you from logging in. And if the unfortunate happens and you feel you need to stop for good, you can with their self-exclusion feature.
At DraftKings, they take their responsible gambling policy seriously.
What Separates DraftKings From Unlicensed Casinos?
So what separates DraftKings from its unlicensed competitors?
Land-Based Casino Partnerships — These deals ensure that no matter what happens to the online casino, you get paid.
Random Independent Testing — All games at DraftKings are subject to regular testing to ensure that the listed RTP is accurate.
Excellent Customer Service — 24/7 customer support. So if you're facing issues at any time, there will be a live customer support agent ready to help you.
Legal In The US — No VPNs. No questionable legitimacy. If you reside in NJ, CT, WV, MI, or PA and are 21 years of age, you can

play and make money on DraftKings

.
User Community — As one of the most popular casinos in the US, there is a great user community on all their social media accounts. Whether you're looking for help or someone to chat with — these communities are filled with people ready to guide you in whatever you need help with.
DraftKings History & Reputation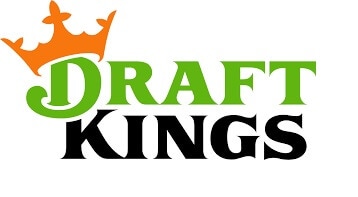 Established in 2012, DraftKings Sportsbook took the concept of fantasy sports and gave it a much-needed adrenaline boost with their weekly competitions. This was an instant hit. As no longer were players competing against the house, but against each other, giving the chance for the most knowledgeable to make some serious cash. From there, they moved into the online casino and sportsbook market on August 1st, 2018.
While their reputation as the king of fantasy sports is undoubtedly what they're most known for, they are quickly becoming a favorite destination for online casino players. Why? Quite simply, they do everything right. Great bonuses, awesome selection of slots. Plus, they're one of the few online casinos that actively encourages table games with their jackpot roulette and blackjack. Blackjack players are especially welcomed as their wide selection of game types allows you to increase your edge further if you know how. You can check out our review on DraftKings Blackjack for more information.
DraftKings No-Deposit Bonus Lets You Try For Free
So back to the original question. Is DraftKings legit and safe?
Yes.
With their amazing reputation amongst their customers and having all of their games regularly tested by gaming laboratories, we can say beyond any doubt that DraftKings is fair. Even better — whether you're convinced or not, our readers can try out DraftKings for free with an exclusive no-deposit bonus of $50 when you follow our links. No strings attached. Simply follow our links, and get access to $50 for free upon successful registration.
The bonuses don't stop there though. Because DraftKings is so sure that you'll love them that they'll also match your first deposit dollar for dollar up to $2,000. So what are you waiting for? Try DraftKings for free today.
How do you win money at DraftKings Casino?
If you enjoy playing the blackjack game on the DraftKings platform but never seem to make any profits, you may be wondering 'Is DraftKings blackjack rigged'? or 'Is DraftKings a rigged casino'?. The answer to those questions is no as any DraftKings player will tell you that a lot of it is the luck of the draw. However, there are some things you can do to try and ensure you make some money when playing slots, video poker or a live dealer game on DraftKings casino.
Take Advantage of Welcome Bonus & Promotions
Getting the most out of any bonuses and promotions without the requirement to put your own cash in will increase your chances to win. Some of the most typical bonuses you will find in the online casino market is are deposit match bonuses and reload bonuses. Bettors can also take advantage of tournaments and other ongoing promos.
It is also a good idea to add DraftKings Casino to your email contacts so you don't miss out on any offers that are specific to your favorite games.
Sign up for DraftKings Rewards Scheme
Becoming part of the DraftKings Dynasty Rewards gives you more opportunities to earn dollars and other perks. Each time you place a bet and play games, you earn Crowns. The way the program works is you can then exchange the Crowns for casino credits and DK Dollars so there is more chance to win without risking any of your personal bankroll.
Play Games in Demo Mode
Demo mode is fantastic for new players as you can practice without having to bet anything. There are hundreds of slots and table games for you to choose from, where you can just play games for fun.