DraftKings is one of the most popular USA online gambling platforms, and it offers online casino games, sports betting, and daily fantasy sports betting. They also have some of the biggest online prizes available with DraftKings Jackpots.
For US players, this online casino is available in five legal states for online slots and casino games – Connecticut, Michigan, New Jersey, Pennsylvania, and West Virginia. New customers can be assured of their quality and reputation as an official gambling regulatory body licenses each state site. For example, the NJ site has a license from the New Jersey Division of Gaming Enforcement.
$50 Casino Credits + $2,000 Bonus
Excellent mobile app
User-friendly design & games
DraftKings Casino has much to offer, but the jackpots are an incredible part of its platform. Anyone can win these epic prizes simply by playing certain games. But why would you want to do this? Well, when prize pools are as large as $200,000+, would you want to miss out? This is what you can potentially win from a DraftKings jackpot, and we discuss exactly how you can do this below.
Does DraftKings Offer Jackpots?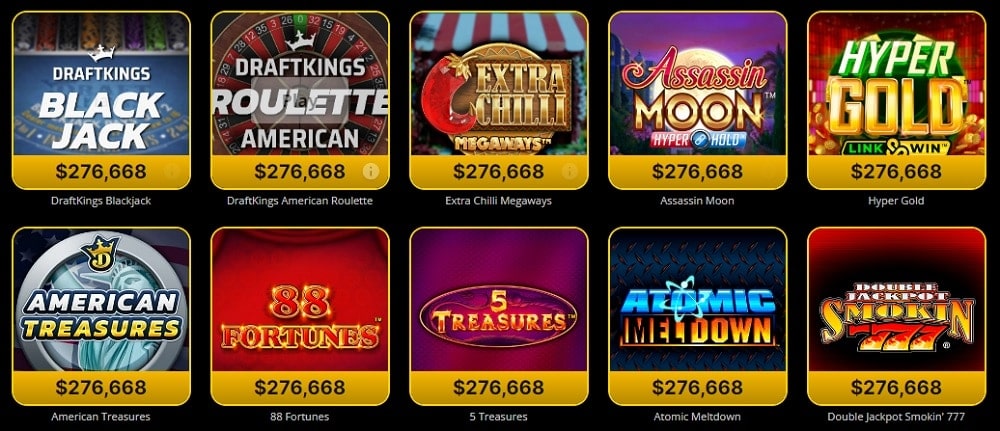 Yes! If you want a fair chance at winning life-changing money, DraftKings is a superb online casino to play at. It has a multitude of jackpots, including fixed, progressive, and daily jackpot pools for its fantasy sports betting.
DraftKings Fixed Jackpots
New players could try out some of the fixed jackpots first, as these offer a smaller set prize pool with greater odds of winning. There are currently over 30 fixed jackpot casino games available at DraftKings, and we have listed some popular examples below:
Fire Buffalo
Spanish 21
DraftKings Loki's Luck
DraftKings Baseball Blackjack
DraftKings Touchdown Blackjack
Match the Dealer Blackjack
These games have a fixed jackpot bonus that doesn't change. Players do not contribute a percentage to the prize pool, so the totals are much less. Currently, most of the jackpots are set at $1,000, and there is the Triple Jackpot Gems slot game which has a slightly larger top prize of $7,500.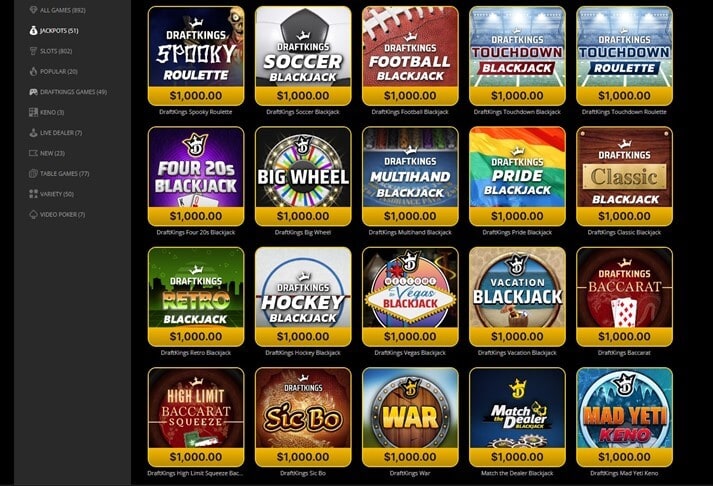 The only requirements to play these games are that you have a registered DraftKings casino account and make a minimum bet of $2. There is no opt-in required, and if you place a $2 or higher wager, you automatically have a chance at winning the jackpot.
A brilliant variety of fixed jackpot games are fair, many of which have a sports theme that ties in with the fantasy sports section of the website. These include fun titles like Football Blackjack, Soccer Blackjack, and DraftKings Touchdown Roulette.
DraftKings Progressive Jackpots
While walking away with a cool $1,000 prize is not a bad day, how does winning hundreds of thousands of dollars sound? Progressive jackpots are where the real money is – the life-changing money that could buy you a new car or a house!
These popular click-play games build their jackpot pools via player contribution. This means that each time you spin the reels on slots or place a bet on a Blackjack game, you contribute money to the prize fund. Therefore, the pools are much larger because you have hundreds and thousands of players contributing, which means the pot grows and grows!
$50 Casino Credits + $2,000 Bonus
Excellent mobile app
User-friendly design & games
The following are examples of some of the games that are fair and included in the DraftKings progressive line:
Extra Chilli Megaways
Assassin Moon
Atomic Meltdown
Hyper Gold
Black Diamond
Divine Fortune
There are two main types of progressive jackpots at DraftKings:
DraftKings network games
Software developer network games
The games part of the DraftKings network of progressive jackpots share the same prize pool. At the time of writing this article, it is at a staggering $212,660! There are 11 titles within this network.
Alternatively, other games have prize pools that the software developer sorts. For example, four titles are part of the MEGA Jackpots progressive network. The current prize pool for these games was $509,316! Lastly, some other titles like Divine Fortune, Mercy of the Gods, and Smokin' Hot Gems have their own progressive bonuses.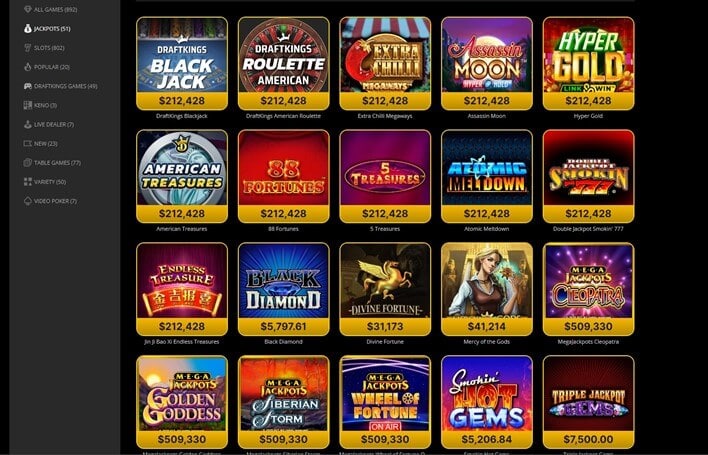 👑Top 10 Biggest DraftKings Jackpots Wins of 2023
Looking for inspiration for the best DraftKings Jackpots slots that have already produced life-changing wins this year? Look no further from the actual list of winners at DraftKings casino to see the 10 biggest wins that have been awarded this year.
| 🏆Rank | 🎰Game | 💰Jackpot Amount Won | 📅Date |
| --- | --- | --- | --- |
| 🥇1 | Ancient Fortunes: Zeus | $3,297,864.13 | 6/13/23 |
| 🥈2 | Extra Chilli Megaways | $1,977,998.14 | 4/20/23 |
| 🥉3 | 12 Western Horseshoes | $1,,445,214.96 | 6/17/23 |
| 🎖️4 | Game King Video Poker | $1,012,687.30 | 7/11/23 |
| 🏅5 | Hypernova Megaways | $1,012,952.86 | 2/22/23 |
| 6 | Hypernova Megaways | $891,611.23 | 1/17/23 |
| 7 | DraftKings Blackjack | $810,058.51 | 7/16/23 |
| 8 | DraftKingsBlackjack | 794,942.56 | 2/10/23 |
| 9 | 5Treasures | $670,063.50 | 5/20/23 |
| 10 | Loki's Luck | $669,717.20 | 7/29/23 |
If you can find a slot in this slot that you already enjoy playing, combine it with the DraftKings Jackpot feature and you have the possibility of winning a staggering amount of money at any moment.
How to Win DraftKings Jackpots
So how can US players win these epic prizes in accordance with the casino terms? It's quite simple, really, as you will see below!
Fixed Jackpots
There are several terms and conditions to be aware of regarding fixed jackpots. Firstly, there is no opt-in required. Secondly, you must be 21 or older and located in one of these four states – Connecticut, New Jersey, West Virginia, or Pennsylvania (Michigan players can't win these prizes). After that, the following process applies:
Create a DraftKings Online Casino account.
Login to your account.
Click on the "Jackpots" tab of the game bar.
Scroll down to the bottom and choose one of the fixed jackpot games.
Make a minimum bet of $2.00
That's it! With this minimum wager, you are automatically entered into the jackpot draw. The jackpot prize is randomly triggered, so everyone has an equal chance of winning.
If you win the prize, it is awarded in DK Dollars, NOT real money. These DK Dollars must be wagered 1x before you can make any withdrawal.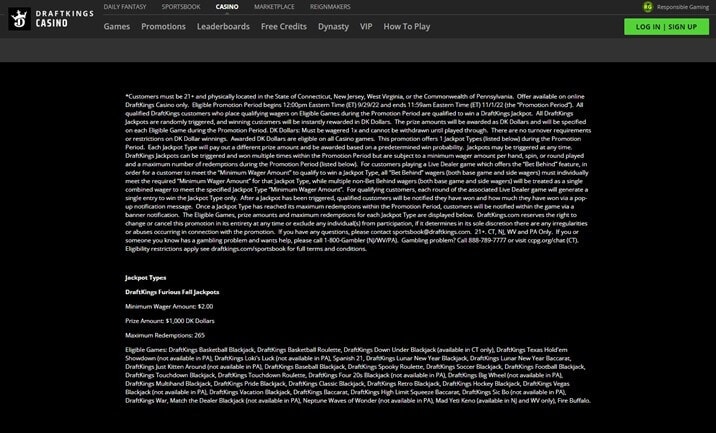 Progressive Jackpots
The progressive jackpot games at DraftKings Casino are a little more complicated. You still have to be of legal gambling age, and you can only participate if you are a player located in one of the five states where DraftKings online casino is legal. Please bear in mind that the jackpot prize pools could vary from state to state, and there is no guarantee that they will be the same. With this in mind, you must then take the following steps:
Create a DraftKings account.
Login to your DraftKings account.
Click on the "Jackpots" tab of the game bar on the left-hand side.
Choose one of the

progressive jackpot games

.
Opt-in and play.
The opt-in feature is essential – this is because you contribute $0.10 of your wager toward the jackpot prize pool. If you didn't opt-in, you would just be playing the standard version of the game and not have a chance of winning the big prize.
Like the fixed jackpots, progressives are randomly triggered. These huge prizes are awarded in cash, however. There are no wagering requirements, and you can withdraw the money from DraftKings immediately, providing that you comply with their withdrawal terms.
DraftKings Monthly Casino Jackpot Slots
DraftKings has some brilliant slot games where you can win a minimum guaranteed progressive prize pool of $100,000. This is the minimum amount; after that, player contributions continue to grow the cash prize. For example, right now, the fund is $200,000+! The following are the current DraftKings monthly casino jackpot slots:
Extra Chilli Megaways
Assassin Moon
Hyper Gold
American Treasures
5 Treasures
Atomic Meltdown
Double Jackpot Smokin' 777
Jin Ji Bao XI Endless Treasures
To be eligible for the mega jackpot prize, all you have to do is play one of these games and make the minimum bet amount (usually $2.00). You then contribute $0.10 from your wager, and this goes into the prize pot. With this minimum bet, you are then automatically entered.
$50 Casino Credits + $2,000 Bonus
Excellent mobile app
User-friendly design & games
You then essentially have a random chance to win the megabucks each time you spin on the slot machines. The great thing about all of these titles is that there is a demo version available to play for free too. This gives you the chance to see which games you enjoy the most before committing money. We have given some more info on our favorite games below for your benefit.
Extra Chilli Megaways
Extra Chilli Megaways is a fun food-themed slot from Big Time Gaming. It is part of the Megaways series and thus gives you many more winning opportunities – up to 34,300, to be precise!
In the background, you can see a bustling food market and hear people selling their wares. The reels are part of a food stand too, and the graphics look fantastic. It has a respectable RTP of 96.19% and a cascading reel feature. When you get a winning combo, the symbols disappear, and new ones drop into place – this gives you the opportunity to make some epic win runs.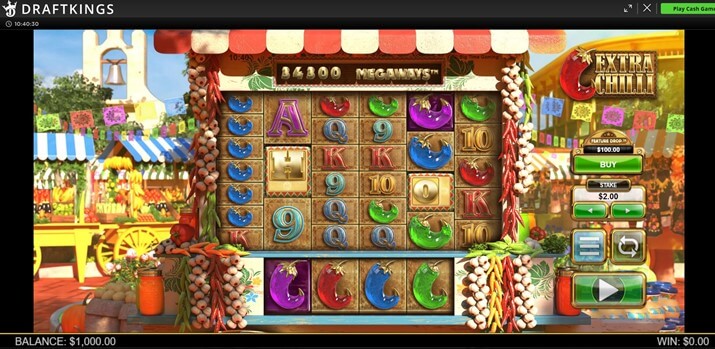 88 Fortunes
Perhaps you would prefer to immerse yourself in oriental culture? If so, 88 Fortunes is a top game to play. It has lively, traditional Chinese music playing, and the symbols all relate to luck and oriental fortune – it looks fantastic.
SG Digital produced this title, and it has an average RTP of 96%. With five reels and three rows, it has a traditional layout and a feature where you can change which symbols are in play. There are five different levels – each of which gives you a different combo of active symbols. The spin cost increases as you go up the levels, but so do the payouts and your chances of winning. We like this as it allows you to choose how you want to play!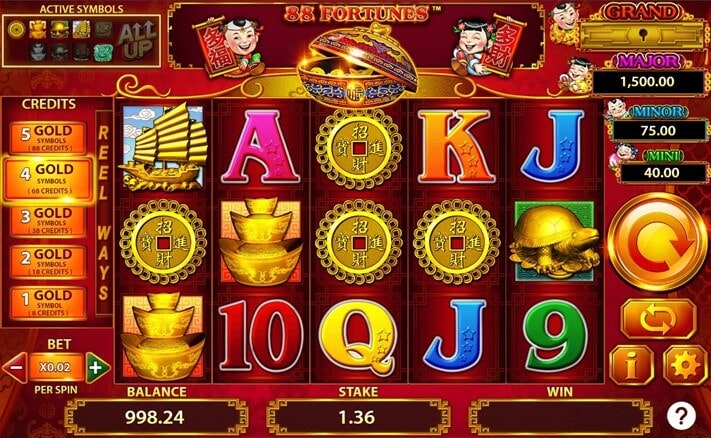 American Treasure
This patriotic game is developed in-house by DraftKings and will give you your daily dose of America. It has it all – the Statue of Liberty, the stars and stripes, and the iconic Bald Eagle.
With fun gameplay features like the chance to win up to 200 free spins, the firework celebration bonus, and colossal symbols, this title is difficult not to enjoy. Admittedly, the graphics could be a little better, but American Treasure is just a pleasure to play, and it has a brilliant combo of retro design and fun gameplay elements.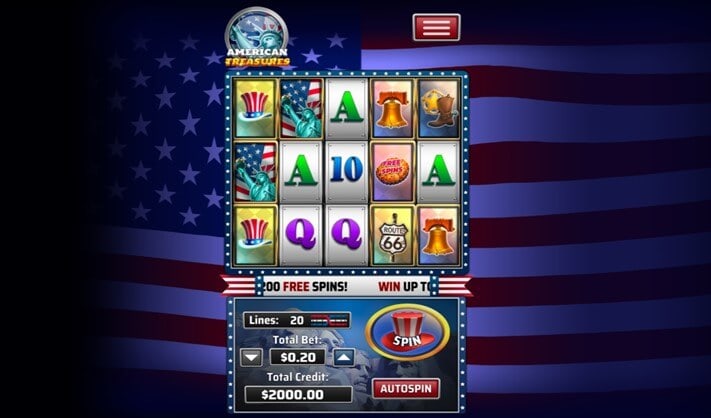 DraftKings Blackjack Jackpot
If you love card games, DraftKings has a great selection of Blackjack jackpots. Currently, there are 17 different Blackjack variants, all of which have some type of jackpot bonuses. We have listed the games below.
DraftKings Casino Progressive Jackpot Blackjack Games
This is the only Blackjack game that is part of the DraftKings progressive jackpots. The progressive prize fund for this is pooled with the other table games and DraftKings slots games like Assassin Moon, Hyper Gold, and Atomic Meltdown.
New players could choose one of the DraftKings Casino deposit bonus promotions is currently offering and use their first deposit bonus to play a few hands of Blackjack. This progressive version follows the standard game rules – you simply contribute a fixed amount per hand towards the overall prize pool and then have a chance of claiming it!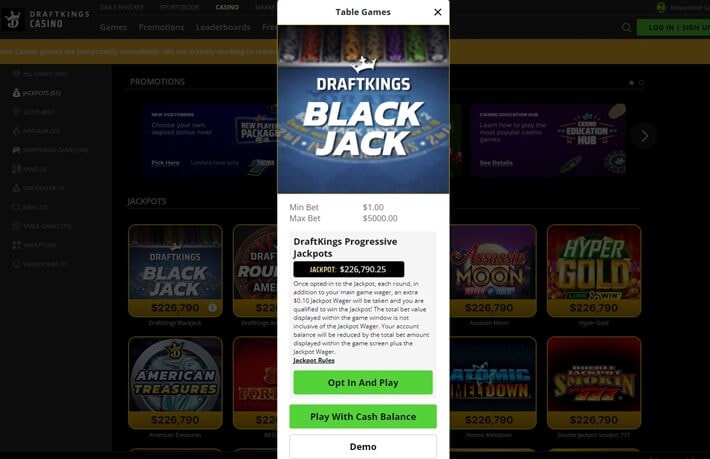 DraftKings Casino Fixed Jackpot Blackjack Games
DraftKings Basketball Blackjack
DraftKings Lunar New Year Blackjack
DraftKings Baseball Blackjack
DraftKings Soccer Blackjack
DraftKings Football Blackjack
DraftKings Touchdown Blackjack
DraftKings Four 20s Blackjack
DraftKings Multihand Blackjack
DraftKings Pride Blackjack
DraftKings Classic Blackjack
DraftKings Retro Blackjack
DraftKings Hockey Blackjack
DraftKings Vegas Blackjack
DraftKings Vacation Blackjack
Match the Dealer Blackjack
If you want to try something different and have some fun with various themed games, DraftKings has an excellent selection of fixed jackpot Blackjack titles. Most of these have been developed in-house, and if you love sports, many of the titles have a sporting theme.
These sporting-themed Blackjack games still follow standard rules but have graphics and animations relating to the sport. For example, DraftKings Basketball Blackjack has a hardwood court as the table instead of the traditional fabric finish.
All of these games have a much lower jackpot prize but compared to the values you are betting; it's still a great win. $1,000 appears to be the benchmark for fixed jackpot Blackjack games. As described above, you do not have to opt-in to be eligible to win the prize. All you have to do is play the games – they are not player-contributed jackpots.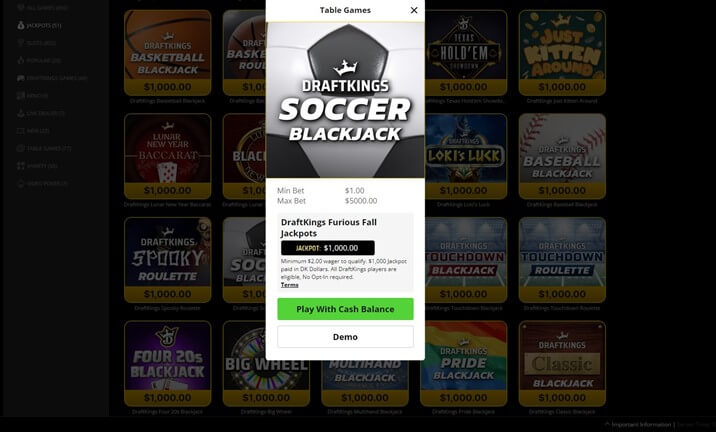 DraftKings Casino Jackpot Slots
Not feeling card games? No problem! DraftKings Casino instead has a brilliant range of modern and classic slots to enjoy with huge progressive jackpot bonuses. These slots make up the largest part of the games included in the joint prize pool for progressive games. You can expect this prize pool to regularly be over $200,000! We have listed the current jackpot slots below.
DraftKings Casino Progressive Jackpot Slots
| 🎰Slot | 🧑‍💻Developer |
| --- | --- |
| 🎰Extra Chilli Megaways | Big Time Gaming |
| 🎰Assassin Moon | Microgaming |
| 🎰Hyper Gold | Virgin Games |
| 🎰American Treasures | DraftKings Casino |
| 🎰88 Fortunes | SG Digital |
| 🎰5 Treasures | SG Digital |
| 🎰Atomic Meltdown | Everi Interactive |
| 🎰Double Jackpot Smokin' 777 | Everi Interactive |
| 🎰Jin Ji Bao XI Endless Treasures | SD Digital |
| 🎰Black Diamond | Everi Interactive |
| 🎰Divine Fortune | NetEnt |
| 🎰Mercy of the Gods | NetEnt |
| 🎰Mega Jackpots Cleopatra | IGT |
| 🎰Mega Jackpots Golden Compass | IGT |
| 🎰Mega Jackpots Siberian Storm | IGT |
| 🎰Mega Jackpots Wheel of Fortune On Air | IGT |
| 🎰Smokin' Hot Gems | Everi Interactive |
The progressive slots are provided by popular software developers like IGT, NetEnt, and Everi Interactive. This means that not only can you potentially make money on DraftKings, but the games themselves are fun and immersive.
Divine Fortune from NetEnt, for example, has a theme based on ancient mythology. You encounter Greek gods and monsters like Medusa, Pegasus, and the Minotaur. Combine this with fun gameplay elements and the opportunity to win free spins, and you have a game that can be enjoyed for hours. This is just one example – other games like Mercy of the Gods, Atomic Meltdown, and 88 Fortunes also have fun themes and some cool slot features.
If you are looking to win a lot of money on the DraftKings casino app, Wheel of Fortune is arguably the best title for you. The MegaJackpots Wheel of Fortune On Air comes with 20 paylines for 40 coins.
Since online casinos started launching progressive jackpots, there are more ways than ever for bettors to win. Wheel of Fortune is a prime example, as it offers numerous ways to win through various unique features. Collecting bonus symbols unlocks superior wheel wedge upgrades. These can earn you turns of spinning the wheel, super wheel or ultra wheel. With all of the multipliers, respins and wild reels, there is more than enough to keep you occupied. The excitement is constant as you seek a big win.
Even though every bet presents an opportunity to win the progressive jackpot, as with most things on gaming sites, the more you wager, the more likely you are to score a bit win and hit the jackpot. If you reveal a  MegaJackpots token in an envelope when playing a bonus round you are in line to receive an amazing prize. The bonus symbols you unlock before you get to the bonus gives you more tokens and improves your chances of winning. If that wasn't enough, you also have a fall back with a second chance drawing that provides another opportunity to win the lot.
Once someone claims the progressive jackpot, the prize pool resets at $500,000.
DraftKings Casino Fixed Jackpot Slots
| 🎰Slot | 🧑‍💻Developer |
| --- | --- |
| 🎰Triple Jackpot Gems | Everi Interactive |
| 🎰Fire Buffalo | Everi Interactive |
| 🎰Loki's Luck | DraftKings Casino |
| 🎰Neptune Waves of Wonder | DraftKings Casino |
| 🎰Just Kitten Around | DraftKings Casino |
There is also a much smaller range of fixed jackpot slot machines too. These are developed either in-house by DraftKings or the reputable software provider Everi Interactive.
The DraftKings in-house slot machines are pretty good and cover several different themes. Our favorite is Just Kitten Around. This game can have a jackpot bonus up to 2,000x and has stylish cartoon graphics, a lively background track, and some cool gameplay features. For example, randomly, during a spin, one of the symbols may be changed into a giant kitty for extra wins.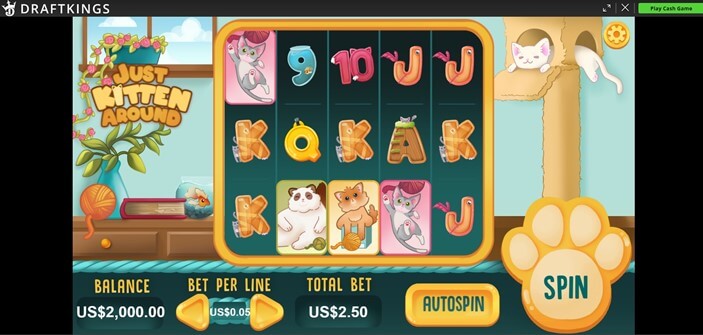 DraftKings Fantasy Sports Jackpots: Daily Jackpot Pools
Aside from the online casino, DraftKing's main offering is their daily fantasy sports betting and the DraftKings sportsbook. These are ideal for customers who are ardent sports fans and enjoy placing wagers on their favorite NFL, NBA, and MLB teams and players.
Up To $1,000 Deposit Bonus
21+. T&C Apply
21+. T&C Apply
The best sportsbook
Amazing odds & offers
Awesome betting app
Up To $1,000 Deposit Bonus
21+. T&C Apply
21+. T&C Apply
A cool aspect that is similar to the progressive jackpots of online casinos is the daily jackpot pools. As you will see below, these pools give you the chance to win a share (or all!) of huge money pots.
What are Daily Jackpot Pools?
DraftKings Fantasy Sports has a great range of daily pools. These are cumulative prize pots that are related to a specific sport, such as NBA basketball or NFL football. Customers are permitted to enter these pools, and their entry fees contribute to the overall jackpot fund.
A brilliant aspect of these daily pools is that if you enter three within a week (between Monday and Saturday), you are eligible to receive a free bet worth $5!
How to Enter the Daily Jackpot Pools?
The process required to bet on DraftKings and enter the daily jackpot pools is relatively simple:
Register an account with DraftKings
Login to your account via the website or

mobile betting app

Find a pool that you want to participate in
Complete your picks from the given selections
Wait with bated breath for the results!
In most instances, there is a minimum entry fee to join the pools – this will vary depending on the event and the prize fund. However, you can usually expect a minimum entry fee of $5. Once you have entered, you then have to make selections for the "questions" within the daily pool.
$50 Casino Credits + $2,000 Bonus
Excellent mobile app
User-friendly design & games
Typically these are spread bets on games held that night. For example, you may have to bet on the spread of 10 different NFL matches. After making your selections – just wait for the results! Usually, the prize pool goes to the person (or people) who gets 100% correct selections.
Should you Play Jackpot Games on DraftKings?
There is really no reason why not to play DraftKings online casino games with jackpots. The titles themselves are fun, have excellent graphics, and have some cool special features.
While the chances of hitting that amazing, life-changing jackpot may be small, you can still win standard cash prizes too. It's not like the jackpot prize is the only thing you are permitted to win! Customers can enjoy these games like any other table games or slot games – there is just the added potential that you could walk away with hundreds of thousands of dollars! Who wouldn't want a chance at that?
FAQ's
How do the DraftKings Casino jackpots work?
The Draftkings Jackpots operate in the same as other online casinos; some of the games may have a fixed jackpot that is based on the current stake level, while others may contain a progressive jackpot element where the Jackpot running totals are based on contributions made by all the players that have played on that machine.

The progressive jackpots could even be pooled across several different casinos. With most modern online slots, it is the game developer that controls the jackpot and game infrastructure.

The chance of winning any of these jackpots is always random, there are no secret strategies or tips apart from persistence that will give you any edge in winning them.
How many DraftKings Jackpots games are there?
There are currently over 50+ Jackpot games at Draftkings Casino, the majority of the jackpots are on online slots, but there is also a good selection of Blackjack and Roulette jackpot games.
What is the difference between a DraftKings Progressive Jackpot and a regular Jackpot game?
Various titles available at DraftKings Casino may be labeled as a "DraftKings Progressive Jackpot" these are machines that have an opt-in option where you can choose to play with a chance of winning a Jackpot or not.

When activated, you will pay a specific amount extra per spin, which enables this extra Jackpot feature. You can opt-in and out as much as you choose,

On a regular Jackpot Machine, this additional contribution is always baked into the machine in terms of the RTP contributions that are used to fund the jackpots.