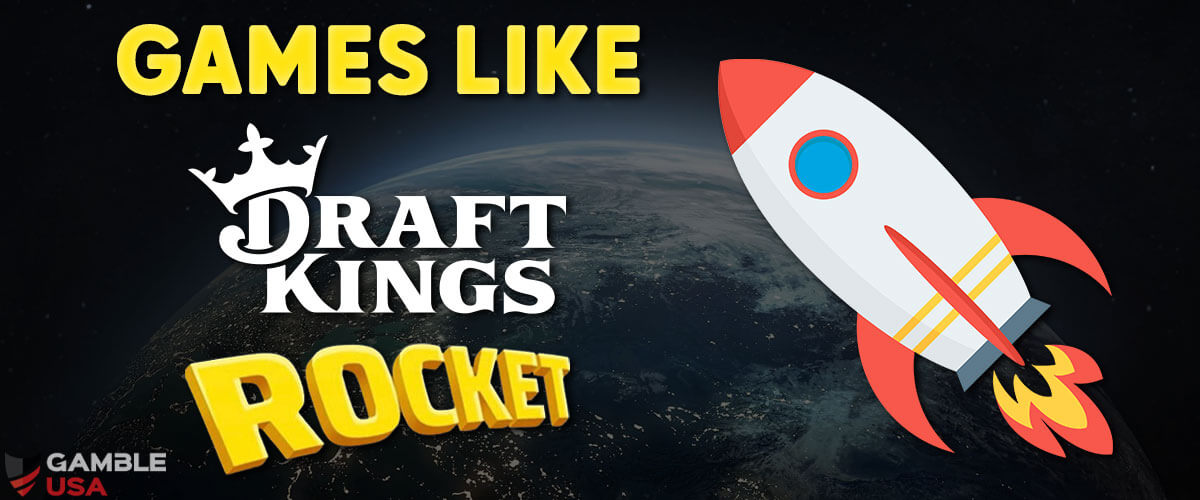 DraftKings Rocket is a crash gambling game exclusive to the popular gambling operator. It's only available to play at DraftKings New Jersey, with other states pending regulatory approval.
Rocket is a casino game that's neither a slot nor a table game. It's actually much simpler, although it may not look like it initially. The Rocket game opens up to a screen with a rocket in launch. It flies in an ascending slope until it explodes. Players simply need to bail out before the rocket crashes. There's an increasing multiplier payout as the rocket rises, so at whatever point before the crash you bail out, you receive the corresponding multiplier payout. It goes up to 1000x.
That's basically it for this fun game, but we've got a detailed article on how to play DraftKings Rocket. If you're looking for a good DraftKings rocket strategy and how to use auto bail and other features, there is all that and more insight on our dedicated DraftKings Rocket review page.
10,000 GC + 1 Stake Cash No Deposit Bonus
Only legal crypto gambling site in the US
Stellar range of slots, including Stake Originals
RNG and Provably Fair Games
This DraftKings Rocket game is what we call an alternative casino game because it doesn't fall into the standard format – no reels, no tables, and no cards. These kinds of new games are becoming common at online casinos for their unique gameplay. So if you've had a go at DraftKings Rocket and loved it, there are a couple more alternative games like it that we'll be covering in this article.
🎲Game
💯RTP
💰Max Payout
🎰Casino to Play
⭐Features
Crash
99%
1,000,000x
Stake.us
- Popular game with 99% RTP
- Massive payout potential
- Allows auto cashout
Aviator
97%
N/A
N/A
- Available at many online casinos
- Interactive environment
- Chat bonus bets and tournaments
Plinko
99%
1,000x
Stake.us
- Popular arcade gameplay
- Different risk levels
- Customizable Plinko rows
Limbo
99%
100,000x
Stake.us
- Massive volatility
- Large payouts
- No cashout functionality needed
Wheel
99%
49.5x
Stake.us
- Customizable wheel setup
- 1% house edge
- Different risk levels
Crash Game – Stake.us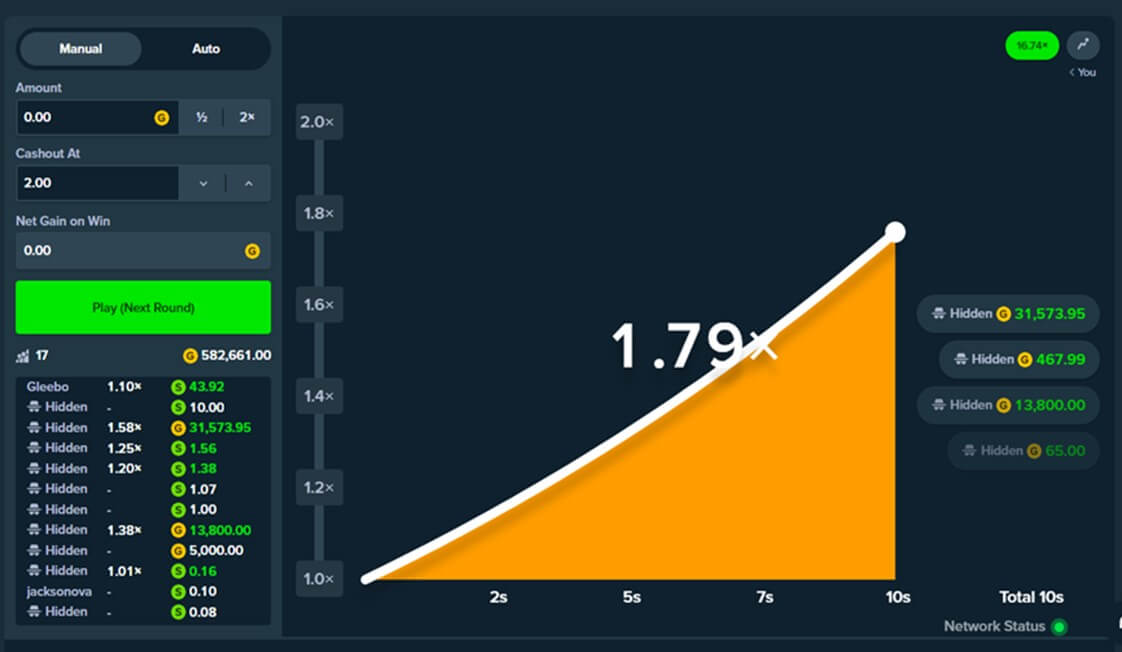 DraftKings casino is not the only one with a penchant for creating innovative, one-of-a-kind experiences. Stake.us, a sweepstakes casino that launched in 2021, is doing the same, and they're using blockchain technology since the casino runs on cryptocurrencies. One of their biggest releases to date is Crash, an in-house developed, exclusive Stake.us game.
Crash is very similar to DraftKings Rocket. However, instead of a rising rocket, Crash uses a line that grows in an increasing curve. You simply need to predict the multiplier where the line will crash. It's a live game like DraftKings Rocket because the game is constantly running. You simply wait for a new game to start and set your bet amount and the cash out value before the round begins. You win as long as the line doesn't crash before your predetermined cashout value. If not, you lose, and you can go again on the next round.
The RTP is 99% like the other Stake Originals on this platform. A remarkable design aspect of Stake Originals is that they are provably fair, so players can confirm the randomness of results on every round. And the best news? You can legally join Stake.us and play this DraftKings Rocket alternative in 45 states.
Aviator – Pending US license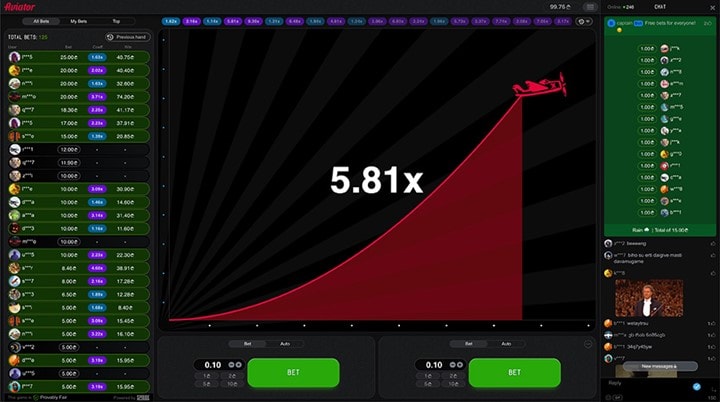 Aviator is another crash gambling game, often considered the most popular variant. This social multiplayer game is from Spribe, a third-party game developer, so it's available at multiple online casino platforms. It could also become a familiar face at trusted US casinos like DraftKings once it receives regulatory approval. Aviator uses a jet that rises with an increasing multiplier starting at 1x and growing to infinity. It doesn't crash or explode. Instead, it flies away from the screen, and the idea is to cash out before that happens.
It's got similar DraftKings Rocket odds, as both have a 97% RTP, but Aviator is a pretty unique crash game cut from a different cloth. It's highly interactive in the sense that you can see the live bets of other players and other live stats. Depending on where you play, there's often an in-game chat that delivers a great community feel. You can claim bonus bets and participate in tournaments within the chat as well. Spribe is a renowned software developer, mainly for their Aviator game, and they are in the process of acquiring a license to operate in the same states as DraftKings Casino.
Plinko Game – Stake.us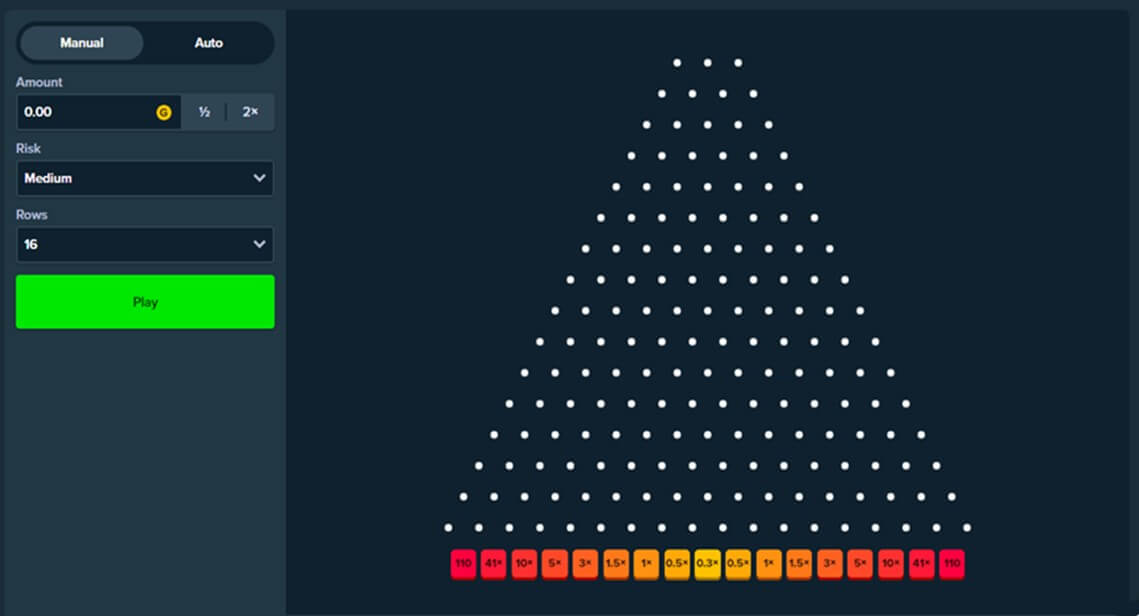 Plinko is an online casino game inspired by the famous Japanese mechanical game known as Pachinko. In the traditional arcade game, players shoot a ball into the machine. The ball then falls vertically through an array of pins or other obstacles. It makes its way to the bottom of the playing field, bouncing between pins until it lands on any of the payoff targets. The gameplay is pretty much the same with Plinko games, except the ball shooting is up to the Random Number Generator.
The playing field is a pin wall arranged in a pyramid shape. At the bottom of the wall are different multiplier values between 0.2x and 1000x. This game accommodates all kinds of players because it has settings for different risk levels – low, medium, and high. It also allows you to select the number of rows on the pyramid between 8 and 16. The higher the risk level and the size of the pyramid, the greater the maximum multiplier available. The ability to control the risk and payout is a fantastic feature that will prove crucial to your casino strategy.
All sites like Stake, including the US social casino, feature this Rocket alternative.
10,000 GC + 1 Stake Cash No Deposit Bonus
Only legal crypto gambling site in the US
Stellar range of slots, including Stake Originals
RNG and Provably Fair Games
Limbo – Stake.us
Limbo is a simple game with endless possibilities. It's high variance and extremely random, like the DraftKings Rocket game, but it comes with much higher payouts, up to 100,000x or more.
The gameplay here is similar to the Stake Original Dice game but may be even simpler, considering it has a single linear playing field. Every round, the game will randomize a multiplier between 1.01x and 1,000,000x. You simply have to bet on a target multiplier equal to or lower than the outcome. For example, if you place a $10 bet on a 10x multiplier and the game lands at 11x, you win a profit of ($10 x 10) $100. If the game lands on, say, 9.9x, you lose.
All you have to worry about is your bet and the target multiplier. Limbo provides stats on the odds of winning for any target multiplier you choose. As a high-variance game, you can easily go from 0.99x in one round to an infinite win the next. It's highly unpredictable, which is one of the reasons it's a true gambling game.
Wheel – Pending US license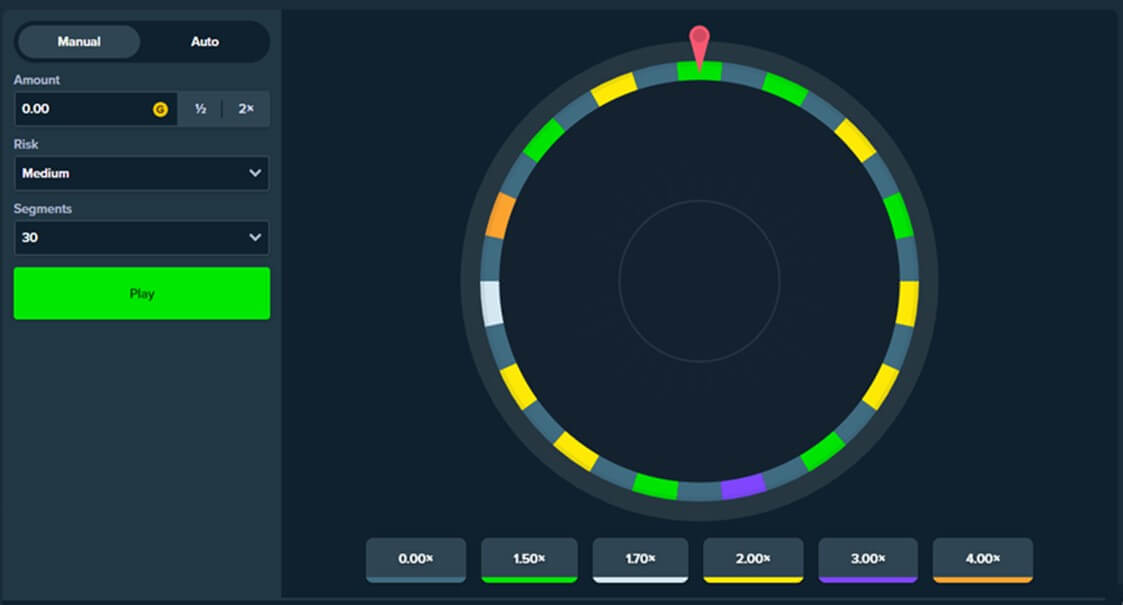 The Wheel game plays out on a colored wheel, with each color representing a multiplier payout and itemized at the bottom of the screen. You place a bet and wait to see where the wheel lands. You get the multiplier attached to that color, and the payout can be anywhere from 0x to 49.50x. The gameplay is simpler than most since all you have to do is place your stake. You don't have to bother with selecting a cashout level.
It's similar to playing Rocket in that it's a low-strategy gambling game with a high-variance design. However, you can adjust the risk level and the number of segments on the wheel. So you've got some level of control over the outcomes. Without any of the intrusive features of most other modern casino games, you simply focus on the thrill of expecting the wheel outcome. The high volatility means you can win big payouts on any random spin.
Although yet to be available in the legal gambling market, the bespoke DraftKings Big Wheel and the classic Wheel of Fortune Triple Extreme Spin slot from IGT are quite similar.
DraftKings Rocket vs. These Alternative Games
10,000 GC + 1 Stake Cash No Deposit Bonus
Only legal crypto gambling site in the US
Stellar range of slots, including Stake Originals
RNG and Provably Fair Games
The salient features of the DraftKings Rocket game include its simple gameplay and the fun theme. Watching as the rocket launches until the rocket explodes is already very thrilling. It offers the option to automatically bail by choosing an auto cashout multiplier. There's also the safety net of bailing early if your gut tells you so.
Rocket, Crash, and Aviator are pretty much based on the same fundamentals. As such, DraftKings Rocket strategies will work on these others as well. When it comes to RTP, Crash offers a higher payout rate of 99%, meaning only a 1% house edge. The same goes for Limbo, Plinko, and Wheel, which do not follow the growing multiplier format, but are just as volatile and straightforward to play.
DraftKings Rocket is currently the only one available to play at DraftKings USA. This operator offers everything from daily fantasy sports to amazing sports betting options and is one of America's best online casino sites. You'll get to enjoy a fantastic DraftKings casino sign-up bonus offer which is only the beginning of other exciting offers you can claim, as well as DraftKings betting promotions on the operator's sportsbook platform
Crash, Plinko, and Limbo are exclusive to Stake.us, a top social casino that we've also reviewed. As for Aviator and Wheel, both of which are awaiting regulatory approval, there's a chance they may launch on the DraftKings sportsbook or other leading US betting sites. Keep an eye out because we'll update you when that happens.
Summary
Whether you play Rocket or any other alternatives, you'll find that they are highly entertaining, even with the barest minimum in terms of game features. Luckily, there are plenty of other games like the DraftKings Rocket gambling game. So if you want something different from regular online slots and table games on DraftKings, you can easily spice up your online casino experience. This is the beauty of online gambling.
Games such as DraftKings Rocket are simple to play. You can use the manual tab to place bets or use the auto bet feature. Some will allow you to adjust the risk level and the size of the playing field so that you have greater control over how you win. Not to mention the insane payouts they promise lucky players. Don't expect to hit the biggest payouts very often, though.
These games are addictive, so play responsibly. The good news is that the best sites have safer gambling tools that help prevent you from developing a gambling problem. So you should take advantage of them. Also, when using the auto cashout feature, you can set win and loss limits.